By Juliana Kascsak with photos by Judit Cinti
I was prepared to have a wonderful night… that was easy as the groundwork was already laid. The table (of eight) I was part of had dear family and friends, the atmosphere was wonderful, the weather cooperative and the venue stunning. As a Magyar, I was thrilled.
The Ritz Carlton had a special buzz about it. In the entrance lobby were a young lady and gentleman in full, glorious, gorgeous costumes to greet everyone as we entered.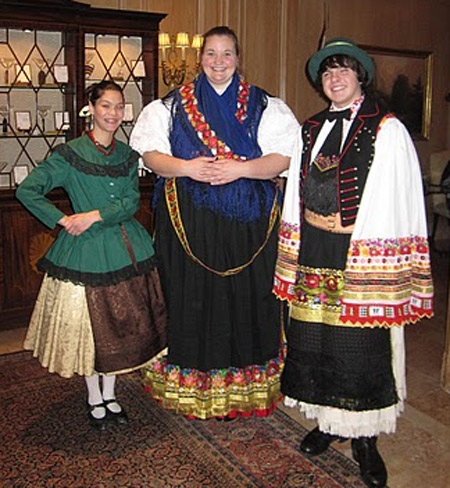 As each dignitary for the evening was introduced to the guests, they were escorted into the Grand Ballroom on the arm of a Hungarian Scout.
The costumes were gorgeous. The men were dashing in their leggings, vests and jackets - the ladies had such a variety of dresses and gowns. It was such a beautiful sight.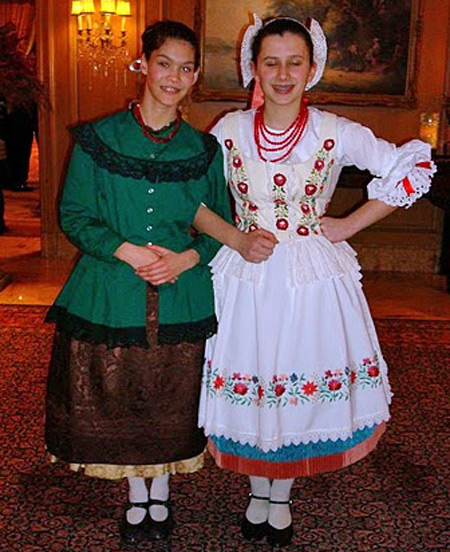 The appetizers and meal were mouth-watering to say the very least. My favorite was the red beet and radish h'ors d'oeuvres. (Additional hors d'oeuvres included braised goose with orange and apple, smoked Hungarian sausage, Pogacsa (small crackling biscuits) and Lipyauer (cheese stuffed cherry tomatoes) The meal itself was very appropriate and delicious, paying homage to the culinary arts of Hungary.
(The soup was Fisherman's Soup of Lake Balaton. The salad - pickled white and red cabbage, sliced plum tomatoes and marinated cucumbers. The entrée was filet mignon with goose liver stuffed morel mushroom, multi-colored rice, potato mousseline and creamed spinach with sunny side up quail egg.)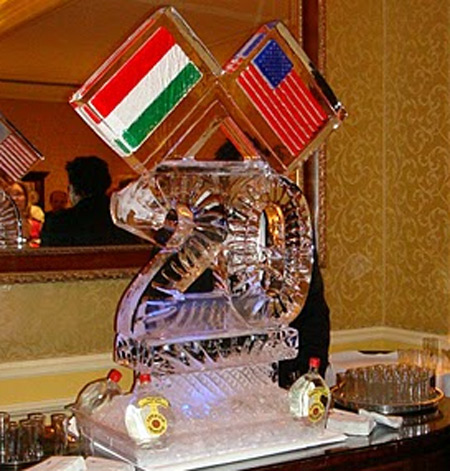 I have to admit that iced peach brandy which slid down a beautiful ice sculpture was a favorite too.
A Viennese Dessert Table was placed in the Silent Auction area which included such Hungarian pastries as dobish torte, cherry and nut strudel, swan shaped cream puffs (no doubt inspired by the swans on Lake Balaton) and decadent chocolate mocha cups.
We were treated to the violin performance by Paprika Strings. They were amazing! This is a group of professional concertmasters as well as young artists studying at Cleveland Institute of Music.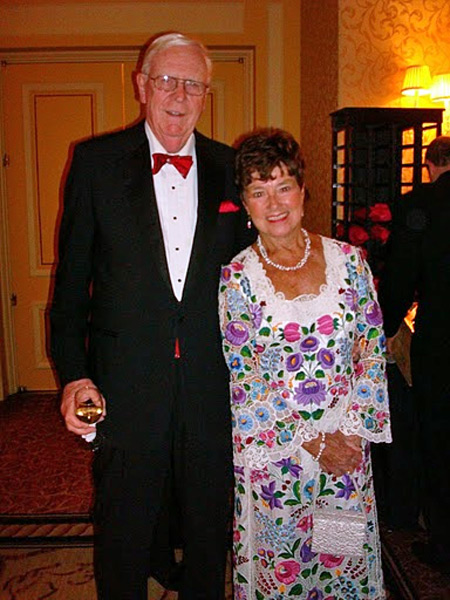 Jenny and Glenn Brown were the Honorary Benefit Chairs and a tribute toast was given by Senator George V. Voinovich.
Senator George Voinovich and wife Janet
A good amount of enjoyable dancing also took place thanks to the music of Harmonia.
The evening's Master of Ceremonies was Channel 19's news anchor David Wittman. The Silent Auction was quiet fun and yes, we bought a few things. All attendees received a gift of a lovely paprika colored egg ornament that read "2010 Paprika" "Celebrate".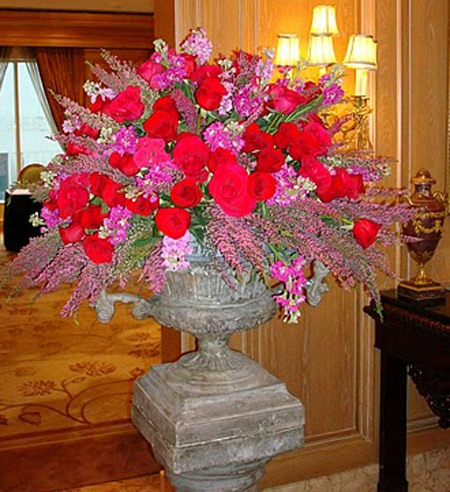 I have to say this was one of the best events I have ever been to. The settings were lovely; the staff was wonderful and helpful.
The 'mission" of the night (Support for the Cleveland Hungarian Development Panel) was well received and there was a wonderful vibe in the room.
By Juliana Kascsak with photos by Judit Cinti
---
Enjoy the following photos from the event and information from the program.
---
The Cleveland Hungarian Development Panel (CHDP) is a non-profit organization of dedicated volunteers who recognize the need to promote and support educational and cultural ties between Americans and Hungarians.

The mission of the CHDP is to provide assistance and the exchange of ideas for Hungarian projects in the areas of commerce, education, health and human services.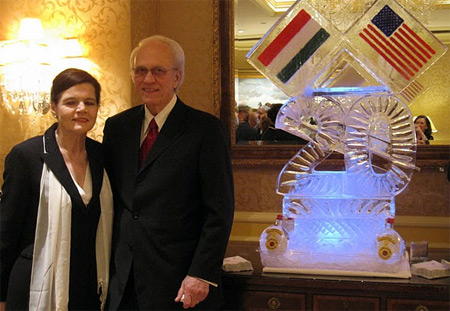 John Megyimore and Mary Jane Molnar


History of the CHDP
The Cleveland Hungarian Development Panel, a non-profit 501(c)(3) organization, supports business, education, health and social service projects in Cleveland, Hungary, and central Europe. Since it's creation in 1990, the CHDP distributed close to one million dollars to fund scores of projects.
Created after the fall of the Iron Curtain, the CHDP was spearheaded by John Hutchins, Director of the International Center at the Cleveland Clinic.
The first fundraiser, not a black-tie event, was a dinner-dance with 130 guests at the Omni Hotel in February 1990. Initial funds, $10,000 purchased books The American Way, which were distributed in Budapest, Hungary by the Peace Corps. The black-tie dinner-dance and silent auction began in 1992 when PAPRIKA!! organized by Kori and Tom Smith moved to the Ritz-Carlton. Substantial corporate support maintains PAPRIKA!'s momentum.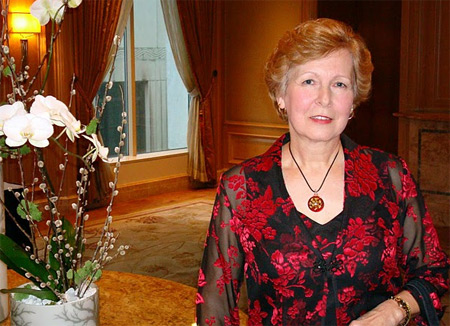 Monika Hargitai



Members of CHDP include Hungarians, Americans and Hungarian-Americans who regularly review requests from Cleveland to Central Europe. Hungarian students from Cleveland's medical and business universities attending PAPRIKA! join the CHDP in celebrating its success.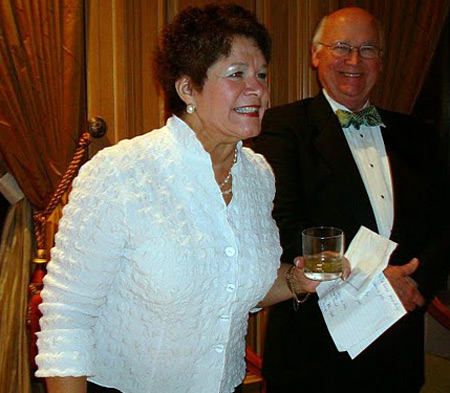 Cathy Hackney



The event program stated, "The Cleveland Hungarian Development Panel and the PAPRIKA! Benefit Committee are grateful to all our guests and benefactors, sponsors and the Cleveland corporate community who, through their generosity, have enable us to continue our important work."

Following was an extensive list of the notable projects they have been able to support in the Cleveland Area and in Hungary throughout the past 20 years.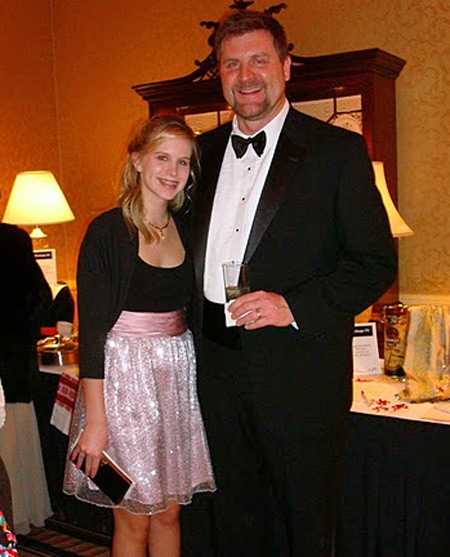 Harmonia presents the traditional folk music of eastern Europe, ranging from the Danube to the Carpathians. Its repertoire reflects the cultures of this region: Hungarian, Slovak, Ukrainian, Romanian, Croatian and Gypsy.
Performing on authentic folk instruments, and styled after turn of the century East-European Gypsy bands, their music is drawn from both the urban and rural traditions of Eastern-Europe. The ensemble's performances evoke the full range of human emotions; interspersing fiery, passionate virtuosity with soulful melancholy and nostalgic yearning.
The musicians come from varied East-European backgrounds; in Harmonia they have found a common musical language. Harmonia brings to the concert stage the vitality and excitement of ethnic weddings, celebrations, and smoky cafes that inspired composers such as Bartok, Brahms and Liszt.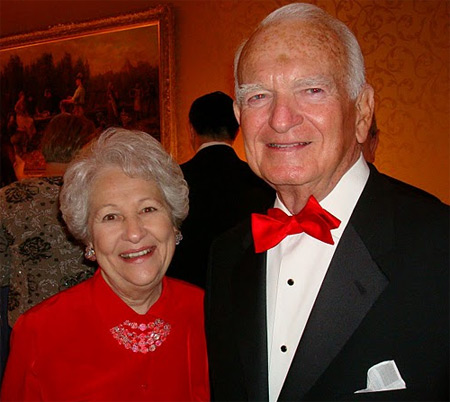 Harmonia has most recently appeared with the Baltimore Symphony Orchestra; Dartmouth teaching classes in Carpathian Basin music; and at the Kennedy Center, Washington DC. Future Concerts include Trinity Cathedral and The Cleveland Museum of Art.

The Cleveland Hungarian Scout Folk Ensemble was created with the mission to celebrate and cultivate the music, dance, customs, and art of Hungarians in the Carpathian basin. The scout troops are the sole source of membership for the Hungarian Scout Folk Ensemble.

All members must be able to speak, read, and write Hungarian. The Ensemble dances, makes their own costumes, sings as a choir, and celebrates holidays with traditional Hungarian customs.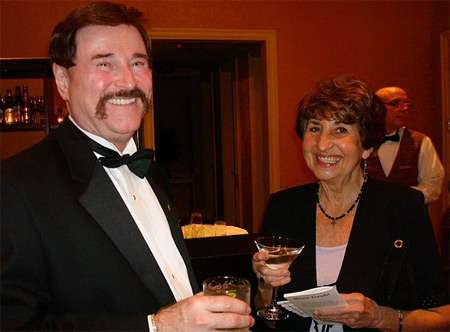 Paprika Strings is a blend of professional concertmasters and top young violin artists studying at the Cleveland Institute of Music.

Hristo Popov made his orchestral debut at the age of nine and since then has performed throughout North America and Europe as both recitalist and concerto soloist. He serves as Artistic Director of the Chagrin Valley Chamber Music Concert Series. Currently, Hristo teaches at Youngstown State University and Western Reserve Academy in Ohio. Hristo holds a Bachelor Degree from Oberlin College, a Master's from Kent State and completed his Doctoral of Musical Arts at the University of Kentucky.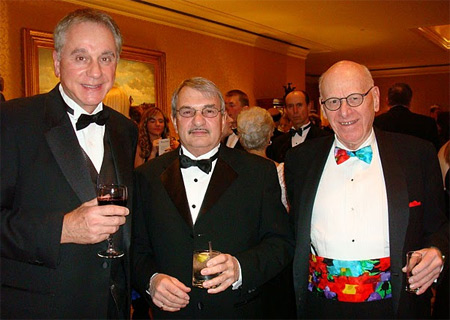 Tony Corrao, Ed Radick, Ted Horvath



Kenneth Johnston graduated from the CIM, earning both a Bachelor's and a Master's Degree in Violin Performance. He has been a faculty member of the Luzerne Chamber Music Festival, Mercyhurst College and Ohio State University. Ken is presently Concertmaster of the Erie Philharmonic and has played with the Akron, Canton, Youngstown, and other noted symphonies.

Sheri Lee is from Orange Village, Oh. She studied at Oberlin and Cincinnati Conservatories achieving her Doctorate in Musical Arts. Presently she is concertmaster of the Solon Philharmonic and a freelance violinist.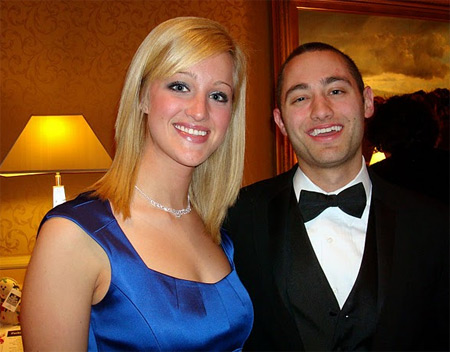 Marcia Snavely started studying piano at the age of 5 and accompanying and performing at the age of 6. Marcia completed chemistry studies from Case Western Reserve University as well as a graduate program in classical organ from CIM.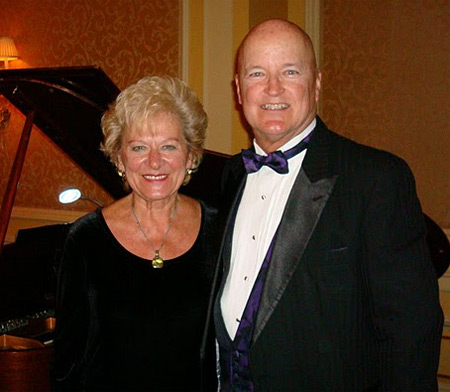 Marcia Snavely and husband
She is presently the organist/keyboard player at the Federated Church in Chagrin Falls and is Dean of the AGO (American Guild of Organists, Cleveland chapter). She has two CD's: "A Gift of Love from Marcia, and "A Gift of Joy" that include modern piano interpretations of favorite folksongs and hymns/Christmas Songs. Marcia is in high demand as a free-lance accompanist for NOOL (Northern Ohio Opera League), many local school musicals and contests, corporate events, and Chagrin Falls Studio Orchestra.
Marcia is music director for the Chagrin Falls Performing Arts Academy, and is the music director for various productions at Actors' Summit Theater in Hudson, including the upcoming performances of "I Love a Piano."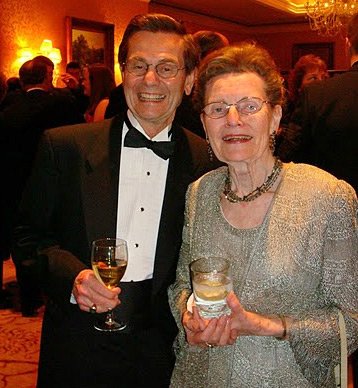 Margit Frics and son


---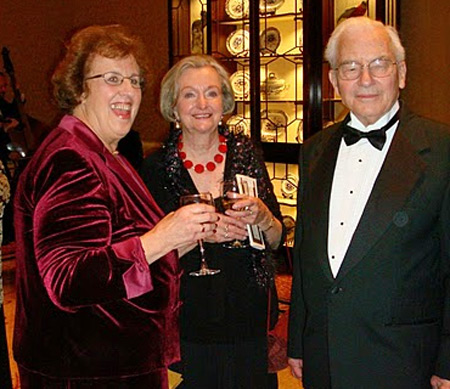 Carolyn Balogh, Mary Lou and John Uray
---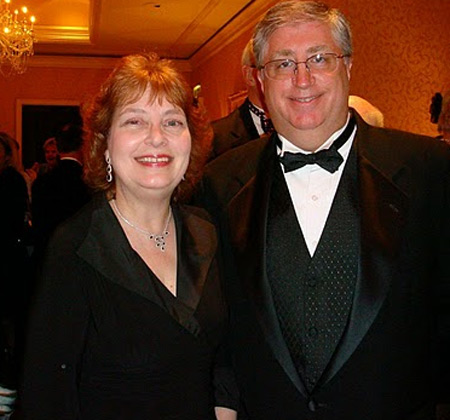 ---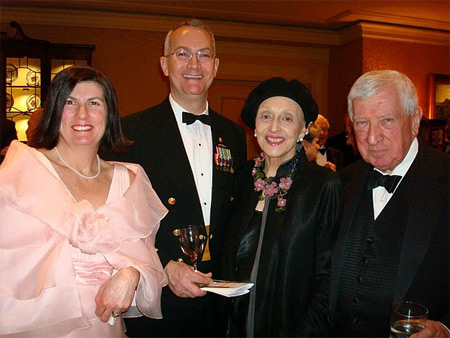 ---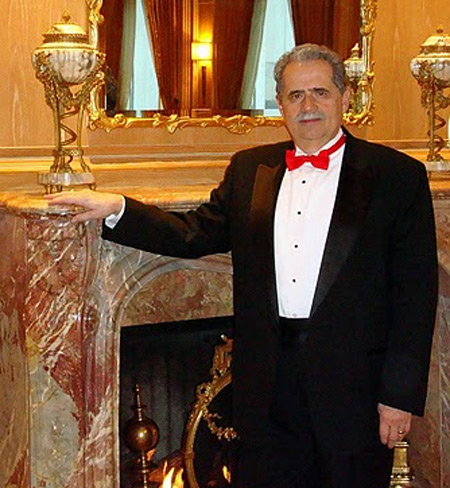 Istvan Hargitai
---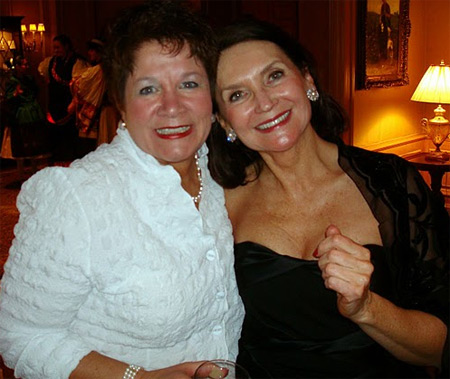 Cathy Hackney and Judit Cinti
---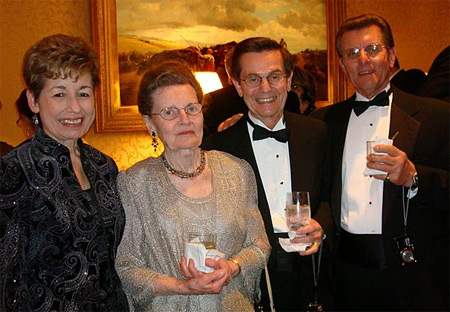 ---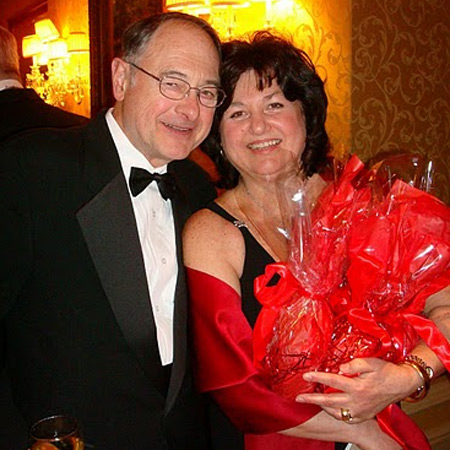 Dr Steven Reger and Marika Megyimori
---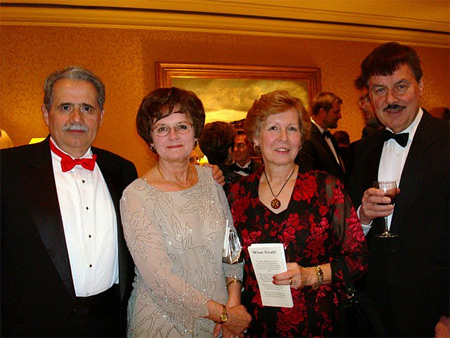 ---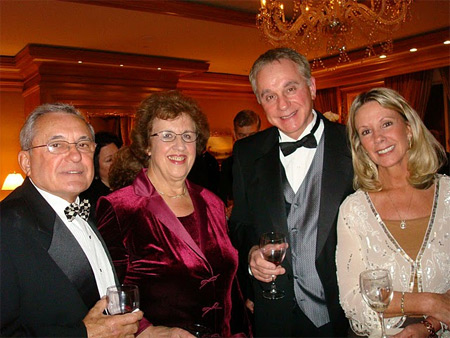 Jim and Carolyn Balogh and Tony and Diana Coeeao
---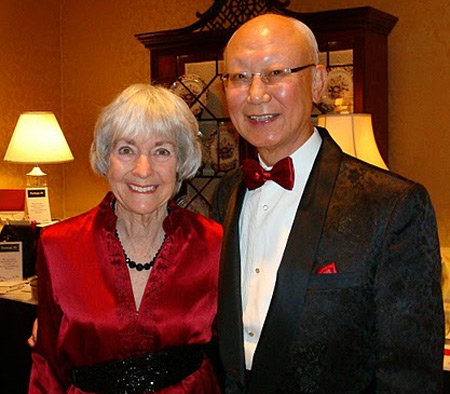 Janet Voinovich and Anthony Yen
---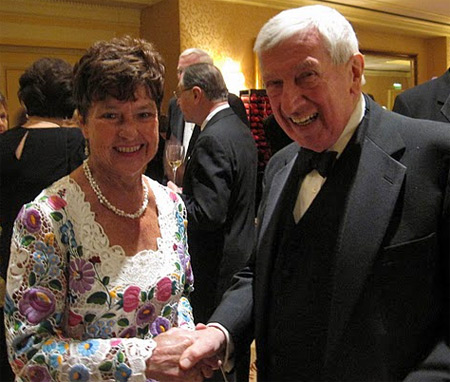 Jenny Brown and Richard Fleishman
---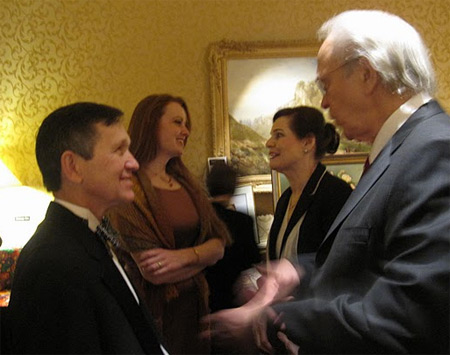 Congressman Dennis Kucinich and
---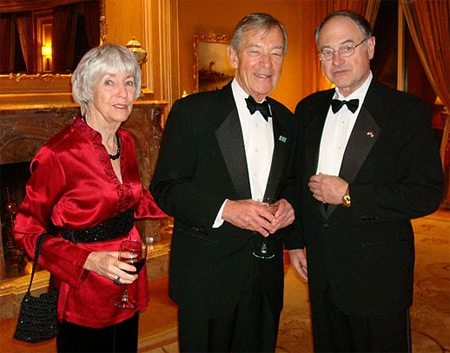 Senator and Mrs Voinovich and Dr. Steve Reger
---
Thanks to Judit Cinti for the terrific photos and in the words of our correspondent Juliana Kascsak, "This was one of the best events I have ever been to!"


---
Back to Top
Back to Cleveland Hungarians