The Hungarian Revolution of 1956 was the first domino in a series of domino-effect events that led to the collapse of the Berlin Wall and the fall of Soviet communism. What really happened? What were the politics behind the politicians? What are the implications of this historic event and how are they manifested in current affairs and conflicts around the world?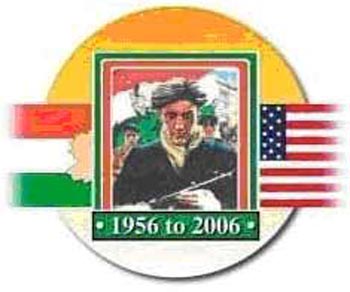 These questions and more were answered on Saturday, October 21, 2006 when the Cleveland Hungarian Revolution 50th Anniversary Committee (CHR50) hosted a daylong event to commemorate, reflect upon and celebrate the Revolution. The events included an intense, 3-part series of panel discussions for the academic, political science and historically minded person. Panelists are experts in their fields from across the United States and Hungary.

The Festival of Freedom included performances and exhibits in the Wolstein Center at CSU. Hungarian organizations exhibited and there were also displays from school children's projects.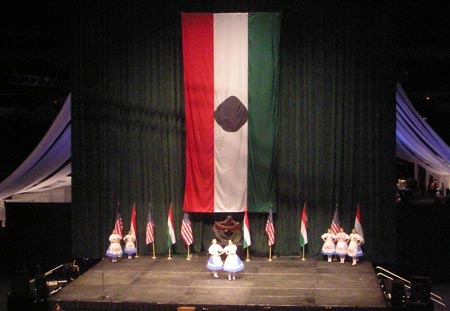 ---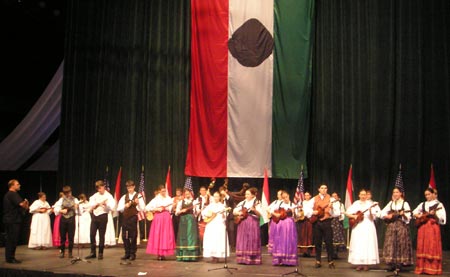 ---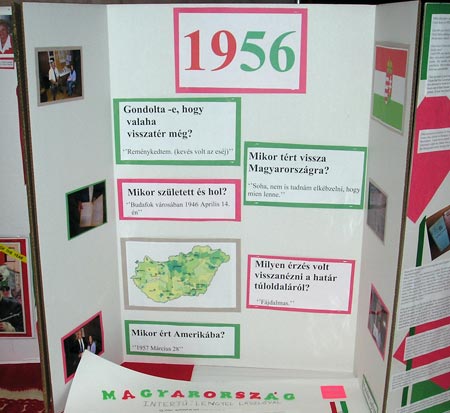 ---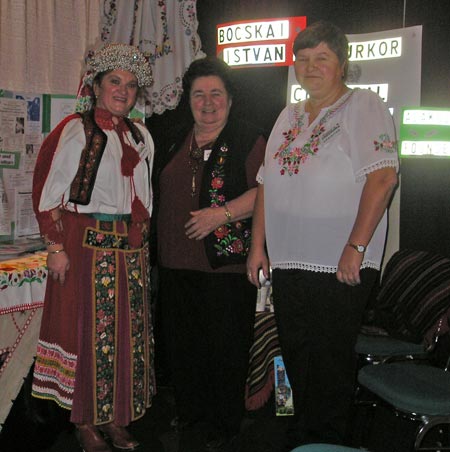 ---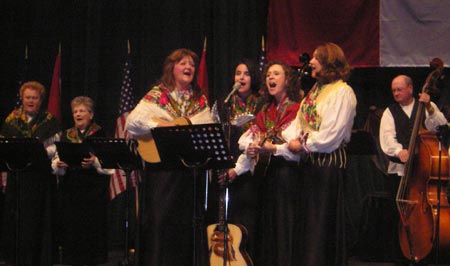 ---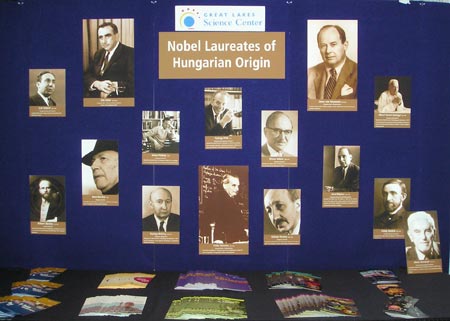 ---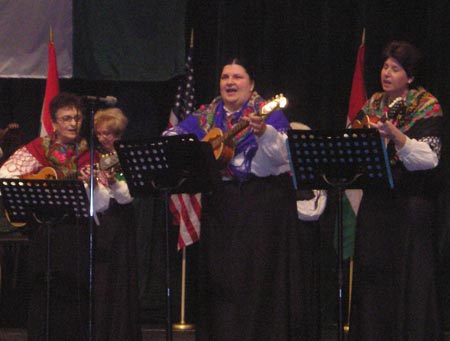 ---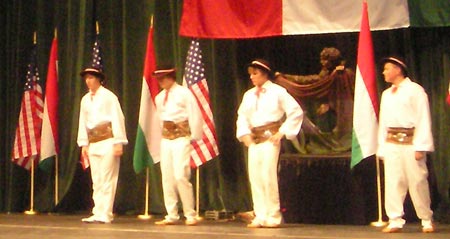 ---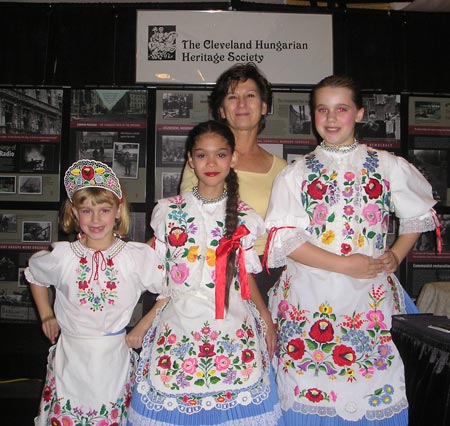 ---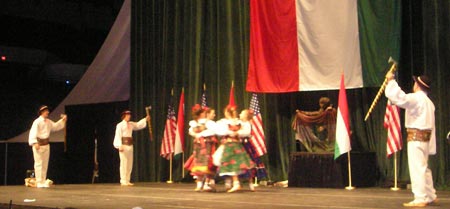 ---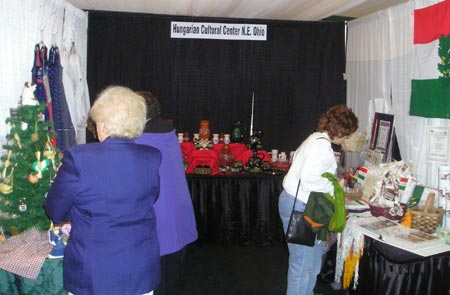 ---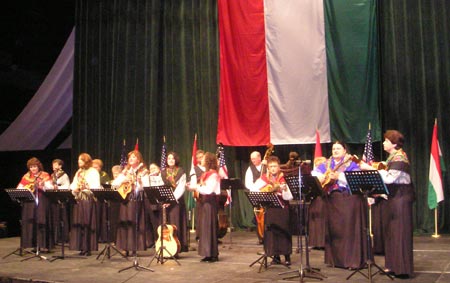 ---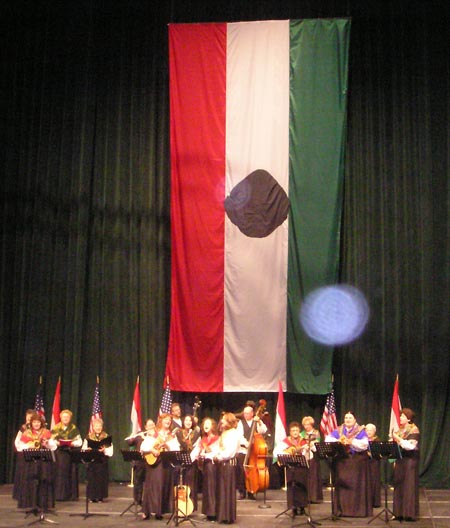 ---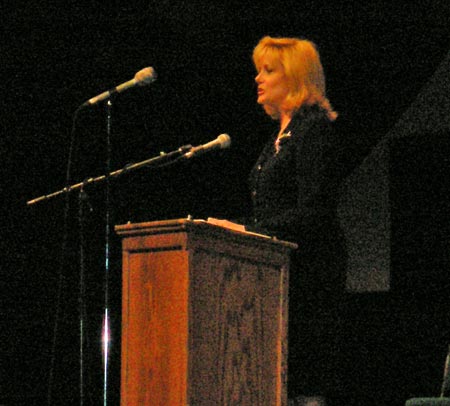 Wilma Smith addresses the crowd


---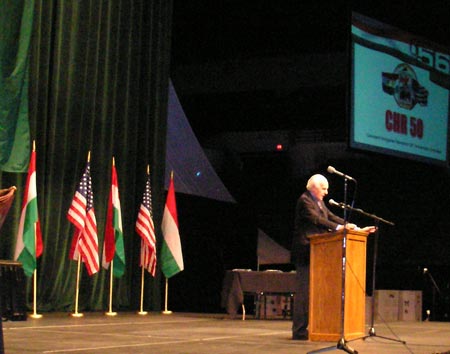 Congressman Tom Lantos speaking to the crowd.



Congressman Tom Lantos (CA) is the only Holocaust survivor ever to serve in the US Congress. He served from 1981 till his death in 2008.

The American Hungarian Federation recognized Congressman Lantos for his "Leadership in Support of Democracy, Human Rights and Minority Rights in Central and Eastern Europe," awarding him the organization's highest award the "Col. Commandant Michael Kovats Medal of Freedom" at the October 19, 2005 Congressional Reception commemorating the 49th Anniversary of the 1956 Hungarian Revolution.

He said, "It is only in the United States that a penniless survivor of the Holocaust and a fighter in the anti-Nazi underground could have received an education, raised a family, and had the privilege of serving the last three decades of his life as a Member of Congress. I will never be able to express fully my profoundly felt gratitude to this great country."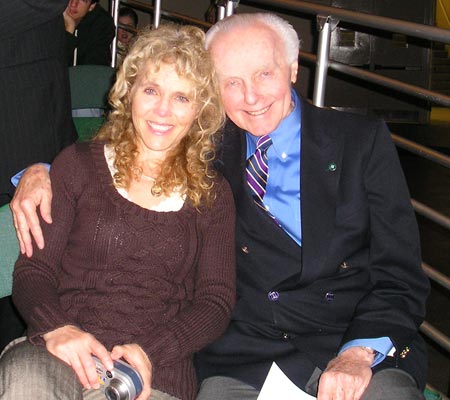 Congressman Tom Lantos and his daughter Annette


---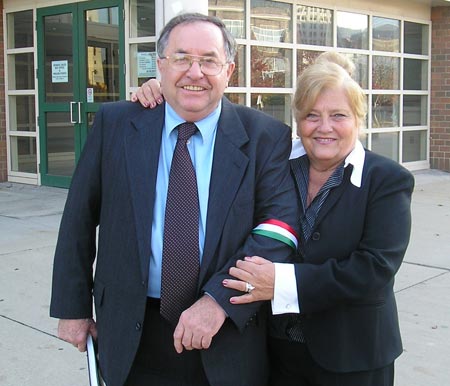 Danny and Kathy Vegh
---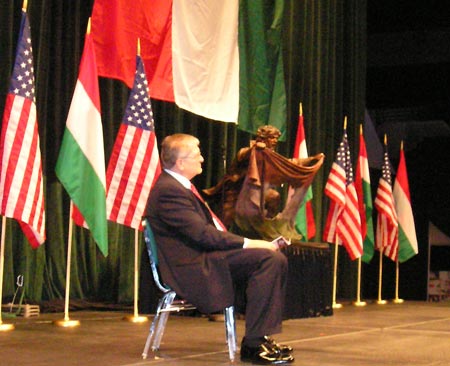 Event co-chair John Juhasz


---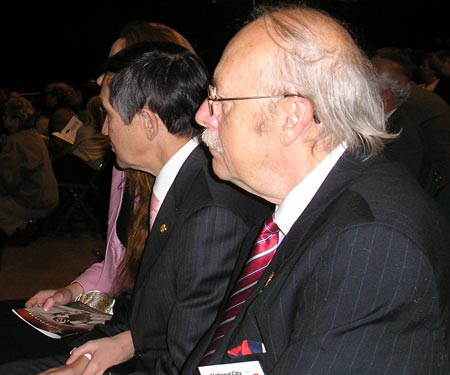 Congressman Dennis Kucinich and August Pust PhD


---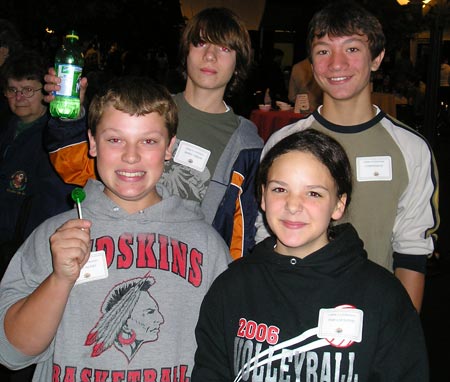 Model UN Students representing Hungary
(clockwise from bottom left) Andrew Tesler,Dominic Lamirand, Connor Dague and Jessica Munczenski


---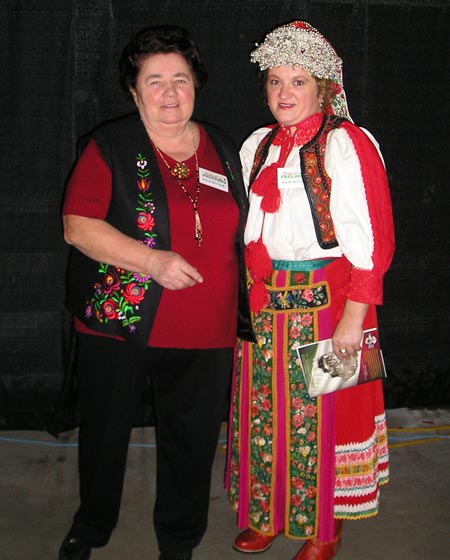 Judy Osvath (right) in traditional Transylvanian costume


---


Marek Jan Chodakiewicz PhD, author and lecturer, Professor of History Institute of World Politics


---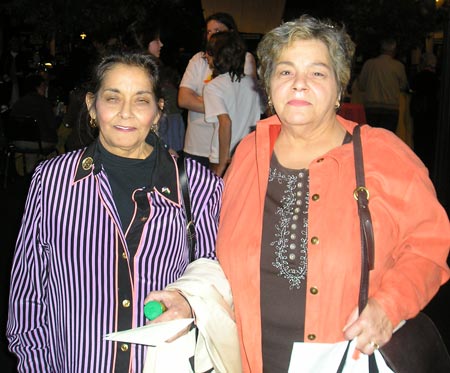 Margaret Csolty and Barbra Grayer


---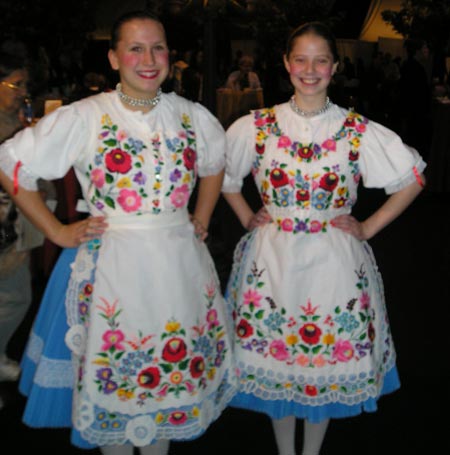 Csardas dancers Candice Kish and Melissa Dial


---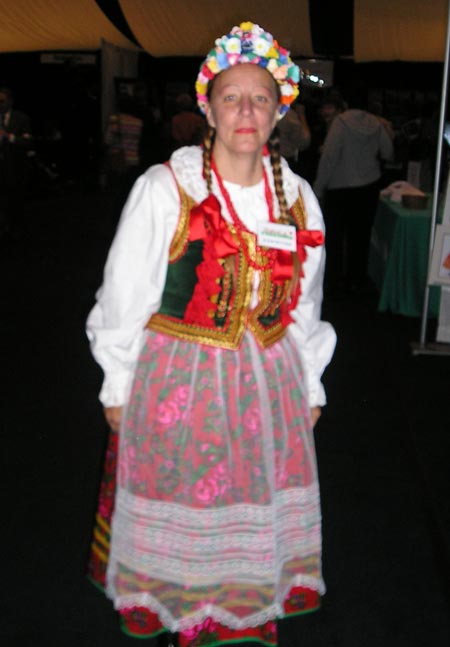 Beth Dane - Serana Polish Folk Ensemble


---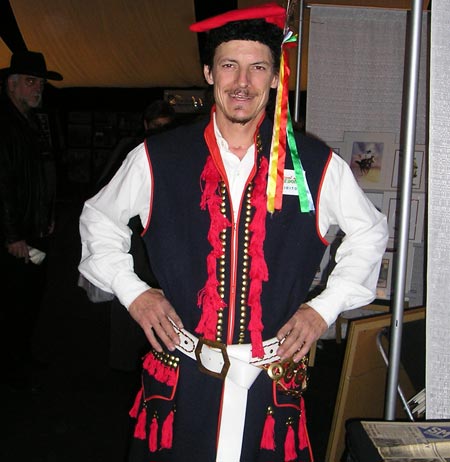 Henry Cameron - Serana Polish Folk Ensemble


---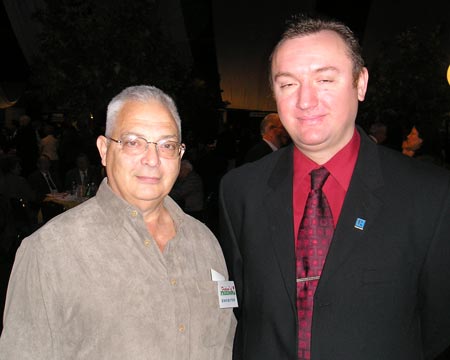 Stephen Agoston and Bela Gazdag


---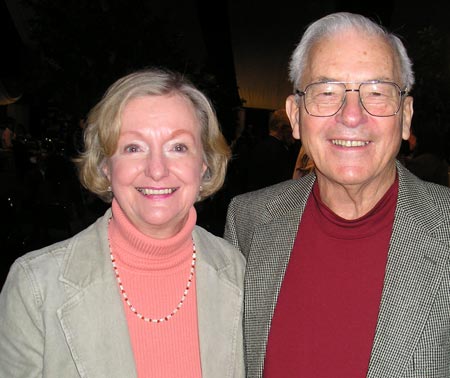 Mary Lou and John Uray


---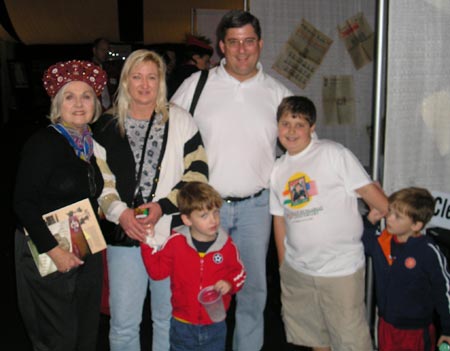 Kate Uhlir with Baloth family. Mom Diana, Dad Steven, twins Zakary and Andrew and cousin Micah Baloth


---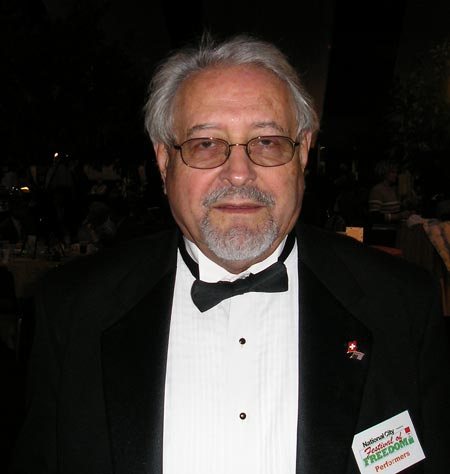 Bruno Thut - at age 19 was a youth leader in support of Hungarian refugees in Switzerland


---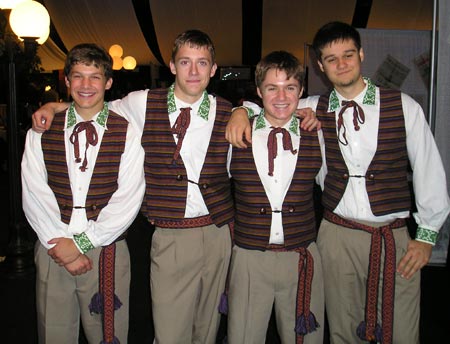 Lithuanian Svyturys Dance Group - Nick Hallal, Tadas Sirvinskas, Matt Hallal, Andrew Stungys


---


Cleveland Clinic research Scientist Steven Reger, PhD
1956 Eyewitness.


---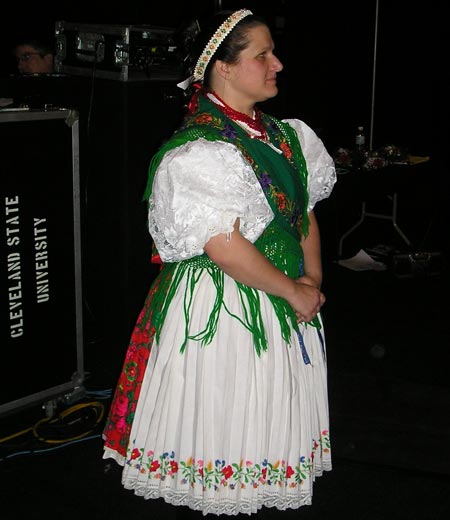 Eszti Pigniczky Hungarian dancer in full costume


---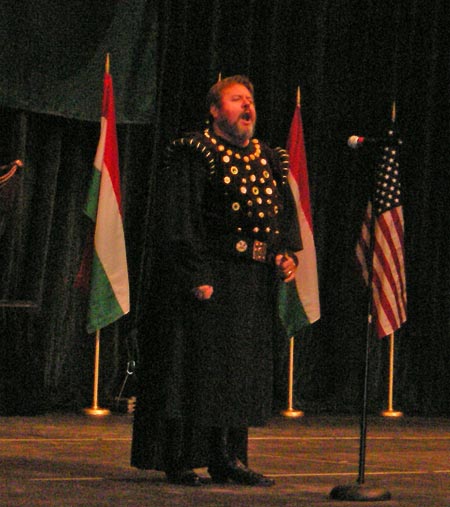 ---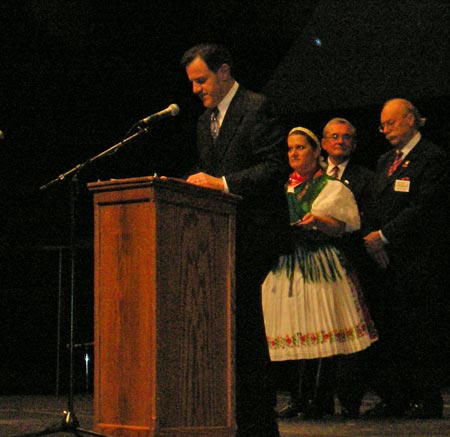 ---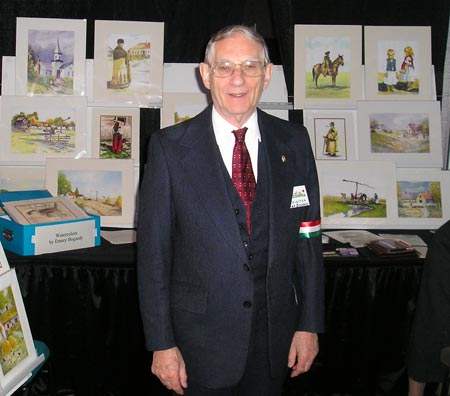 Artist Emery Bogardy


---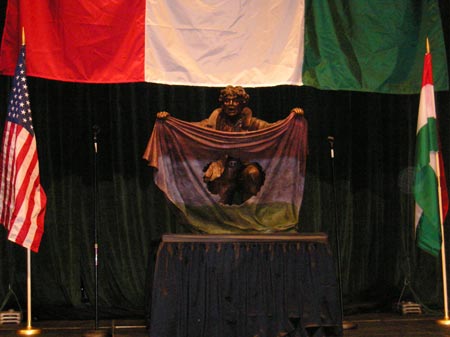 ---
Back to Top
Back to Cleveland Hungarians