The American Nationalities Movement of Ohio presented Katalin Gulden the Freedom Award at its 53rd Annual Captive Nations Dinner on July 17, 2014 at Wal-Tam's Grand Ballroom in Garfield Heights, Ohio.
The 53rd Annual Captive Nations Dinner was held during Captive Nations Week which was signed into law in 1959 by President Dwight D. Eisenhower. Every successive U.S. President has declared the third week of July to be Captive Nations Week to raise public awareness of the oppression of nations under the control of Communist and other non-democratic governments.
Hon. Judge Ralph J. (Rocky) Perk Jr., President of the American Nationalities Movement of Ohio, presented Katalin Gulden with the Freedom Award.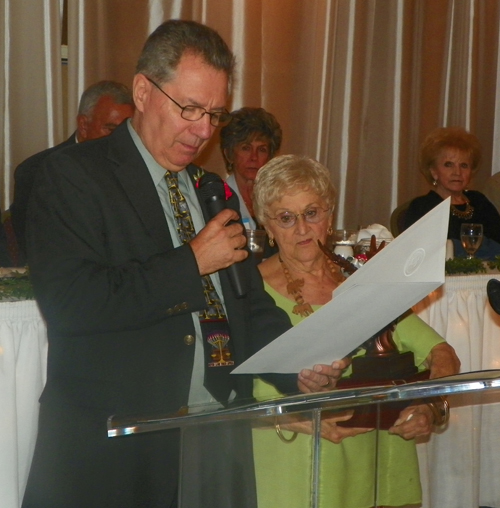 Judge Ralph J. (Rocky) Perk Jr and Katalin Gulden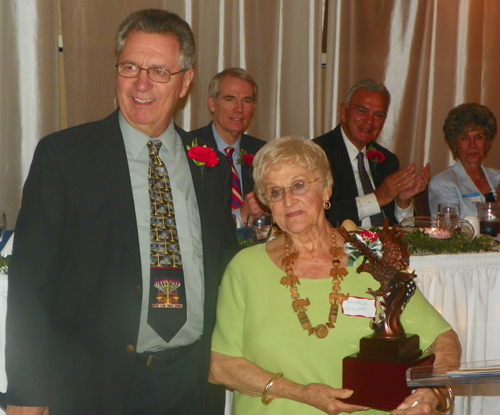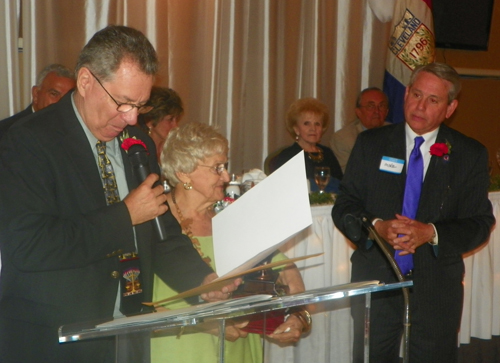 Judge Ralph J. (Rocky) Perk Jr., Katalin Gulden
and Councilman Mike Polensek



Katalin Gulden was born in Ungvar, Hungary, in 1936. Her family fled the advancing Soviet army at the end of World War II, settling in Linz, Austria in 1945. It was there that Katalin first joined the Hungarian scout movement in exile.

She emigrated to Cleveland's Buckeye Road neighborhood in 1954 with her parents, and has been a member of Hungarian girl scout troop #33 ever since. She is a board member of the American Hungarian Friends of Scouting (CsBK), which oversees the work of Cleveland's four Hungarian scout troops. She is a two-time recipient of the CsBK's White Stag award for her tireless work involving scout camps, luncheons and the annual Debutante Ball.

She has served on the Board of Cleveland's Hungarian Heritage Museum and has been the museum's Volunteer Coordinator for the past 13 years. She is also a member of the Cleveland Hungarian Cultural Garden and the Hungarian Cultural Center of Northeastern Ohio. She is a recipient of the Hungarian Association's Arpad Academy award.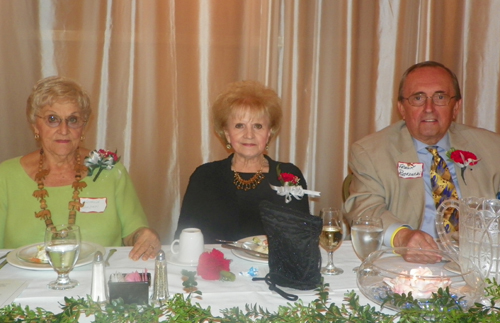 Katalin Gulden, Irene Morrow and Francis Rutkowski



In addition to her work with Cleveland's Hungarian community, Katalin has volunteered at the polls on Election Day for the past 30 years. She has been a Central Committee member of the Republican Party of Cuyahoga County for 15 years. Katalin and her husband of 53 years, George Jr., are members of Cleveland's Lakeside Yacht Club (LYC) where they were avid sailboat racers for decades. In 2013, LYC renamed their annual Governor's Cup sailboat race to the Gulden-McCarty Cup, in recognition of these two couples' long-standing commitment and dedication to the Club's racing program.

Katalin and George are the parents of two children, George III and Julianna, and are the proud grandparents of four.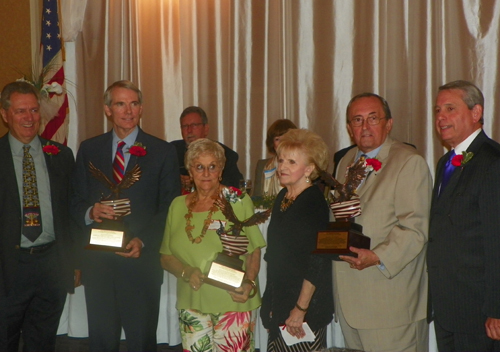 Judge Perk, Senator Rob Portman, Katalin Gulden, Irene Morrow,
Francis Rutkowski and Councilman Mike Polensek



Enjoy this video of Katalin Gulden receiving the Freedom Award.

See more from the 2014 Captive Nations Dinner



---
Back to Top
Back to Cleveland Hungarians