We asked community leaders of various ethnic heritages to share some holiday traditions of their culture. Rania Abbadi's mom is Greek and dad is Jordanian. Growing up they lived in Greece, England and Jordan.
She said, "We always celebrated the Greek way though, haha. Can't expect it differently since mom was in charge of the decorations, cooking and planning the activities for the Holidays. Dad was always working; he is an ENT doctor.
In Greece it's popular to decorate both Christmas trees and wooden boats. The picture is from my city (Thessaloniki) that shows a decorated ship in one of the main streets of the city.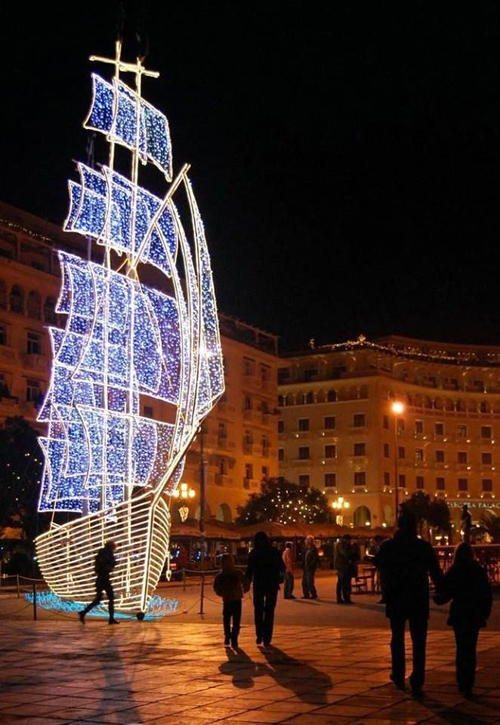 Decorated ship in one of the main streets of the city of Thessaloniki in Greece
Lamb or Pork is usually served as the first meal to break the advent fast. The most popular desserts are: Kourabiedes (buttery shortbread-like almond cookies covered in very generous layers of powdered sugar) and Melomakarona (soft and syrupy, topped with walnuts).
The kalanda (Christmas Carols) are sung by young children on Christmas, New Year's, and Epiphany (January 6- I celebrate my name day on that day :D). Kids bring along triangles to bang as they sing and get rewarded with coins & sweets.
The Greek for Santa Claus is "Aghios Vasilis (Saint Basil/Saint Vasilis). His feast day is celebrated on January 1st & presents are customarily handed out on New Year's, in celebration of his feast day - many times we did get our gifts earlier on Christmas day. Also on January 1st, usually just after midnight, we cut the Vasilopita (a bread-like cake: tsoureki) which contains a coin (flouri) hidden in the dough. The person to find it in their slice, it is said, will be blessed with good fortune for the year. The cake slices are cut in the order of the oldest to the youngest member of the family and any guests present. (we used to have a slice for the house and the clinic too!)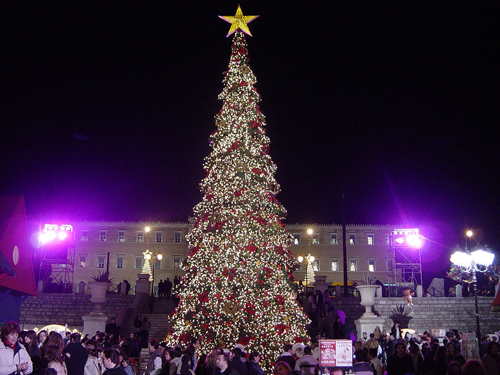 Christmas tree in Athens

January 6 is the Epiphany, also referred to as Theophany or Ta Fota (The Lights). Some of the famous customs carried out on this day (I watched it on TV) is: The service of the Great Sanctification of Water that is held near bodies of water across the country (seas, lakes, rivers), the biggest celebration of all takes place at the port of Piraeus. Following church services, people gather by the edge of the water, which the priest blesses by casting a cross into it. Young men then dive in to retrieve it; the one who makes it through the cold water to the cross first, and returns it to the priest, is awarded with a special blessing, and often cash gifts from the crowd.

Watch here one from Jan. 6, 2020: https://www.youtube.com/watch?v=u0DU6j-Vgrk


---
Back to Top
Back to Cleveland Greeks
Back to Ethnic Holiday Traditions