"Mr. Gorbachev, open this gate! Mr. Gorbachev, tear down this wall!"
Those stirring words by US president Ronald Reagan at the Brandenburg Gate on June 12, 1987 continued the sentiment issued by President John F. Kennedy in 1963 with his "Ich bin ein Berliner" speech.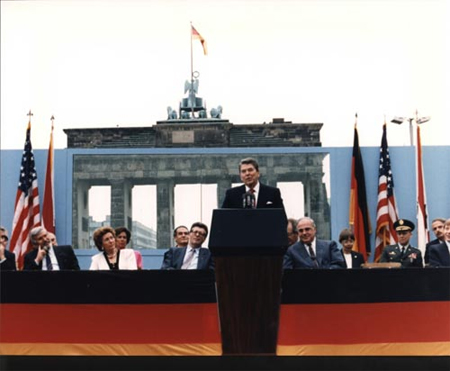 President Ronald Reagan at the Brandenburg Gate

Reports say that at the time, the speech received "relatively little coverage from the media." Communists were also unimpressed by the speech and the Soviet press agency Tass accused Reagan as giving an "openly provocative, war-mongering speech."

After intense protest, East Germany finally opened the Berlin Wall on November 9, 1989. We now celebrate the 20 year anniversary of this monumental event.

To understand both the physical and psychological barrier of the wall requires a knowledge of the division of Germany and Berlin into 4 parts run by the US, French, British and Soviet Union.

One must consider the oppression of the people by the East German and Soviet governments such as the tanks used against the people in the 1953 workers strike to the brutal Volkspolizei and the secret police, the Stasi.

The Soviets and East German leaders called the wall the "Anti-Fascist Protection Wall" but the rest of the world saw the structure for what it really was - an attempt to squash freedom.

And, of course, the wall was much more than 96' long. It's reach extended throughout Eastern Europe.

It is important to remember and/or learn about the Berlin Wall - how it came to be, the suffering it imposed and how it was finally torn down. One good way is in a series of short lessons available on audio for your PC, iPod, Zune or other mp3 player.

A company called iMinds produces 8 minute audio lessons about interesting topics. They call them "8 minute knowledge grabs which whet your appetite and broaden your mind." They have a new 6 set Berlin Wall production available for download.

The 6 tracks available are:
Rise of The Berlin Wall,
East Germany,
The Iron Curtain,
Crossing The Berlin Wall,
The Fall of The Berlin Wall
German Reunification
The tracks are sold as a collection of six for $3.99 via Audible.com/iMinds or via the iTunes Store. All titles are also available individually for $0.99. You can visit www.iminds.com to find out more.
While walking the dog, I was able to gain a well-rounded overview of the Berlin Wall by listening to this series on my Zune. It was a terrific way to refresh my memory and learn important new things about this monumental event. I probably would not have sat down with a book but the ease of use and audio format made the learning easy and fun.
---
Back to Top
Back to Cleveland Germans