The Cleveland Cultural Gardens are one of Northeast Ohio's oldest and most beautiful treasures. More than 31 gardens, designed and cultivated by distinct cultural or nationality groups, adorn the drive along Martin Luther King Boulevard and East Boulevard in Rockefeller Park. Founded in 1916, the Cultural Gardens are unique to the world. They represent the diversity and multiculturalism that is Cleveland, and bring life to the Gardens' mission of "peace through mutual understanding."
The Ethiopian Garden is the first garden from an African country in the 100+ year history of the gardens.
Phase 1 of the Ethiopian Garden is a large wall displaying 5,000 years of history. The Ethiopian artist Yetimgeta Zerihun designed the structure while Cleveland Ethio-American artist mosaic artist Ernesto Spinelli constructed the mural.
Dan Hanson took a look at the progress of the wall on July 24, 2019. Watch the video below.
The Menelik Hall Foundation supports all things Ethio-American in Cleveland and worldwide and has spent seven years raising over $25,000 for the garden. The Menelik Hall Foundation is currently raising funds for Phases II and III.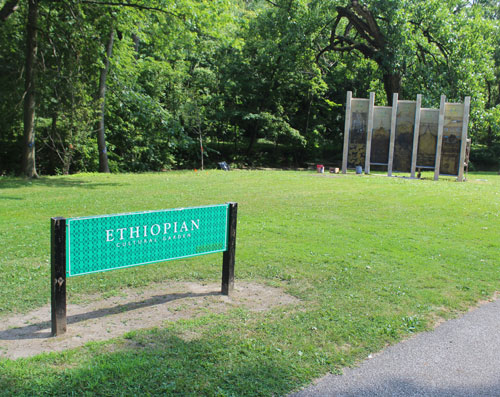 Ethiopian Cultural Garden in Cleveland
---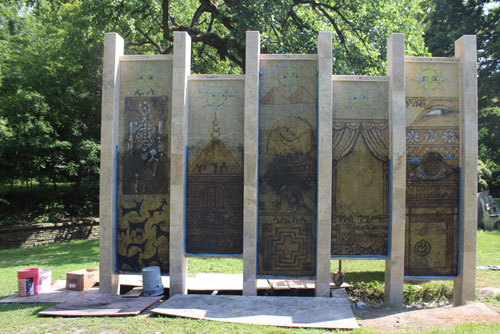 Work in progress on the front of the wall in the Ethiopian Cultural Garden
---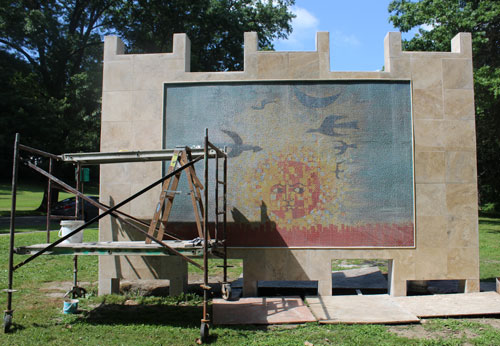 Work in progress on the back of the wall in the Ethiopian Cultural Garden
---
The wall was completed and unveiled in a ceremony on August 24, 2019.
See photos and videos of the Ethiopian Cultural Garden Phase 1 Dedication



---
Top of Page
Back to Cleveland Ethiopians
---
---