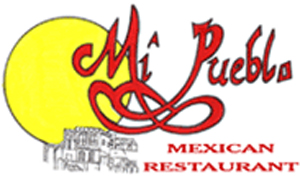 Our September 24, 2013 food adventure took us south of the Border - to Mexico! We asked our passport holders what food they wanted to try next and the majority said MEXICAN!

So we headed to Mi Pueblo Authentic Mexican Restaurant in University Circle. (11611 Euclid Avenue.)

One of our fellow food adventurers Joe Meissner told an interesting story of how Mexico helped save the Union and kept the United States united. As you will see in this video, Lt. Colonel Meissner told the story of Cinco de Mayo and the Mexican Army's unlikely victory over the French forces at the Battle of Puebla. This defeat kept France's Napoleon III from assisting the Confederate Army and allowed the Union Army another year to build leading to victories at Vicksburg and Gettysburg which essentially ended the Civil War.

(Please excuse the darkness of the videos. While the ambience was perfect for dining, our video came out too dark.)
Debbie Hanson and Joe Meissner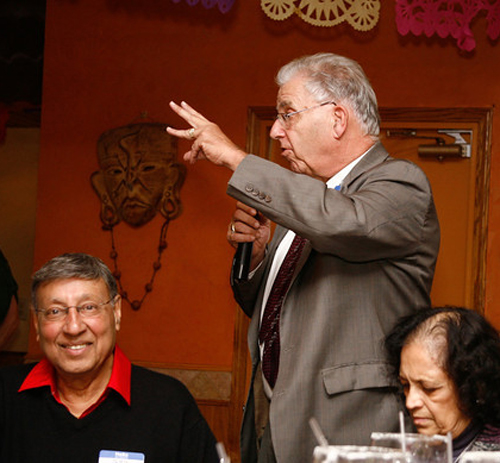 Joe Meissner at Mi Pueblo talking about Cinco de Mayo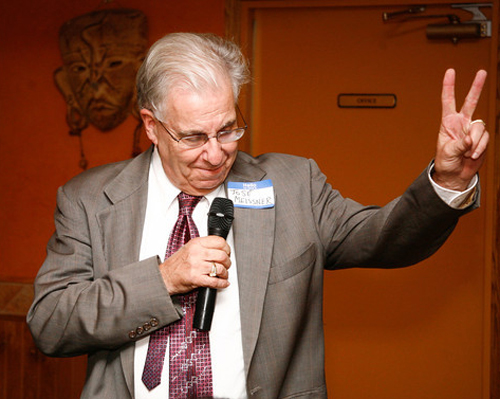 Joe Meissner
Gerardo Ortega, owner of Mi Pueblo restaurant in Cleveland Ohio, walked us through Mexican foods and customs. He told about the Horchata Mexican Rice Water drink that the ClevelandPeople.Com Food Adventurers Group were served.
It is very traditional throughout all of Mexico. Their version includes cinnamon, condensed milk, vanilla extract and sugar. It is very sweet so not something you drink all the time.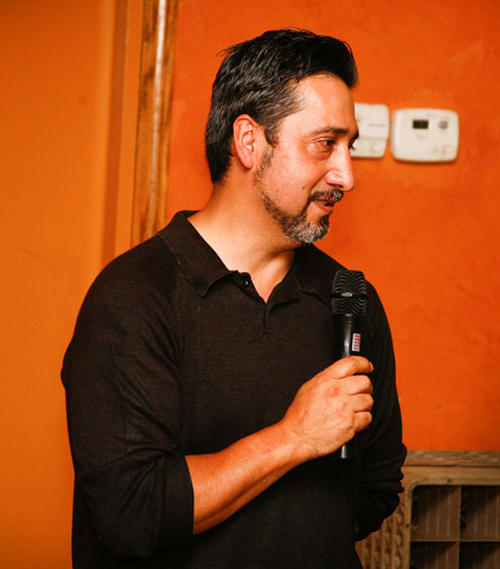 Gerardo Ortega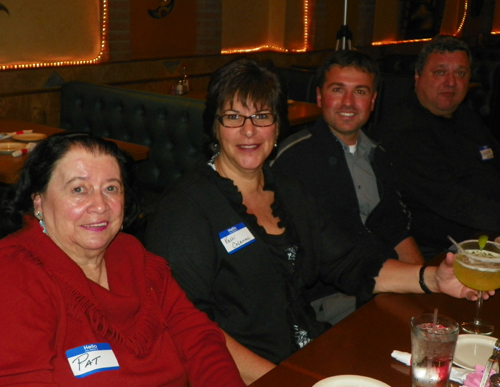 Pat Hanson, Kelli Coleman,
Murat Gurer and Pierre Bejjani
Gerardo told about the pickled carrots and red and green salsa that the Food Adventurers Group was served. The carrots are very traditional and are pickled with onions, jalapeno peppers, garlic and usually cauliflower. The red salsa is the tomato salsa with tomatoes, onions, peppers and cilantro. The green salsa uses green or leafy tomatoes for a distinctive taste.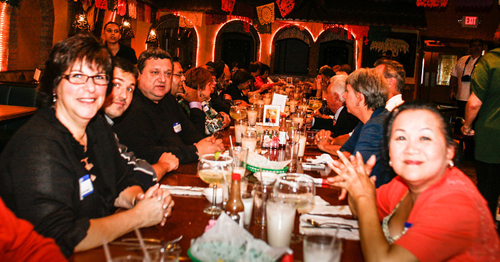 Next came the appetizers. Gerardo Ortega told about the appetizers that included a guacamole, flautas and a special quesadilla. He told of the Indian influence of the food and how it varies by region of Mexico.
For example, in the North they will use flour whereas in the middle and south they will use corn. Similarly pinto beans are used more in the north while black beans are used more in the south.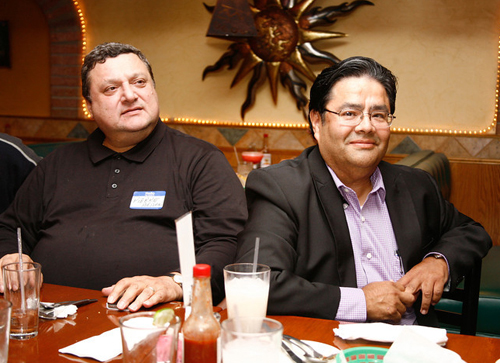 Pierre Bejjani and Eduardo Romero
---
---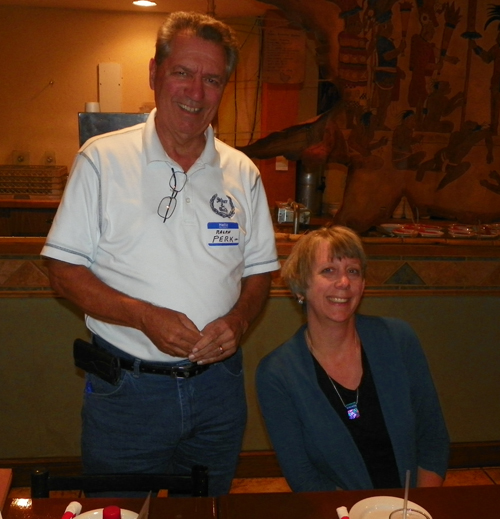 Judge Rocky and Kelly Perk
---
Gerardo was asked about what people drink in Mexico at the ClevelandPeople.Com Food Adventurers Group event. He told the story of how a man in Acapulco loved a girl named Margarita and created the famous drink for her (tequila, triple sec and lime). He also told what typical families may drink at dinner and how it varies by region.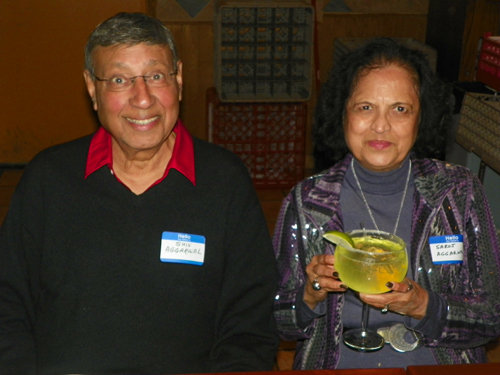 Shiv and Saroj Aggarwal
---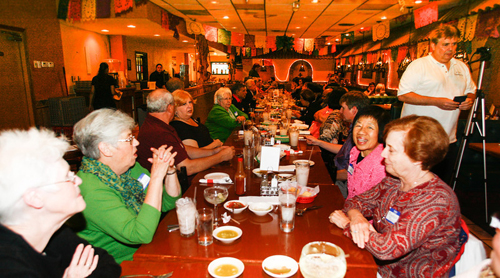 He was also asked how similar or different Mexican food is to Puerto Rican or Peruvian or Colombian or other Latin food.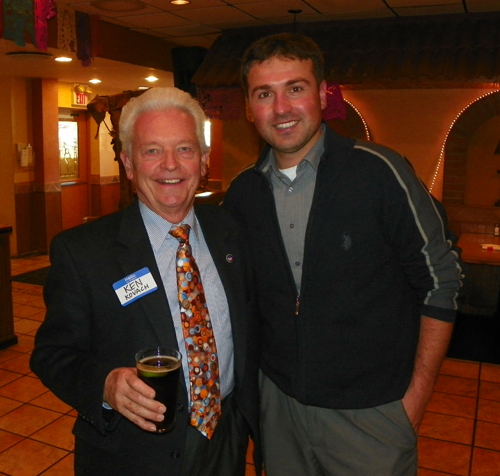 Ken Kovach and Murat Gurer
---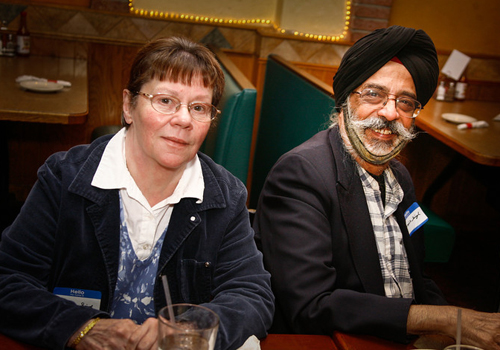 Linda and Paramjit Singh
---
What about chili? Gerardo Ortega, owner of Mi Pueblo restaurant in Cleveland Ohio, was asked about chili at the Food Adventurers Group event. He said chili is not a common Mexican dish - it is Tex-Mex from the North in Texas. He told of a common Mexican dish that people eat with pinto beans that is similar but not chili.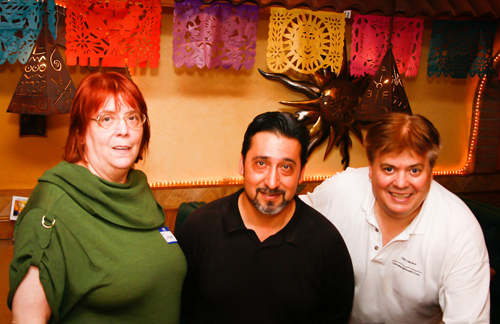 Debbie Hanson, Gerardo Ortega and Dan Hanson
---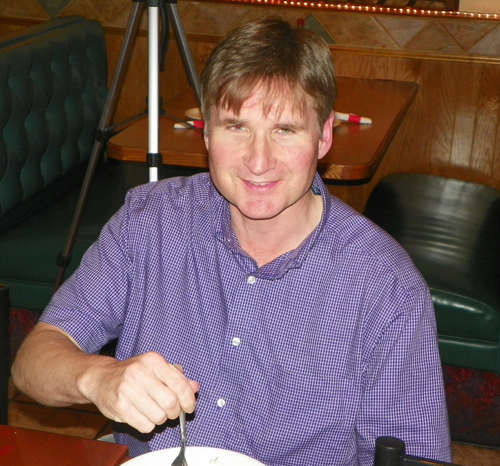 Tom Sangrik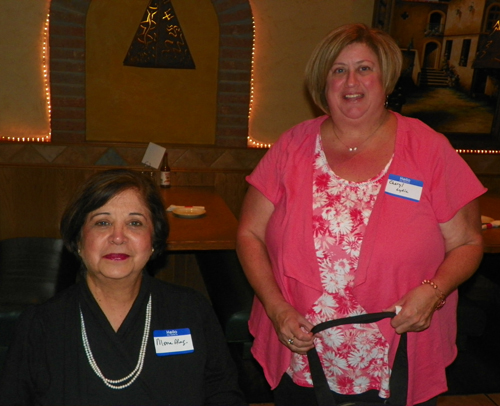 Mona Alag and Cheryl Lydic
---
The entrees were authentic and delicious. Along with refried rice and beans he served 3 pre-Columbian dishes including traditional enchilada, gordita and a French inspired pollo (chicken) dish.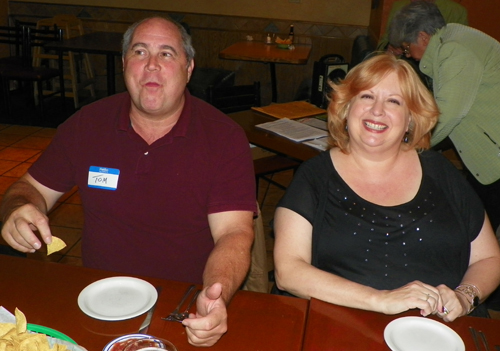 Tom and Pat Mugridge
---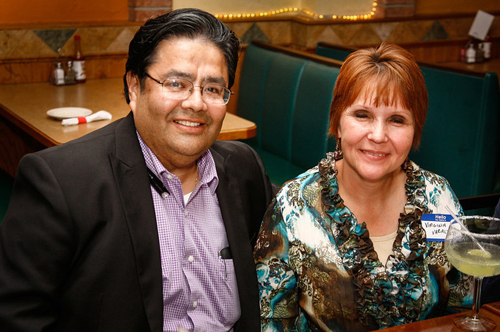 Ed Romero and Virginia Varaljax
---
Gerardo was asked about about beans - refried vs. whole. He said that in Mexico beans are a staple and rice is much less common. He explained that chorizo is a spicy Mexican sausage.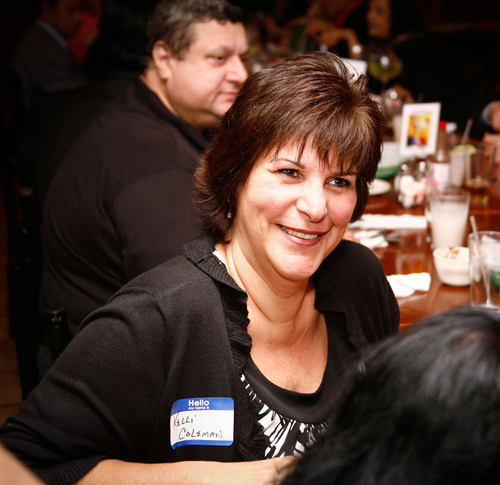 Kelli Coleman
---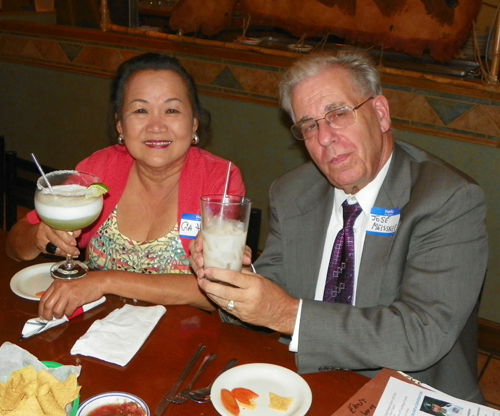 Gia Hoa Ryan and Joe Meissner
---
He was also asked about the French influence in Mexican food and the use of Masa flour.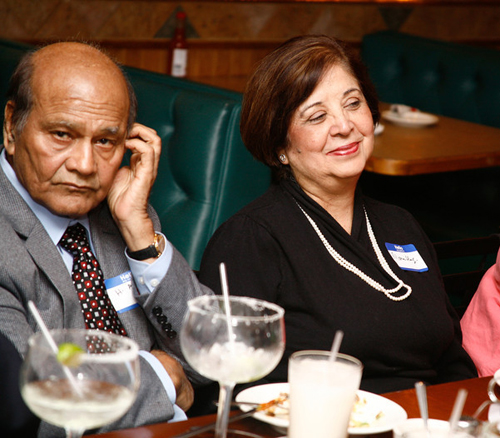 Harjit and Mona Alag
---
The inquisitive adventurers also asked about the use of Adobo Sauce in Mexican Food.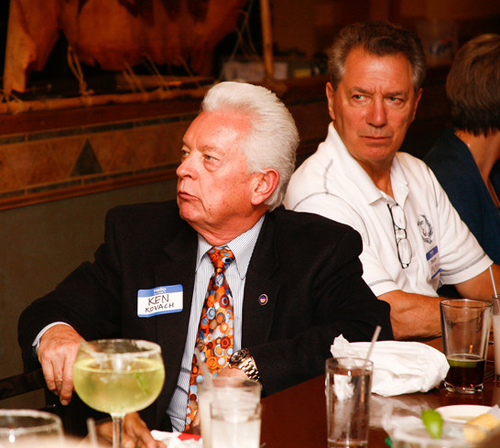 Ken Kovach and Ralph Perk Jr.
And what about Molé sauce in Mexican Food? Gerardo said that the main ingredient of a molé is dried peppers. It was a way for them to preserve food. He said there are 3 basic moles and they make 60 gallons at a time because it is better as it sits.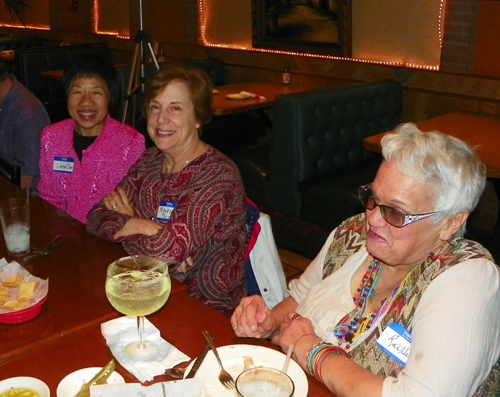 Lana Den, Maureen Purcell and Kathleen DeBernardi
---
Though everyone was full, there is always room for dessert. Gerardo Ortega explained the 3 milk cake or Pastel de Tres Leches that is very familiar in the Midwest part of Mexico. The 3 types of milk are Condensed, Evaporated and heavy cream. They make the cake very moist and then fruit such as strawberries, bananas or pineapples are added.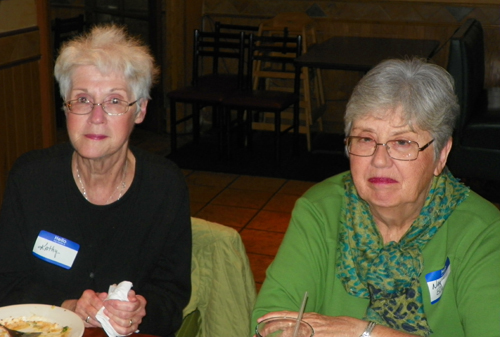 Kathy Kundtz and Nancy Botrchert
---
With the sweet dessert on everyone's minds, Debbie Hanson asked Gerardo about Mexican chocolate.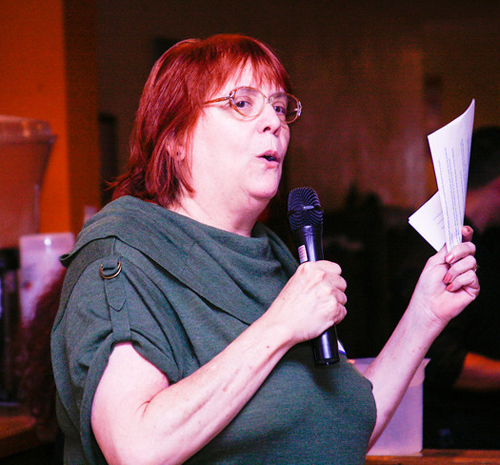 Debbie Hanson


He said that Mexican chocolate is different and much more flavorful than what we may be used to. Also the sweets in the US have much more sugar.
Pat Mugridge, Tim Ensch and Nancy Loren
---
The adventurers commented on the traditional decorations of the restaurant. Gerardo was asked about the intricate paper cutting decorations at Mi Pueblo Restaurant. He said that the paper decorations are usually part of the Christmas celebration and use the same paper as they use in making piñatas.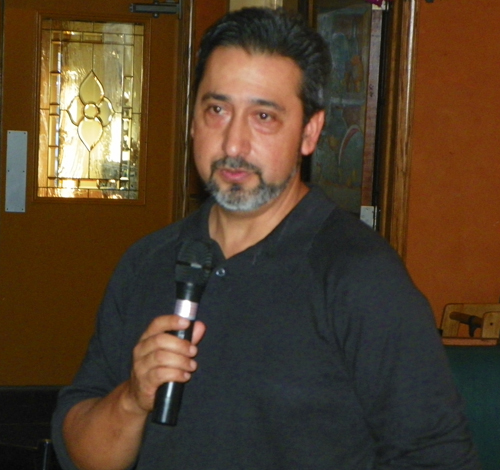 Gerardo Ortega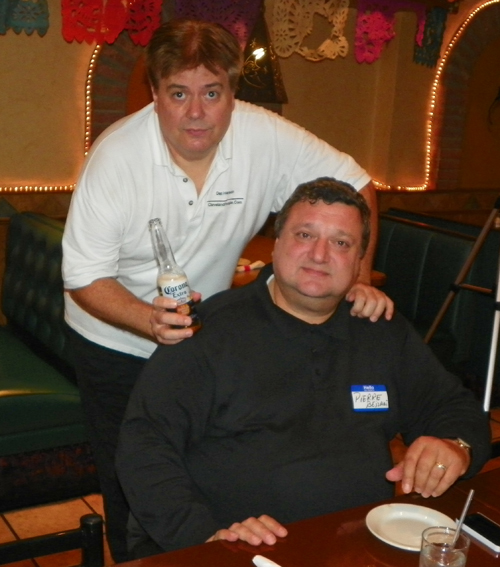 Dan Hanson and Pierre Bejjani
---
Everyone had a great time, had delicious authentic food and drink and learned about Mexican culture.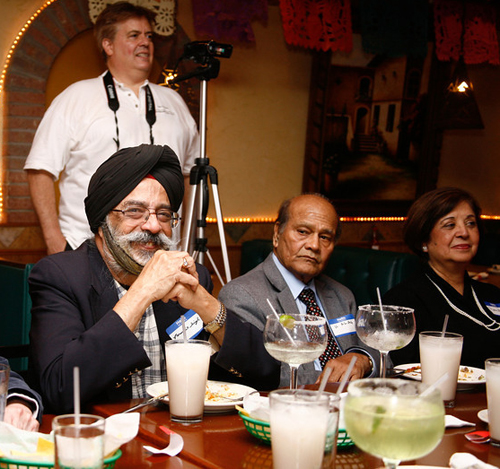 Dan Hanson, Paramjit Singh, Harjit and Mona Alag
---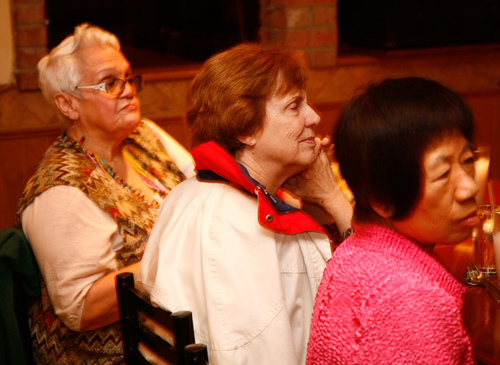 Kathleen DeBernardi, Maureen Purcell and Lana Den
---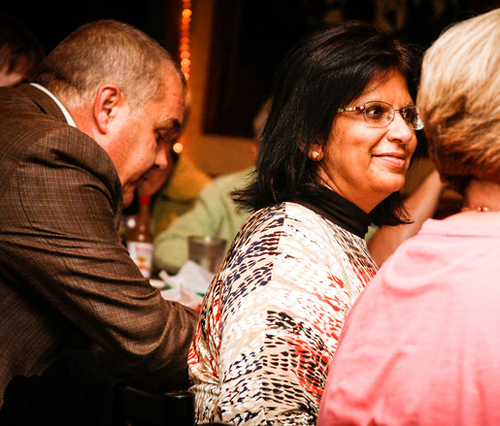 Tim Ensch and Bimlaji Malhotra



Along with coupons for free burritos, Gerardo had a special offer for Passport holders for an entire month after the Adventure!

Everyone had a great time and were eager to spread the word abut this authentic Mexican treasure just east of University Circle.



Don't miss out on the next adventure.
Get your Passport now
---
Back to the main ClevelandPeople.Com Passport Page
Frequently Asked Questions about the Passport Program
Top of Page
---