The Cleveland Food Adventurers Passport event in October 2014 was at the Claddagh Irish Restaurant in Legacy Village in Lyndhurst.

People who enjoy trying different foods and learning about different cultures participate in the Food Adventurer's group. This was our first non-dinner event - a traditional Irish breakfast!

50 adventurers (with a waiting list) gathered to learn about Irish culture and food and share some great authentic food.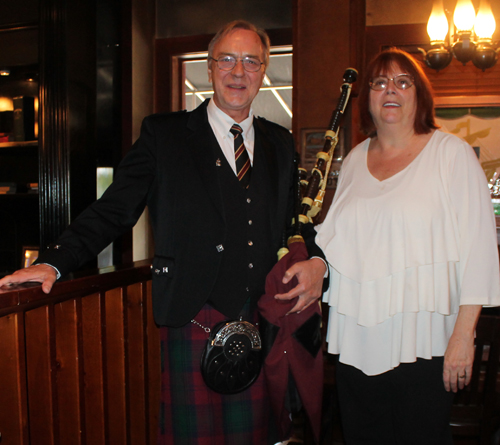 Bruce Grieg and Debbie Hanson



Mistress of Ceremonies Debbie Hanson welcomed the crowd and the event began with a short medley of Irish and Scottish tunes on the bagpipes by Bruce Grieg, the Pipe Major of the Irish American Club East Side Pipe Band.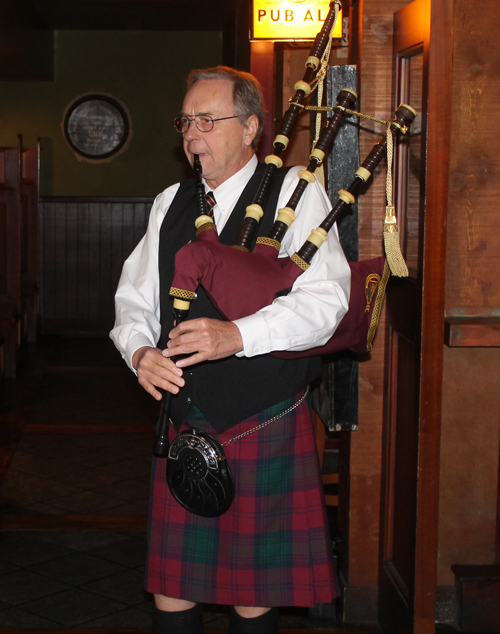 Bruce Grieg



The roaring fire in the fireplace added to the experience. Before breakfast the group heard from Bob Cannon who is the manager of the Claddagh Irish restaurant. Bob is originally from County Roscommon in Ireland. He explained what the word 'Claddagh' means, the history of the Claddagh, the components (hands, heart and crown) and what it means to wear it facing toward you or away from you.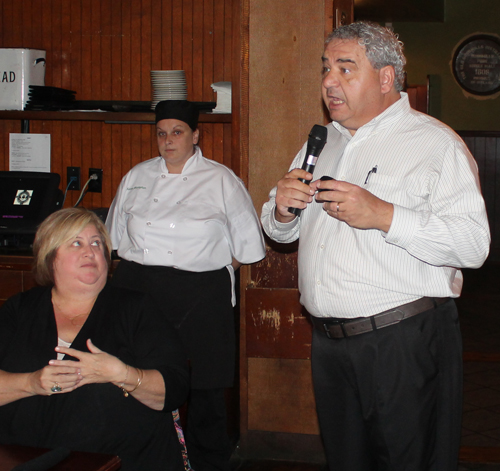 Claddagh Manager Bob Cannon



Karen Monaghan is the chef at the Claddagh and is originally from County Westmeath in Ireland. She told the components of a traditional Irish breakfast that would be served including rasher bacon, black pudding, white pudding, Bangers, eggs, sautéed mushrooms, beans, soda bread and Tomato Jam. Most had coffee and orange juice but Karen explained that tea would be served in Ireland. Later we had bread pudding for dessert.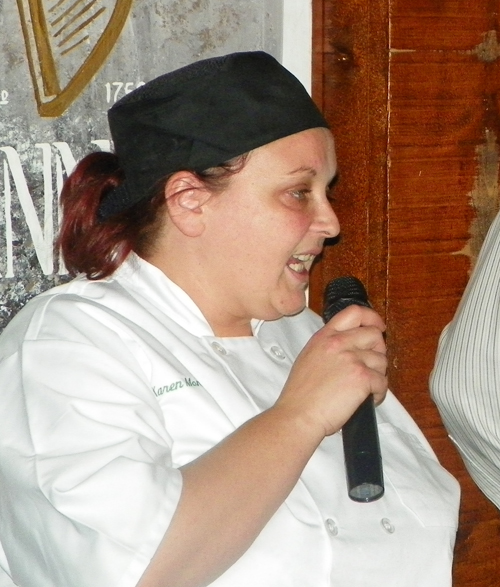 Chef Karen Monaghan



After breakfast, Chef Karen was asked about the poor reputation in the past of Irish cuisine and what changed to make it so much better.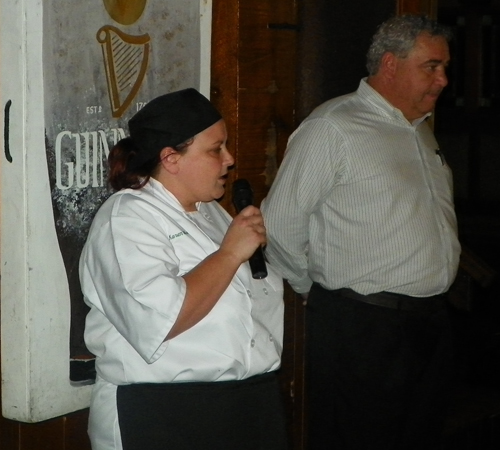 Claddagh Chef Karen Monaghan and Manager Bob Cannon



Another question for Chef Karen was if Irish food varied much from County to County or other regions. She said that some regions had specialties and the coast had more seafood but much was similar.



Chef Karen explained what a typical weekday meal might be in Ireland and also what would be on their Christmas table.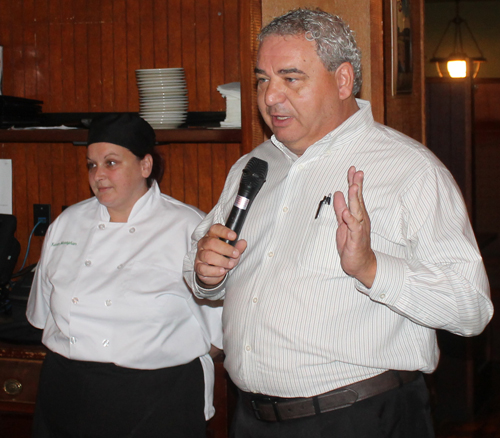 Claddagh Chef Karen Monaghan and Manager Bob Cannon



Many people associate corned beef and cabbage with Ireland. Chef Karen was asked if corned beef and cabbage is really an Irish dish. Her answer may surprise you.

She also told about Indian, Chinese and other international foods now in Ireland.





***
Stay informed about the local Irish community by signing up for the free Irish eNews mailings. You can select other groups as well. It's easy and free. Fill out the form for the

free Irish eNews.
***
---
Then, Dan Hanson of ClevelandPeople.Com gave some Cleveland Irish information. He began with a quick multiple choice quiz. What is the national emblem of Ireland?

Dan told about 3 interesting Irish monuments in Cleveland. The first was the Irish Famine Memorial in the Flats. He told how 1 million died and another million emigrated from Ireland because of the Great Famine.

The second was the statue of featherweight boxing champion and Irish immigrant Johnny Kilbane in Cleveland's Battery Park. Kilbane held the title longer than any boxer in history except for Joe Louis.

More on the Johnny Kilbane statue in Cleveland.



The third was the Irish Cultural Garden. Dedicated in 1939 the Irish Cultural Garden was revitalized a few years ago and has monuments to Irish authors such as John Millington Synge, William Butler Yeats, James Joyce, George Bernard Shaw and others.

More on the Irish Cultural Garden in Cleveland.



Next, Dan explained that about 80% of the Irish in Cleveland are from County Mayo in Ireland and mostly from Achill Island.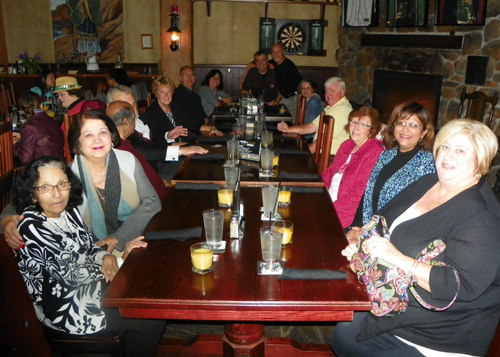 Some of the Food Adventurers at the Claddagh



Then Dan told a few words in Irish such as the toast Slainte, what Cead Mile Failte means, and how Craic is a good thing. He also told of the funny greeting in his mother Pat Sweeney's kitchen.





Bruce Grieg, Pipe Major of the Irish American Club East Side Pipe Band, came back and gave some background on how he got into piping. He then explained the various components of a piper's outfit such as the kilt, the ghillie brogues (tie shoes) and sporran (pouch worn in front.)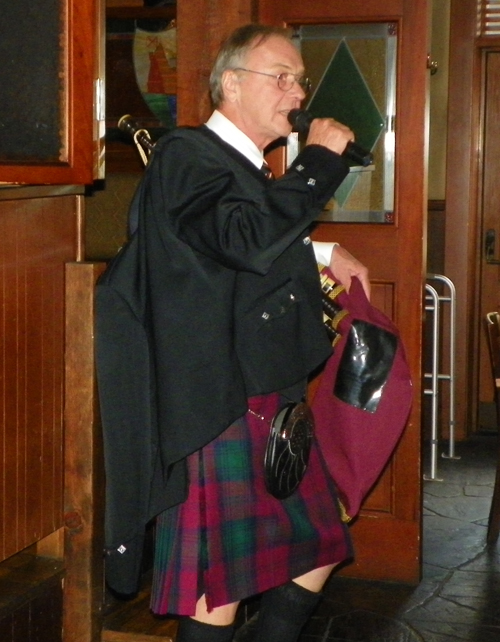 Bruce Grieg showing the piper's outfit



Bruce then explained the various components of the traditional Highland bagpipes called Great Highland Bagpipes. This includes the bass and tenor drones, the chanter and the bag. He said they have 9 notes available and do the best they can with them.



To close the event, Bruce played a short medley of Irish and Scottish tunes on the bagpipes and ended with Amazing Grace and God Bless America. It was inspiring to see diverse multi-cultural crowd sing along.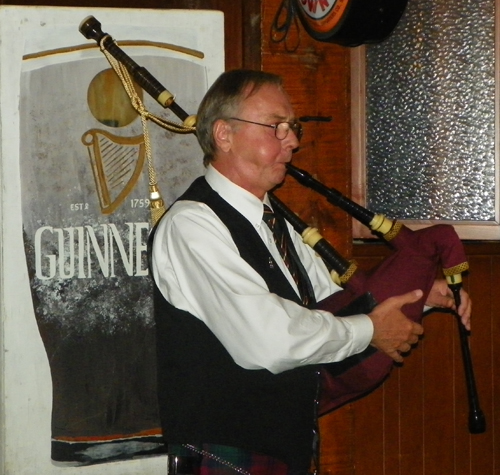 Bruce Grieg playing the bagpipes



Besides the excellent breakfast and entertainment, Passport holders received a coupon for a free appetizer or dessert at Claddagh. They also received a loaf of Irish soda bread courtesy of Pat Coyne and the Ohio Celtic Festival. Pat will be offering free admission to Passport holders for next year's Festival!

Everyone wanted a closer look at the bagpipes and to pose with Bruce. Enjoy these images from the Food Adventure to Claddagh.
Bruce Grieg with Kelli Coleman and granddaughter Gia
---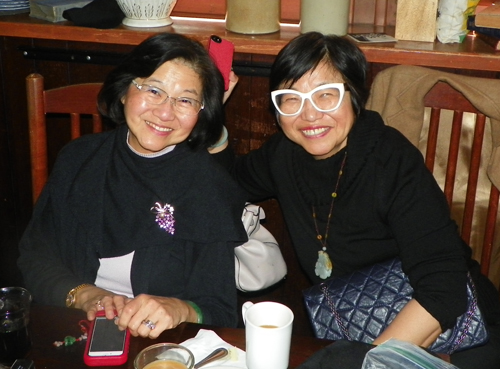 Cecilia and Margaret Wong
---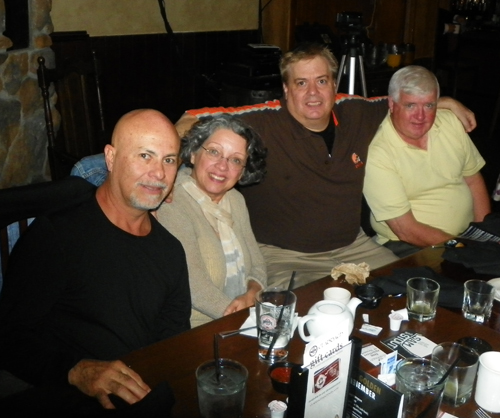 Luis and Nora Martinez, Dan Hanson and Pat Coyne
---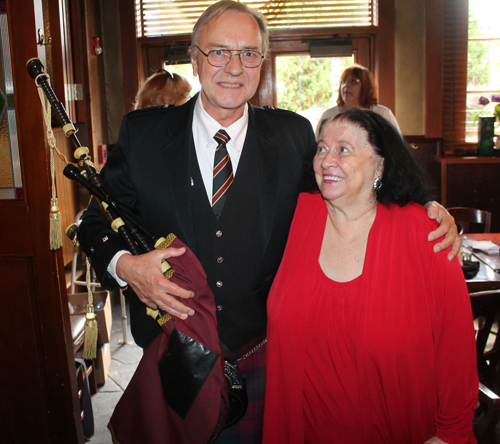 Bruce Grieg and Pat Hanson
---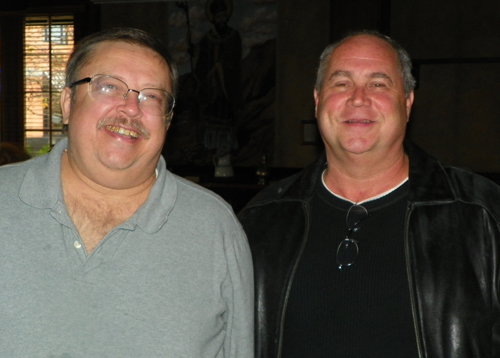 John Griffin and Tom Mugridge
---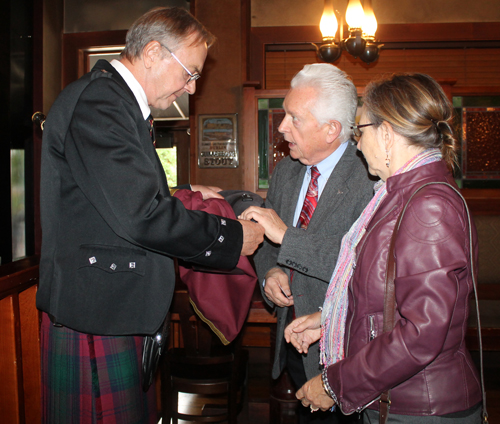 Ken and Maryann Kovach check out the bagpipes
---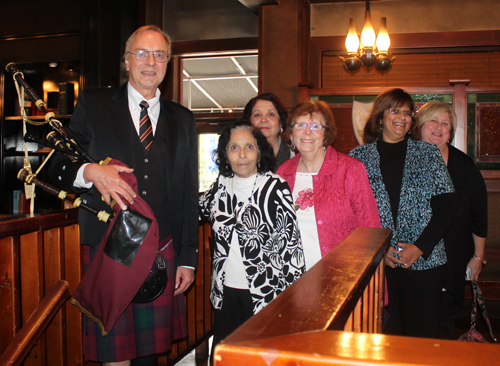 Pipe Major Bruce Grieg with Food Adventurers
---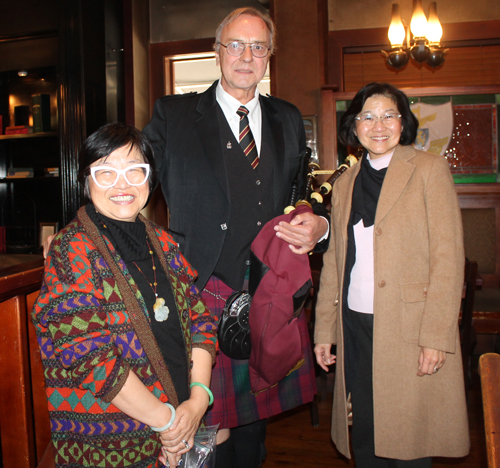 Pipe Major Bruce Grieg with Margaret and Cecilia Wong
---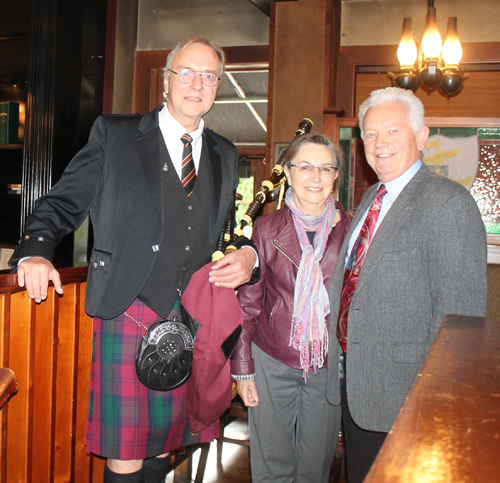 Bruce Grieg with Ken and Maryann Kovach
---

Back to the main ClevelandPeople.Com Passport Page

Back to Irish in Cleveland

Top of Page


---
***

If it's Irish in Cleveland it's on ClevelandPeople.Com.

***