William F. Miller
A tribute to the late William F. Miller, Cleveland Plain Dealer reporter and dear friend to Cleveland's vast ethnic community, was held Friday October 2nd in the beautiful Ohio Theatre at Playhouse Square in downtown Cleveland.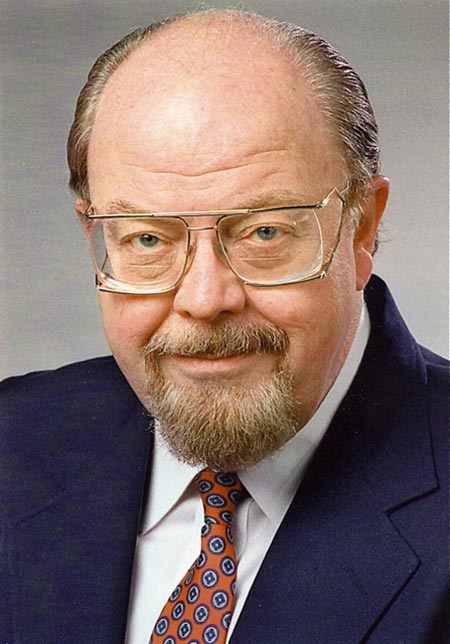 Because of Bill's efforts in helping save the historic and now thriving theaters, Playhouse Square generously offered the Ohio Theatre for this celebration of his life.

Friends from Cleveland's ethnic, civic, media and arts communities gathered to salute Bill's 40-year career as one of Greater Cleveland's most accomplished, passionate and charismatic journalists.

During the introductory reception in the lobby, guests viewed photo of Bill and were entertained by Don and Rose Slogar.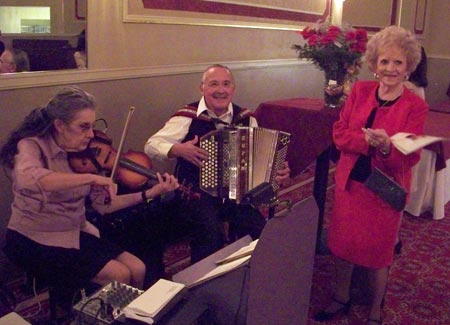 Rose and Don Slogar play as Irene Morrow enjoys
---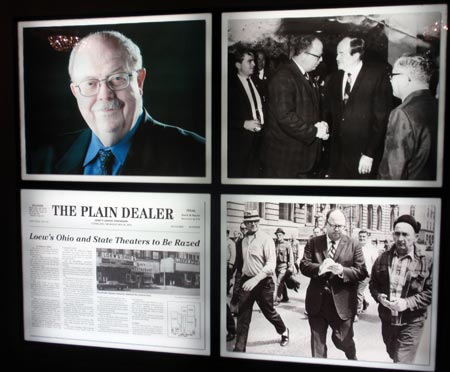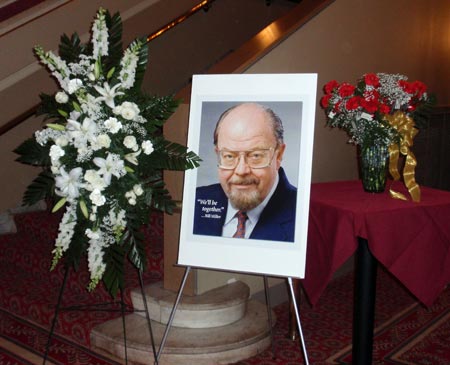 The event began with the Red Hackle Pipes and Drums marching into the Ohio Theatre and playing several numbers.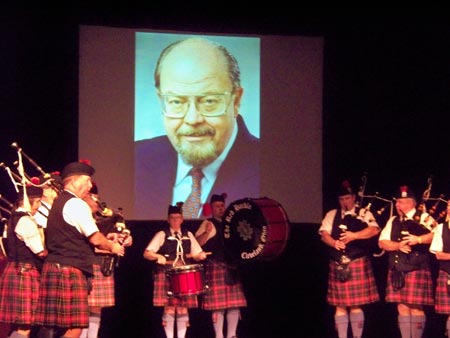 MC Dick Russ introduced numerous speakers who shared their stories about and feelings for Bill Miller. Speakers included:
Senator George Voinovich,
Congressman Dennis Kucinich,
Alex Machaskee,
Dick Peery,
Lanie Hadden,
Ray Shepardson,
Pastor Horst Hoyer,
August Pust
Billy and Mark Miller also shared memories and thanked the crowd.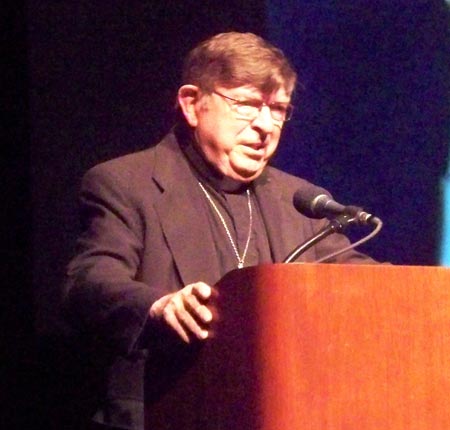 Pastor Horst Hoyer of Emanuel Lutheran Church


---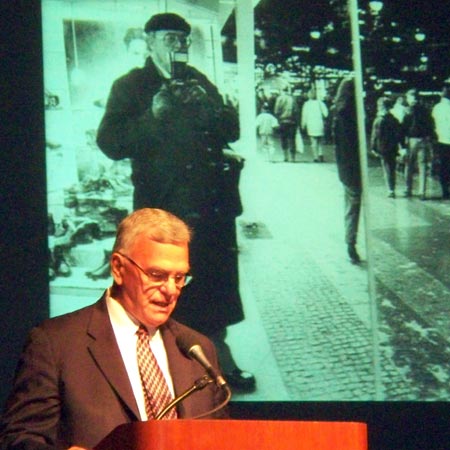 Alex Machaskee


---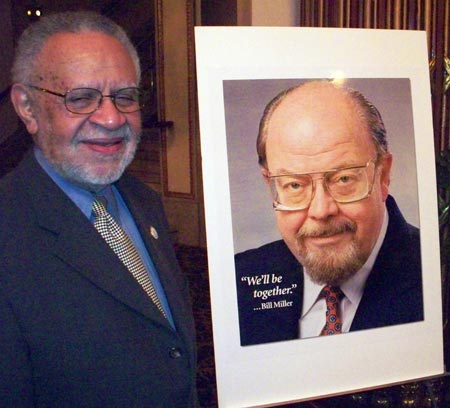 Dick Peery, Bill's colleague and friend from the PD


---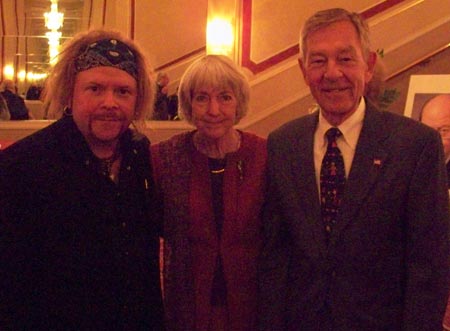 Billy MIller with Janet and Senator George Voinovich


---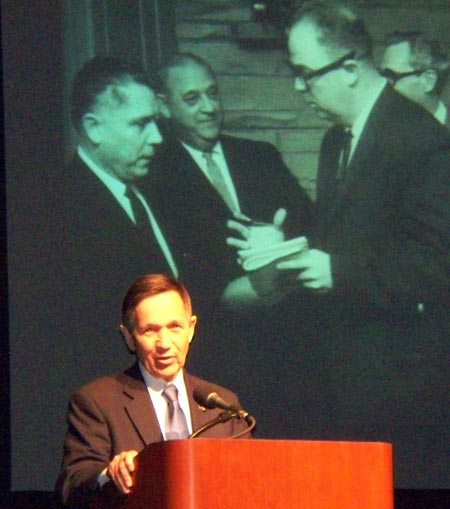 Congressman Dennis Kucinich


---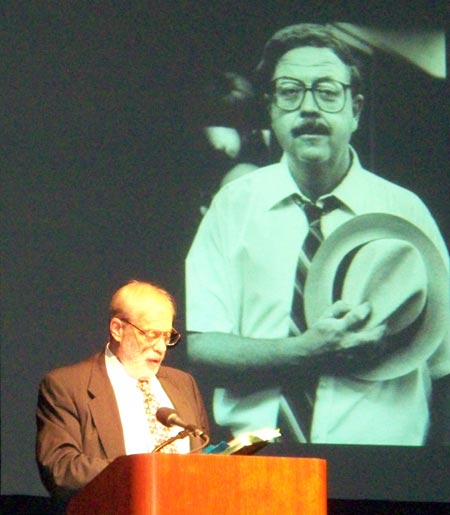 Ray Shepardson


---


Lainie Hadden


---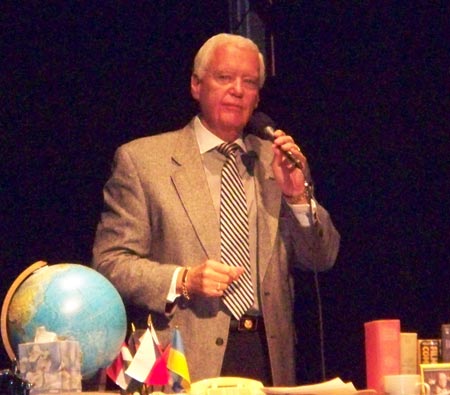 Joe Garry


---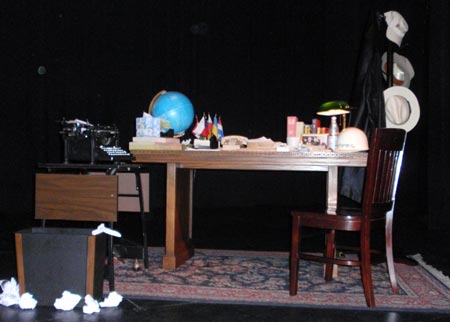 Bill Miller's desk


---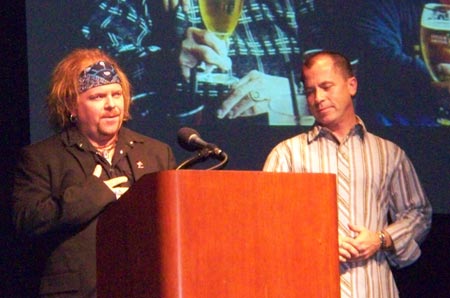 Billy and Mark Miller


---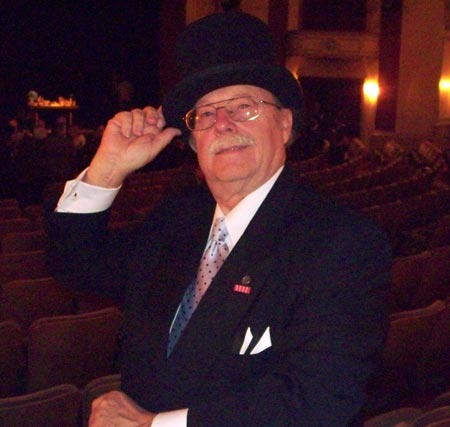 August Pust wearing Bill Miller's top hat


---
After the speeches, tributes and a special closing polka, the friends and family kept the party going in the Allen Theatre lobby.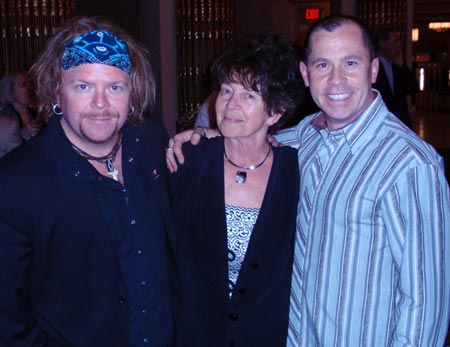 Billy, Marianne and Mark Miller


---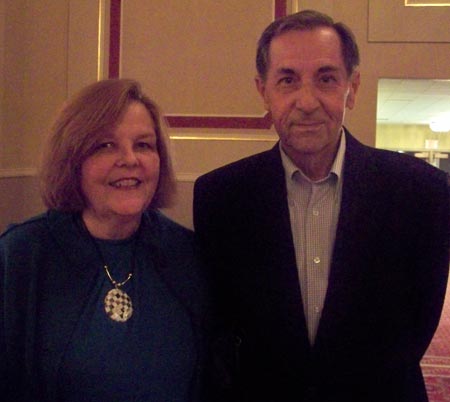 Cecilia and Bob Dolgan


---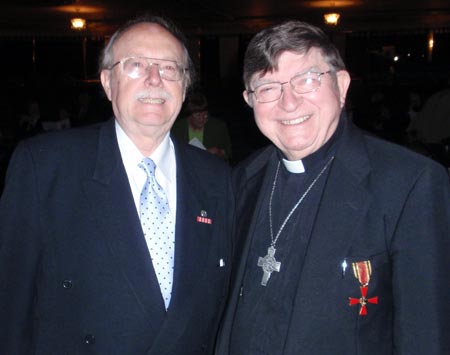 August Pust and Pastor Horst Hoyer


---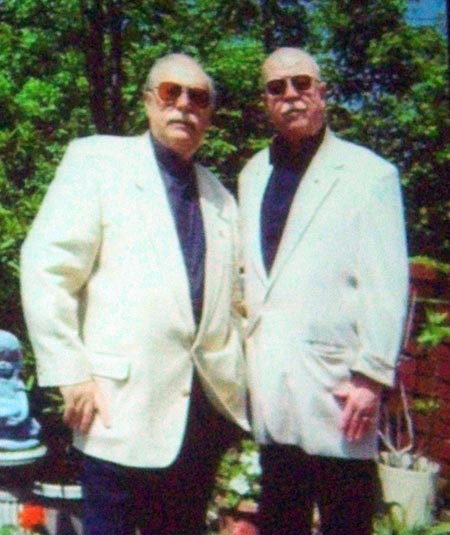 August Pust and Bill Miller... or is it Bill Miller and August Pust?


---



Video Highlights of the Tribute
---
William F. "Wolfgang" Miller: writer, photographer, polka singer, devoted friend, loving husband and father. An exciting guy who could energize a room!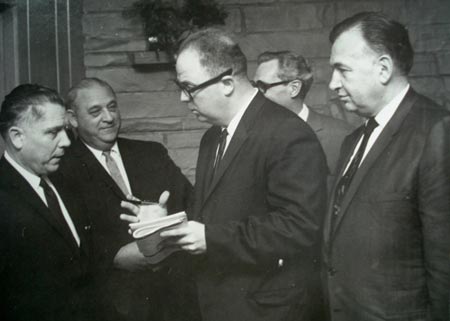 Bill Miller interviewing Jimmy Hoffa
(photo courtesy of Bill's son Billy)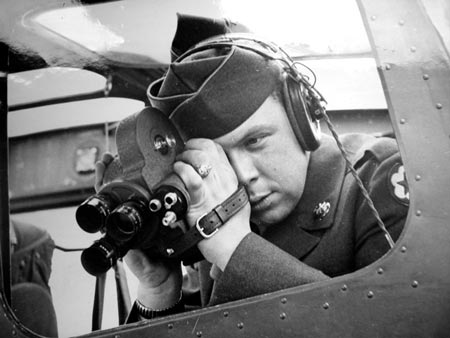 Bill Miller taking photos for the Army in Japan
(photo courtesy of Bill's son Billy)



Memorial contributions may be made to the: William F. Miller Memorial Fund
Key Bank
8405 Munson Road
Mentor, Ohio 44060

For more information, please contact:

Billy Miller (organizer)
212-598-4902
Email: Billyartnyc@yahoo.com

August Pust (organizer)
216-261-2690
Email: Gapust@aol.com

Jeannie Emser (PlayhouseSquare)
216-348-5271
Email: emserj@playhousesquare.org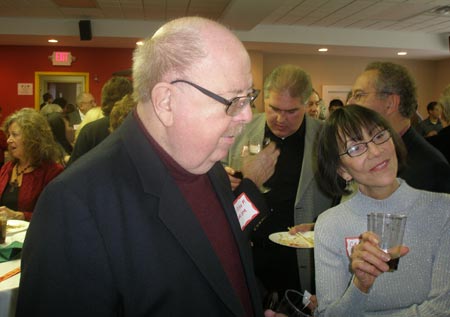 The beloved William F. Miller works the room at
Margaret Wong's 2008 holiday party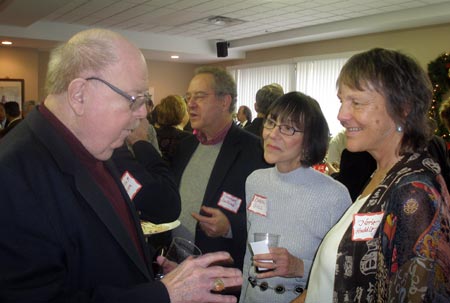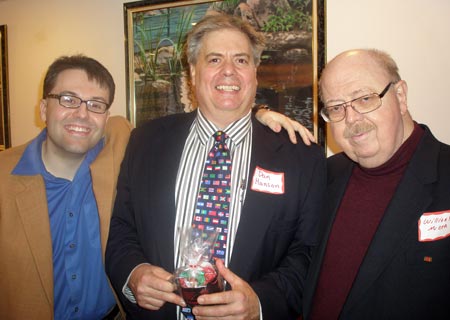 Alex Strmac, Dan Hanson and William F. Miller
at Margaret Wong's 2008 holiday party



Webmaster's Note: When Bill Miller first saw me at Margaret Wong's party he threw his arm around me and sang a stirring rendition of Danny Boy.. I treasure that moment. Dan Hanson
---


From August Pust:

Dear friends:

It was just a short time ago that we, my wife Gloria and Millers, celebrated together some of the most unique, magical events: the 50th wedding anniversary of Bill and Mariana, Bill's induction in to Journalist Hall of Fame and just recently his sons Mark and Billy, with Billy's art presentation, in Venice, Italy. How happy and proud Bill was. His family happiness was also his happiness. Now that he has passed away, we look back to his enormous contributions to our lives.

The sudden passing away of our friend William F. Miller, on August 3rd came to all of us who have known him and his work for the past thirty-some years, as shocking and sad news, especially for multicultural and international communities in Northeast Ohio.

We can say that one of the main reasons for the celebration and perpetuation of our heritage has been credit it to him. His talent and skills as a journalist, combined with his knowledge, deep understanding and respect for our ethnic traditions, have made him not only unique in our country but also internationally.

His contributions to building bridges of understanding among our diverse populations are unmatched. Even more, he did it with a style that we all understood and we could relate to. He informed us and made us proud of our community and our city.

The credit also goes to the vision and leadership of the Cleveland Plain Dealer for providing the opportunity and support so that through Bill's contributions we became a valuable part of greater Cleveland life. Together with his wife Marianna, he attended hundreds of ethnic community and neighborhood church festivals, international VIP receptions banquets, concerts, and commemorations of the holidays of different nations, our demonstrations for the freedom of the Captive Nations, the Universal Human Rights, witnessing of the tearing down of the Berlin wall, the building of the new democracies and the joyous celebration of Chinese New Year, Orthodox Easter, commemorations at Cultural Gardens, singing, dancing and enjoying some of the best food of the world.

He loved them all. The two of them have become a part of our extended multicultural family. His personal contact with diverse ethnic groups gave him rich source material for his articles, which then became one of his trademarks. He put a spotlight on our portraits and reflected the life of our global village. He was a recorder of our times.

For all of us: many multicultural peoples, and international organizations, including myself, in my positions at the City Hall and in the Governor's Office, we could not have been as successful and well informed if not for Bill Miller's articles. Thru him we discovered new friends, become culturally richer.

He was a valuable, unique, and precious stone in our multicultural mosaic. He was one of the best and probable the last of our era. I was proud that he called me his friend.



---