The Octoberfest events in Scandinavia are very popular, and not only among local beer lovers! A Scandinavian Octoberfest is a great celebration when the warm weather diminishes in fall. Despite the name "Oktoberfest", most Oktoberfest events start in September.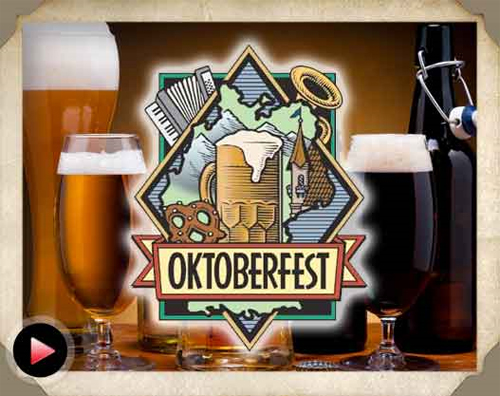 Oktoberfest in Norway
The Oktoberfests in Norway are no exception, and there are several Norwegian locations for the annual "beer mania": Oslo, Årnes, Kongsvinger, Eidsvold, and Strømmen all hold their own local Scandinavian Oktoberfest.
Oktoberfest in Sweden
The last two weekends in September are when Oktoberfest-Fans visit Stockholm. Officially named the Beer & Whisky Festival (but known as the Stockholm Oktoberfest), this event can definitely hold its own amongst the international Oktoberfests! It takes place in the Congress Center in Stockholm.
Oktoberfest in Iceland
Oh my, do the Icelanders know how to celebrate a beer festival! The Oktoberfest in Reykjavik has become a huge annual event with popular artists, German big band and folk music, and lots of beer and food. The Icelandic Oktoberfest usually takes place on the first weekend of October in the center of Reykjavik.
Oktoberfest in Denmark
There are two! Each mid-September, the old Carlsberg site at Valby in Copenhagen will be the venue for Europe's largest beer festival, appropriately named the "European Beer Festival"! A different kind of Oktoberfest, the Copenhagen Beer Days (Københavnske Øldage) are Denmark's biggest beer festival and is renowned to have more different beers available for tasting than any other beer festival. Unfortunately, this annual event is the only one that takes place in spring, so beer lovers will have to wait until May to try them.
Oktoberfest in Finland
Finnish beer drinkers are out of luck unless they go to Sweden or Denmark because it doesn't have an Oktoberfest-like event.

Thank you to Vasa Order of America Nobel-Monitor Lodge No. 130 for this report.
---
Top of Page
Back to Cleveland Danish
Back to Cleveland Finnish
Back to Cleveland Norwegians
Back to Cleveland Swedish
---