On Saint Nicholas Day, the lady of the house starts to prepare what will be a meaningful centerpiece on the day of the coming of the Christ Child; Christmas.
As this wheat that is planted grows, it becomes literally a growing reminder that Christmas is drawing nearer and nearer and should be prepared for.
Wheat is planted around a glass, making a circular wreath. A wreath or circle, and the wheat itself, are symbols of eternity - there is no beginning nor end.
The Christ Child came to bring us the gift of eternal life. This is why wheat is chosen. Wheat is used not only at Christmas, but also for memorial services for the dead and for the patron saint day celebrations.
The seed is planted, it grows, ripens, dies and the seed falls to the earth again and comes to life. Thus, an endless cycle of life - death - rebirth; symbolizing eternal life. Against a desolate winter, the new wheat stands out as birth.
In the middle, three candles represent the Holy Trinity. Our church calendar also has a way of reminding us to prepare for Christmas.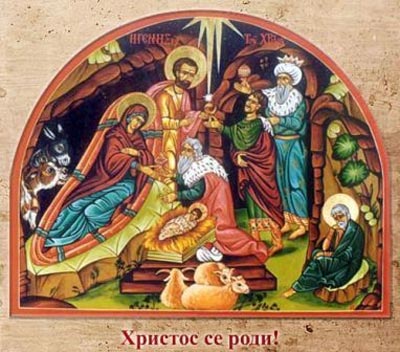 During Advent the church reminds us to prepare ourselves for Christ's coming by preparing ourselves to receive Holy Confession and Holy Communion. In this way, we prepare ourselves for the birthday of the Christ Child, Who came to bring us the gift of eternal life.

Popadija Zorine
---