The Polish Constitution of May 3, 1791 was the first constitution to follow the 1788 ratification of the United States Constitution. May 3 was restored as an official Polish holiday in April 1990, after the fall of communism.
The Constitution of May 3, 1791 is considered one of the most important achievements in the history of Poland. The May 3 anniversary of its adoption has been observed as Poland's most important civil holiday since Poland regained independence in 1918. Its importance for the Polish people has been compared to that of 4 July to the Americans.
The Polish American Congress Ohio Division hosted its 73rd Constitution Day Parade on Sunday May 7, 2023.
After that there was entertainment and a program led by Father Eric Orzech who is pastor of both St Stanislaus and St Casimir churches in Cleveland. He is also the Chaplain of the Polish American Congress Ohio Division.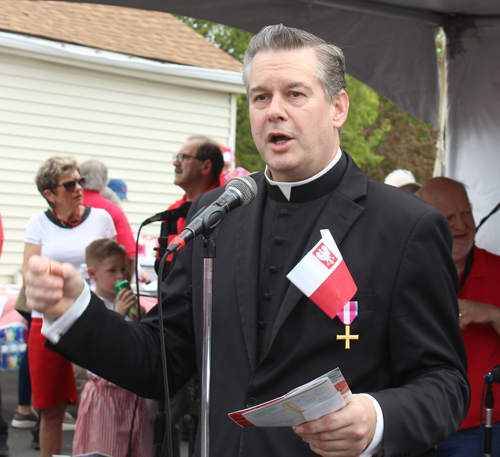 Father Eric Orzech

After a welcome he introduced PAC Chairman Dr. Mitchell Bienia.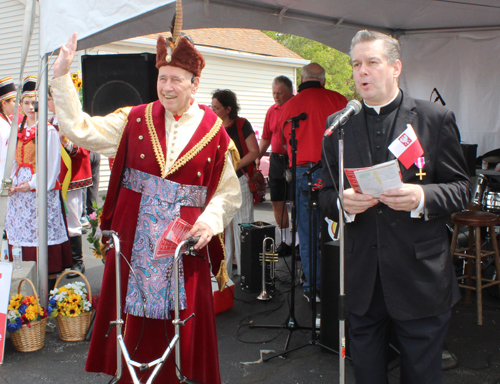 Dr. Mitchell Bienia and Father Eric Orzech



Then Julie Anna Gulenko sang the national anthem of Ukraine.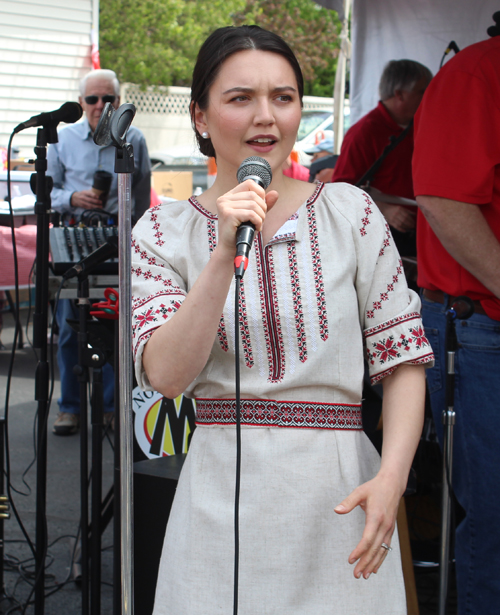 Julie Anna Gulenko


Olivia Gutowski played the Hejnal mariacki on trumpet.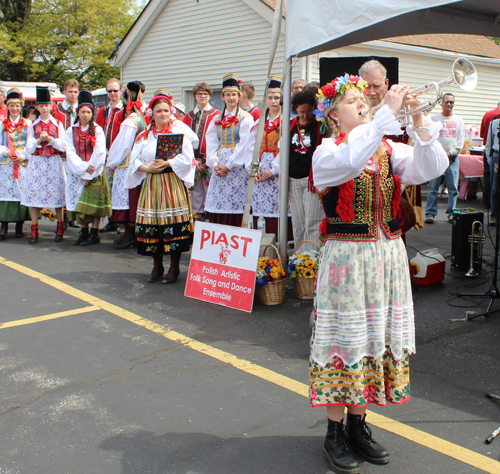 Olivia Gutowski playing the Hejnal mariacki



Elizabeth Suhac sang the national anthem of Poland.
Elizabeth Suhac singing Polish anthem



Then Walter Borkowski sang the US national anthem.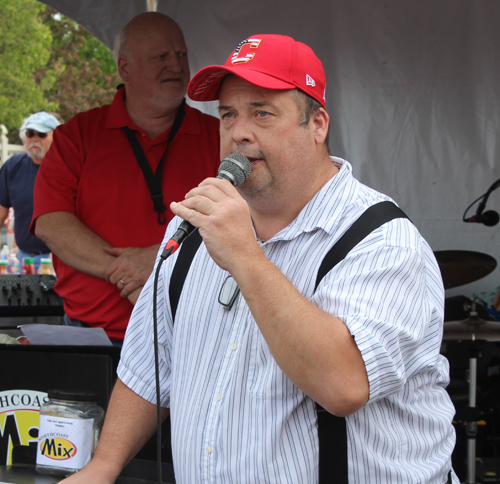 Walter Borkowski



Watch a video of all the above items.

Father Eric introduced Father Jason from St. Mary's Polish National Catholic Church who gave a blessing in English and then Polish.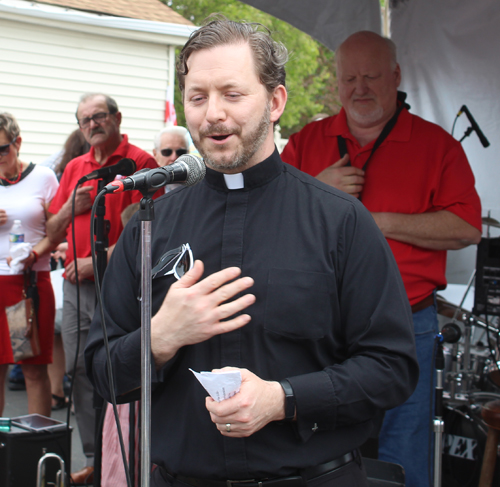 Father Jason

Then Fr. Eric gave his own remarks.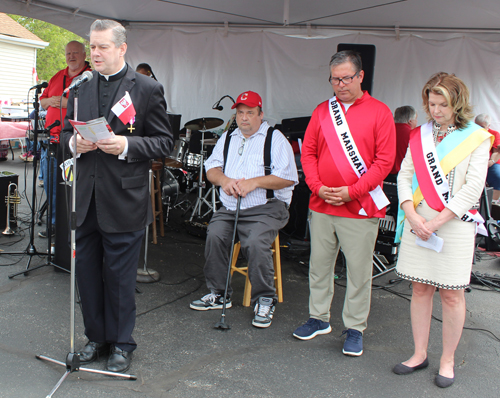 Here is the video of the invocation and remarks.



Father Eric then introduced the co-Grand Marshals of the Polish Constitution Day Parade - Parma Mayor Tim DeGeeter and United Ukrainian Organizations of Ohio President Marta Kelleher. Mayor Tim DeGeeter spoke about his mother's Polish heritage.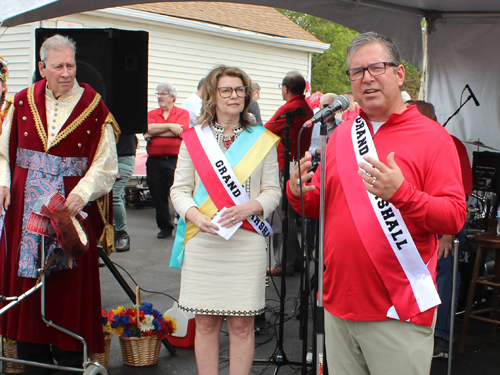 Mitch Bienia, Marta Kelleher and Tim DeGeeter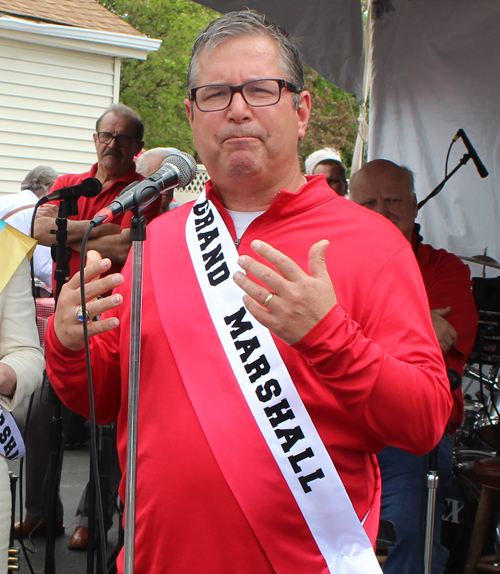 Parma Mayor Tim DeGeeter

Marta thanked the people of Poland and the Baltics and their communities in the US for their support of Ukraine.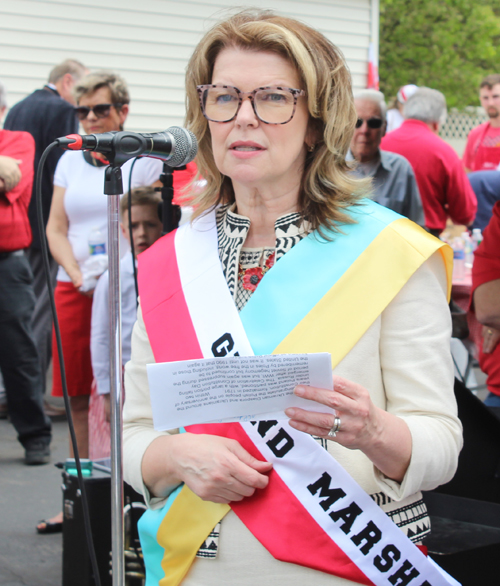 Marta Kelleher



Watch the video of the Grand Marshals speeches.

Walter Borkowski sang God Bless America and then led the crowd in Sto lat (One Hundred Years) which is a traditional Polish song that is sung to express good wishes, good health and long life. Watch the video.

Back to Polish Constitution Day Parade Photos & Videos

Entertainment at Constitution Day event

Top of Page

Back to Cleveland Polish


---
For sponsorship opportunities, please contact us.
Please support the Polish pages of ClevelandPeople.Com.
***
Want to learn about ethnic and cultural events in Cleveland such as this? Sign up for the free eNews and every Tuesday evening you will receive a free e-mail listing the next week's events. Polish and other groups. It's easy and free.

Fill out the form for the free weekly eNews.
***
---