During the month of April, Arab America formally recognizes the achievements of Arab Americans through the celebration of National Arab American Heritage Month (NAAHM).
Across the country, cultural institutions, school districts, municipalities, state legislatures, public servants, and Arab Americans will engage in special events that celebrate the community's rich heritage and numerous contributions to society.
Arab Americans have roots in 22 countries located in the Middle East and North African regions: Algeria, Bahrain, the Comoros Islands, Djibouti, Egypt, Iraq, Jordan, Kuwait, Lebanon, Libya, Morocco, Mauritania, Oman, Palestine, Qatar, Saudi Arabia, Somalia, Sudan, Syria, Tunisia, the United Arab Emirates, and Yemen. And within all those countries, there are various languages, religions, traditions that are now part of our American story.
There are nearly 3.5 million Arab Americans in the United States, according to the Arab American Institute. Establishing Arab American Heritage Month was critical in combatting post-9/11 anti-Arab sentiments, and while Arab Americans still face prejudice regularly, acknowledging their fight for recognition and equality - and becoming better allies - is something we can all contribute toward.
MSN suggests "Reading Arab American literature is the best way to recognize Arab American Heritage Month. Getting into the minds and hearts of Arab American people allows non-Arab people to get a glimpse of what it means to be Arab American today. Check out writers like poet Naomi Shihab Nye and novelist Etaf Rum. Research where to find Arab American literature that accurately depicts the Arab American experience. Look into reading more than one book about Arab Americans to avoid stereotyping the group as a whole based on one author's experience. Share the literature you have read with family and friends during Arab American Heritage Month. Tell family and friends about Arab American Heritage Month and why it matters. Remind non-Arab people to read Arab American literature to support minority communities. If you are in a book club or know anyone who is involved in a book club, encourage members to pick a book that focuses on Arab Americans. Go on social media and post about the book you chose to read and tag the author. One post could lead to several friends deciding to learn more about Arab American culture."
***
Stay informed about the local Middle East community by signing up for the free Middle East eNews mailings. You can select other specific groups as well (Lebanese, Syrian, Iraqi, Pakistani and so on.) It's easy and free.
Fill out the form for the free Middle East eNews.
***
Here in Cleveland, the City of Cleveland and several suburbs issued proclamation to celebrate Arab American Heritage Month.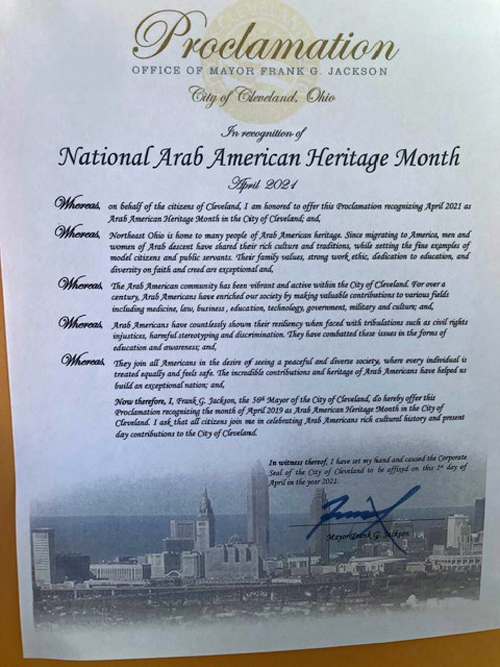 City of Cleveland Arab American Heritage Month Proclamation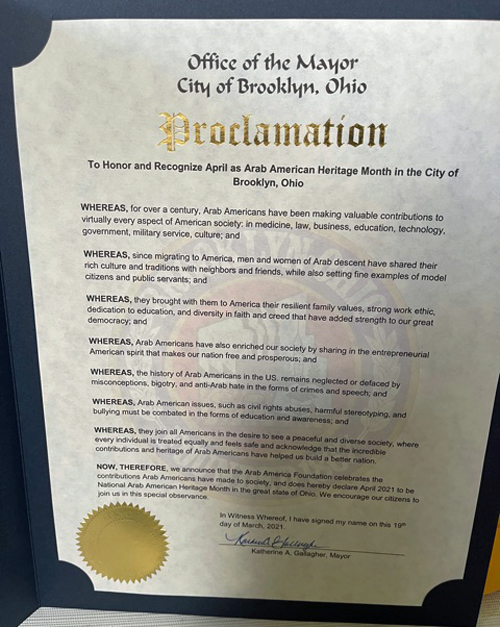 City of Brooklyn Proclamation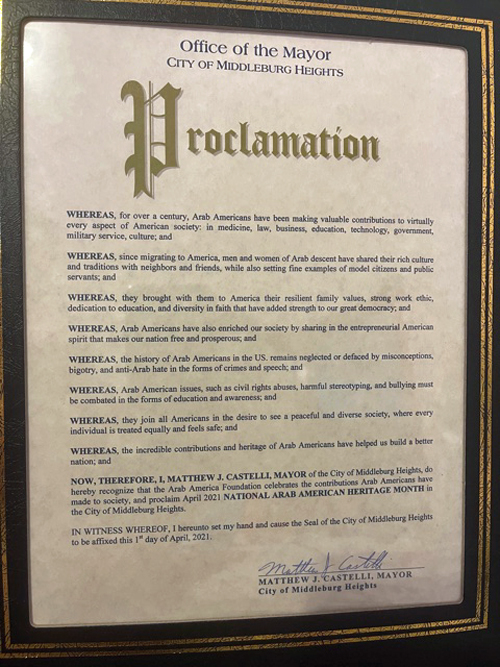 City of Middlebrug Hts. Proclamation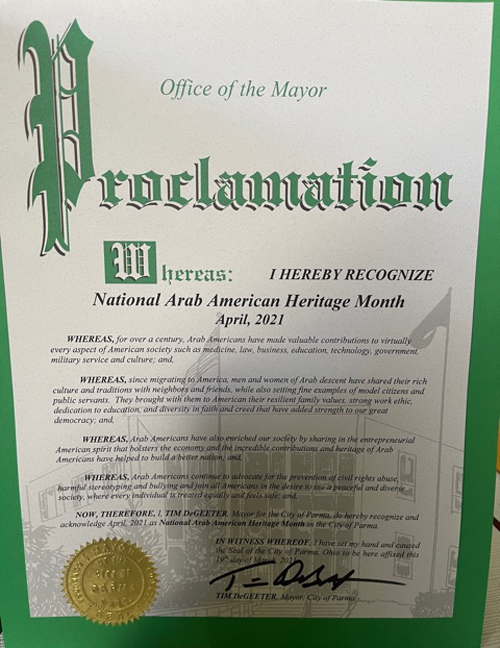 City of Parma Proclamation




CAMEO president Pierre Bejjani receiving
Arab American Heritage Month Proclamation from
the Mayor of Middleburg Hts, Matthew Castelli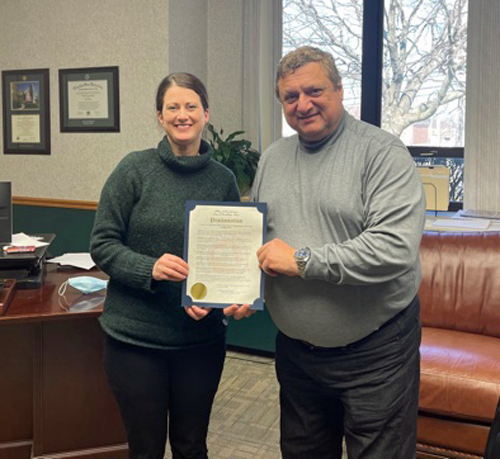 Pierre Bejjani with the Mayor of Brooklyn, Katie Gallagher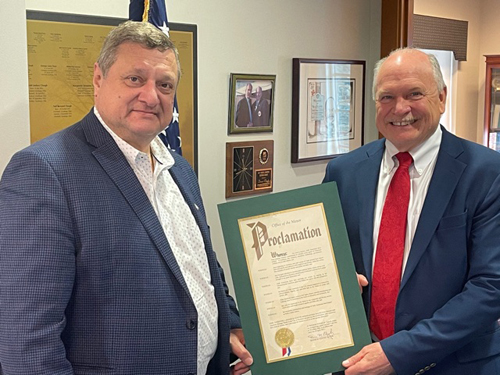 Pierre Bejjani with Mayor of Westlake, Dennis Clough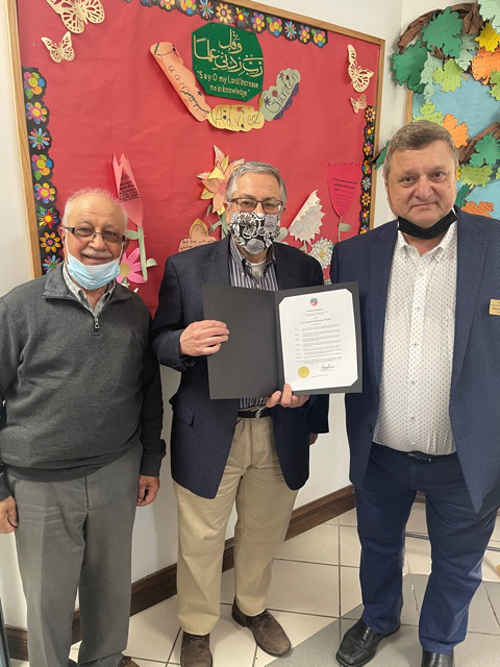 Faris Alameh, County Executive Armond Budish and Pierre Bejjani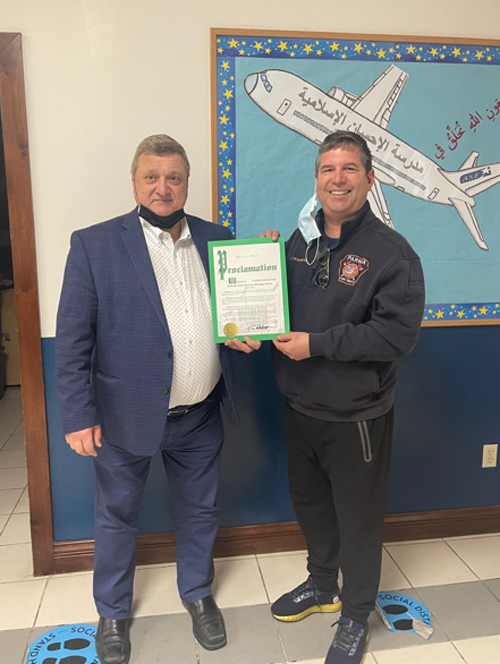 Pierre Bejjani with Parma Mayor Tim DeGeeter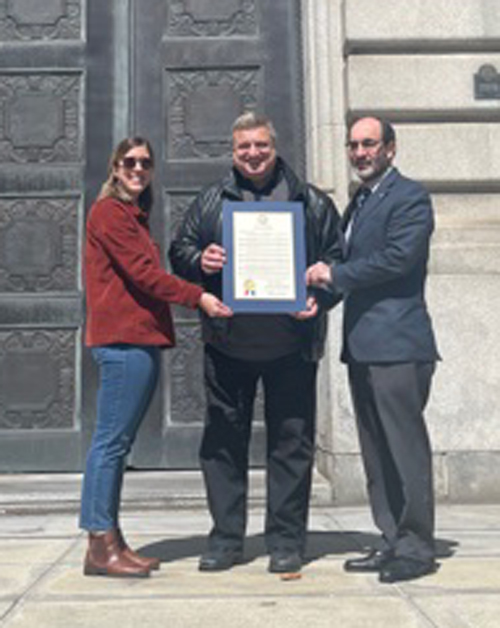 On the steps of City Hall with Cleveland City Councilman Tony Brancatelli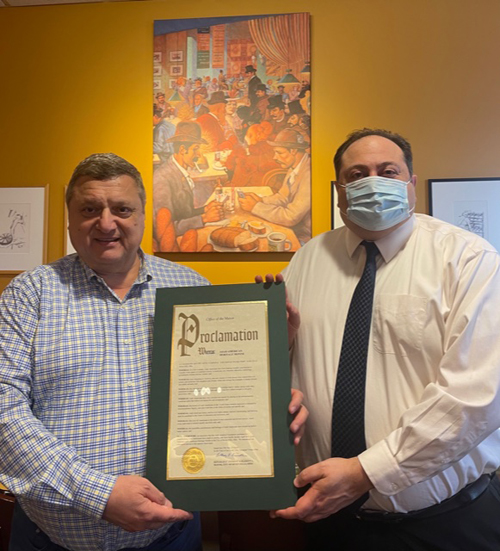 Pierre Bejjani with the Mayor of Seven Hills, Tony Biasiotta

You may want to get involved with the Cleveland American Middle East Organization. C.A.M.E.O. is designed to articulate the political interest of more than 100,000 Northeastern Ohio residents of Middle Eastern Heritage, Arab Americans. C.A.M.E.O. has one central purpose, to appraise candidates running for Public Office that will offer political support to those who are best prepared to respond to our concerns.

C.A.M.E.O. accepts the diversity of religious and political philosophies and beliefs of its membership. C.A.M.E.O. membership means a commitment to local political action that will enhance the voting strength and amplify the profile of the Arab American community in Northeastern Ohio.

***
Want to learn about ethnic and cultural events in the Cleveland area? Sign up for the free eNews and every Tuesday evening you will receive a free e-mail listing the next week's events. It's easy and free.

Select 'Weekly' when you fill out the form for the free weekly eNews.
***
---
Back to Top
Back to Cleveland Middle East