Beginning September 29, 2023 at sundown, many Jewish families will celebrate Sukkot, a time to commemorate the 40 years the children of Israel wandered in the desert after the Exodus from Egypt. In Hebrew, sukkot means "booths" or "huts" and replicates the shelters Jews lived in while harvesting and during their exile in the desert.

According to Wikipedia, Sukkot is a Torah-commanded holiday celebrated for seven days, beginning on the 15th day of the month of Tishrei. It is one of the Three Pilgrimage Festivals on which those Israelites who could were commanded to make a pilgrimage to the Temple in Jerusalem. In addition to its harvest roots, the holiday also holds spiritual importance with regard to its abandonment of materialism to focus on nationhood, spirituality, and hospitality, this principle underlying the construction of a temporary, almost nomadic, structure of a sukkah.

In Cleveland, a Sukkah Village was set up in Wade Oval in University Circle.

Take a virtual walk-through in this video from the Sukkah Village.



Enjoy these images from the Sukkah Village.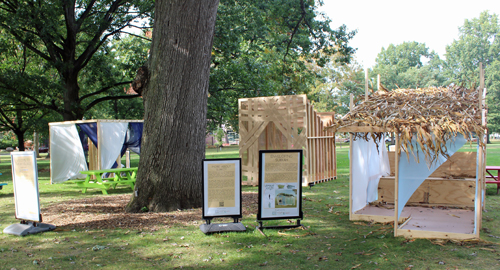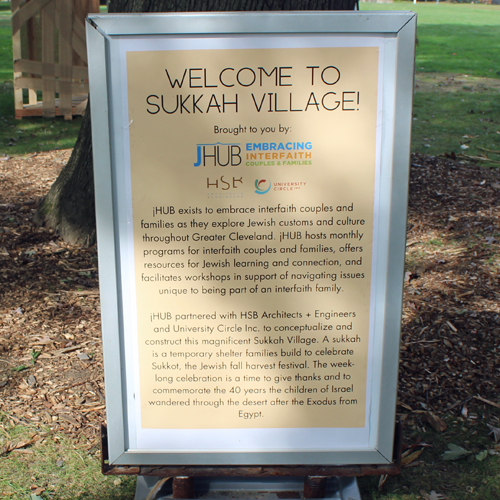 The village consists of three unique sukkot (plural of sukkah) crafted by HSB Architects + Engineers. Visitors can gather inside the temporary structures to celebrate Sukkot, the week-long Jewish harvest festival. jHUB created the Sukkah Village in partnership with HSB Architects + Engineers and University Circle Inc.

The first design in the Sukkah Village is The Enveloping Sukkah.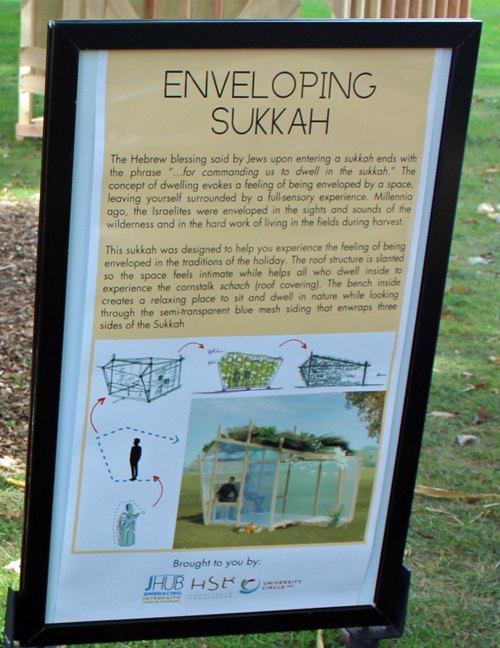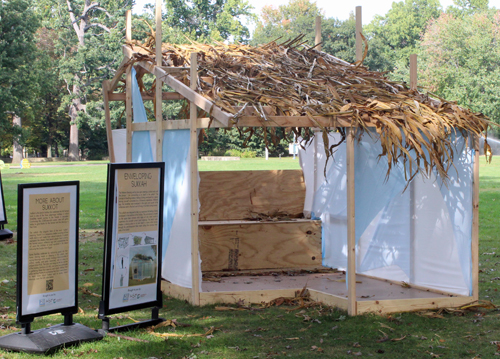 The Enveloping Sukkah in University Circle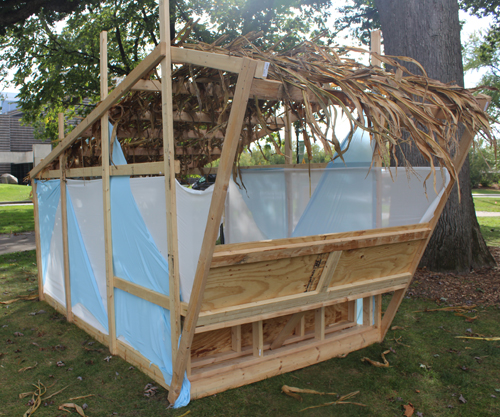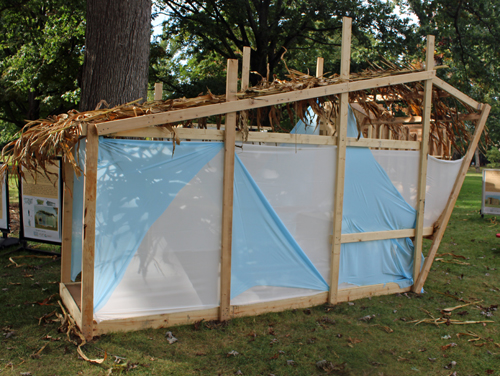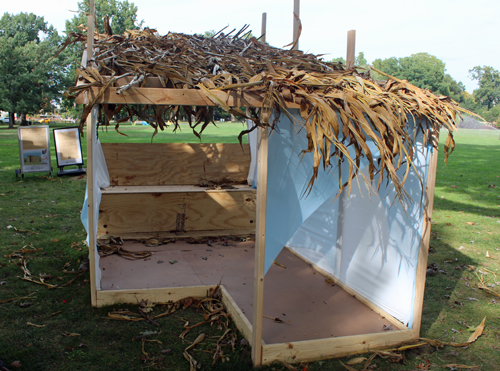 The second design is The Horn of Plenty.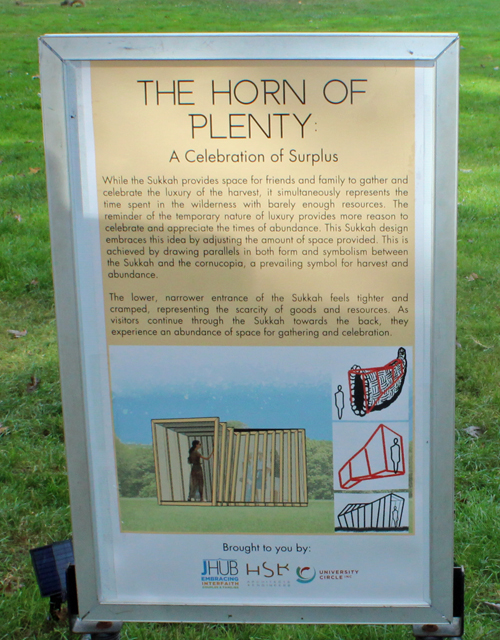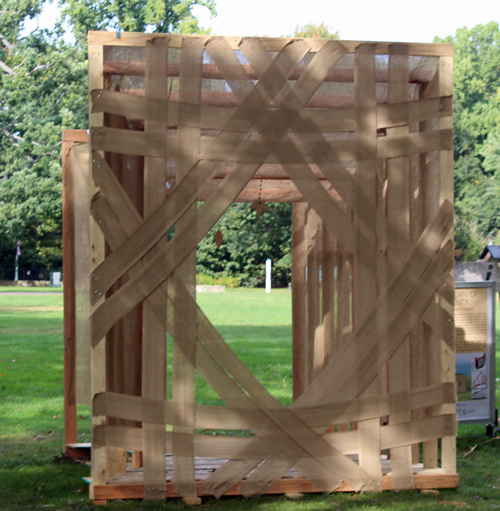 The Horn of Plenty Sukkah in University Circle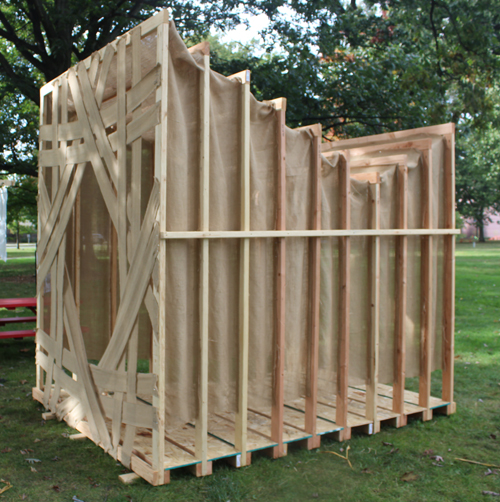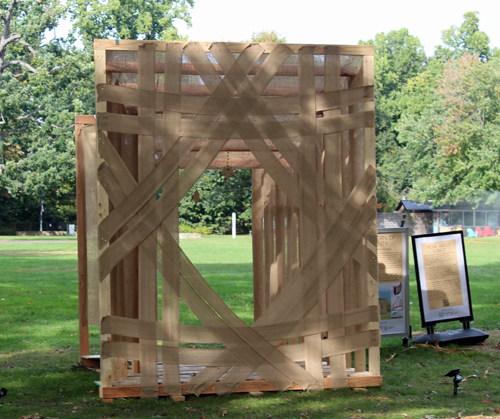 The third design is The Suspended Threshold.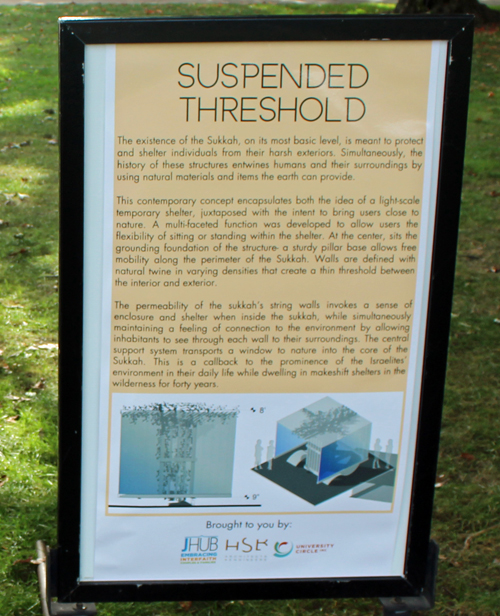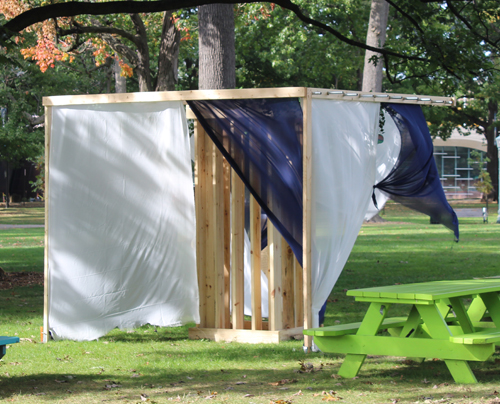 The Suspended Threshold Sukkah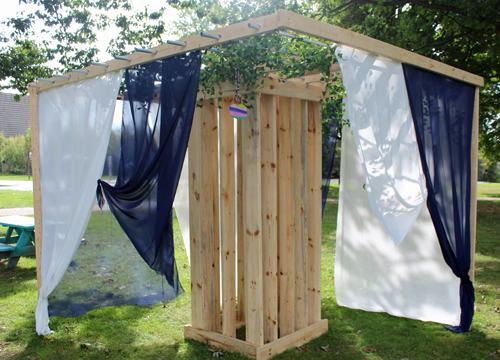 ***
Want to learn about ethnic and cultural events in Cleveland such as this? Sign up for the free eNews and every Tuesday evening you will receive a free e-mail listing the next week's events. It's easy and free.

Select 'WEEKLY' when you fill out the form for the free weekly eNews.
***
---
Back to Top
Back to Cleveland Jews