The annual City of Cleveland kick-off of Italian Heritage Month is the official opening of a month-long celebration of the Italian-American community in Cleveland and Northeast Ohio.

A packed house was on hand to honor Italian American heritage honorees, hear speeches and enjoy an Italian meal. The event was sponsored by the Italian Sons and Daughters of America under the leadership of ISDA national president Basil M. Russo and District VP Marie Frank.

The event began with a welcome from Master of Ceremonies Dennis Castiglione.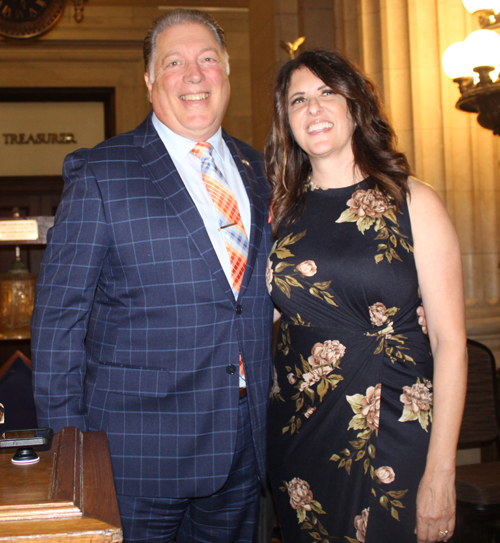 Dennis Castiglione with Event Chair Pamela Dorazio-Dean



Reverend Phillip G. Racco of St. Bernadette Church gave the invocation.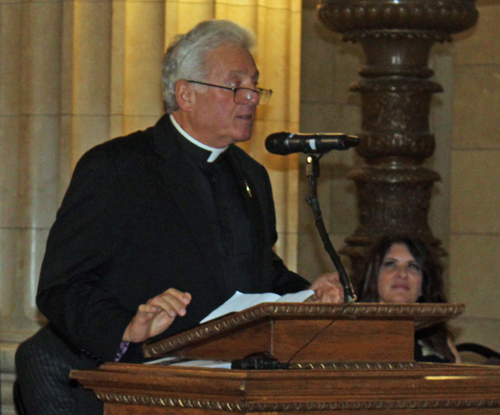 Father Racco



After the singing of the national anthems of the USA and Italy, MC Castiglione introduced Cleveland Mayor Justin M. Bibb.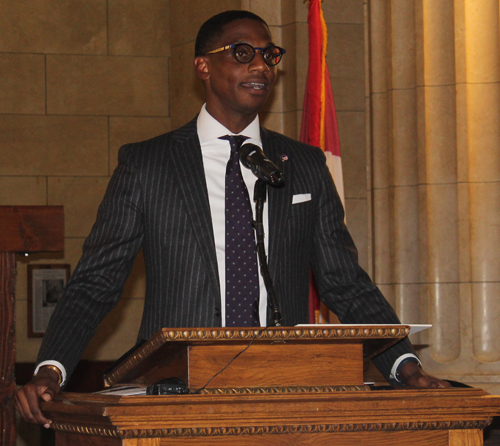 Mayor Justin M. Bibb



The Mayor presented a proclamation to Pamela Dorazio-Dean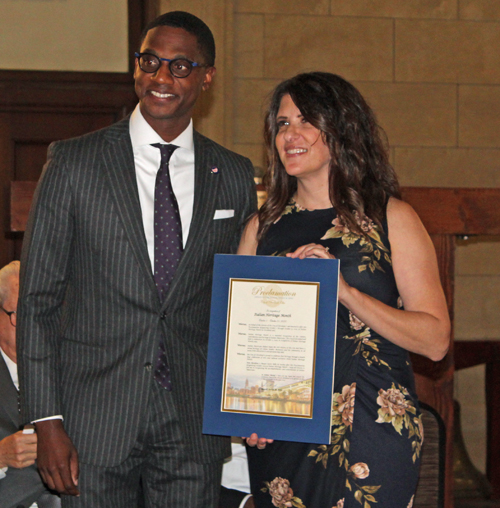 Mayor Bibb and Pamela Dorazio-Dean



Event Chair Pamela Dorazio-Dean introduced the committee members and sponsors.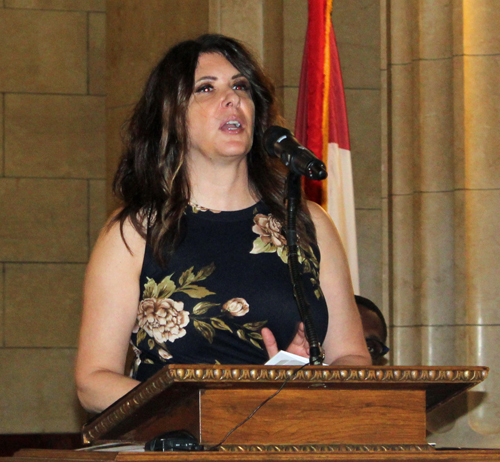 Event Chair Pamela Dorazio-Dean



Next were remarks from honorary Co-Chairs Blaine A. Griffin, Council President from Ward 6, and Michael D. Polensek, Ward 8 Councilman.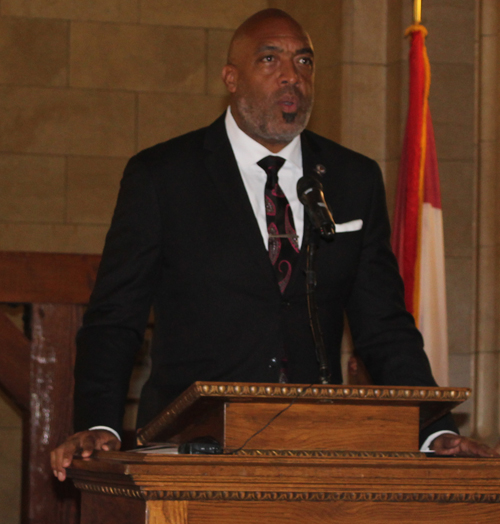 Blaine A. Griffin, Council President from Ward 6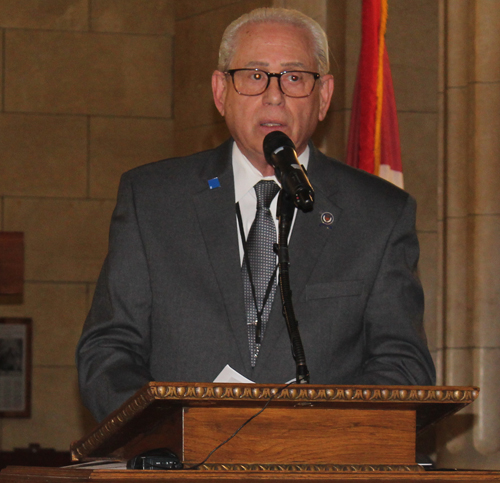 Michael D. Polensek, Ward 8 Councilman



Watch a video of the above speeches.

The Awards Presentations came next. Thanks to Pamela Dorazio Dean for the information about the honorees.

The Business Award went to Pettiti Garden Centers who were represented by AJ Pettiti.

Angelo Pettiti immigrated to the United States in 1963 at age 16 from Faeto, a small mountain village with a population of 600 in southeast Italy. For 3 years, he worked at Pick-n-Pay Supermarket and as a busboy to support himself while attending Kent State University night classes to study political science. Angelo also leveraged his innate sense of the land to do part-time landscaping and, eventually, his interest in horticulture became his full-time passion.

In 1966, Angelo started Petitti Landscape Company. His brother, Domenico, joined him and they bought an oversized garage in 1969 in Oakwood Village to store their trucks, landscape equipment, and plant material. Soon, passers by began to visit, inquiring about the plants, and the brothers found themselves a complementary business.

On the site of the old garage, Angelo Petitti opened the first Petitti Garden Center building on Thursday, April 15, 1971 in Oakwood Village, and a Northeast Ohio tradition was born.

In 1975, Angelo married Maria, who immigrated to the U.S. in 1966 from the same small town. She became active in administration of the business and put her photography talents to work, using the plant photographs she snapped to create helpful plant signage for customers. Soon, A.J., Andria, and Lisa were born, and the business became a family affair.

In the 1980s, the business began expanding to include more locations. This is also when the Gardening with Angelo radio show hit the local airwaves with a goal of sharing knowledge to support gardeners' success. Decades later, Angelo's 1-hour radio show continues to broadcast on Saturday mornings from March-October on WTAM 1100. Listeners tune in for timely lawn & garden advice and to have their questions answered on-air.

Today, the business Angelo Petitti seeded in a small garage in Oakwood Village has blossomed into a beloved Northeast Ohio brand with 9 year-round locations serving the Greater Cleveland, Akron-Canton, and Youngstown communities. The brand aims to deliver the highest quality, best selection, most exceptional service, and the most beautiful garden shopping experience in Northeast Ohio. But to sum it up, as Angelo once said, "When I see people enjoying their day at the garden center, that is the thing that I enjoy. To me, that is the goal."

Watch a video of the Pettiti Award.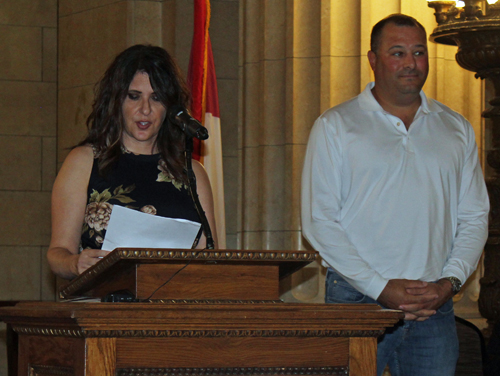 Pamela Dorazio-Dean awards AJ Pettiti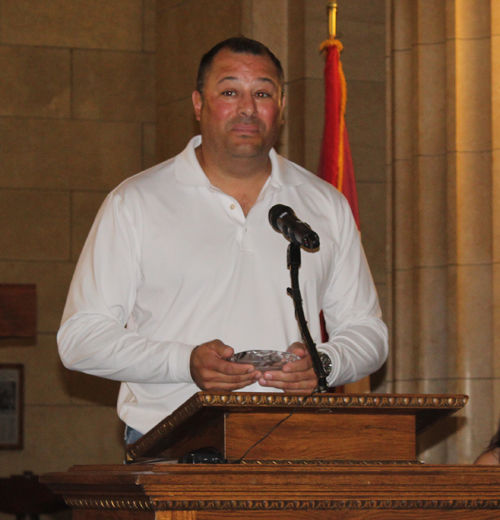 AJ Pettiti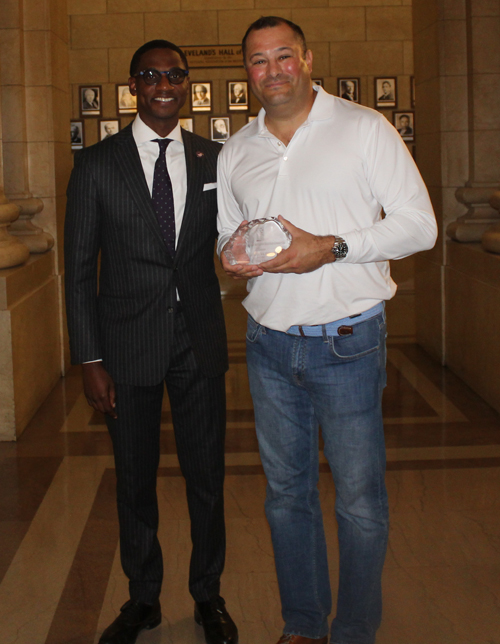 Mayor Justin Bibb and AJ Pettiti



The Public Servant Award went to Lisa Amato Reid.

Born in Buffalo, New York to paternal grandparents who emigrated to the United States as children from Montemaggiore Belsito and Palermo, Sicily, Lisa's childhood was rich with ethnic, cultural and faith based traditions.

After coming to Cleveland to attend John Carroll University, and residing in Little Italy while attending law school, Lisa again felt the warmth of the Italian American community. She has served as President of the Italian American Cultural Foundation, helped to found the Italian American Women's Network, and is a longtime member of the Justinian Forum, among many other cultural organizations.

Lisa has enjoyed a long and fruitful career in the legal profession. She spent 25 years in private practice, and ten years ago, had the good fortune to be hired by then Attorney General Mike DeWine for his Cleveland Office. Today, she continues that public service, representing Ohio's five public pension funds.

Lisa's passion for enriching our Northeast Ohio Italian American community never wanes. She constantly connects, cultivates, and represents Italian Americans in many forums/venues, with the goals of mutual aid and sustenance of our rich cultural heritage.

Watch a video of Lisa Amato Reid's award.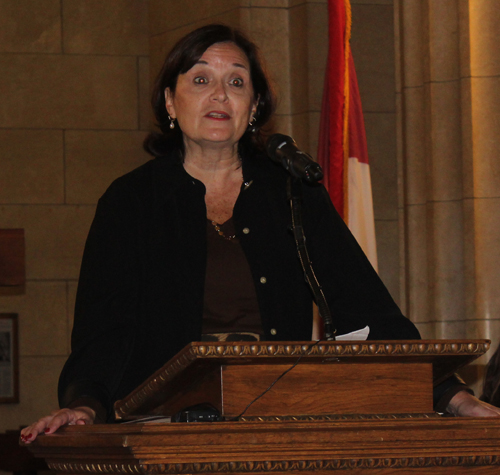 Lisa Amato Reid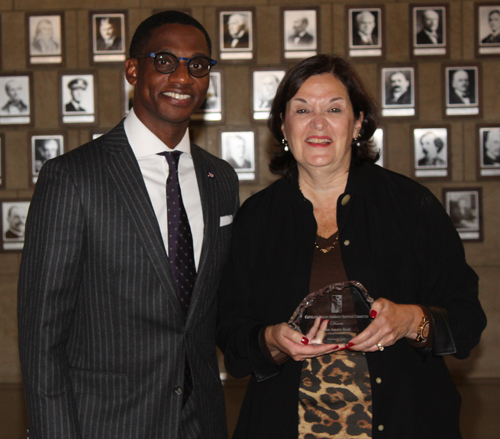 Mayor Justin Bibb and Lisa Amato Reid



The Culture Award went to Frank Maddamma.

In 1997, a developer for the Rite Aid drugstores offered the club $255,000 for the two parcels. Along with 39 members, they pledged to finance and build a new location into a much larger capacity. The search took three years, resulting in the purchase of 6450 Pearl Rd., Parma Hts., in front of St John Bosco Parish. The parcel had a brick building housing two commercial storefronts, two apartments, and almost a full acre of buildable land.

Through the efforts of many skilled construction members, a beautiful event center with adjoining indoor Bocce courts was constructed and equipped at a cost of only $645,000. Franco Maddamma, as general contractor, saved the club a small fortune in cost. In the early years of 2001-2008, through the leadership of Joe Giuliano as President and Franco Maddamma as Vice-President membership grew to over 200. In 2008 through 2016, the debt was retired to only $145,000 by President Franco Maddamma. Today the Home Family Club exists on a campus of two parcels and three buildings, worth $1,600,000. Today Franco is retired, traveling yearly on his United Airlines pass to Barrea, and serves on the Board of Trustees.

Watch a video of Frank Maddamma's award.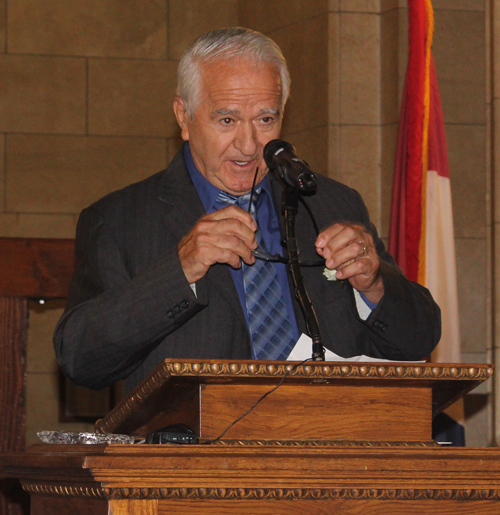 Frank Maddamma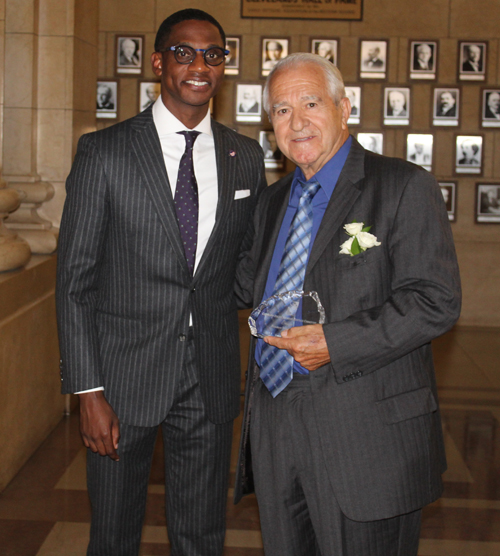 Mayor Justin Bibb and Frank Maddamma



The Cuyahoga County Employee Award went to Frank Pocci.

Frank immigrated to Cleveland from Tuscany, Italy at age 14 in 1958. In 1963, he enlisted in the U.S. Army, serving as a finance specialist and Italian translator. In 1966, he received a commendation and promotion for translating and preparing the presentation materials for the Chief of Staff of the Italian Army's (Guido Vedovato) visit to the 4th U.S. Army in Texas.

Following military service, Frank attended college and studied accounting. Ultimately, he returned to Cleveland and worked for 35 years at Republic/LTV Steel, holding various executive management positions in accounting and finance departments.

In 2003, Frank was appointed as one of five Commissioners of the Cuyahoga County Veterans Service Commission. He is currently serving in his fifth consecutive appointed term and has held every Commission office, including president. For over 20 years, Frank has worked tirelessly to engage veterans through outreach programs and to ensure that veterans and their families receive their benefits.

Frank devotes substantial time to veterans' organizations and Italian groups. He is the Commander of Italian-American War Veterans (ITAM) Post 34 and the ITAM Adjutant for the State of Ohio. He is also the Finance Officer of AMVETS Post 80, is active in the Catholic War Veterans of Northeast Ohio, American Legion Post 91, Vietnam Veterans of America, and Disabled American Veterans. Frank has been active with the Home Family Club, the North Italian Club, the Southwest Italian Club, and Il Cenacolo, among other Italian groups.

Frank's life has embodied the concept of serving others. At LTV, Frank voluntarily translated pension documents for Italian retirees. He has helped Cleveland-area Italian Americans with obtaining dual citizenship and served as a volunteer translator for Italians coming to Cleveland. He has assisted Italian doctors coming to work at University Hospitals find housing. Frank contributes to various charities and is an active member of St. Bartholomew parish.

Frank has returned to Italy more than 30 times. Currently, he is helping teach Italian to his two grandsons, Dante and Domenic.

Watch a video of Frank Pocci's award.

Frank Pocci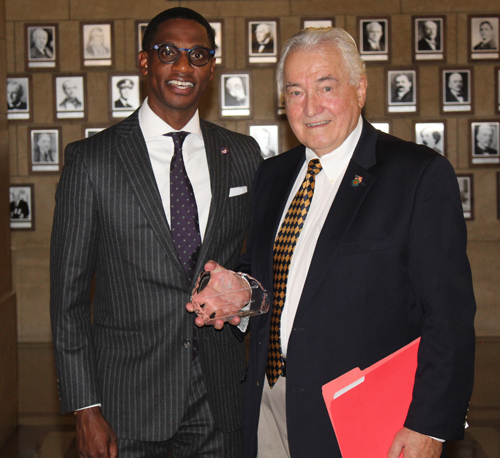 Mayor Justin Bibb and Frank Pocci



The Lifetime Achievement Award went to Mary Ferrante.

Mary Elizabeth Bianchi Ferrante was born on Cleveland's west side to Francesco and Angelina Pasqualoni Bianchi, immigrants from Abruzzo, Italy. She is very passionate about and proud of her Italian heritage and is staunchly dedicated to its preservation and perpetuation. Mary has selflessly given years of service to the Italian American community in a variety of ways and continues to do so to this day.

Mary has been a member of the Italian Sons and Daughters of America (ISDA) for 63 years. She is a member of the ISDA Our Lady of Mount Carmel Lodge and has served in numerous offices. At the district level, she served as the Publicity Chairperson. Mary has also written for the Unione, the past ISDA newspaper, and continues to write for its current newspaper, La Nostra Voce.

In addition to her activities with ISDA, Mary is a dedicated member of the North Italian Club. She has served as the Publicity Chairperson for the Federation of Italian American Societies of Greater Cleveland. Mary founded, managed, and sang in the Italian Choral Group for 31 years. On the airwaves of Cleveland through WXEN, a radio station with ethnic programming, Mary produced and announced the Italian Radio Program, taking over from Rocco Scotti.

Mary is also active in organizations and events outside of the Italian American community. She is a member of the Middleburg Heights Women's Club, having served as Civic Committee Chairperson and as editor of the newsletter. In 2011, the Women's Club recognized her as Woman of the Year. She has served on the Middleburg Heights Board of Zoning and Building Appeals and volunteers at the Cleveland Sight Center. One activity she is very proud of is having served as a hostess at the inauguration of Governor Richard Celeste in 1983.

Watch the video of Mary Ferrante's award.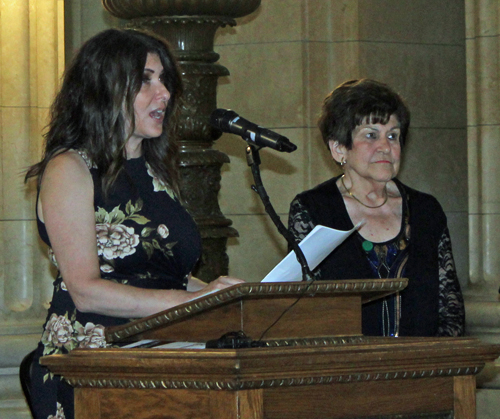 Pamela Dorazio-Dean and Mary Ferrante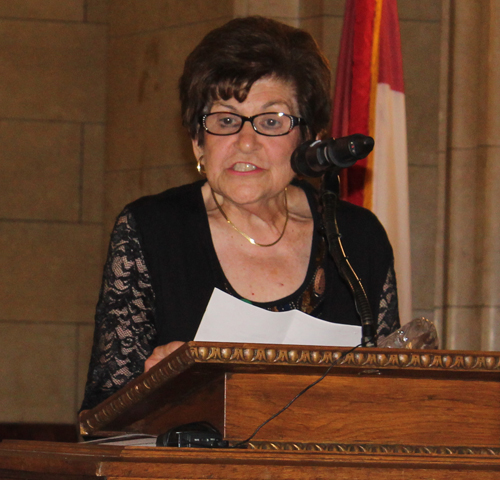 Mary Ferrante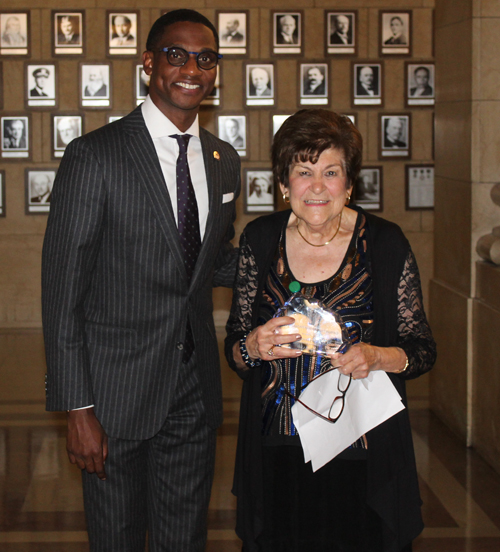 Mayor Justin Bibb and Mary Ferrante



After the Awards, Italian Sons and Daughters of America national president Basil M. Russo gave his remarks. Watch the video.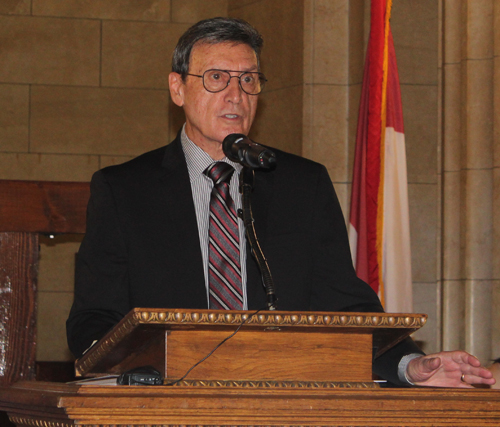 Basil M. Russo



Reverend Phillip G. Racco then led the closing prayer.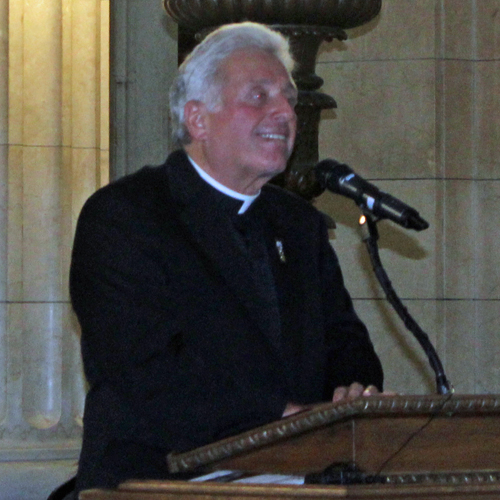 Reverend Phillip G. Racco



An Italian dinner sponsored by the Italian Sons and Daughters of America was then served by Nido Italia.

***
Want to learn about ethnic and cultural events in Cleveland such as this? Sign up for the free eNews and every Tuesday evening you will receive a free e-mail listing the next week's events. It's easy and free.

Fill out the form for the free weekly eNews.
***
---
Enjoy these other images from the Italian Heritage Month Kick-off event at City Hall.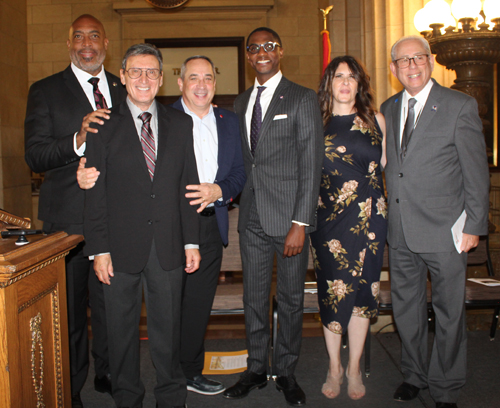 Blaine Griffin, Basil Russo, Matt Zone,
Mayor Justin Bibb, Pamela Dorazio-Dean and Mike Polensek


---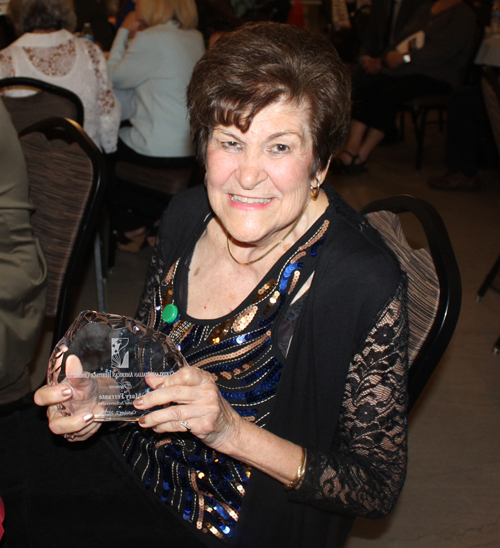 Mary Ferrante with award


---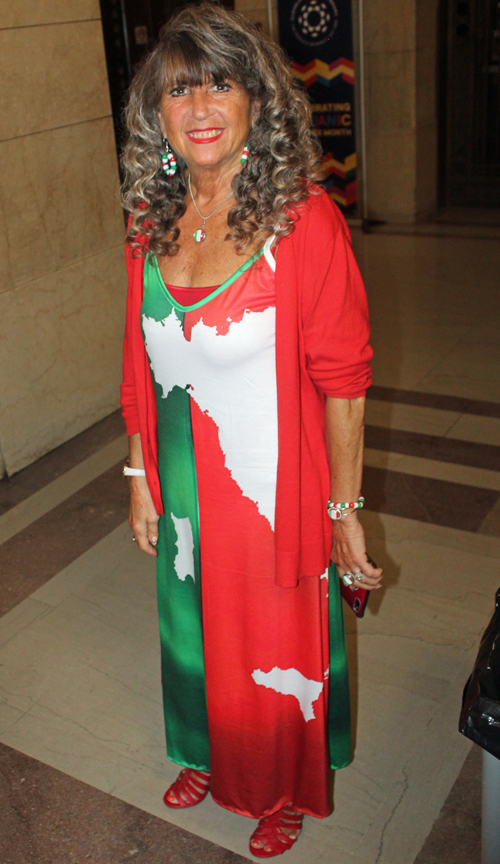 Dressed for the occasion


---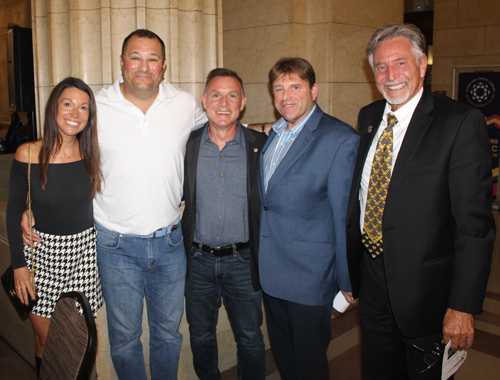 AJ Pettiti and some family and friends


---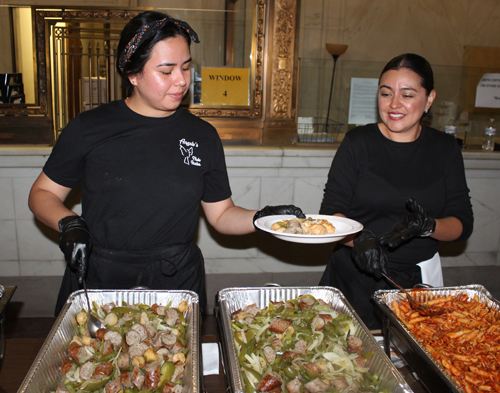 Nido Italia servers


---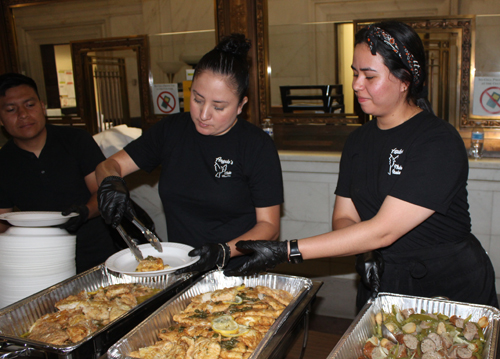 ---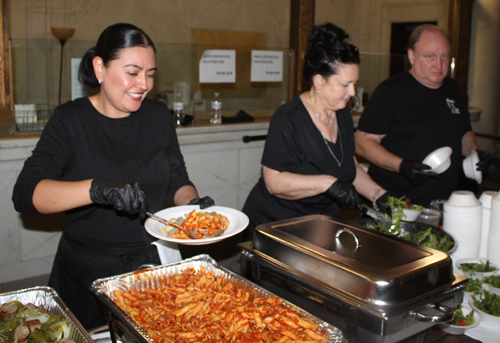 ---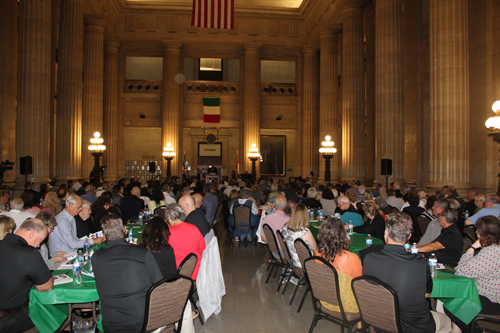 Crowd at Italian Heritage Month Kick-off


---
Top of Page
Back to Cleveland Italians