The West Side Irish American Club kicked off their 2023 GOAT (Greatest CLE Irish weekend of All Time) weekend with some Irish history.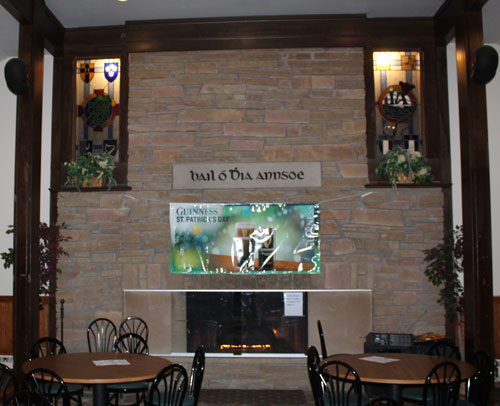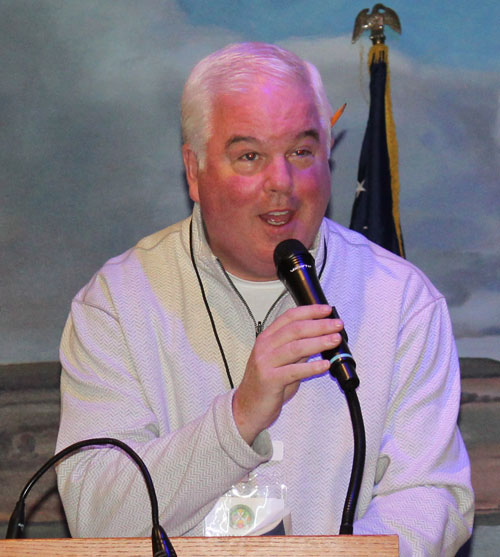 Danny Chambers served as MC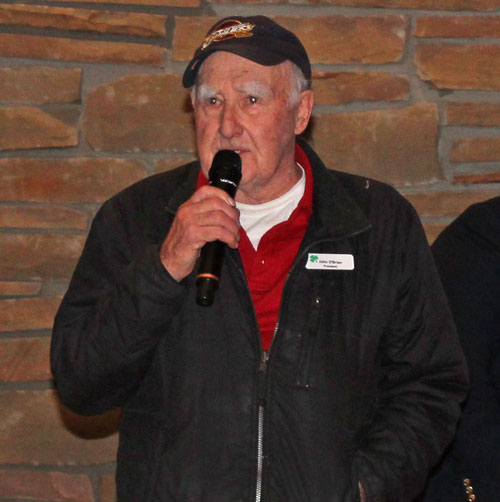 WSIAC President John O'Brien stressed the need for cultural presentations



There were two interesting presentations.

First was about the ambush Death of Michael Collins - 100th anniversary.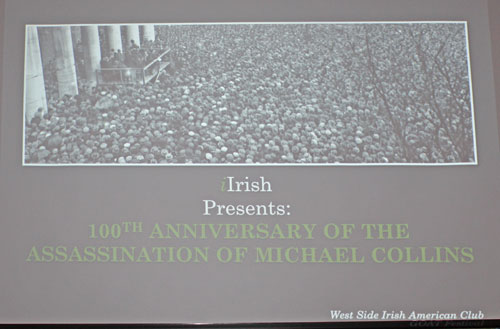 Michael Collins was an Irish revolutionary, soldier and politician who was a leading figure in the early-20th century struggle for Irish independence. During the War of Independence he was Director of Intelligence of the Irish Republican Army (IRA) and a government minister of the self-declared Irish Republic. He was the first Chairman of the Provisional Government of the Irish Free State from January 1922 and commander-in-chief of the National Army from July until his death in an ambush in August 1922, during the Civil War.

John O'Brien Jr. is the Publisher and Editor of iIrish (formerly Ohio Irish American News) and told the story of Michael Collins' assassination.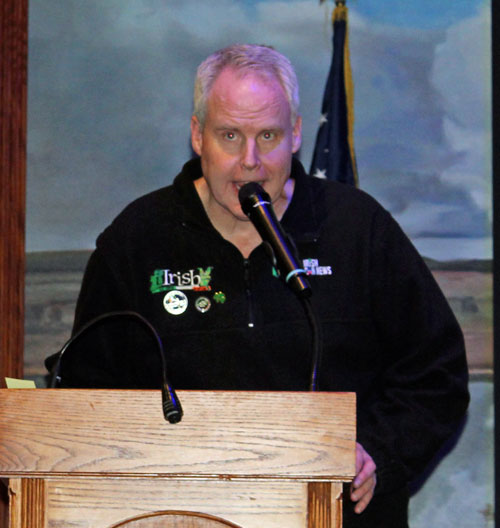 John O'Brien Jr.


---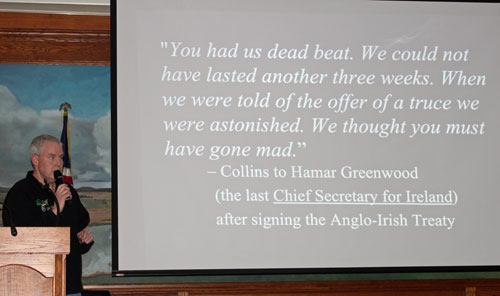 Michael Collins quote


---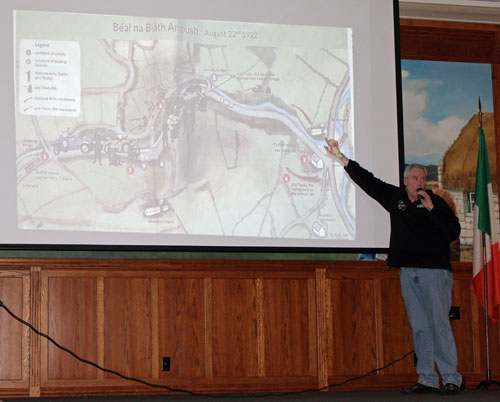 John O'Brien Jr. showing the map of the ambush


---
Watch the video (below) of the Michael Collins presentation.





Next was a presentation on The Good Friday Agreement (GFA) at 25.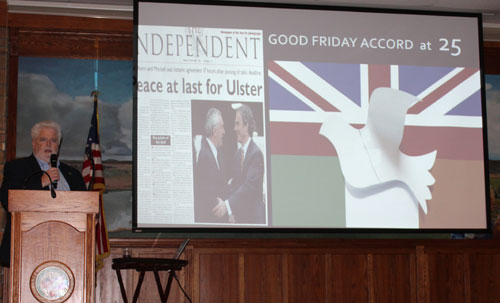 John Myers



The Good Friday Accord is a pair of agreements signed on Good Friday April 10, 1998 that ended most of the violence of the Troubles, a political conflict in Northern Ireland that had prevailed since the late 1960s. It was a major development in the Northern Ireland peace process of the 1990s. It is made up of the Multi-Party Agreement between most of Northern Ireland's political parties, and the British-Irish Agreement between the British and Irish governments. Northern Ireland's present devolved system of government is based on the agreement.

The GFA at 25 was presented by John Myers who is a board member of the Irish American Archives Society, a delegate to the Cleveland United Irish Societies and active in many other Irish organizations.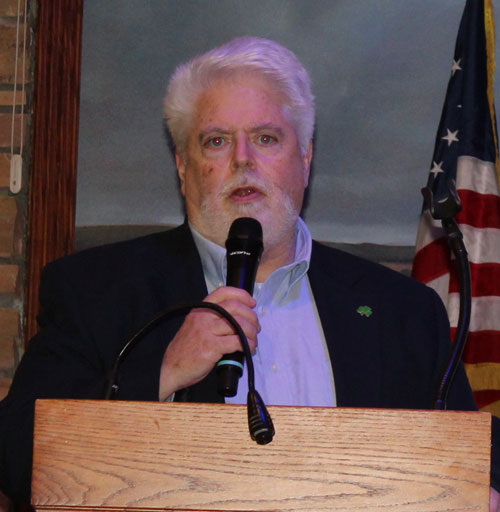 John Myers


---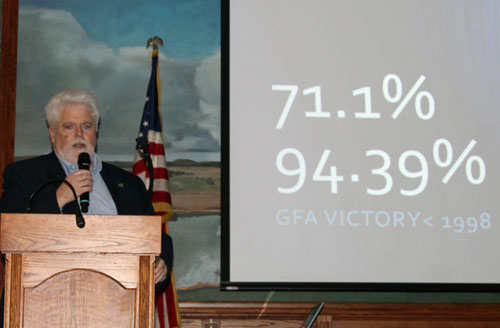 The percentage of yes votes for the Good Friday Accord


---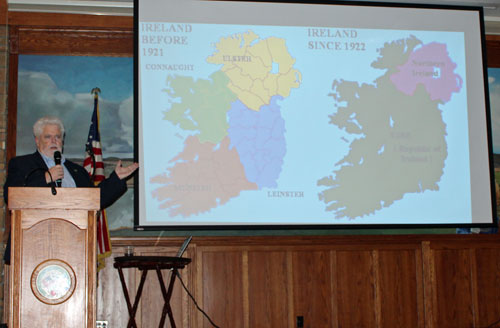 Map of Ireland before 1921 and after 1922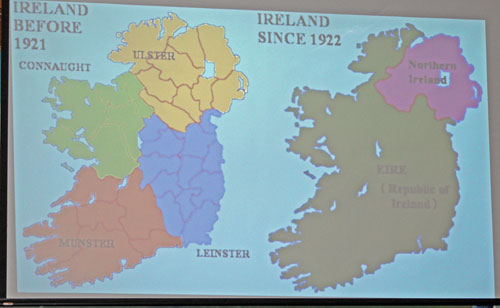 ---
Watch a video (below) of John Myers presentation of the Good Friday Agreement at 25.





What a way to kick off the GOAT. Congratulations to John O'Brien Sr., Helen Malloy and the rest of the WSIAC for sharing some Irish history during Irish Heritage Month.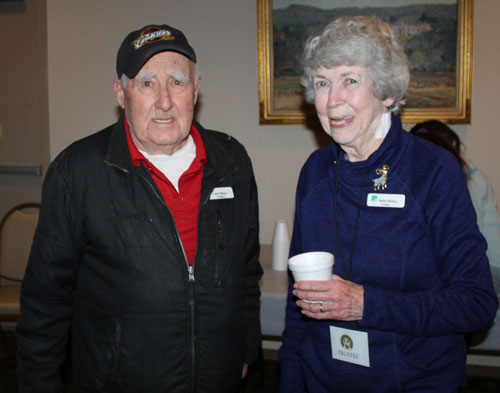 John O'Brien Sr. and Helen Malloy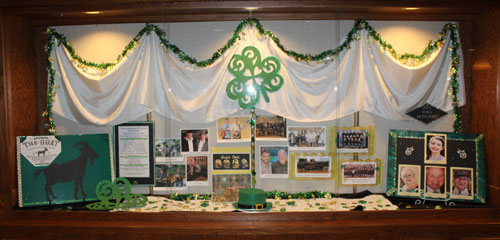 ***
Want to learn about Irish and other cultural events like this? Sign up for the free eNews and every Tuesday evening you will receive a free e-mail listing the next week's events. It's easy and free.

Fill out the form for the free weekly eNews.
***
---
Back to Top
Back to Cleveland Irish