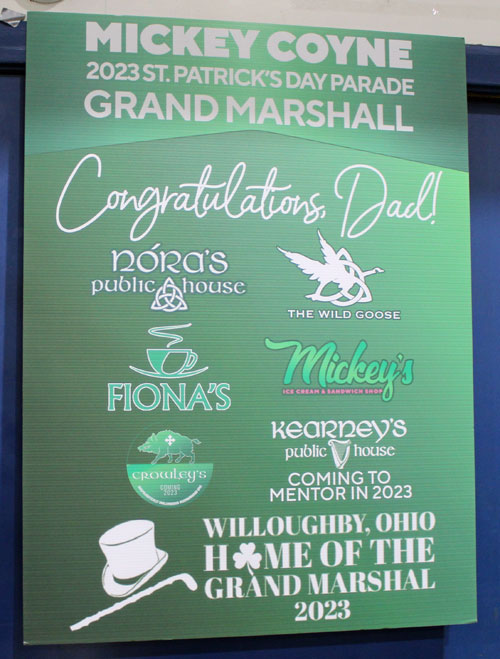 Michael F. "Mickey" Coyne is the Grand Marshal of the 2023 St. Patrick's Day Parade in Cleveland.

In this video (below) we asked Mickey about the honor.



The United Irish Societies of Greater Cleveland website lists these remarks:

*** Michael better known as Mickey Coyne is the loving son of Michael from County Mayo and Loretta Sands Coyne from County Down. Mickey and his late sister Mary Ellen Vana had a traditional loving Irish upbringing with Faith and Family First as parishioners of St. Aloysius Parish. A typical Sunday for the Coynes consisted of morning Mass followed with dinner, praying the Rosary and listening to Irish Music with their extended families of the Coynes, Reillys, Burkes, and Taltys.

The Coyne Family truly lived by the Irish motto:" Céad míle fáilte, a 100 Thousand Welcomes" to all who came to their home. A trait Mickey continues to live by and instilled in his children: Meghan, Kevin, Erin, Seamus, and Michael Patrick, thirteen Grandchildren and three Great Grandchildren. Mickey is happiest when he can travel home to Mayo with his kids and grandkids.

Compassion carries over to Mickey's professional life as a Funeral Director for over fifty years with the McMahon-Coyne-Vitantonio Funeral Home. Serving families from generation to generation he treats all with kindness no matter their financial circumstances. Many families from the Hospice of the Western Reserve are grateful to Mickey for graciously helping them through a difficult time. Mickey truly lives every day as taught by his parents of faith and family first.

Mickey has led an active Parish life from his school days at Saint Aloysius to his current Immaculate Conception Parish. He is not one to just take space in a pew; through his leadership Parish festivals began and many a lively Saint Patrick's Day party were fun and successful under his guidance. All while being active in Civic Organizations as member of the Chamber of Commerce, sponsoring local Little League Teams, and volunteering with Youth Organizations. Living out his dream of owning an ice cream shop he brought ice cream back to Downtown Willoughby with the opening of Mickey's Ice Cream and Hot Dog Shop; adding another spot for Mickey and others to meet and greet.

Never one to sit back and watch others work; Mickey became a charter member of the Irish American Club East Side and has served numerous terms as President over the years. He would be one of the first to greet a new member to the Club with a warm hello, pleasure to meet you, and hand always extended in friendship. No job was too big or too small for Mickey around the IACES from Pie Nights, arranging entertainment, or presenting unique ideas to keep the Club growing strong.

Life for Mickey is not all work and no play with his favorite day of all being St. Patrick's Day since the days of his childhood. Always starting the day with Mass, a family gathering, and then off to the Cleveland St. Patrick's Day Parade. He fondly remembers jumping into the parade and crossing the finish line with his father marching as a Member of the Knights of Columbus .As a member of the Irish American Archive Society Mickey helps keep the rich history of the Irish Community preserved. He knows his Mom, Dad and Mary Ellen will be proudly watching him as the 2023 St. Patrick's Day Parade Grand Marshal marching with Michelle and all his Family alongside him.

Mickey is Proud of his Irish Heritage and Honored and Grateful as the 2023 Grand Marshal to lead the Irish Community down the Avenue.***

Mickey shared the honor with hundreds of family, friends and supporters leading up to the big day. On Saturday March 11, 2023 he hosted an event at the Immaculate Conception Church Hall for about 400 of his friends.

Other 2023 honorees attended to support Mickey such as Hibernian of the Year John Myers and Irish Mother of the Year Bridget Conway.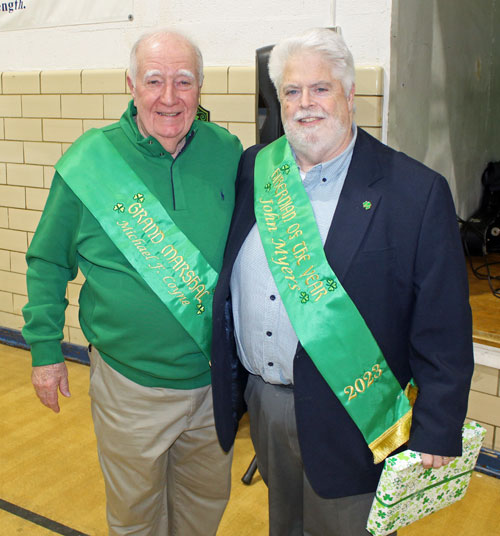 Grand Marshal Mickey Coyne and Hibernian of the Year John Myers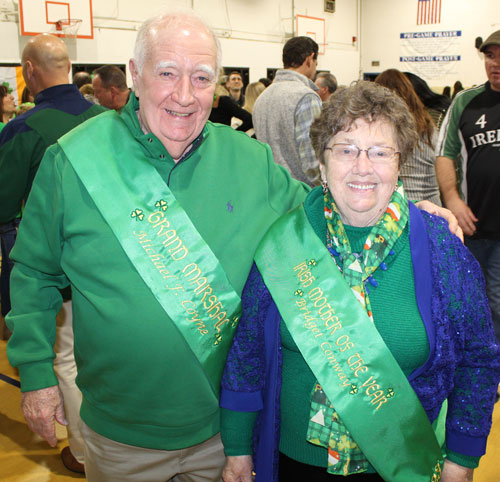 Grand Marshal Mickey Coyne and Irish Mother of the Year Bridget Conway

There was lots of food and drink and camaraderie as well as Irish entertainment.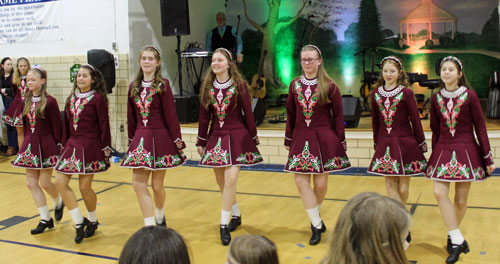 Murphy Irish Dancers at Mickey Coyne party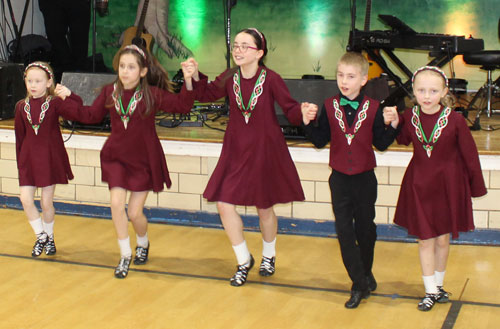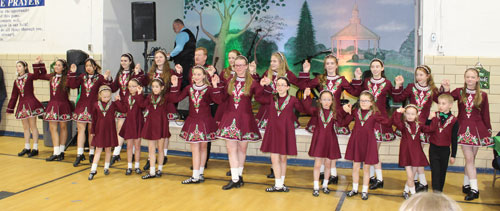 Watch a video (below) of highlights of the Murphy Irish Dancers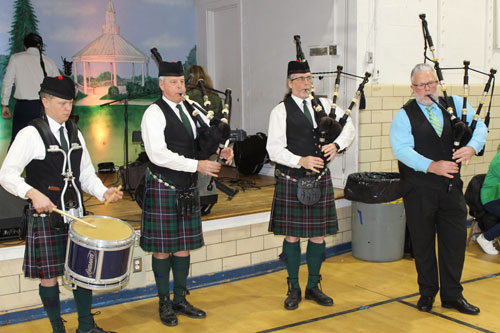 87th Cleveland Pipe Band members
Drew Donnelly (drum), Mark Donnelly, Brian Borowski, Michael Crawley

Watch a video (below) of highlights of the bagpipers.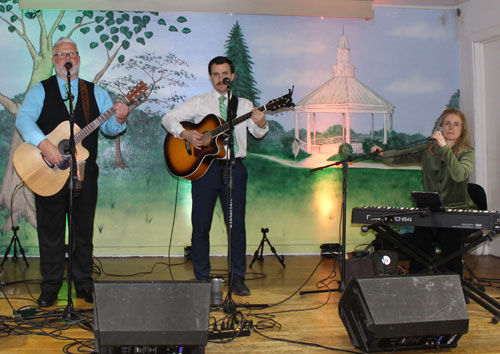 Michael Crawley Band



Enjoy a few other images from the grand affair.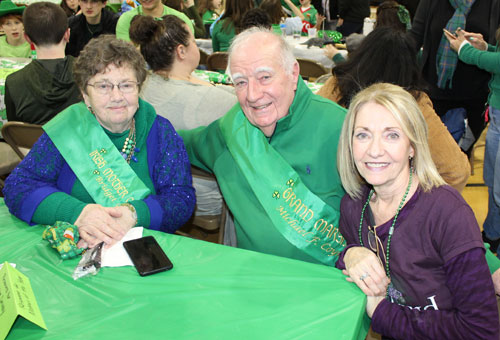 Irish Mother of the Year Bridget Conway,
Grand Marshal Mickey Coyne and Michelle Morgan


---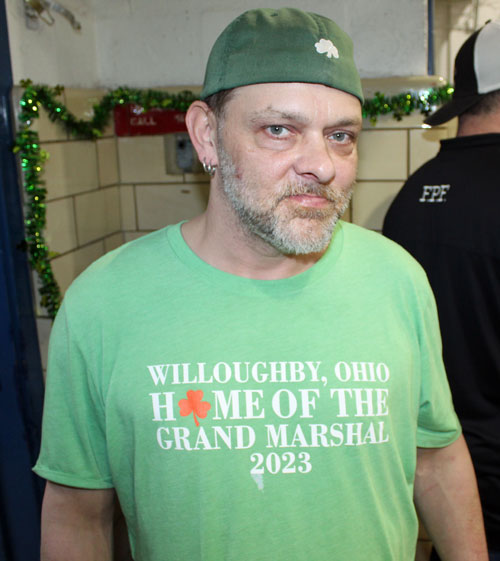 Willoughby is proud of Grand Marshal Mickey Coyne


---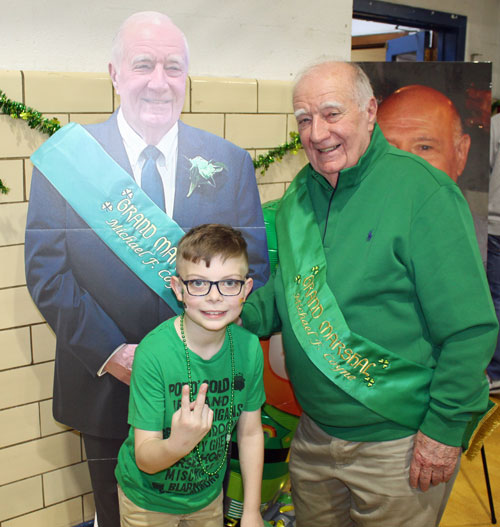 ---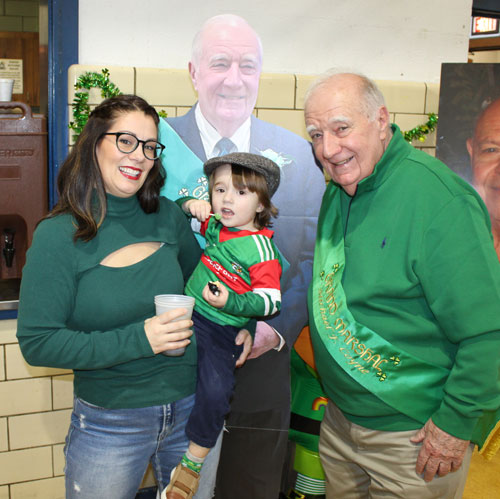 ---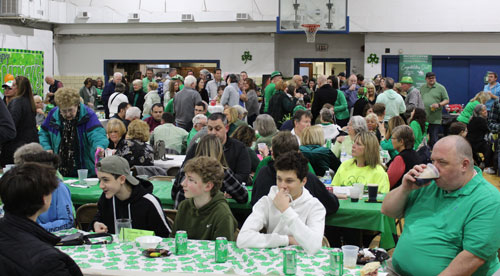 Part of the wall-to-wall crowd at
Grand Marshal Mickey Coyne's Willoughby event


---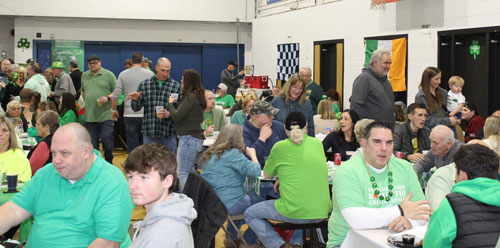 ---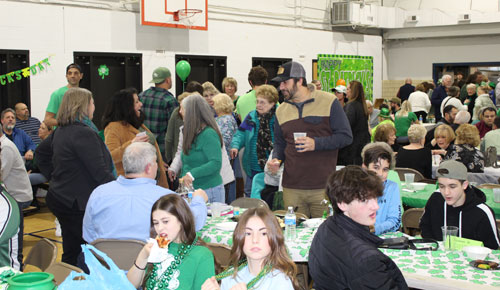 ---
Congratulations Grand Marshal Mickey Coyne
***
Want to learn about Irish and other cultural events like this? Sign up for the free eNews and every Tuesday evening you will receive a free e-mail listing the next week's events. It's easy and free.

Fill out the form for the free weekly eNews.
***
---
Back to Top
Back to Cleveland Irish