Gerry Quinn was born in Garracloon, County Mayo in Ireland and now lives in Euclid, Ohio. His weekly show, Gerry Quinn Irish Radio (WHK 1420) has been on the air since 1980 and was named Best Ethnic Program in Northeast Ohio. He conceived and chaired the efforts that led to the founding of Cleveland's Irish American Club - East Side in 1978 and the Mayo Society in 1995. He was inducted into the Cleveland International Hall of Fame in 2011. So we could think of nobody better to explain the Irish breakfast to us.
We visited the legendary P.J. McIntyre's Irish Pub in Cleveland's Kamm's Corners neighborhood.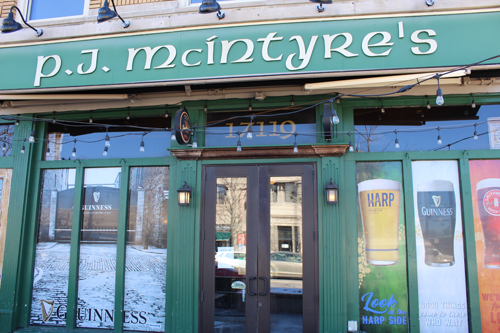 According to the 2019 U.S. census estimate, this neighborhood has the highest concentration of Irish Americans in Cleveland and Cuyahoga County.

P.J. McIntyre's serves an all-day Irish Breakfast and we asked Gerry to explain what was on the plate. This included beans, bangers (sausages), mushrooms, eggs (we chose over-easy), a form of potato - hash browns in this case, rashers, tomato, soda bread, black pudding and white pudding. And of course a cup of tea.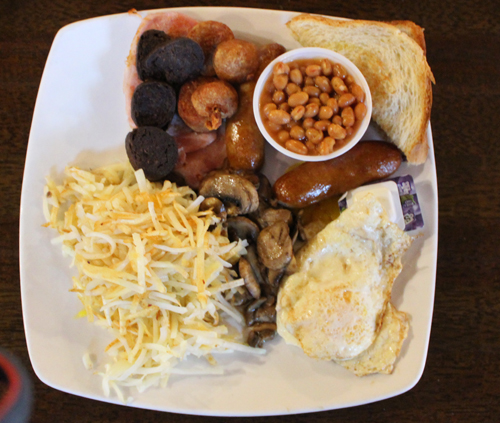 My Irish Breakfast from P.J. McIntyre's

Rashers are thin slices of back bacon and side bacon that look more like ham than what we know as bacon in the US. Black pudding is a regional type of blood made from pork or beef blood, with pork fat or beef suet, and a cereal, usually oatmeal, oat groats, or barley groats. It is different from blood sausages eaten in other parts of the world like the Eastern European blood sausage called kishka (intestine) which is made with pig's blood. White pudding is similar to black pudding, but does not include blood.

Gerry says the breakfast is often called a "fry" in Ireland. Whatever you call it, it is delicious - and very filling.

Watch Gerry Quinn explain what's on the plate in the Irish Breakfast.





The breakfast has regional variants and is referred to by different names depending on the area. On its origin, Country Life magazine states, "The idea of the English breakfast as a national dish goes right back to the 13th century and the country houses of the gentry. In the old Anglo-Saxon tradition of hospitality, households would provide hearty breakfasts for visiting friends, relatives and neighbors". The fried breakfast became popular in Great Britain and Ireland during the Victorian era, and appears as one among many suggested breakfasts in home economist Isabella Beeton's Book of Household Management (1861). Its popularity soared post-World War II and became a staple of the working class.

In Ireland, as elsewhere, the exact constituents of a full breakfast vary, depending on geographical area, personal taste and cultural affiliation. Traditionally, the most common ingredients in Ireland are bacon rashers, pork sausages, fried eggs (or scrambled or poached), white pudding, black pudding, toast and fried tomato. Sauteed field mushrooms are also sometimes included, as well as baked beans, hash browns, and brown soda bread. Fried potato farl, boxty or toast is sometimes served as an alternative to brown soda bread. Limerick in particular has a long-standing traditional association with pork-based meat products.

In Ulster, the northern province in Ireland, an "Ulster fry" is a dish similar to the Irish breakfast, and is popular throughout most of the province (chiefly in Northern Ireland and parts of County Donegal), where it is eaten not only at breakfast time but throughout the day. Typically it will include soda bread (soda farl) and potato bread. Similarly to the breakfast roll seen in the rest of Ireland, "filled sodas" are found throughout Ulster, which usually consist of a soda farl shallow-fried on one side and filled with fried sausages, bacon or eggs. Fried onions or mushrooms are usually added upon request. Filled sodas are a popular choice for breakfast from roadside fast-food vendors.

In Scotland, the full breakfast, as with others, contains eggs, back bacon, sausage, buttered toast, baked beans, and tea or coffee. Distinctively Scottish elements include Scottish style or Stornoway black pudding, Lorne sausage (sometimes called a "square" for its traditional shape), Ayrshire middle bacon and tattie scones. It commonly also includes fried or grilled tomato or mushrooms and occasionally haggis, white pudding, fruit pudding or oatcakes.

As in the rest of Britain and Ireland, the composition of a full Welsh breakfast (Welsh: Brecwast llawn Cymreig) can vary. The traditional Welsh breakfast reflects the coastal aspect of Welsh cuisine. Two key ingredients that distinguish the Welsh breakfast from the other "full" variations are cockles (Welsh: cocs) and laverbread (Welsh: bara lafwr or bara lawr) (a seaweed purée often mixed with oatmeal and fried). Fried laver with cockles and bacon was the traditional breakfast for mine workers in the South Wales Coalfield, but a breakfast may have also included Welsh sausages, mushrooms and eggs.

We asked the visitors to our sister websites (ClevelandPeople.com, ClevelandSeniors.Com, ClevelandWomen.com, ClevelandCooks.com and Cleveland101.com) to let us know what is their favorite full Irish breakfast in town. Their votes agreed with that of Cleveland Irish legend Gerry Quinn and our own taste buds. So we awarded the Cleveland 101 Favorite Irish Breakfast 2023 honor to the legendary P.J. McIntyre's Irish Pub in Cleveland's Kamm's Corners neighborhood.

Kate from P.J. McIntyre's accepted the honor on behalf of the pub.





***
Want to learn about Irish and other cultural events like this? Sign up for the free eNews and every Tuesday evening you will receive a free e-mail listing the next week's events. It's easy and free.

Fill out the form for the free weekly eNews.
***
---
Back to Top
Back to Cleveland Irish