The Irish Echo Arts & Culture Awards are a unique ceremony born from a desire to salute Irish America's cultural champions. We raise a glass to the actors and writers, poets and playwrights in America who keep our spirits high in the hardest of times.
Cleveland based iIrish newsmagazine has been selected as an Irish Echo Irish American Arts & Culture Champion and was presented with the award in a ceremony at The Statler Hotel in downtown Buffalo on April 28th.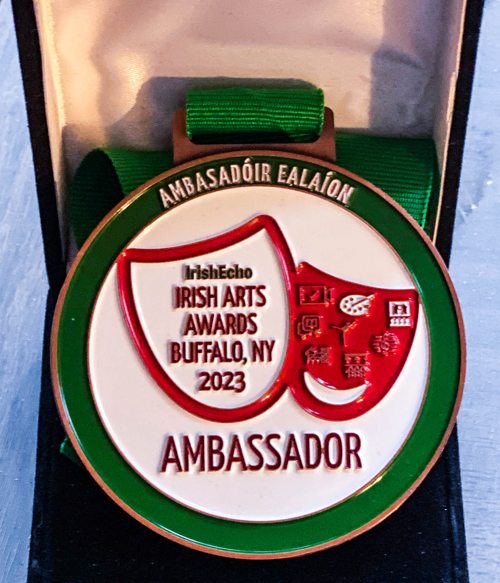 Publisher John O'Brien, Jr. remarked, "To preserve, present and promote our rich Irish culture and heritage has always been part of our mission. In the areas that we serve, I am the last 1st Generation. The Irish born man or woman is not immigrating to Cleveland, Pittsburgh or Buffalo, as in the days of yore. Thank God that they don't have to leave Ireland to find opportunity anymore, but … we like it when they come to us.
"So, we strive to preserve the love of what it is to be Irish, to instill that love in each new generation, for every generation, past, present and future. That love, that commitment to Ireland and Irish America so effortlessly instilled in each of us by our family's active involvement in music, dance, sports, philanthropy, volunteerism and yes, politics, has been our evolution, for the sake of our survival, and the generations to come.
"It is a mission we embrace, and enjoy. We are proud of our work and impact, signified by this award, and thank the Irish Echo for this honor."

An author, writer, poet, publisher and spokesman, John Francis O'Brien, Jr. is Co-Founder, Publisher and Editor of iIrish newsmagazine, a monthly print magazine for the 2.1 million people of Irish descent in Ohio and Pittsburgh Pa., and their friends, among iIrish's expansion to 14 states, Cleveland to Clearwater. It is available at more than 643 locations in Ohio and six surrounding states, and has subscribers in 21 U.S. states, Canada and Ireland. iIrish has donated more than $375,000 to local and national charities since its 2006 inception.
***
Want to learn about Cleveland's ethnic and cultural people and events? Sign up for the free eNews and every Tuesday evening you will receive a free e-mail listing the next week's events. It's easy and free.

Select 'Weekly' when you fill out the form for the free weekly eNews.
***
---
Back to Top
Back to Cleveland Irish