The 2022 St Patrick's Day Parade in Cleveland took place after missing 2 years because of the Covid pandemic.

Before the Parade honorees and dignitaries gathered on the steps of the Cosgrove Center including Grand Marshall Tom McManamon, Mother of the Year Rita Lally, Inside Co-Chair Eileem Mangan Stull and Outside Co-Chair Patricia Coleman Lavelle.

Because the 2020 Parade had to be cancelled, the 2020 honorees were also there: Grand Marshall Tom Scanlon, Mother of the Year Kathleen Mangan, Inside Co-Chair Maureen Mohney and Outside Co-Chair Christopher Cooper.

Mayor Justin Bibb, Bishop Edward Malesic and Council President Blaine Griffin were also there.

Jim Kilbane served as MC and Katie Cooper led the Irish anthem in Gaelic and then the US anthem.

Watch the video below of the ceremony on the Cosgrove steps.

NOTE: All the images below with a white arrow in the middle are videos. (The other images are just photos) You can click on the white arrow to watch the video of whatever is described. Make sure your speakers are on and you can make the video full screen once it begins by clicking the icon in the lower right corner.





Enjoy these images from the pre-parade ceremony on St. Patrick's Day.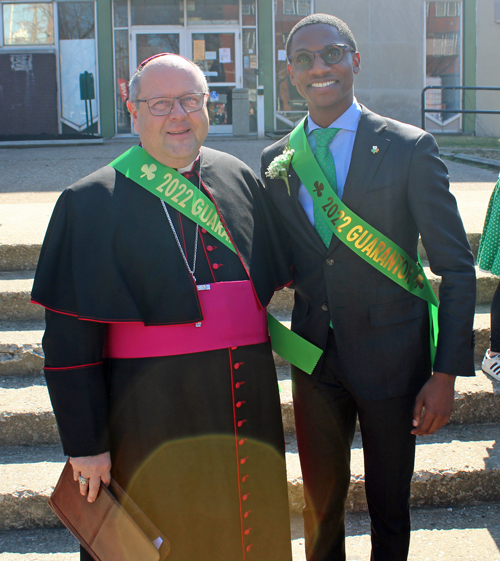 Bishop Edward Malesic and Mayor Justin Bibb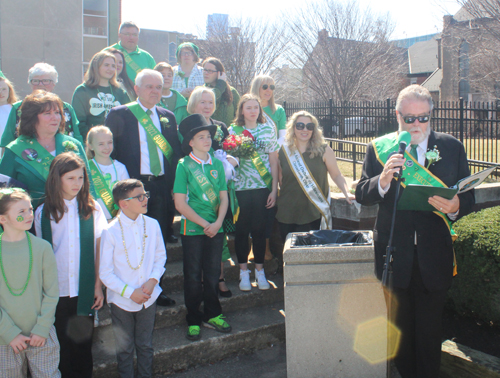 MC Jim Kilbane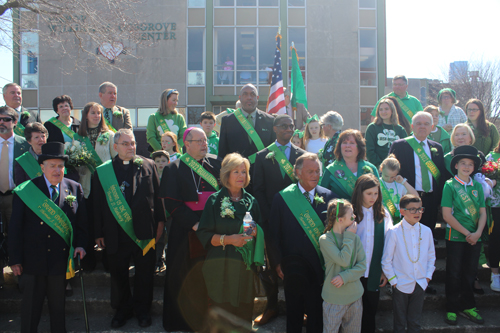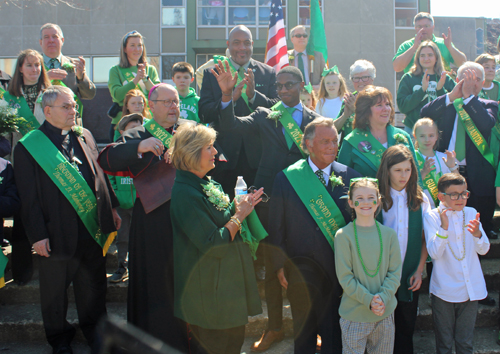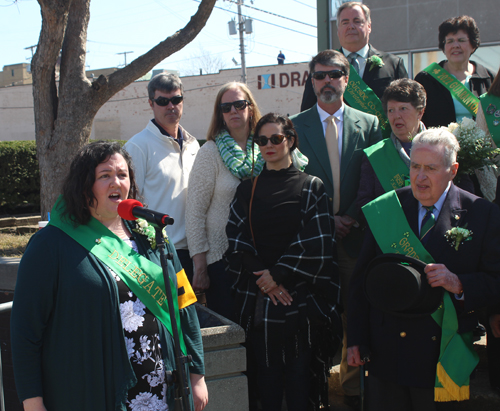 Katie Cooper singing anthems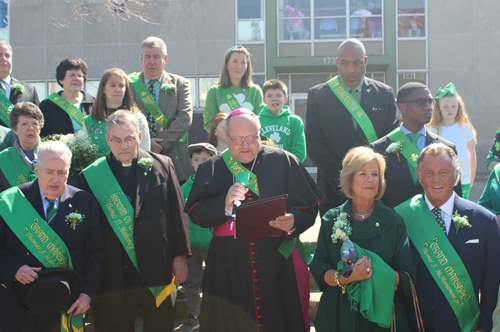 Bishop Edward Malesic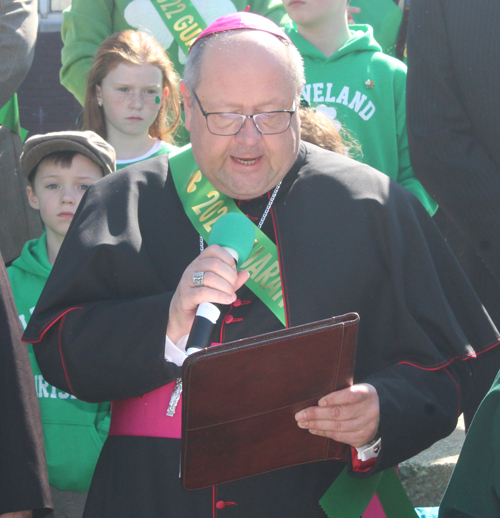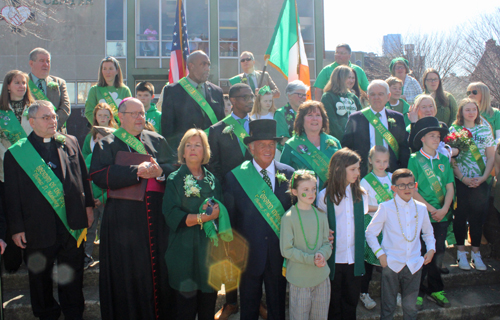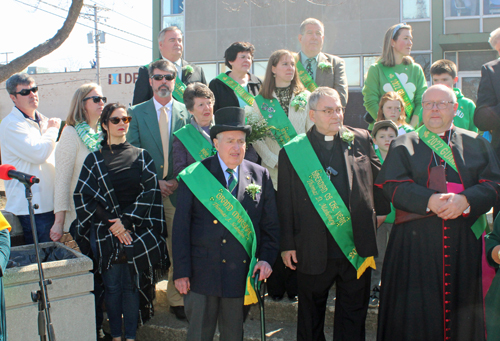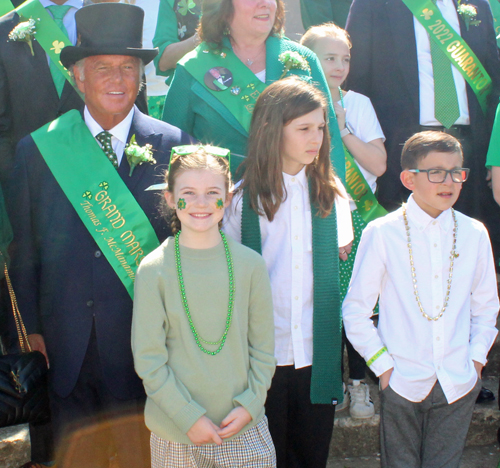 Grand Marshal Tom McManamon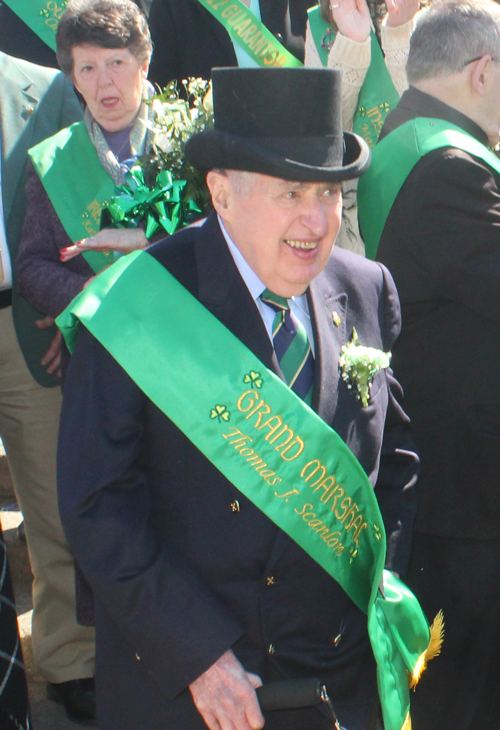 2020 Grand Marshal Tom Scanlon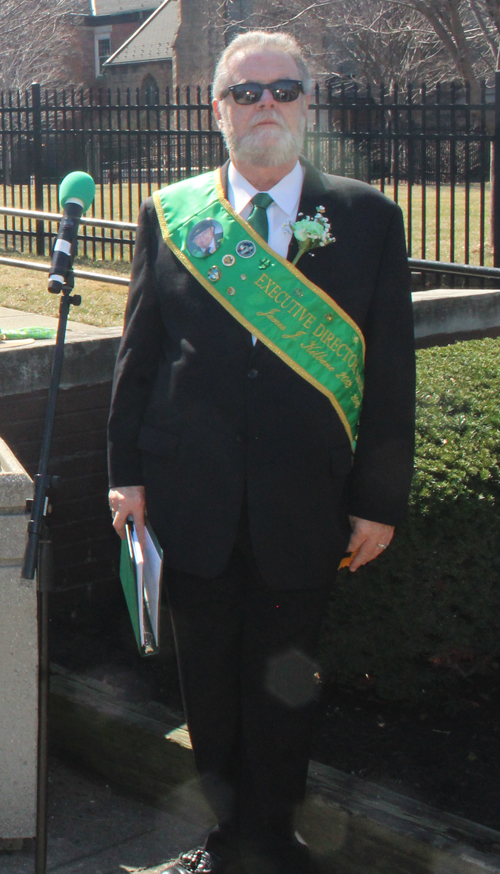 MC Jim Kilbane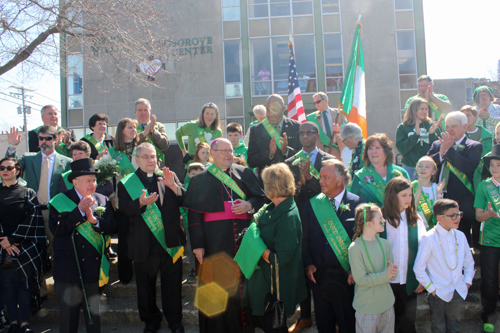 Next Up:
Start of the Parade
***
Want to learn about ethnic and cultural events like this? Sign up for the free eNews and every Tuesday evening you will receive a free e-mail listing the next week's events. It's easy and free.

Select 'Weekly' when you fill out the form for the free weekly eNews.
***
---
Main St. Patrick's Day 2022 page (this page)
Start of the 2022 St. Patrick's Day Parade
Irish American Club East Side
Division 1 of the 2022 St. Patrick's Day Parade
West Side Irish American Club
Division 2 of the 2022 St. Patrick's Day Parade
2022 St. Patrick's Day Parade - Photo Page
---
Back to Top
Back to Cleveland Irish