She was born in County Cork, Ireland, as Mary Harris in 1837 (well, maybe in 1830-no one knows for sure), but she is best known as Mother Jones.
She worked well into her nineties as a union organizer. She would tell audiences, "I'm not a humanitarian. I'm a hell-raiser." Coal miners and their families called her "the miner's angel."
Late in the 1840s, her father fled the potato famine and brought his family to Toronto to work on railroad construction. Mary became a teacher and seamstress in Michigan before moving to Tennessee just before the Civil War. In 1861, she married George Jones, an iron molder who was a member of a labor union.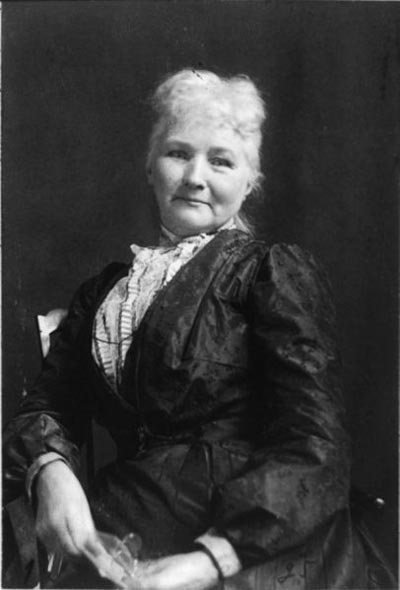 They had four children in four years, but a yellow fever epidemic in 1867 wiped out her family. She started her own business as a seamstress in Chicago, but she lost everything she owned in the Chicago fire of 1871.

Mary dedicated the rest of her life to the labor movement across the United States. She specialized in helping miners in their fight for decent wages, improved working conditions and an end to child labor. She led miners in strikes in Virginia in 1891, in West Virginia in 1912-13, in Colorado in 1913-14 where the Colorado militia machine-gunned and torched the miners' tent colony and massacred 20 women and children, and in Kansas in 1921.

She organized the women to persuade non-union member men to join unions and fought against corrupted leaders and operators. She was sent to prison three times and deported from the state, only to return and agitate once more.

Mother Jones once led a parade of 400 children, some of them crippled by industrial accidents, from Philadelphia to New York to publicize the scandal of child labor with media following behind. Some carried signs which read, "We want time to play."

President Teddy Roosevelt refused to meet her, but Mother Jones sent an open letter published in the newspapers: "These little children, raked by cruel toil beneath the iron wheels of greed, are starving in this country which you have declared in the height of prosperity-slaughtered, ten hours a day every week in the month, every month in the year so that our manufacturing aristocracy may live to exploit more slaves as the years roll by."

Although this smacks of her socialist bent, child labor restriction laws were passed the following year.

She continued to speak out for striking transit workers and steel workers in the early 1900s. Mother Jones became one of the best known women of her day.

Although she was not always successful, this firebrand spent over twenty-five years organizing and working for workers and working-class families. She told miners to "pray for the dead, and fight like hell for the living."
---
Back to Top
Back to Cleveland Irish