Mary Catherine McCluskey was born to Thomas and Nora Hastings, both of County Mayo, Ireland. She has three younger siblings; Thomas, Frank and Norine.
Mary attended St. Philomena Grade School and Ursuline Sacred Heart High School. She is active in both the Irish American Club East Side and West Side Irish American Club.
As most Clubs of this sort do, the West Side Irish American Club was calling out to younger members, knowing that the future of any club is in its youth. They didn't have to call too loudly for Mary to hear and answer. She had always been passionate about her heritage. Her father was one of the founders of the Club and a co-founder of its Fife and Drum Corp and Bagpipe Unit.
When she was just a freshman in high school she joined the West Side Irish American Club's Ladies Drill Team. By 1962 she took over the team and became its Leader - a position she holds to this day.
1962 was also the year she married Joe (Josie) McCluskey, a native of County Antrim. He played in the Fife and Drum Corps as well as the Gaelic Athletic Association.
Mary and Joe had seven children; Mary, Christine, Kevin, Tom, Tricia, Maureen and Katie. There are now three grandchildren; Andrew, Patrick and Sean. Sadly, Joe has since passed away.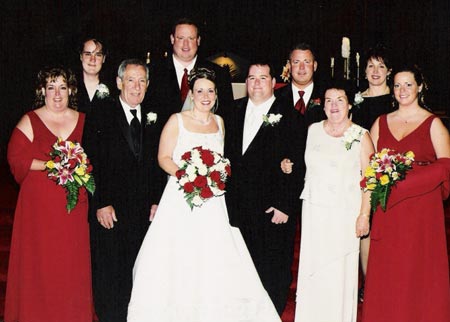 McCluskey family at wedding of
Tricia McCluskey and Patrick O'Donnell



All of Mary's daughters have carried on the tradition of marching on the Drill Team, and currently four are marching with her. All seven children were instilled with the love of heritage and especially Irish music. They all danced with The Masterson School of Irish Dance.

Mary's sister Norine led the Irish American Club East Side's Ladies Drill team for many years and Mary was always there to help.

Mary has received many awards for her commitment to the Irish community throughout the years. She was the West Side Irish American Club's first Woman of the Year, in 1975. In 2002 she became the United Irish Society's Mother of the Year, an honor her own mother received in 1981. Mary's award made them the first mother/daughter duo to be so honored.

When Mary was given the honor of Mother of the Year it came with a condition. She still wanted to be able to march with her Drill Team.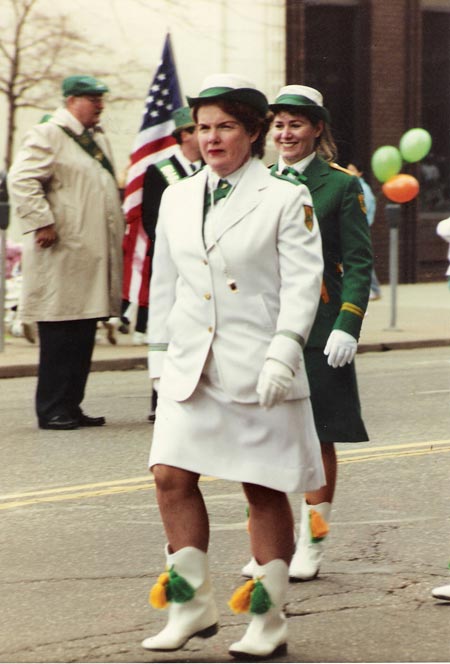 Mary has now marched with the West Side Irish American Club for 50 years. It would have been 52, but she actually missed two years because of pregnancy. Even in those two years, she marched alongside the unit. Through the years she has led her unit to countless medals and awards including Best Precision Unit and Best Overall Unit.

50 years is a long time to do anything, but when your heart and soul is so passionate the years pass quickly. Mary will lead her ladies down the avenue again this year and anxiously wait to hear the results from the Reviewing Stand. Regardless of what the judges say, Mary is confident her Unit is filled with winners. She is proud to lead them and they are proud to follow her.

Time marches on - and so does Mary. Congratulations!