The 2007 Grand Marshall - Stephen L. Mulloy
Congratulations to Steve Mulloy, the Grand Marshall of Cleveland's 2007 St. Patrick's Day Parade.
Steve came to Cleveland in 1954 from Achill, County Mayo, Ireland. He has been a member of the West Side Irish American Club since only three weeks after his arrival. He has served the West Side Club well in many capacities including President in 1967 and again in 1981.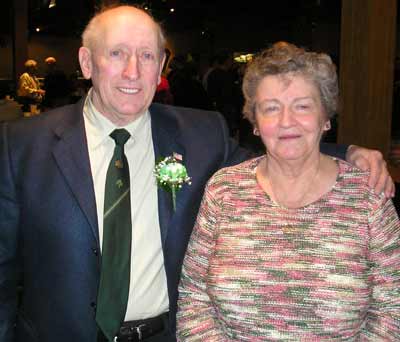 Steve and Anne Mulloy
(Anne was 2006 Mother of the Year)



Steve was a member of the Shamrock Pipe Band and is a founding member of the Cleveland Branch of the Irish National Caucus, The Mayo Society of Cleveland and St. Jarlath's Gaelic Football Club. He is also a proud member of the Ancient Order of Hibernians and a past officer of Irish Northern Aid.

Steve led a group of people, including Cleveland's Mayor Jane Campbell to Achill, and helped coordinate the Twinning of the two cities. He was Executive Director of the United Irish Societies from 1983-1986.

Many years Steve has kicked off the parade by singing the Irish and American National Anthems.

2007 Mother of the Year - Mary Ellen Boland

Mary Ellen Boland's Irish roots can be traced back to County Sligo, the home of her parents. She grew up in Cleveland's St. Aloysius Parish and attended grade school there and high school at Ursuline.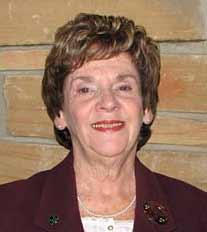 She was a charter member of the Sons and Daughters of Eire Fife and Drum Corp for the East Side Irish American Club. It was at the club that she met her future husband, Augustine (Gus) Boland, himself from County Sligo. Together they had six children, Sean, Kevin, Augustine. Martin, Maureen and James.
Her husband was very active in the Irish community and Mary Ellen helped facilitate that activity. In 1979 Gus died and Mary Ellen was forced to raise her children alone. Her Irish heritage and Catholic faith gave her strength.
Mary Ellen and her family sponsor the Augustine Boland Memorial Trophy for the Best Children's Unit at the St. Patrick's Day Parade.
Parade Co-Chairs: Mary Alice Fitzgerald and Kathy Whitford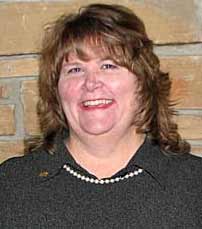 Mary Alice is one of six children born to Bob and Corrine Fitzgerald. She was raised in a loving family with a strong Irish-Catholic influence. In addition to her "regular" job at Progressive Insurance, where she has been for 15 years, Mary Alice has also been with what is now Quicken Arena for the past 13 years. She hasn't missed many events at the Arena as a result.
She also hasn't missed much in the Irish community. She is a past board member of the Irish American Club, East Side. In addition she has chaired and co-chaired many events including the Padraic Pearse Center's annual Reverse Raffle and an entry in the Krazy Kraft competition on the Cuyahoga River. She has been a delegate to the United Irish Societies for years and has organized marshals for the parade, as well as being one herself.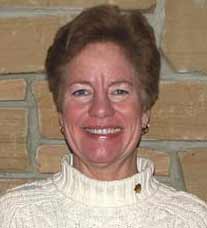 Kathy has a Masters Degree in Nursing and spends her summers organizing and running a camp for children with special needs. She is a member of the West Side Club and the Ladies Ancient Order of Hibernians.
She is also a strong supporter and member of Irish Northern Aid and has served on their Board of Trustees. Kathy was also raised in a strong Irish Catholic environment and is a member of Our Lady of Angels Parrish.
Congratulations also to Kay Lardie, East Side Irish American Club Member of the Year.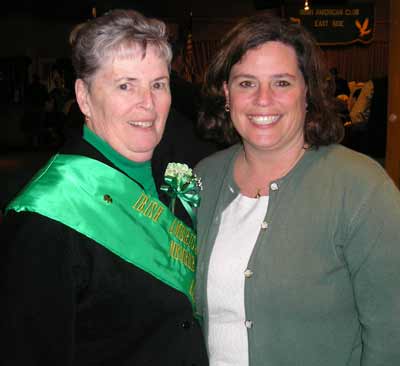 Kay Lardie and daughter Mary Kay
---
Back to Top
Back to Cleveland Irish