The Irish American Club East Side Member of the Year for 2006 is Norine Hastings. Both of Norine's parents were born in County Mayo, Ireland.
She is the Chair of the Math Department at East Tech High School where she also teaches. Norine has been a second mother to all of her 6 nieces, 3 nephews, 4 great nephews and 2 great nieces who love her dearly.
She is a woman strong in her faith and proud of her heritage and her family. She is an avid dancer and her love of Irish music is evident as you see her on the dance floor.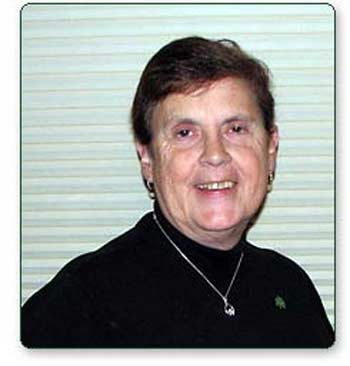 The Club chose her as their honoree because of her years of hard work at the Club, striving to preserve the Irish heritage. She is the leader of the Club's Ladies Drill Team, which has been marching in the St. Patrick's Day Parade for 20 years.
She is well deserving of this honor and it would be wonderful for the entire East Side Club to see her "riding" down the avenue in her special car this year.
But that won't happen. The car will be there, but Norine won't be in it. She'll be leading her Drill Team to what we can only imagine will be another First Place Trophy.
---
Back to Top
Back to Cleveland Irish