The Erie Chinese Journal (Yili Chinese Newspaper) is a Chinese newspaper headquartered in Cleveland, Ohio. It has been published in Cleveland, Columbus, Cincinnati and Pittsburgh in Pennsylvania for a long time. It will also be published in parts of Kentucky and New York, Washington and other cities.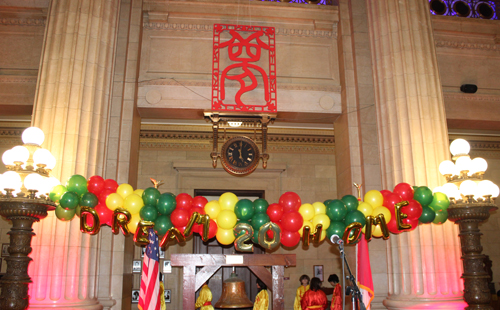 City Hall Rotunda for Erie Chinese Journal



Yili Huabao was first published in November 2002, when it was the 24th edition of the monthly magazine; from November 2004, it was changed to the 20th edition of the semi-monthly magazine, which was issued in the middle and at the end of the month; since February 2007, it was changed to the 24th edition of the bimonthly magazine. Ten thousand copies are printed and with the widespread use of mobile applications, in order to meet the needs of the society, the Yili Huabao APP was officially launched in 2017. Readers can check the electronic version of Yili Huabao on their mobile phones.

The current main pages of the Yili Chinese News are: community news, local news, overseas Chinese, character stories, life exploration, Pu Ying's lectures, cultural education, legal counsel, healthy life, sports and entertainment, American Chinese, readers' corner, around the world, special topics Reports, special editions, etc.

Through these pages, Yili Chinese News has provided a communication platform for Chinese in Ohio and surrounding communities for many years, highlighting good people and good deeds in the community, providing a place for domestic literature lovers to showcase their talents, promoting traditional Chinese culture, and building a bridge for Sino-US economic and cultural exchanges. Yili Huabao has played a unique role in these aspects, which is exactly the purpose of the newspaper.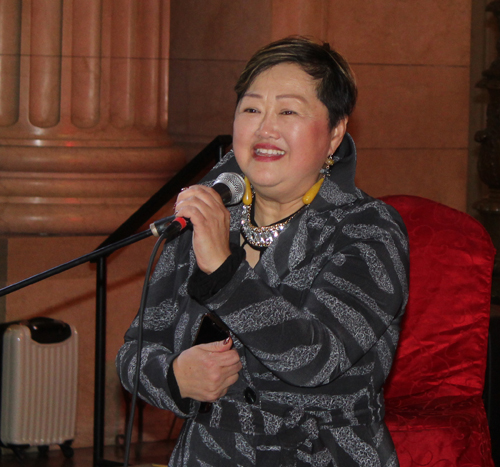 Ping Yu speaking


The President/Editor of the Erie Chinese Journal is Pu Ying (also known as Annie Pu or Ying Pu to her non-Chinese friends)

On March 24, 2023 a 20th anniversary celebration of Pu Ying and her Erie Chinese Journal newspaper was held in the Rotunda of Cleveland City Hall. People from all over the region and Canada attended and filled the Rotunda to congratulate Ying Pu and her achievement.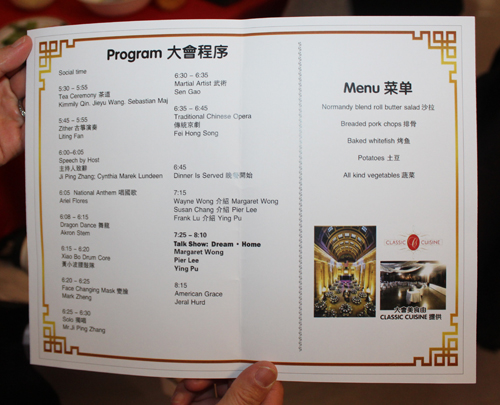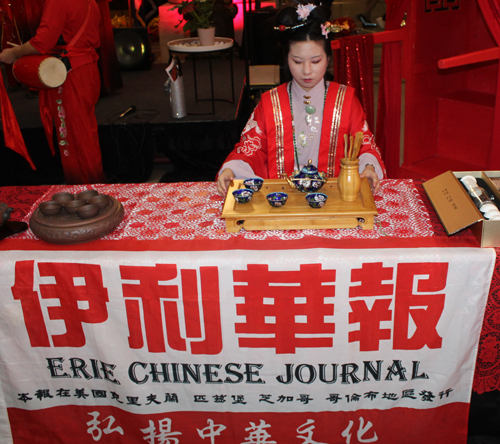 Tea Ceremony before Erie Chinese Journal event



After opening remarks and the national anthem there were several performances. First, students from the Akron STEM School performed a Chinese Dragon dance.

NOTE: All the images below with a white arrow in the middle are videos. (The other images are just photos) You can click on the white arrow to watch the video of whatever is described. Make sure your speakers are on and you can make the video full screen once it begins by clicking the icon in the lower right corner.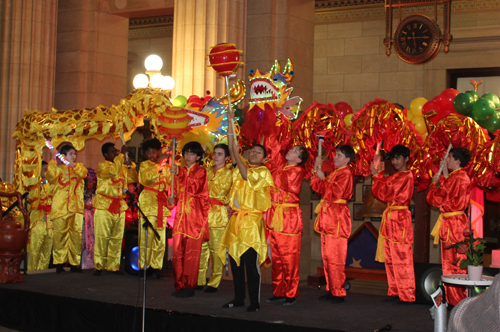 Akron STEM Dragon Dance

Next, the Pittsburgh Xiaobo Waist Drum Dance Group performed.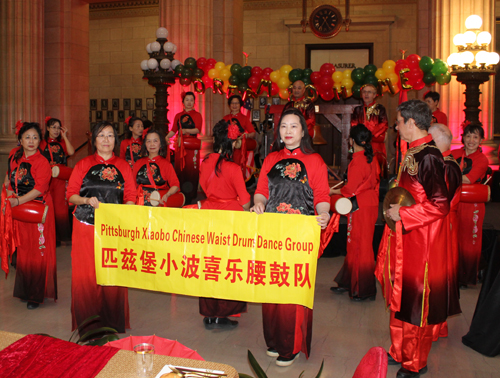 Pittsburgh Xiaobo Waist Drum Dance Group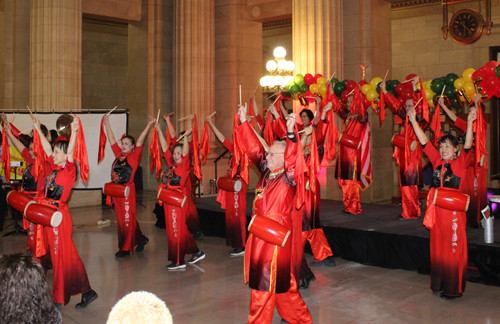 Chinese Face Changer Mark Zheng performed and as he danced around, his face changed colors and looks as if by magic.

Next, Mr. Ji Ping Zhang performed a song.

Kung Fu Martial Artist Sen Gao performed an energetic demonstration.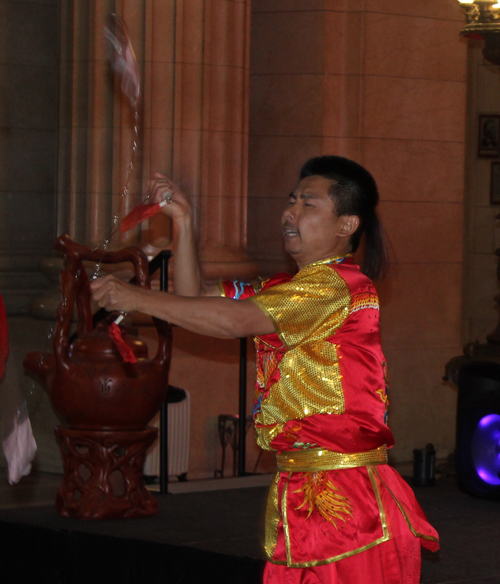 Kung Fu Martial Artist Sen Gao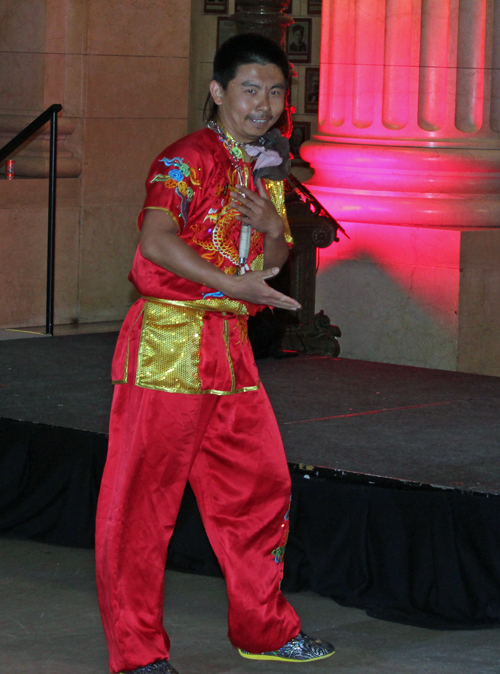 Fei Hong Song performed traditional Chinese Opera songs and then, while still singing, she painted Chinese calligraphy characters that were displayed.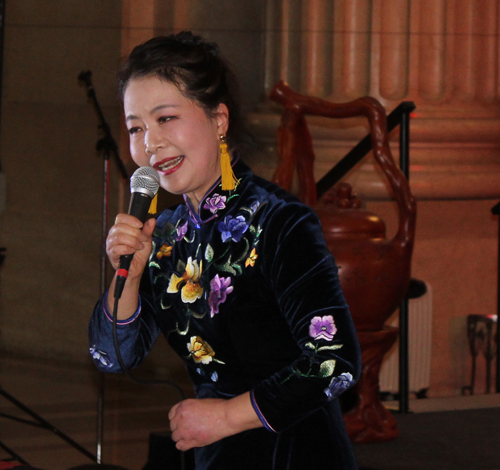 Fei Hong Song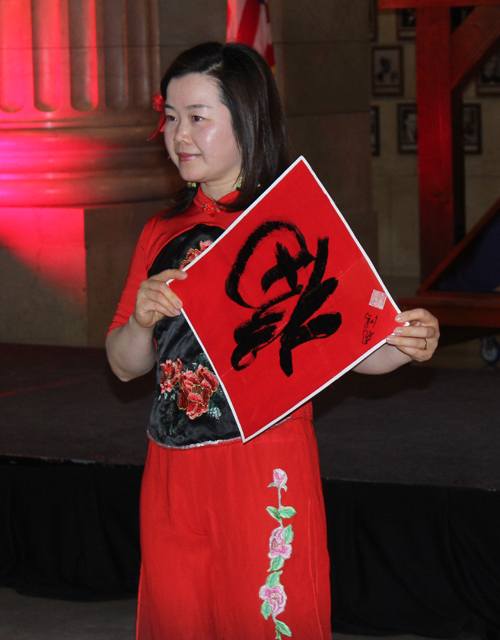 Fei Hong Song calligraphy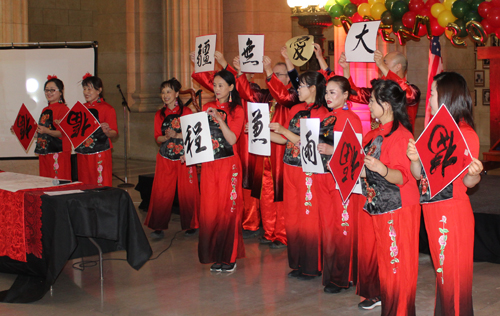 Liting Fan performed on a guzheng (traditional Chinese zither) including this rendition of the Scottish song Auld Lang Syne written by Robert Burns in 1788.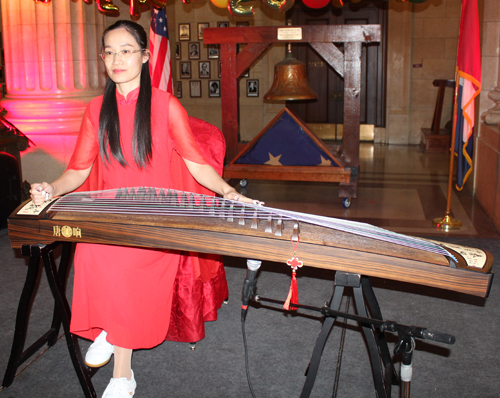 Liting Fan on Guzheng
After the performances, Ying Pu spoke and thanked her best friends Margaret Wong and Pier Lee. Her son came up and gave his remarks.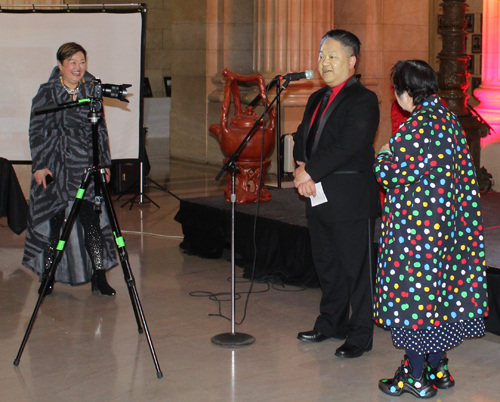 Wayne Wong introduces Margaret Wong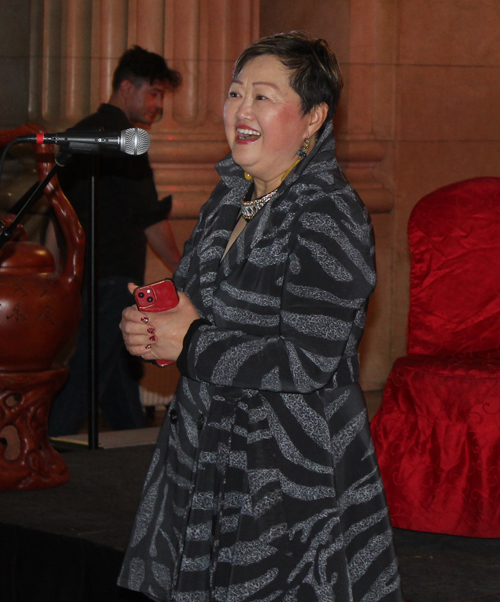 Ying Pu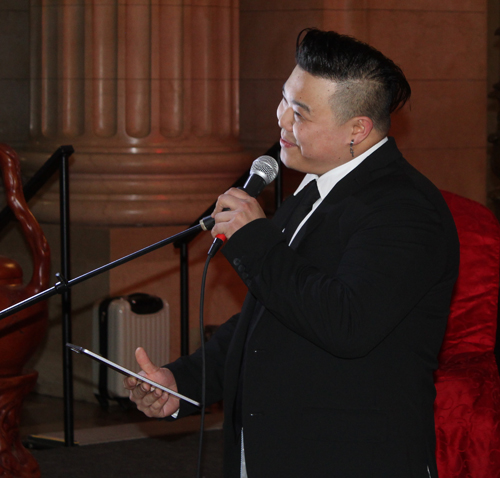 Ying Pu's son

The highlight of the evening was when Ying Pu brought to the stage her great friends Margaret Wong and Pier Lee. The three ladies shared stories and their wisdom.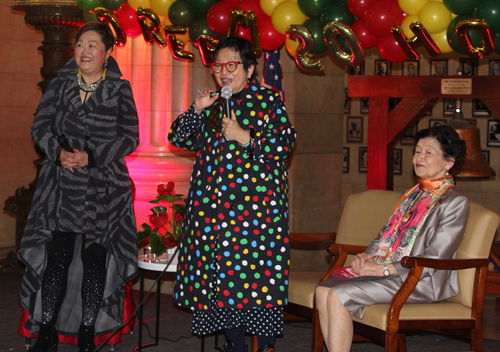 Ying Pu, Margaret Wong and Pier Lee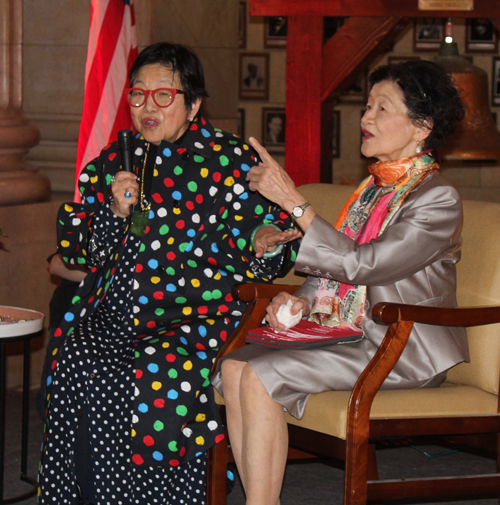 Margaret Wong and Pier Lee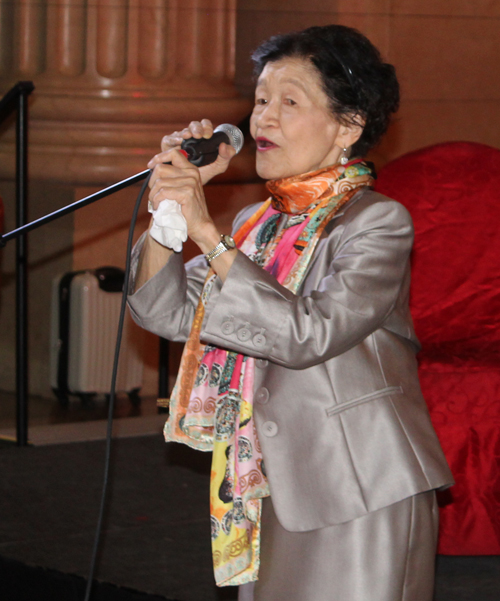 Pier Lee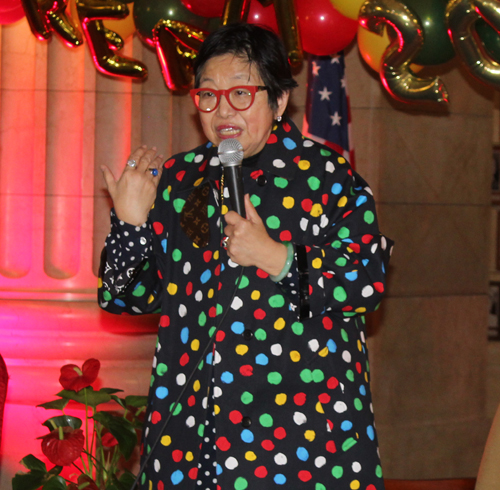 Margaret Wong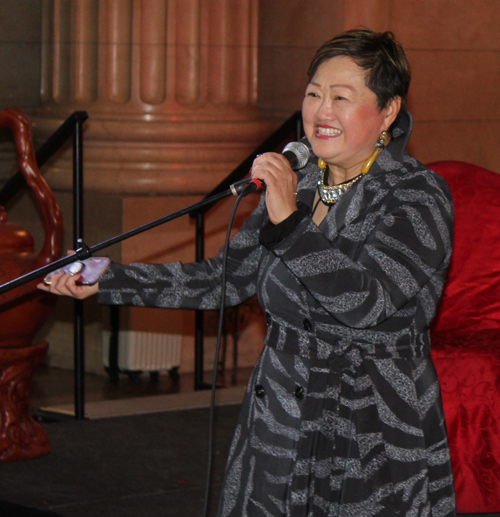 Ying Pu

After dinner, Jeral Hurd sang Amazing Grace and America the Beautiful.

Then Ying Pu gave her closing remarks and thanks.




---
Congratulations Ying Pu and Erie Chinese Journal
on your 20 Years!
See Photos of people at the Erie Chinese Journal event
---
***
Want to learn about ethnic and cultural events in Cleveland such as this? Sign up for the free eNews and every Tuesday evening you will receive a free e-mail listing the next week's events. It's easy and free.

Fill out the form for the free weekly eNews.
***
---
Back to Top
Back to Cleveland Chinese