A Chinese painting and calligraphy event was held at the Confucius Institute at Cleveland State University on June 2, 2018. Three artists made presentations on different Chinese art forms to a group of college students and staff from Marietta College, Ohio.
The keynote artist invited, Jingyi Zhao, is a teacher of Chinese language and culture from Michigan. Ms. Zhao's presentation focused on Chinese folk arts and minority paintings. Ms. Zhao introduced and displayed her eleven artistic works including Yunnan heavy-color paintings, Chinese New Year theme paintings, traditional color paper-cuts, Chinese Minority Paintings, and meticulous paintings. Then, she specifically highlighted the complexity of the art in the artwork making and the cultural and aesthetic expression understanding, since all of these artistically depict the real life of Chinese and spiritual pursuits.
In order for participants to experience the artwork making, Ms. Zhao guided them to make one piece of Yunnan heavy-color painting.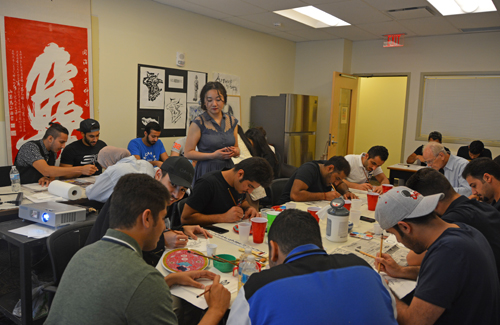 Artist Jingyi Zhao, directs participants to experience Chinese painting


By following the instructions step by step, participants started with a great interest. First, they prepared the paper by dyeing and wrinkling the regular rice paper. Then, they outlined and colored the typical flora popular in Yunnan (China) using ink and Chinese painting pigments. Amazingly, into their own work they were able to put their personal understanding and preferences by matching and applying different colors. At the end of this hands-on session, each of the participants successfully produced one piece of painting.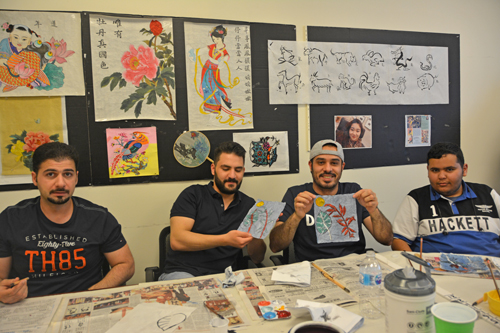 Participants show their works during the creative process



All of them were surprised by and excited about the picturesque and exotic artworks they created.

The second invited artist for the event, Yufei Li, also played an important part in the art presentation and skill demonstration. Being still a student at Beachwood High School, Ms. Li is very talented and good at multiple painting genres, which has already made her a well-recognized young artist in both Cleveland and Qingdao (China). Incorporated in the painting session, she displayed eight pieces of her most recent painting including portraits, scratch paintings, and paper-cuts. As a quick drawer, Yufei Li completed twenty pieces of the Chinese zodiacs on spot within an hour, and generously presented these artworks to the students from Marietta as gifts, which made the students all very excited.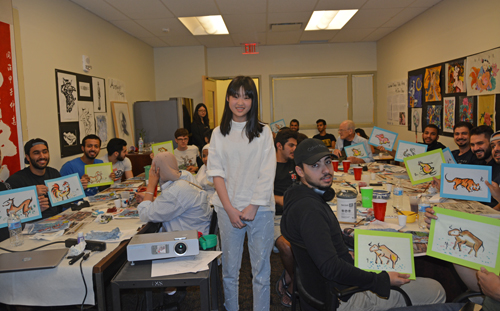 Participants show the Chinese Zodiac gift paintings drawn by Yufei Li


In addition to the painting program, Dr. Huiwen Li (Head Teacher of the Confucius Institute at CSU) also hosted a Chinese calligraphy section for the students from Marietta. Dr. Li has been practicing and teaching Chinese calligraphy for many years. He started his section with a brief introduction to the history, scripts, tools, techniques, and social significance. Then, he guided the participants to complete the writing of some Chinese characters successfully.

Dr. Li was very surprised and pleased with their work since, he said, some of which were even difficult to write for good calligraphers, not to mention they did not have any experience before. Students were all very proud of their work.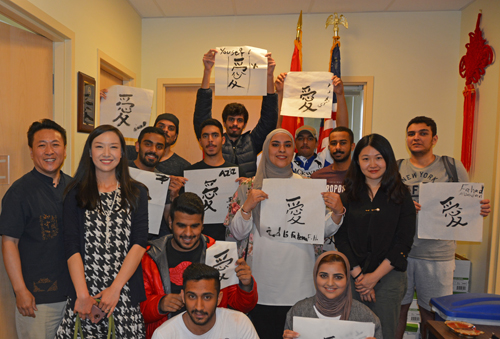 Participants show their calligraphy works with
Huiwen Li, Ni Zhang, and Xiaocong Ding



This Chinese culture event was very successful and fruitful. It was organized by three visiting professors from China: Shunqin Li (from Yunnan University of Agriculture), Hui Pang (from Qingdao University), and Xiaocong Ding (from Tianjin Electronic Information College). In their two-year exchange program co-sponsored by Confucius Institutes Headquarters (China) and Cleveland State University, they teach Chinese language and culture and promote cultural and educational exchange at the Confucius Institute at Cleveland State University.

At the end of the workshop, Professor Ni Zhang, Director of Asian Studies Program at Marietta College, expressed their deep appreciation to the Confucius Institute at Cleveland State University for organizing this meaningful cultural event and expressed her hope to develop a collaborative relationship with CSU Confucius Institute.

***

Stay informed about the local Chinese community by signing up for the free Chinese eNews mailings. You can select other specific groups as well. It's easy and free.
Fill out the form for the free Chinese eNews.

***


---
Back to Top
Back to Cleveland Chinese