The summer of 2018 will be a memorable time to reminisce on, as I was so honored to be selected as a chaperon for the Chinese Bridge Summer Camp for High School Students hosted by Confucius Institute at Cleveland State University.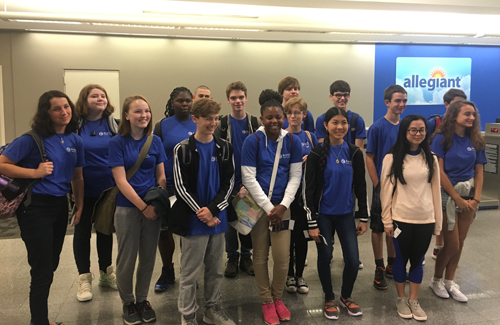 Everyone was full of expectation for the unknown adventure



When began to prepare for the summer camp, I knew nothing about it and was a novice who needed help from my partner Ms. Xuhong Zhang on almost every step, which really frustrated me, such as applying visas for students, booking T-shirts and flight tickets, preparing PowerPoints, etc. I kept thinking of all the stuff - even in my dreams. When we got ready for setting off, I jokingly said to my friends that "I can sleep with eyes closed eventually."

After a 13-hour-flight from Cleveland to Beijing, we arrived at the Capital Airport.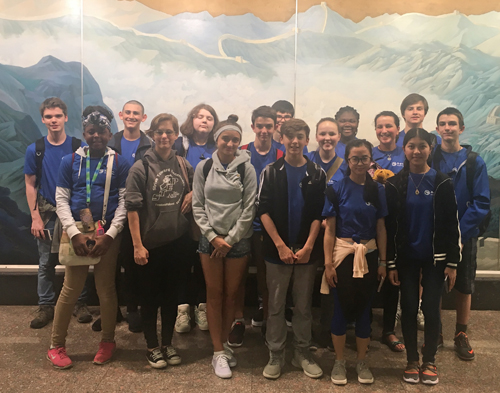 The first step in China after a 13-hour-flight: The Capital Airport



As waiting for transfer to Chengdu, I felt we were so close to our destination, but I was wrong. We were informed later that our flight had been cancelled even before we arrived, due to the terrible weather of southwestern China. We had to change to another flight which, as you could imagine, was also delayed for the same reason. So we had to wait for a seemly endless seven-hours while most of the teenagers were so exhausted that they slept on the ground. When we finally landed at Chengdu Airport at 4:00am next morning, it felt like we survived from an arduous journey.

I can say that all of our bad luck might be consumed on the way to Chengdu, for the subsequent trip was surprisingly fantastic. Our students were obsessed with all the Chinese culture they experienced, including Chinese language classes, urban tour, Giant Panda Breed and Research Base, Leshan Giant Buddha, Sichuan opera and cuisine.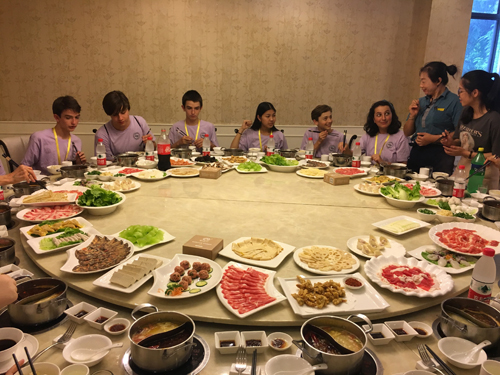 Authentic Sichuan hotpot is so delicious



Chinese language class were a little bit overwhelming at first; but as time went on, they got used to it, and even loved it because their Chinese language ability increased drastically. They even tried to bargain with shopkeepers in Chinese when touring in Jinli, Broad and Narrow Valley and other shops. They enjoyed the process of bargaining, even if sometimes they were disappointed a little bit at the final bargaining price.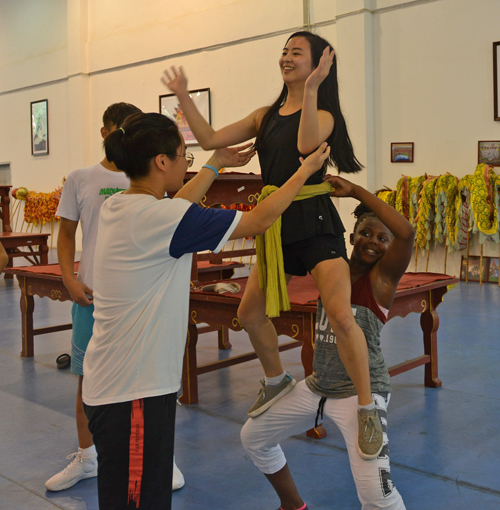 Vi-yen and Jonnaya could do the lion dance without help in 10 minutes


As we stayed in Beijing back from Chengdu, not only they experienced Chinese cultural resorts such as Forbidden City, the Great Wall and Drum Tower, but they had the chance to communicate with their counterparts as well. When the nouns they had learned in classes became reality, they were so excited that it felt like they were old friends who had a reunion, but not only passersby.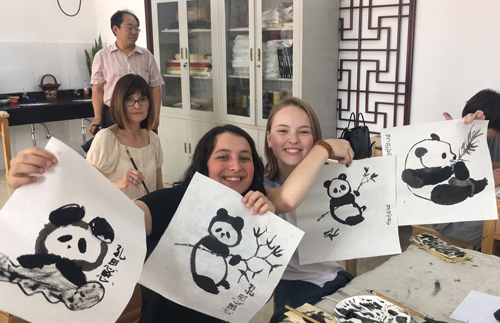 Whose panda is cuter?



One day, they had English class with Chinese middle school students at the High School Attached to CUEB which impressed them the most. They got to learn how Chinese students acquire knowledge, how their peers behave in class and how they communicate with each other.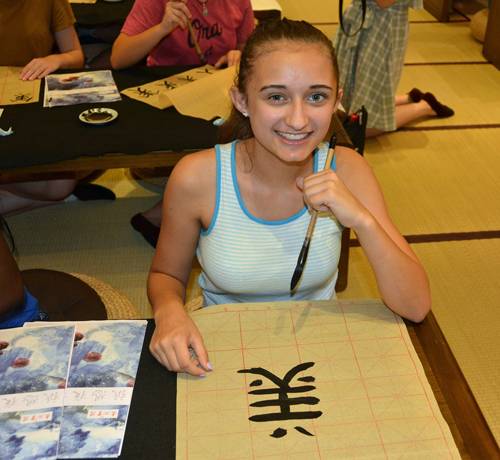 Both Kateri and her calligraphy are pretty



I noticed that just within fifteen minutes, they already become friends with Chinese students, talked about each other's life and added one another's WeChat. For these teenagers, visiting of Forbidden City and the Great Wall is an important way to discover Chinese culture obviously. However, communication with local people, especially with their counterparts is always the easiest way for them to realize the essence and first-hand knowledge of modern China and Chinese counterparts.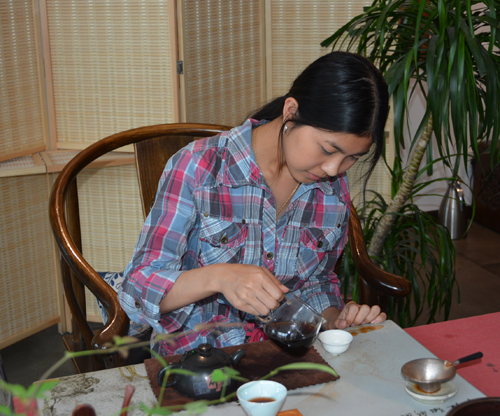 Mar Lin was practicing Chinese tea making in a traditional way


As a college professor, this is my first time, and might be the only experience to be a chaperon for high school students. I was so nervous before the trip, due to lacking of experience of dealing with teenagers. I assumed many problems we might encounter and what I should do if they don't like me. Fortunately, nothing bad happened. How lucky I am that all the students in our team are unexpectedly brilliant. They are caring, friendly, vigorous and intelligent. They taught me popular slangs and called me as their "fam" which means best friend. Although these fourteen days exhausted me physically, I felt so reluctant to say goodbye to them on the last day.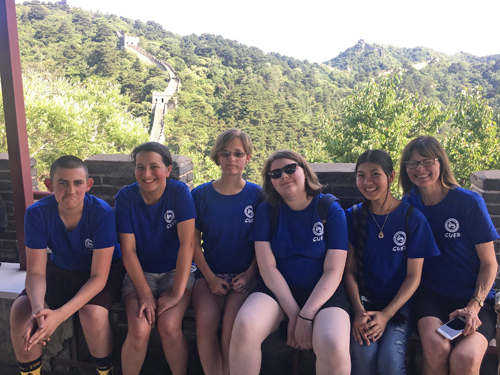 Lucas made faces every time I took pictures for them, even on the Great Wall



What the students attained in this 14-day-trip is way more than the scenic resorts and real life of Chinese people, but the world they are going to face with in the future.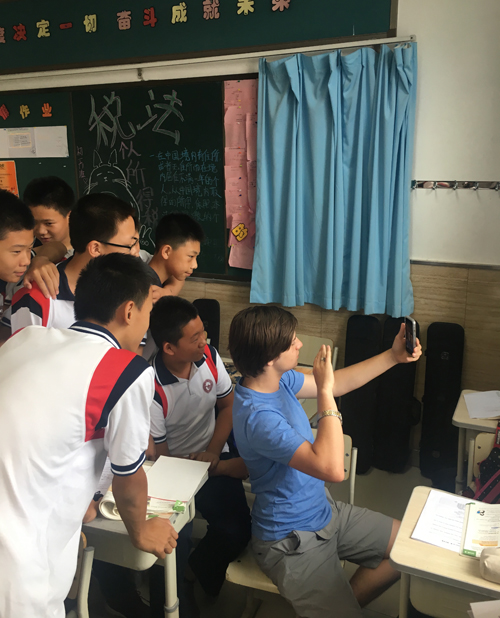 Jonah was always the superstar



For them, it is a short journey of discovery of the differences between China and the US. It is an opportunity to observe this world in a new perspective and to understand a strange country and its culture through their own eyes. For me, I learned how to get along with teenagers, what are they doing and what they want to know during their growing up. The adventure we took together was so marvelous that I believe I will remember all these 16 kids who brought so much happiness for me in the rest of my life.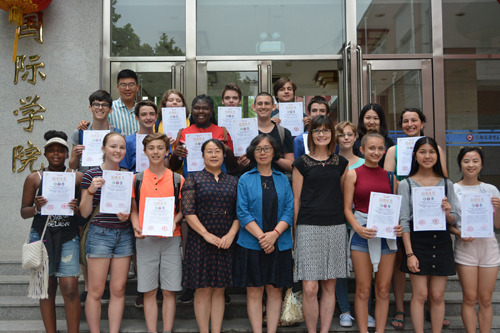 An endless story



Thanks to all of you.
---
***
Stay informed about the local Chinese community by signing up for the free Chinese eNews mailings. You can select other specific groups as well. It's easy and free.
Fill out the form for the free Chinese eNews.
***
---
Back to Top
Back to Cleveland Chinese