There is much vastness behind just a square inch
On November 14, with the emergence of a new batch of student-created artworks, Confucius Institute's fall semester Chinese Arts Class has successfully come to an end. This course began on October 17, was taught by Confucius Institute's instructors Shunqin Li and Xiaocong Ding, who respectively led the workshops of traditional Chinese painting and seal carving. With a total of eight sessions and attracted more than 100 students and staffs of Cleveland State University, as well as community members from the greater Cleveland area, this course was very well-received.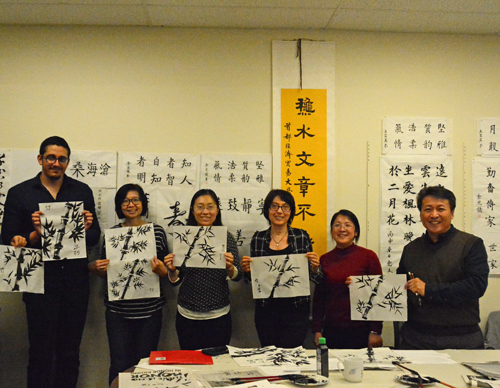 During the traditional Chinese painting workshop, students learned to paint figures and images with very rich Chinese characteristics, including panda, bamboo, plum blossom, and goldfish. Panda is a national treasure of China's, along with bamboo, plum blossom, together symbolize a type of noble and virtuous attribute that is well appreciated by Chinese people; and goldfish, which is a symbol of wealth.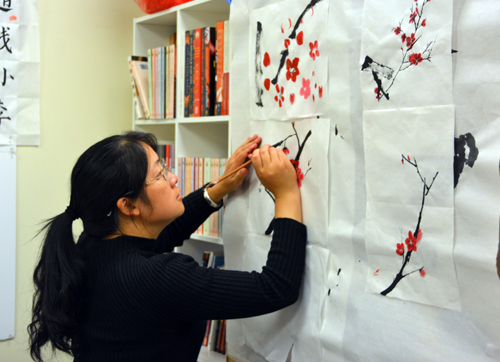 While introducing the cultural significance behind these figures, teachers carefully explained and demonstrated the technicalities of brush holding, color combination, and stroke outlining methods, guiding students into being able to create vivid and lively images on their own. With upright bamboo, naïve panda, vibrant plum blossoms, bubbly goldfish drawn on papers, students excitedly held their finished paintings up and exclaimed: "This is my masterpiece!"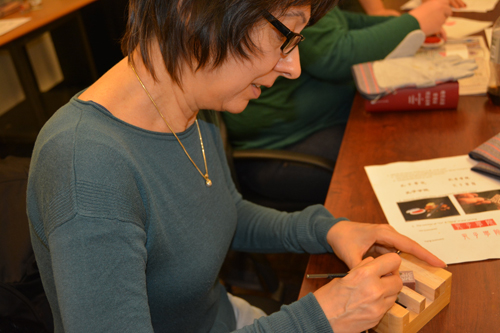 American students who are used to signing their names instead of stamping it are unfamiliar with seal carving. The teacher for seal carving started off by introducing the history behind the art, explaining its origins and development, typeface selection, role in Chinese traditional arts, and usage in daily life. In practice, under the guidance of the teacher, the students carved out the word "blessing", as well as their Chinese names, in negative engrave; some students even challenged themselves and attempted to carve in the much more difficult positive engrave.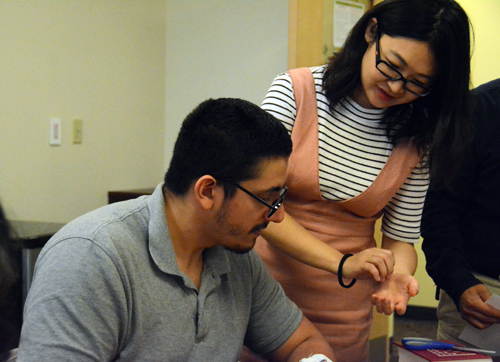 Over the course, the students' skills have gradually grown from carving carrots on day one to being able to create their own signature seals with soft stones specific used for seal carving. With their own personalized seals dipped in cinnabar seal ink, and then carefully stamping on rice paper, the red mark that is left behind was simply "Amazing!"

When a carved seal leaves its mark on a painting, the work is completed. Through this course, students fully experienced the charm of traditional Chinese painting and calligraphy. When new knowledge is gained, happiness comes. The students eagerly took pictures of their own works one after another and shared them on social media with family and friends.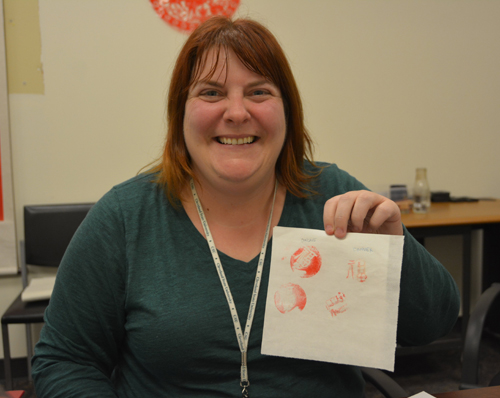 Some would even like to embrace a touch of Chinese flavor in their everyday living and decorate their homes with their own Chinese paintings.

In these eight short classes, students went from having never held an ink brush nor a carving knife to fully understanding why Chinese people like bamboo so much, and what kind of traditional philosophical ideas lie behind positive and negative engraves. In addition to simply learning how to paint and carve seals, students also gained an in-depth understanding about the cultural significance beneath a square of rice paper, or a small seal, there is much vastness behind just a square inch. Through this experience, students seem to have opened the door into a new dimension of knowledge within Chinese culture.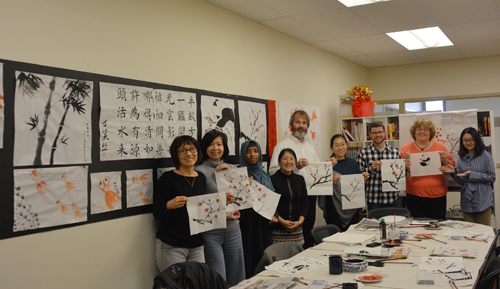 With the conclusion of this workshop, many students wanted more and expressed their desire to join our workshops again in the upcoming semester. In the future, we believe that we will have cultivated a new groups of Chinese culture adepts.



***

Stay informed about the local Chinese community by signing up for the free Chinese eNews mailings. You can select other specific groups as well. It's easy and free.
Fill out the form for the free Chinese eNews.

***




---
Back to Top
Back to Cleveland Chinese