In the afternoon of November 9th, Confucius Institute at Cleveland State University invited Mr. Aiguo Zhang, creator of YiyaHanyu and general manager of Zhonghe Century Culture Communication (Beijing) Co., Ltd., to present the teachers at Confucius Institute with their educational software named YiyaHanyu. This smart Chinese language learning platform employs an "Internet + New Media" approach that carries out a mobile online-learning experience designed to accelerate students' progress via the latest technology.
Mr. Aiguo Zhang began by introducing YiyaHanyu's current state, noted that this software was developed by Prof. Cynthia Y. Ning, a task-based language learning expert and professor at the University of Hawaii.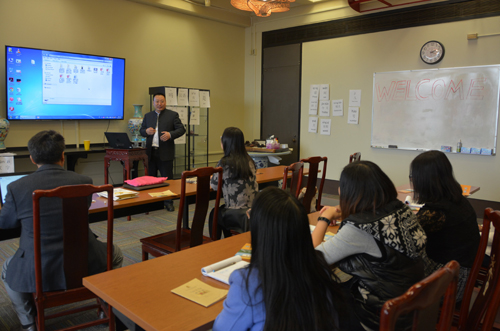 Mr. Aiguo Zhang introducing the YiyaHanyu software



Following ACTFL standards, the content within YiyaHanyu was compiled with references to the Chinese Proficiency Test (HSK) and the Common European Framework of Reference for Languages, containing 240 grammatical key points, along with task-based, situational, and repetitive teaching methods. This provides users with realistic and diversified language scenarios that cover listening, speaking, reading, writing, grammar, video tutorials and conclusive exercises.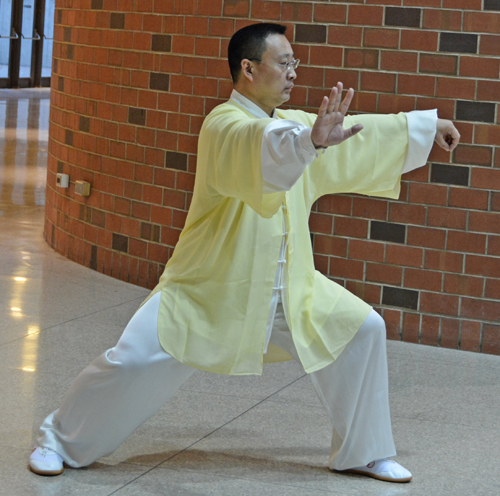 Mr. Aiguo Zhang demonstrating Chen-Style Tai Chi



According to Mr. Zhang, YiyaHanyu now has 4 proficiency levels available for mobile client users. In addition, computer-based client courses and IPad APP client courses have also been launched recently. This type of visual online interactive platform allows for the auto-generation of progress reports, which enables teachers to monitor each student's learning status in real time so that they could effectively plan and arrange one-on-one counseling with students in need.

In short, YiyanHanyu provides contents involving listening, speaking, reading and writing, with an upmost emphasis placed on communication between teachers and students.

After the introduction, our teachers were all eager to learn more about this online language learning platform and its promising potentials.

Mr. Zhang is also the head of Ruxia Tai Chi center (Beijing) and has been practicing Chen-style Tai Chi for 23 years. After the presentation, he enthusiastically joined the Tai Chi class at Confucius Institute as a guest instructor and kindly provided a group of eager learners with a session of Tai Chi lesson, among them were Confucius Institute's director Dr. Xu Yan, associate director Prof. Xuhong Zhang, local Tai Chi instructor Ms. Li Zhang, as well as other teachers from the CSU Confucius Institute.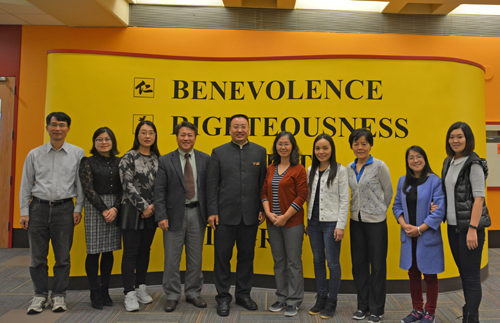 Mr. Aiguo Zhang and Confucius Institute Associate Director
Prof. Xuhong Zhang, along with other CI teachers



Mr. Zhang demonstrated each and every movement set with detailed explanations about its proper form and motion. He also personally corrected any postural mistakes, everyone was having an enjoyable time. During the lesson, Mr. Zhang earnestly shared his own personal take on the art of Tai Chi and what he has grasped over many years of practice. He exchanged opinions with a local Tai Chi practitioner, provided him with helpful pointers about the art.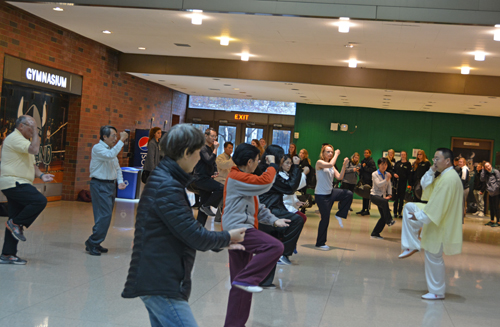 Practicing Tai Chi



To conclude the session, Mr. Zhang performed a comprehensive new Chen-style Tai Chi that is consisted of four frames of traditional Chen style Tai Chi, that is, old frame one, old frame two, new frame one and new frame two, for the enjoyment of everyone present.

Overall, through this seminar, with the knowledge of a new educational software that defies the conventional vocabulary-based learning systems in the market, along with new insights into the art of Tai Chi, teachers at Confucius Institute expressed their desires to incorporate YiyaHanyu into their own classrooms, as well as to share their freshly learned Tai Chi techniques with their students, hoping to help them learn Chinese language and culture more effectively and efficiently.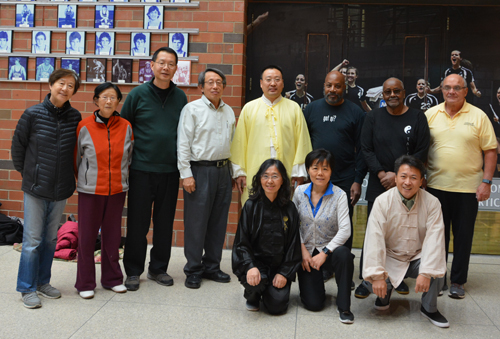 Tai Chi Class Group picture



***

Stay informed about the local Chinese community by signing up for the free Chinese eNews mailings. You can select other specific groups as well. It's easy and free.
Fill out the form for the free Chinese eNews.

***




---
Back to Top
Back to Cleveland Chinese