"The furthest distance in the world is not between life and death, but, when I stand in front of you, yet, you don't know that I love you", so said the poet. What I would like to say is that "The furthest distance in the world is not between life and death, but, when I stand in front of you, and you think, "who are you?", "all Chinese look the same"---- This is how Oberlin middle school teacher Ms. Shuo Jin, of Confucius Institute at Cleveland State University, feels.A considerable amount of Americans think that all of the Chinese people are the same!
In order to expand American students' horizons and diminish their over-generalized impressions of Chinese people, Xuhong Zhang (Cleveland State University Confucius Institute's associate director), along with teachers Shuo Jin and Jinting Xing, held a two-day Chinese Traditional clothing show at Langston Middle School on October 9 and 10, 2017.
A total of eighty-five students from Grades 6 through 8, have participated in this event and experienced the incredible beauty of traditional Chinese clothing.

Two little beauties in adorable Han clothing



In order to change the impression of the students about Chinese people looking the same, all of the participants were shown a short video introducing them to fifty-six different ethnic groups of China.

One highlight of the video was an illustration of the story behind the Han Chinese people's unique "Mystery Line". Legend has it, there is a horizontal line across the inner elbow of every Han person, called the "Han Mark Line". Students were all eagerly searching if they had such a line, where many of them actually have found it and happily announced that "I'm a Chinese!" To which, teacher Shuo Jin said "Yes, you guys very well may have Chinese heritage!"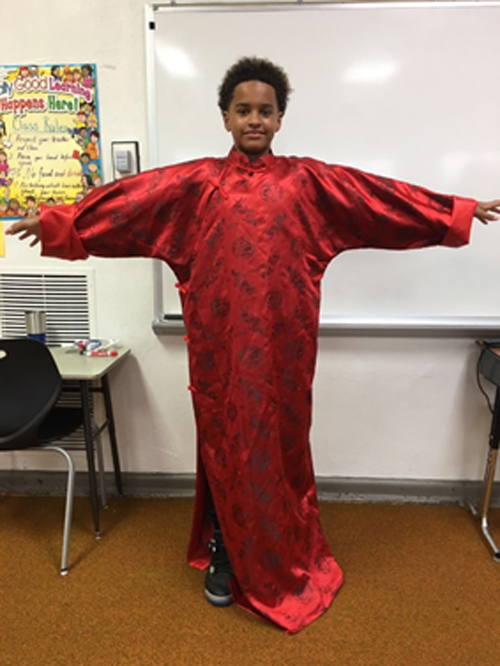 Successfully finding the mysterious "Han Mark Line"



The teachers then focused everyone's attention on the ten most populated ethnic groups of China, including Han, Zhuang, Hui, Manchu, Uygur, Miao, Yi, Tujia, Mongolian, and Tibetan, introducing the unique ethnic clothing and cultural customs behind each of them. "Miao" was the most memorable among the students. Why? Probably because its name was one of the easiest to pronounce!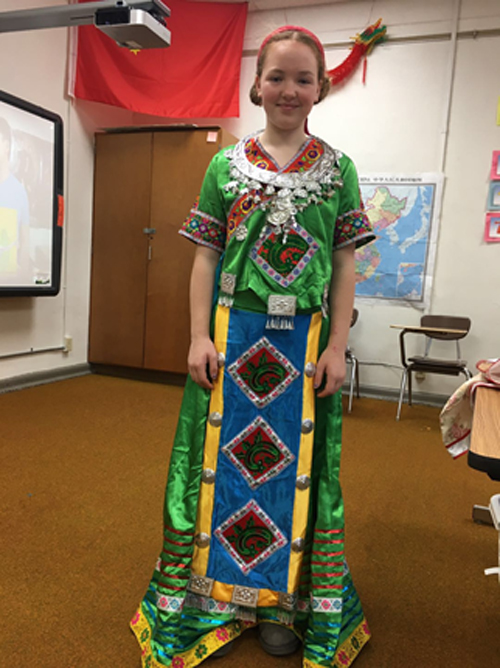 Lovely girl in traditional Miao clothing



Next, some of the students had the opportunity to dress up in Manchu emperor's clothing. A group of Little Emperors proudly displayed their magnificence in lavish golden gowns which truly embodied the ancient emperors' glory!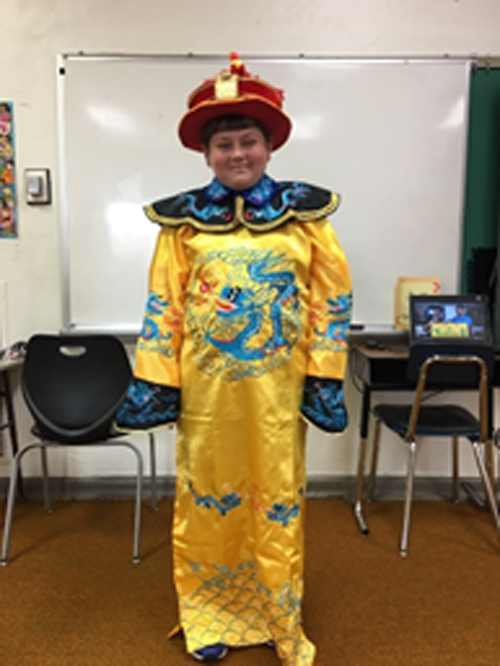 Witness the glory of Manchu's charming little emperors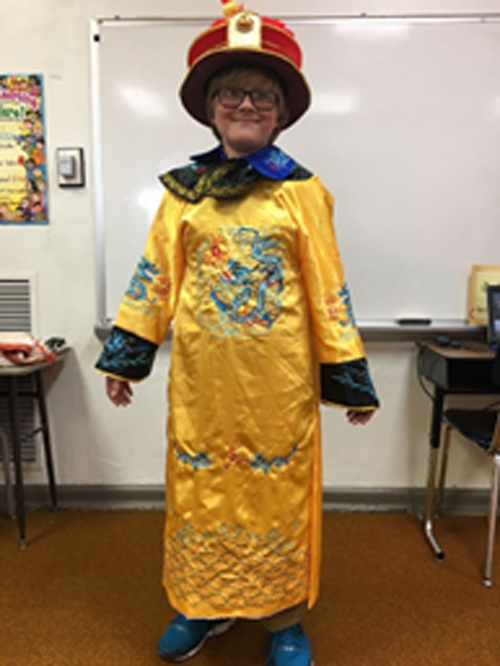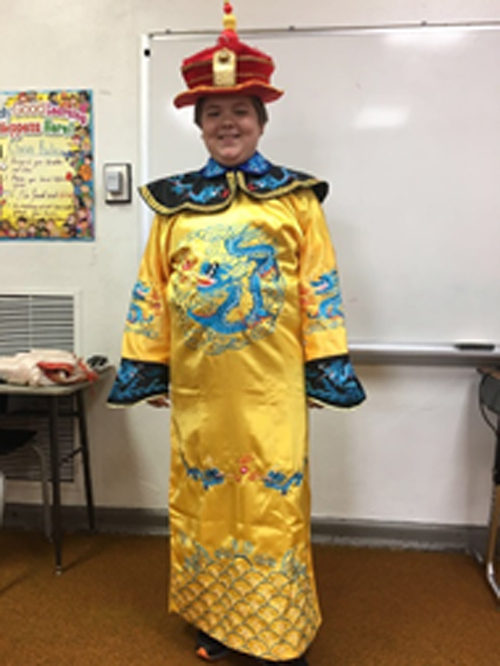 It is worth mentioning that, one of the female students who tried on the emperor's gown exclaimed, "Miss Jin! I am a Female Emperor, not the same as a Queen!"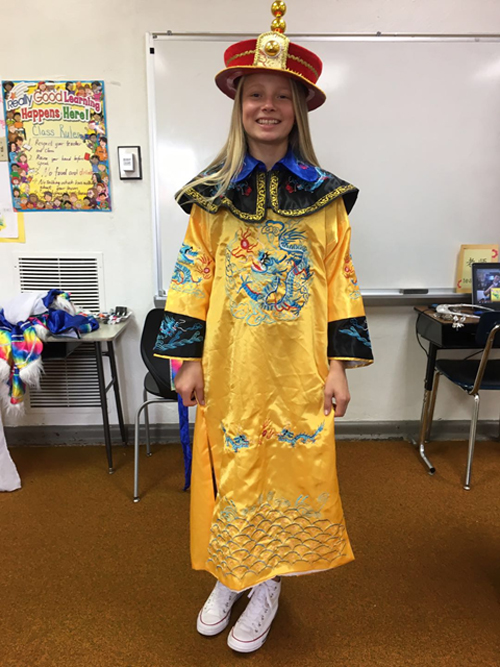 Female Emperor of Manchu



While on the subject, teacher Shuo Jin mentioned that in China's 5,000 years of history, there was indeed a female emperor by the name of "Wu Zetian". Students were curious to ask, "Was she the only female emperor ever in China's history?" "Yes, she sure was!" Students all showed a keen interest in Wu Zetian, to which teacher Shuo Jin promised to devote some time in the future to specifically introduce such a historic and remarkable figure.

The students were delighted in trying on beautiful ethnic theme clothing. From Tibet, a beautiful blue long-sleeved gown sometimes used for dancing. Tsou people from Taiwan, "Alishan's Young Man's" black jacket and pants with beautiful colored trim. The Chinese Han, the largest ethnic group of China, was "The Bride's Gown", traditional Chinese long red dress with colorful silk panels. Finally, "The Landlord Son's Jacket", a regal red jacket with gold trim and black pants. They were all enjoying themselves, feeling and experiencing the look and variety of ethnic groups within China's population.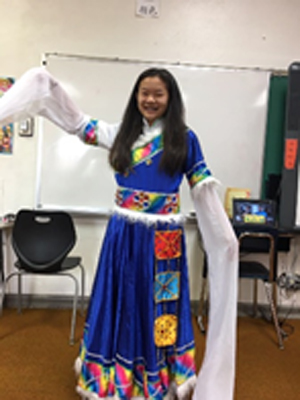 Experiencing the unique beauty of China's ethnic cultures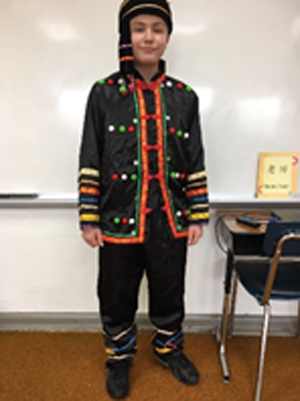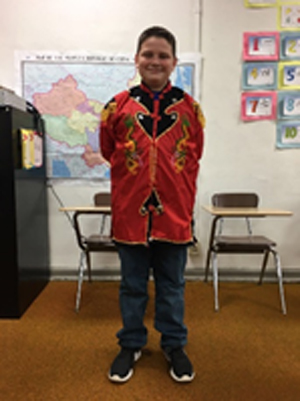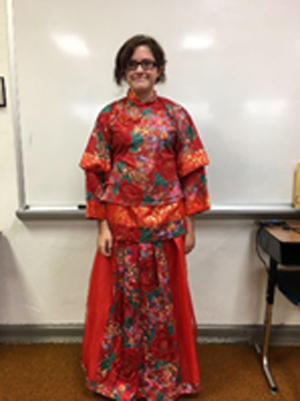 During the class, Xuhong Zhang gave the students gifts of fortune cookies and White Rabbit Creamy Candy, a famous taffy-like candy from China, so that they were not only seeing and experiencing the beauty of China, but could also taste it.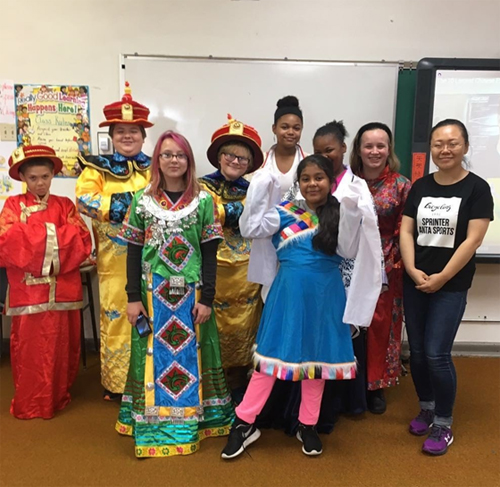 Langston Middle School Group Picture



At the end of each class, the students were all reluctant to take off and return the gorgeous traditional clothing, confessing that this was the most impressive and memorable experience they have ever had in a Chinese class.

They have learned that all Chinese don't look alike, but are very different and unique within China's fifty-six ethnic groups. Excitedly, they exclaimed that "Chinese culture and clothing are simply AMAZING!



---
Back to Top
Back to Cleveland Chinese