On November 16, Confucius Institute was invited to participate at the International Education Day event held by Cleveland State University. International Education Day is an informative and engaging cultural event during Cleveland State University's 2017 International Education Week, which is a week-long event designed to promote diversity on campus.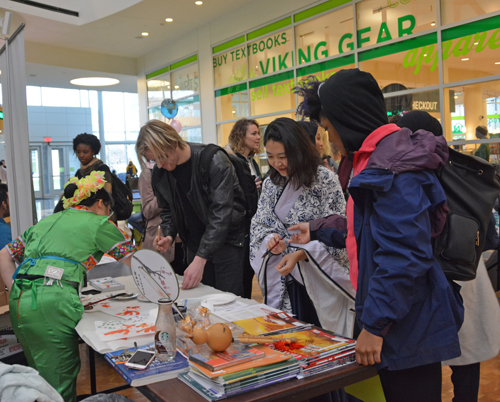 Confucius Institute's booth was decorated with Chinese cultural symbols full of iconic traditional elements that drew wide attention. With ink brushes, inkstones, calligraphic rice papers, traditional fans, plum blossoms, goldfish, pandas, and Chinese characters laying across our display table, along with our teachers all dressed in traditional clothing, our acknowledgement was very well received by attendees.

Some American students wanted to learn how to draw goldfish with ink brushes, some interested in writing the word "Blessing," and some even learned to write their names in Chinese. With our instructors' guidance, these students held the brushes, dipped in ink, with a few strokes back and forth, they learned to outline simple yet elegant figures on rice papers, or confidently wrote the word "blessing" on red papers.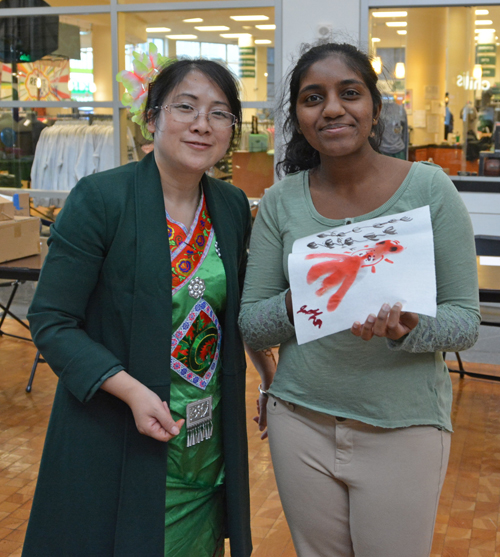 Our booth attracted a great deal of students who are new to Chinese culture, and are intrigued by its novelty. Some asked for our instructors' help in writing their names in Chinese, followed by excitedly sharing their finished scripts on social media platforms.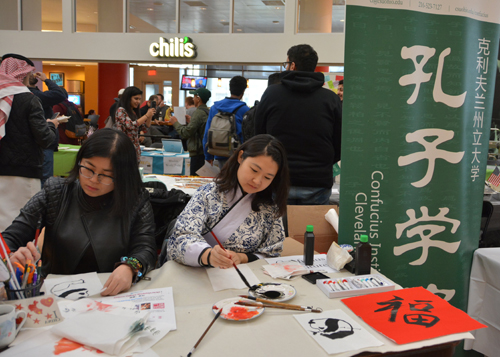 At the day's event, while all of the booths were swamped with visitors, cultural performances were ongoing on the main stage. Confucius Institute's instructor Shunqin Li dressed in Dai ethnic clothing and played a sweet sounding melody with cucurbit flute; associate director Xuhong Zhang alongside Tai Chi instructor Li Zhang performed a set of Tai Chi, attracted bursts of applause from the audience.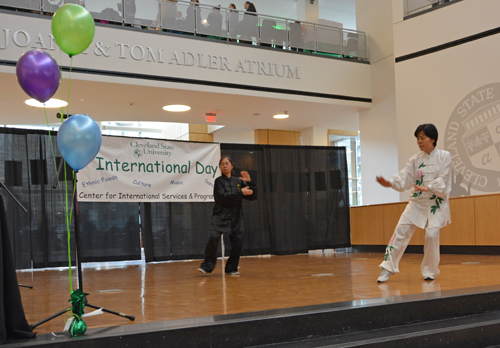 Everyone gathered around Confucius Institute's instructors and asked: "Do Chinese people all know martial arts?" In addition to performances put forth by Confucius Institute, there were also Indian dancing, guitar playing, ethnic musical instruments performance, etc. Attendees were all very inspired and excited.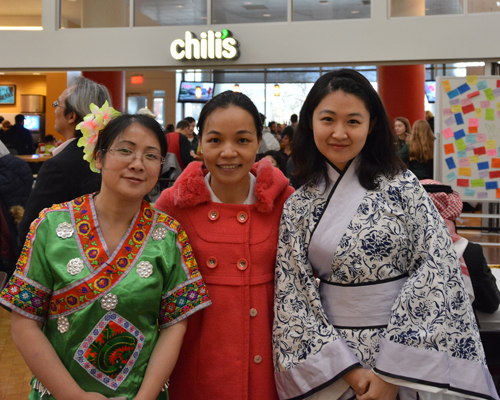 At Cleveland State University, where the student body is consisted of people from all over the world, the International Education Day is a great opportunity for students with different backgrounds to get to know one another. At this event, Confucius Institute presented representative traditional Chinese arts of calligraphy, Chinese painting, cucurbit flute, and Tai Chi, in hopes of sparking the interests of American students, and international students alike, to learn more about Chinese culture.

***

Stay informed about the local Chinese community by signing up for the free Chinese eNews mailings. You can select other specific groups as well. It's easy and free.
Fill out the form for the free Chinese eNews.

***




---
Back to Top
Back to Cleveland Chinese