The Cleveland Museum of Art opened a new exhibit - The Tudors: Art and Majesty in Renaissance England - which is the first exhibition in the US to trace the transformation of the arts in Tudor England.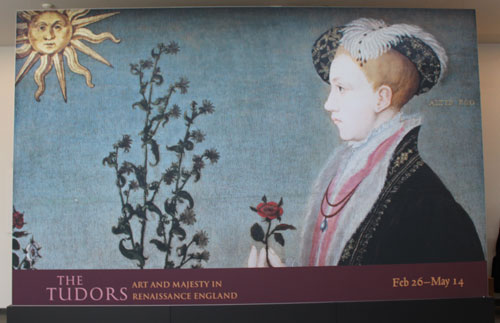 It includes huge tapestries that fill entire walls, suits of armor, sculptures, portraits and more.

The Tudor dynasty ruled for only three generations but it transformed England from a land devastated by the War of the Roses to a major player in Europe and eventually the rest of the world.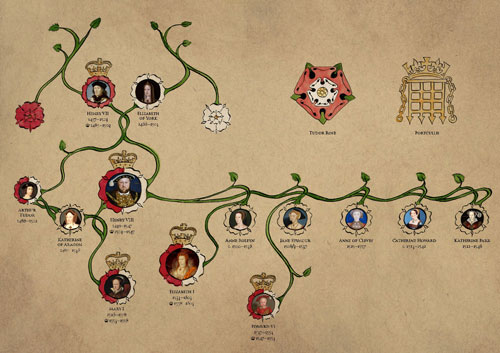 Tudor Family Tree



Henry VII was the first Tudor king, claiming the throne in 1485. His taste for huge tapestries and other things are showcased in this collection. For example, this tapestry called Creation and Fall of Man is one of a ten-piece set and is about 14' x 28'!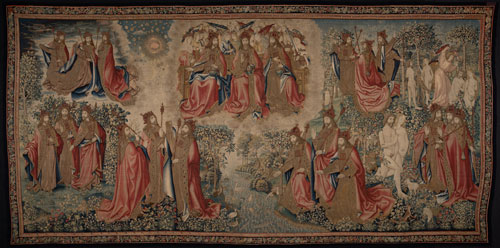 Creation and Fall of Man Tapestry



Henry VII attained the throne when his forces, supported by France, Scotland, and Wales, defeated Edward IV's brother Richard III at the Battle of Bosworth Field, the culmination of the Wars of the Roses. He was the last king of England to win his throne on the field of battle. He cemented his claim by marrying Elizabeth of York, daughter of King Edward IV.

His famous son Henry VIII continued his father's ambitious collecting. Henry VIII was King of England from 22 April 1509 until his death in 1547.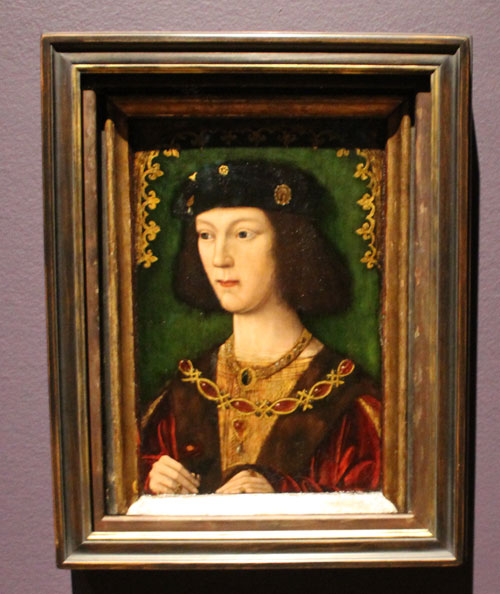 Young, skinny Henry VIII in 1509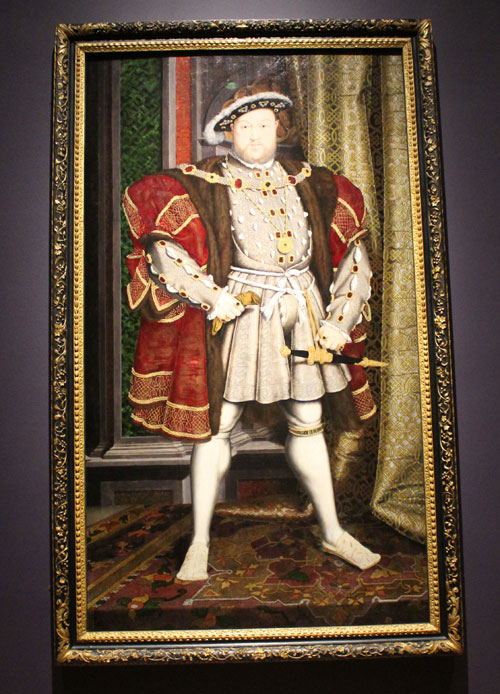 A more familiar Henry VIII portrait


Henry is best known for his six marriages: Catherine of Aragon, Anne Boleyn, Jane Seymour, Anne of Cleves, Catherine Howard and Catherine Parr. A famous rhyme for their fates goes: Divorced, beheaded, died; Divorced, beheaded, survived. Or "Bluff Henry the Eighth to six spouses was wedded, One died, one survived, two divorced, two beheaded".

You know the story of Henry VIII's efforts to have his first marriage (to Catherine of Aragon) annulled. Pope Clement VII said no so Henry initiated the English Reformation, separating the Church of England from papal authority. He appointed himself Supreme Head of the Church of England and dissolved convents and monasteries, for which he was excommunicated by the pope.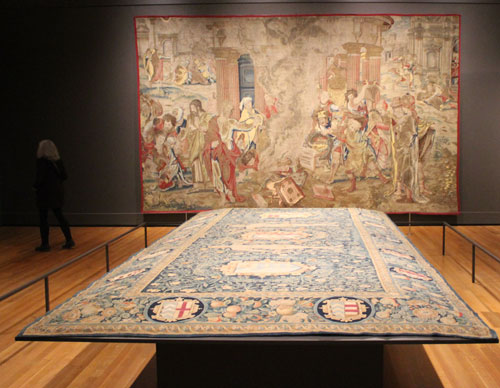 Tapestry - Saint Paul Directing the Burning of the Heathen Books



This huge tapestry is from a Nine-Piece Set of the Life of Saint Paul. Henry VIII regularly ordered public burnings of books he said were heretical.

In this era there were lots of large spaces to fill and both Henry VII and Henry VIII gave and received elaborate gifts such as this Sea Dog Table.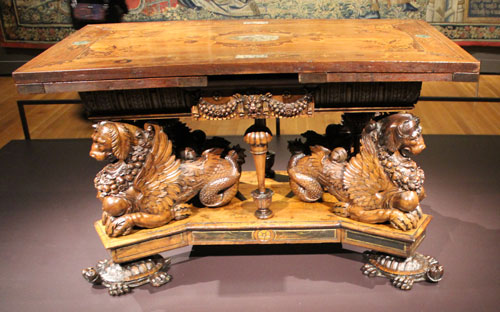 Sea-Dog Table



The exhibition has a suit of armor that they say was probably for Henry VIII.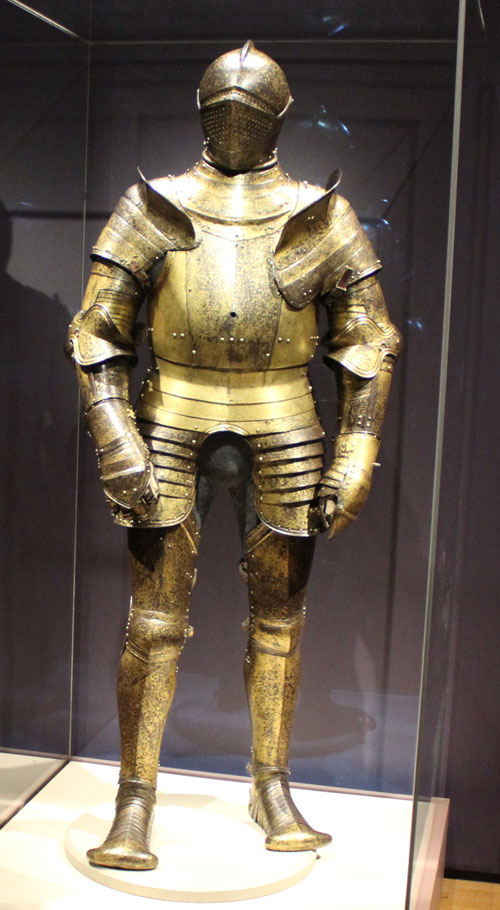 and also the
Field Armor for George Clifford, 3rd Earl of Cumberland
.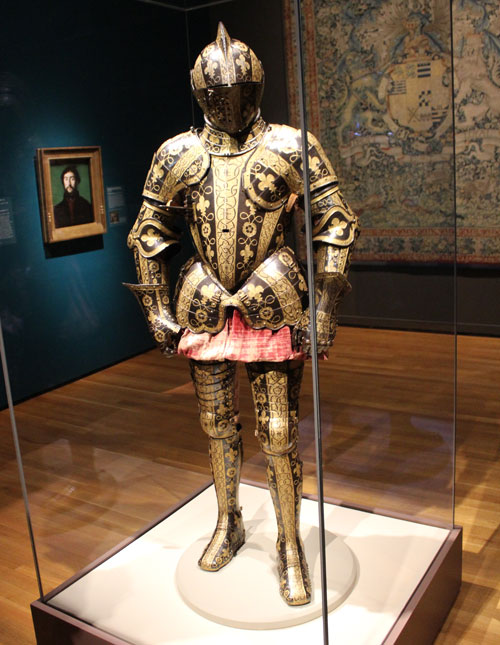 Elizabeth was the daughter of Henry VIII and Anne Boleyn, his second wife, who was executed when Elizabeth was two years old. Elizabeth I was Queen of England and Ireland from 1558 until her death in 1603. Elizabeth was the last monarch of the House of Tudor and is sometimes referred to as the "Virgin Queen".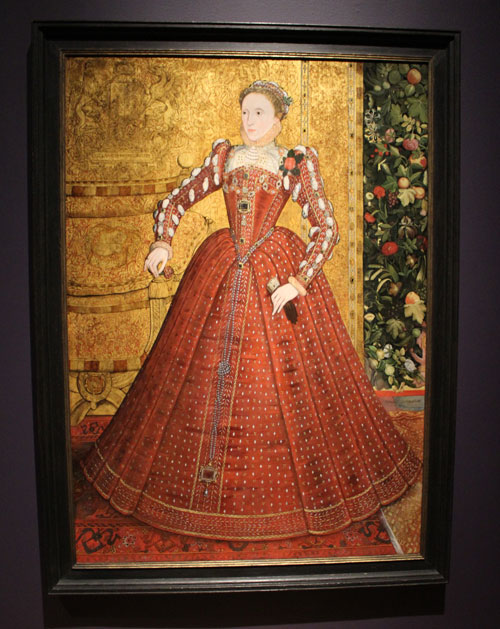 Portrait of Elizabeth I



I really liked the huge tapestry that depicts the Triumphs of Hercules which was designed by none other than Raphael.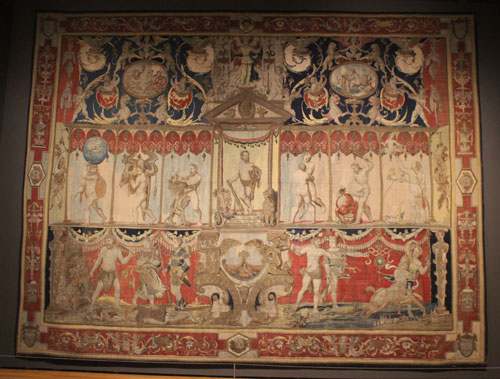 The Triumphs of Hercules

Another favorite was the Portrait Bust of John Fisher, Bishop of Rochester.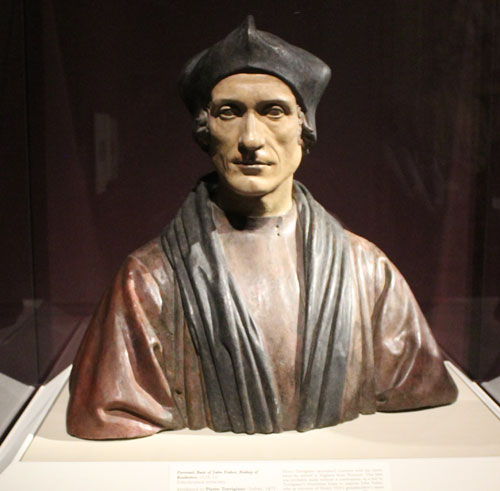 Portrait Bust of John Fisher, Bishop of Rochester


As a mathematician I was very interested in the Astronomicum Caesareum books. Henry VIII had a large and impressive book collection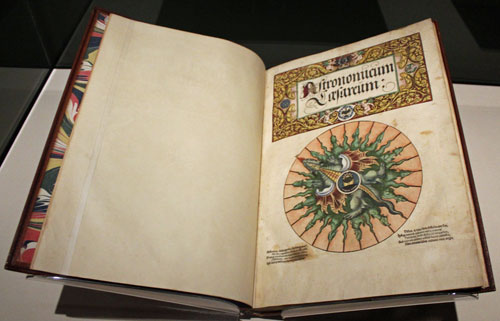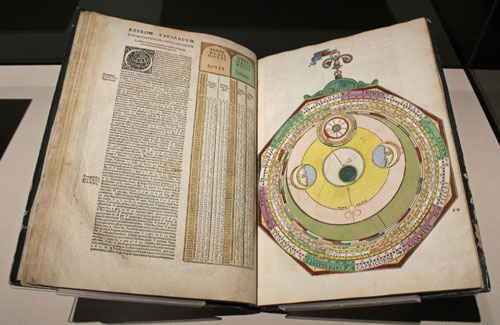 One final item that struck me (though I could go on for pages) was a portrait of a Muslim from Morocco.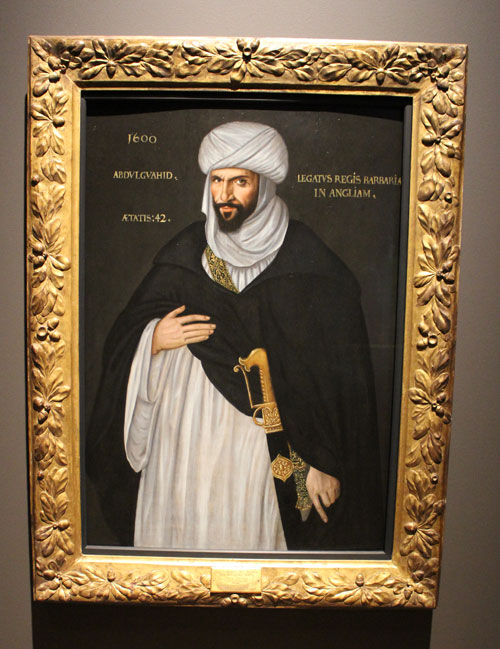 'Abd al-Wahid bin Mas'ood bin Mohammad 'Annouri



This painting is the earliest surviving portrait of a Muslim made in England. It depicts the secretary of Ahmad al-Mansur, sultan of Morocco, who spent 6 months in England trying to establish an Anglo-Moroccan alliance against Spain. In his portrait, the ambassador wears a turban and robe of white linen, a black cloak, and a nimcha, or scimitar - very exotic to the English people. His pointing index finger highlights the weapon.

I could go on and on. Here is a short video walk through I did of the exhibit.





Ticket Pricing is: Adults $15; seniors, students and children ages 6–17 $12; children 5 and under and CMA members free. The CMA recommends reserving tickets through its online platform by visiting The Tudors: Art and Majesty in Renaissance England exhibition webpage. Tickets can also be reserved by phone at 216-421-7350 or on-site at one of the ticket desks. Tickets are expected to book quickly and are not guaranteed. Your first choice of date and time may not be available, so please have other date and time options in mind when reserving tickets. Advance ticket sales are highly recommended.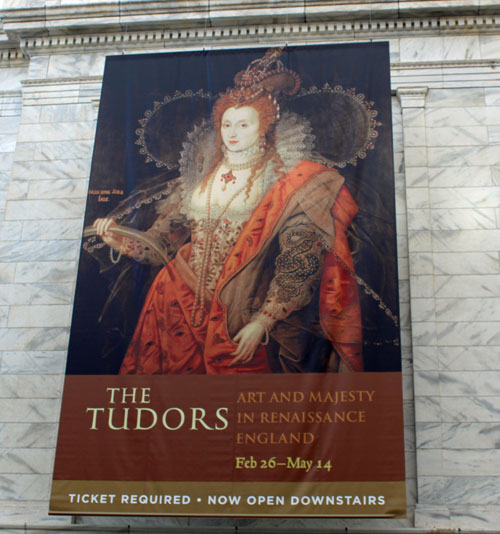 ---
Back to Top
Back to the British in Cleveland