Rajmohan Gandhi is currently a Research Professor at the Center for South Asian and Middle Eastern Studies , University of Illinois at Urbana-Champaign.
He has written and spoken about his grandfather Mahatama Gandhi extensively.
His new book, Gandhi: The Man, His People, and the Empire
is a comprehensive (over 700 pages) look at the entire life of Mahatma Gandhi.
On September 5, 2008 Rajmohan Gandhi spoke at the City Club of Cleveland about his grandfather and his new book.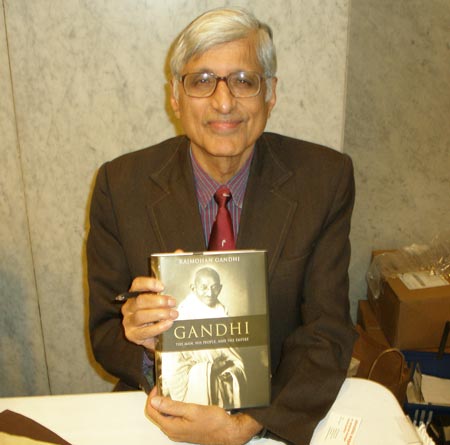 After an introduction by Reverend Otis Moss, Rajmohan Gandhi told several stories about Mahatma Gandhi and then answered questions from the audience.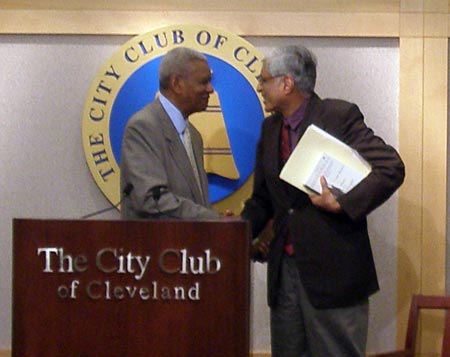 Reverend Otis Moss greets Rajmohan Gandhi



Below are several short snippets of interesting parts of Rajmohan Gandhi's presentation.
---
---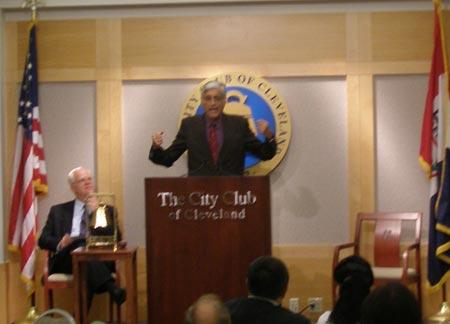 ---
See pictures and video from Rajmohan Gandhi's visit to the Cleveland Indian Cultural Gardens