Art and Stories from Mughal India presents the story of the Mughals — and stories for the Mughals — in 100 exquisite paintings from the 1500s to 1800s.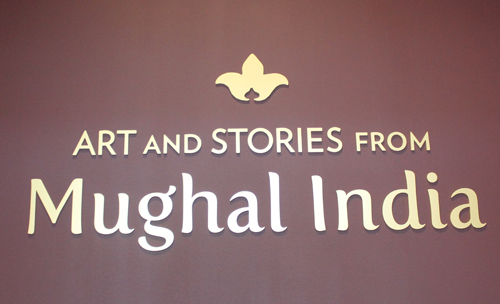 The exhibition and accompanying Mughal painting collection catalogue celebrate the Cleveland Museum of Art's centennial with works drawn from the 2013 landmark acquisition of the Catherine Glynn Benkaim and Ralph Benkaim Collection of Deccan and Mughal paintings, many exhibited and published for the first time. Complementing the paintings are 39 objects including costume, textiles, jewelry, arms and armor, architectural elements and decorative arts, some on loan from other prominent institutions, such as the Asian Art Museum, San Francisco, the Brooklyn Museum and the Arthur M. Sackler Museum, Harvard University. These objects resonate with details in the paintings and bring the sumptuous material culture of the Mughal world to life.

Art and Stories from Mughal India is on view in the Kelvin and Eleanor Smith Foundation Hall from July 31, 2016 through October 23, 2016, and is free to the public in celebration of the museum's centennial year.

When you first enter the exhibit you will see a large map on the back wall to give you perspective of where the items you will be seeing came from.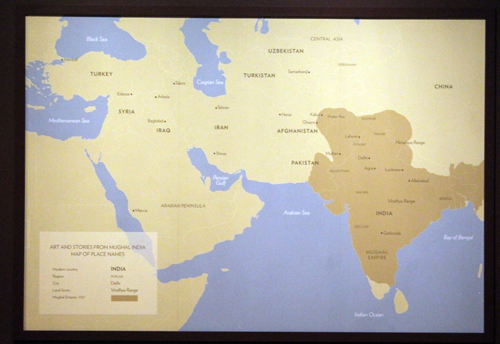 Much of that room is filled with a large 25' carpet from the second half of the 1500's originating in Iran or present day Western Afghanistan. The Mughals had nomadic roots and carpets could be rolled up and moved to a new location quickly and provide a home warmth.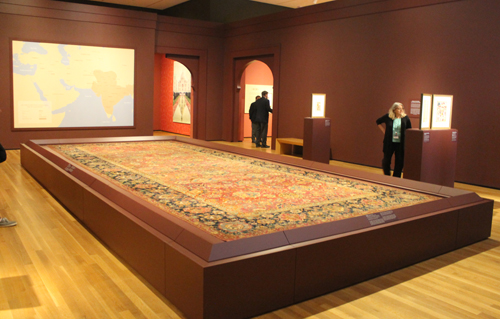 "The Cleveland Museum of Art has long boasted a particularly fine holding of Indian art, and with the acquisition of the Benkaim collection of Mughal paintings, we are now fortunate to have an extraordinary representation of one of its most celebrated artistic traditions," said William M. Griswold, Director. "This exhibition—beautifully curated and magnificently installed—vividly evokes the richness and cosmopolitanism of one of the world's great empires."

The Mughal Empire existed for more than 300 years, from 1526 until the advent of British colonial rule in 1858. It encompassed territory that included vast portions of the Indian subcontinent and Afghanistan. The Mughal rulers were Central Asian Muslims who assimilated many religious faiths under their administration.

There is an interesting section that shows Christian paintings. In 1580, Catholic Jesuit priests began traveling to try and convert Emperor Akbar to Christianity. The conversion didn't work but Mughal artists used the story of Jesus for some Christianity based images such as this painting of The Annunciation.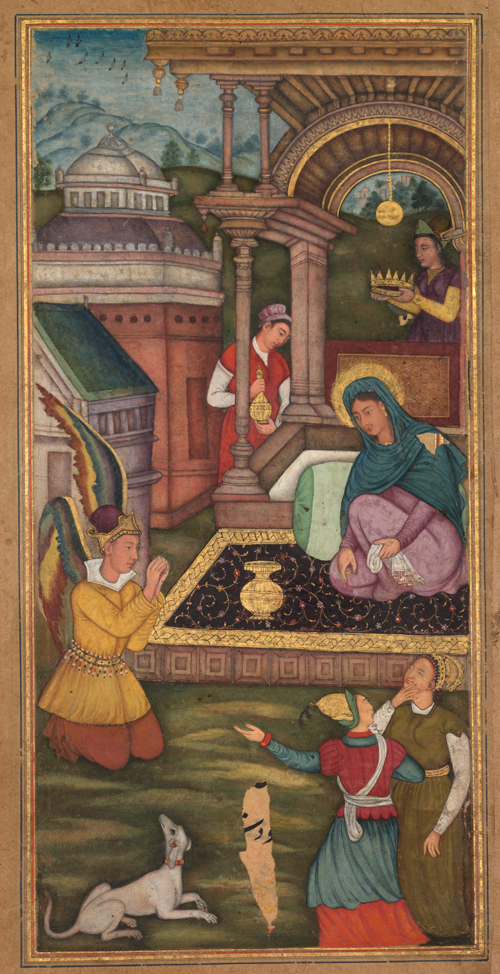 The Annunciation



Famed for its distinctive architecture, including the Taj Mahal, the Mughal Empire is also renowned for its colorful and engaging paintings, many taking the form of scenes from narrative tales.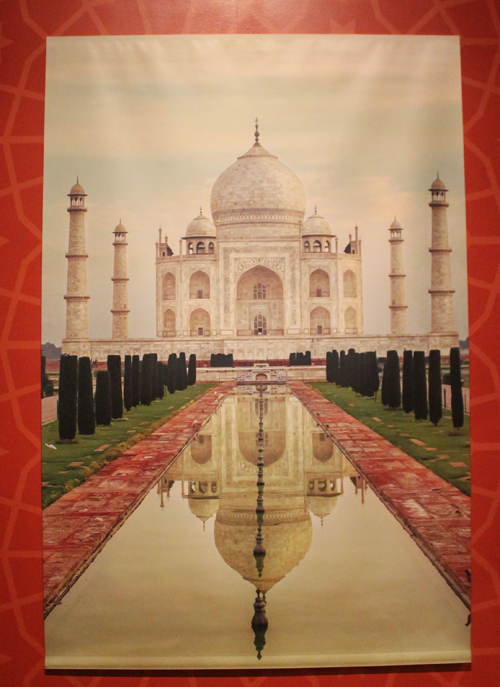 Taj Mahal



A fun note - when you are in this room the music you will hear is from Ravi Shankar on sitar playing a song from his Tribute to Tansen who was Akbar's court musician.

Many of the paintings and items are small. So you will want to use two tools provided by the Museum to make the experience better.

First is a free iPhone app in which the exhibition's curator, Sonya Rhie Quintanilla, relates stories and describes paintings. The app includes hyperlinks to an audio glossary of names and terms, and 100 tweetable facts illustrated with a related detail image from the 100 paintings on view. CMA Mughal is available now for download from the iTunes Store for Apple devices running iOS9 and above.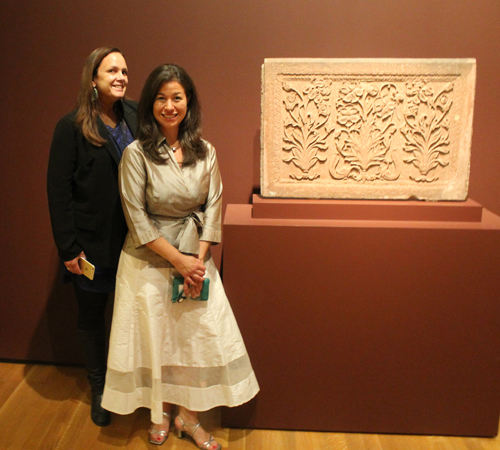 Cleveland Museum of Art CIO Jane Alexander and Sonya Rhie Quintanilla, the George P. Bickford Curator of Indian and Southeast Asian Art



Second is the numerous magnifying glasses hanging on the walls for visitors to use to closely examine the detailed works.

For example, when you zoom in on this photo of a large image on the wall ...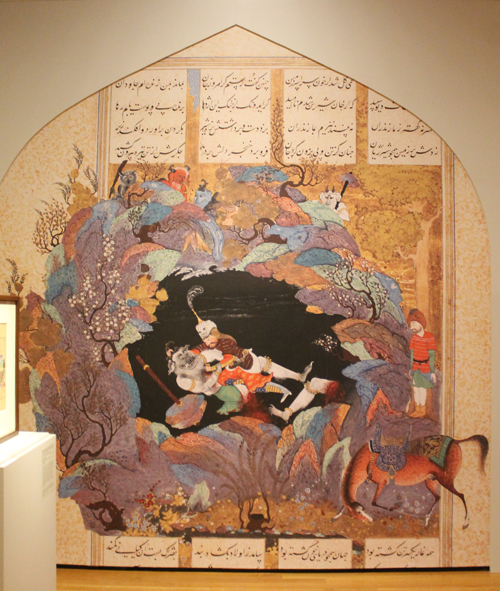 ... you see some great detail like this.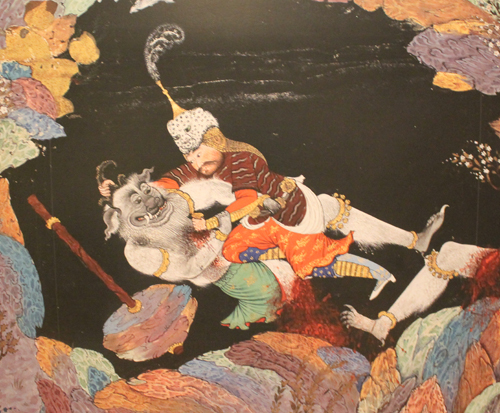 Art and Stories from Mughal India is organized into eight sections based on the Persian idea of the nama. Nama may be translated as any of a number of English words, among them: book, tale, adventure, story, account, life and memoir. Paintings were integral to the production of namas in book form for royal collections in Mughal India. Art and Stories from Mughal India sets the paintings, now long separated from their bound volumes, into their nama contexts.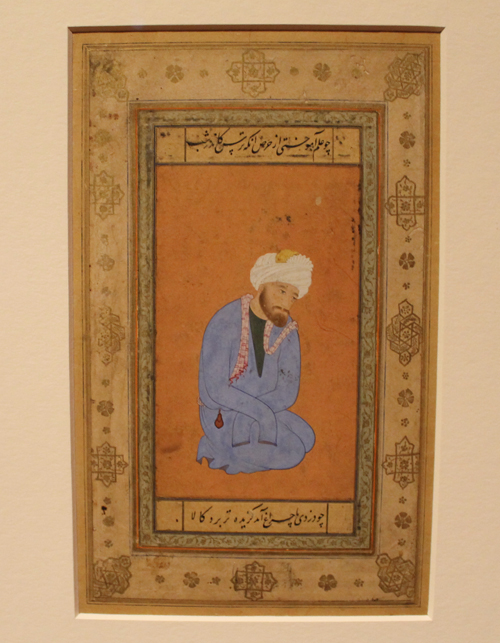 Kneeling Holy Man



Four of the exhibition's sections focus on a specific nama: a fable, a sacred biography, an epic, and a mystic romance. Many of the paintings, long celebrated for their vivid color, startling detail and alluring sense of realism, are displayed double-sided to show complete folios from albums and manuscripts, a constant reminder of their original status as part of a larger book or series.

"The paintings are products of a powerful, multiethnic dynasty of rulers who valued art and literature as essential elements of court life," said Sonya Rhie Quintanilla, the George P. Bickford Curator of Indian and Southeast Asian Art. "They were made to inspire awe and delight, and this exhibition aims to do the same by making them accessible to audiences today."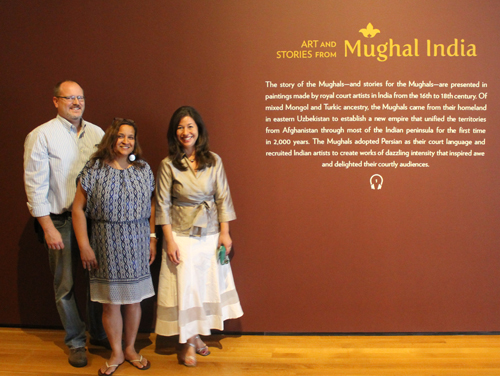 Bill Barnard with wife and FICA President Sujata Lahke and Sonya Rhie Quintanilla, the George P. Bickford Curator of Indian and Southeast Asian Art



While you will see many brilliantly detailed paintings there are also larger objects such as textiles, courtly arms, garments, jades, marble architectural elements and porcelains which bring to life the painted depictions of the Mughal court's refined splendor at the height of its wealth.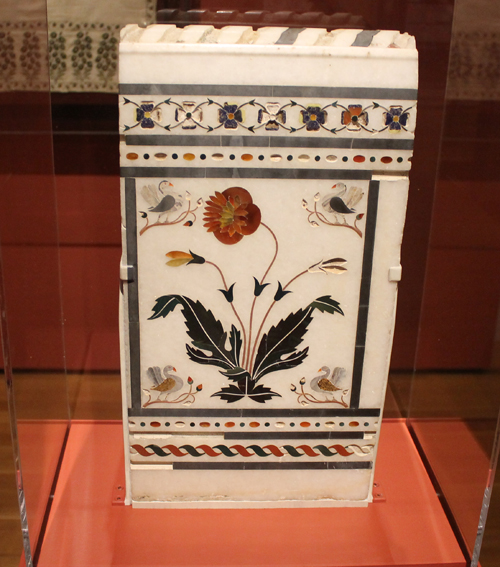 Architectural panel, 1700s or early 1800s. Mughal India. Marble inlaid with variegated semiprecious stones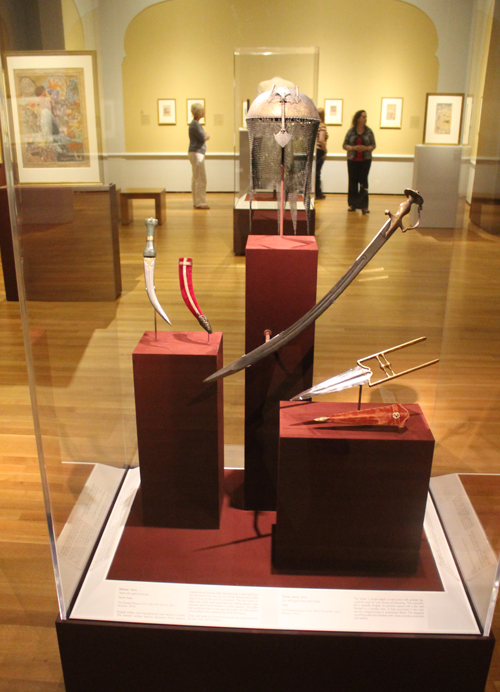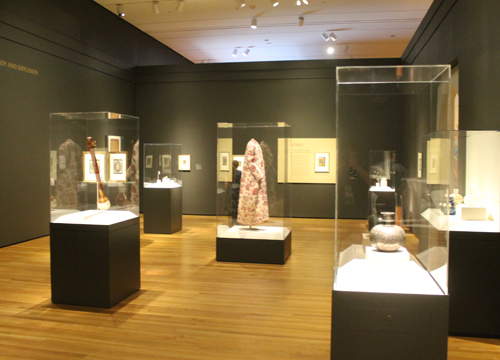 ***
Stay informed about the local Indian community by signing up for the free Cleveland Indian eNews mailings. You can select other groups as well. It's easy and free.

Fill out the form for the free Indian eNews.
***
---
It is truly a mix of cultures (Indian, Persian, etc.) and reflects the mores of the time. For example, it seemed as if powerful women wielded control over the emperor. This is a painting of a Mughal princess having a blindfolded suitor brought before her to inspect and accept or reject.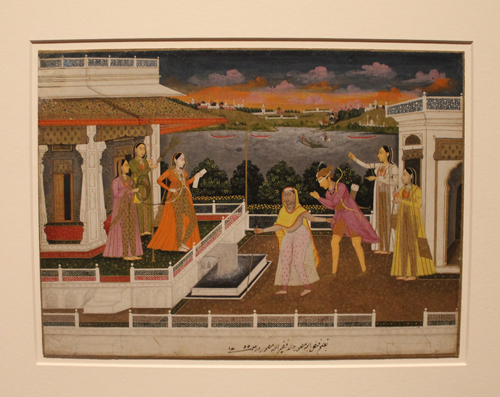 This next painting shows a Mughal princess being fanned while musicians entertain and drink is brought to her. Not a bad life.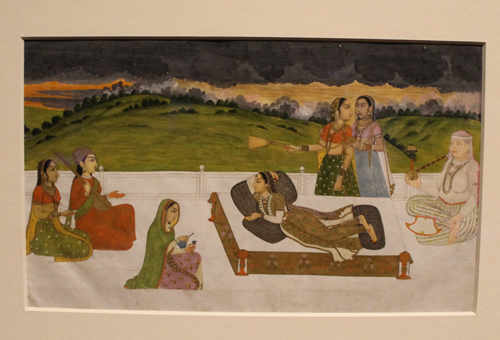 Find more information on Tours, Talks (including Curator Chats), Lectures, Performances, Films, Special Events and even Food at the Art and Stories from Mughal India webpage.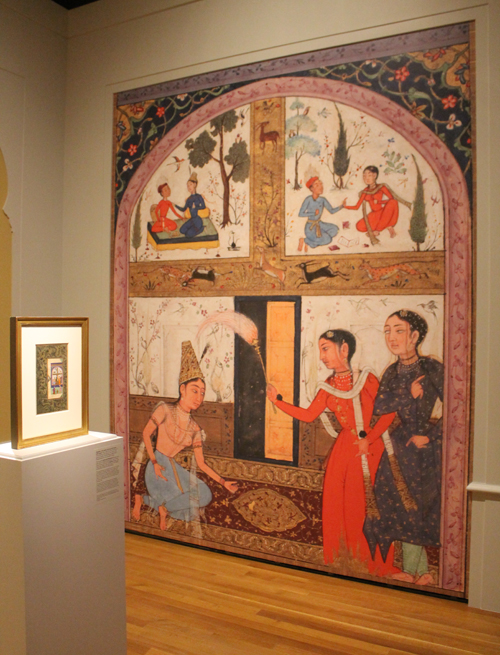 ***
Want to learn about ethnic and cultural events in Cleveland such as the Art and Stories from Mughal India exhibit? Sign up for the free eNews and every Wednesday morning you will receive a free e-mail listing the next week's events. It's easy and free.

Select 'WEEKLY' when you fill out the form for the free weekly eNews.
***
---
Back to Top

Back to Cleveland Asian Indians


---
For sponsorship opportunities, please contact us.
Your message could be HERE!