"This life is short, the vanities of the world are transient, but they alone live who live for others, the rest are more dead than alive." - Swami Vivekananda
Association of Indian Physicians of Northern Ohio (AIPNO) was founded in 1983 as a non-profit organization of physicians of Indian origin in Northern Ohio. With a membership of over 300 physicians who meet regularly for educational, charitable and social events, the organization provides an opportunity to make meaningful contributions to the local community and to make friendships that last. AIPNO also provides service and aid to undeserved areas and disaster affected sites.

Ramesh Shah, Executive Director of AIPNO, offered this information from the 2014 Medical Yatra to Gandevi,India.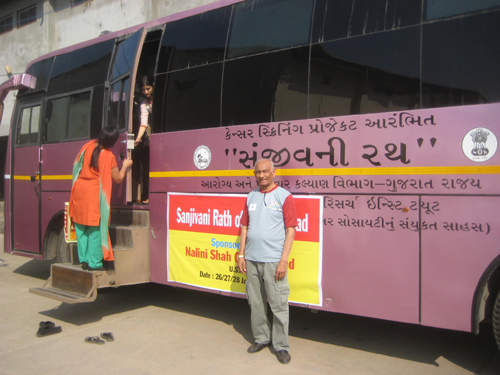 Ramesh Shah with Sanjeevani Rath-Mobile Van equipped with Mammography Sonography and MRI for Early Cancer detection
"I traveled 450 kms. (270 miles) because my relative works in Gandevi. He assured me that I shall get examined for my heart pain and may get necessary treatment. I traveled whole night and they brought me in wheel chair, examined by AIPNO physician, Dr. Wiseman; he ordered me to be operated on a priority basis." -Nilaben said. "We couldn't believe that her operation was done successfully without any Rs. expense." Her relatives cried with emotions.
Rotary club of Gandevi collected 93 potential patients for various heart surgeries as a result of Medical YATRA 2014 from January 23-28,2014 in Gandevi and surrounding villages.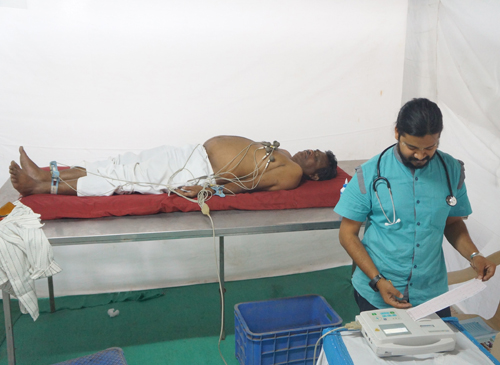 ECG machines helped to detect 93 Coronary patients



Rotary clubs and Rotary Foundation teamed up with Association of Indian Physicians of N. Ohio (AIPNO)-USA in a Global Grant #1412348 to make a huge impact in training the trainers and save the lives in remote corners of Gandevi, Gujarat, India.
International Partnership of Rotary Clubs & Foundation



Global Grant was funded by six rotary clubs from USA, Canada and India and their districts and rotary foundation along with NRIs of Gandevi and AIPNO. It is a huge International partnership with a specific sustainable mission: "Educate/Train, Prevent and Save Lives".

Specific aims as outlined in the grant proposal:

To improve the quality of life of the rural and tribal community by performing the life saving surgeries of Cancer and Coronary diseases as well as by increasing awareness regarding early detection and prevention of Diabetes and to increase the capacity of local health professionals by training and Education.

Super Specialty Clinics:

Primary detection screening clinics were conducted on Jan.23-24-25 at six villages (drawing from 50-60 surrounding villages) by AIPNO physicians. High risk patients- Cancer, Coronary and Diabetes-were given appointments for Jan.26-27-28 with Oncologist- Dr. Varia, Cardiologist-Dr. Wiseman and Endocrinologists-Dr.Reddy and Dr. Mehta. NRI physicians were supported by local super specialists as mentors and sharing the work load.

Thru these efforts, 300 women have been prescreened for Breast cancer and Pap smear tests. Mammography, CT scan and Sonography equipment were provided in a 'Sanjeevani Rath' by Gujarat Cancer Research Institute from Amdavad.(GCRI). 47 Cancer patients are being treated at Kailash Cancer Hospital, Goraj (Vadodara) and Lions Cancer Center at Civil Hospital, Surat.

93 Coronary patients are mostly treated at Yashfeen Hospital, Navsari and Amdavad Civil Hospital at much reduced rate. For 633 Diabetes patients, long term supply of medicines have been arranged from Global Grant and Yashfeen Hospital, Navsari has agreed for follow up treatment.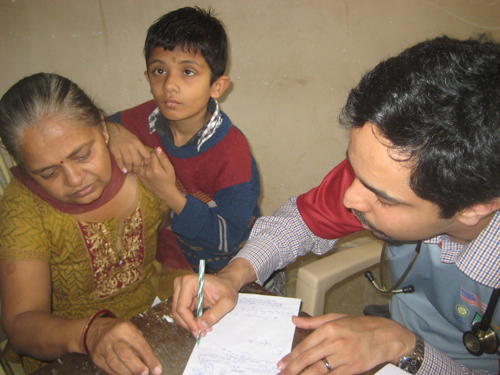 AIPNO scholar Dr P. Kanade with coronary patient
Vocational Training:
"Did you know that with 10 million diabetic patients on the record and growing exponentially every year, India is going to be a Diabetes capital of the world?"- said Dr. Reddy, "it is a Tsunami of health care crisis in India."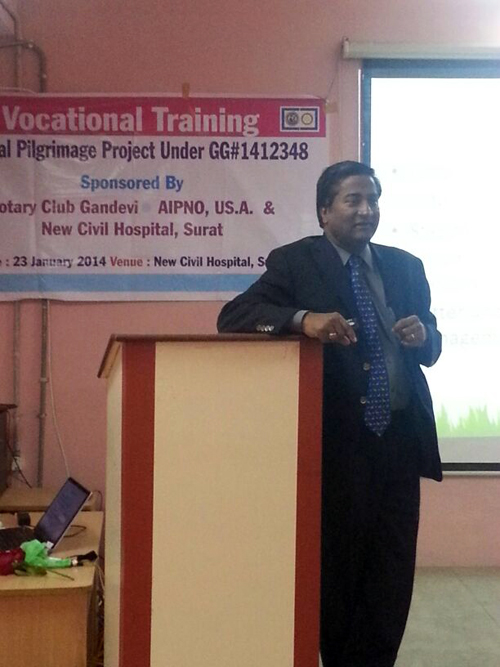 Dr. Reddy, Endocrinologist



"When you go to Temple or Dehrasar, you do "Pradikshana"- 3 rounds around main idol; follow the same practice of 3 rounds outside in the Temple compound; you will lower your cholesterol and blood pressure significantly." Said Dr. Adi Mehta.

"There are seven-7- simple ways you can prevent and/or reduce cancer in your community today." Said Dr. Mahesh Varia-Oncologist

CME educational talks were directed to larger general audience; so they were "user" friendly with specific simple hints "how to do" as preventive measures for diabetes, coronary and cancer.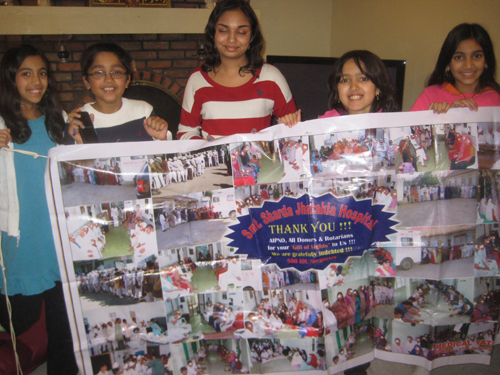 Children helping in planning & sorting medicines



Following educational CME programs were conducted to increase the capacity of local Health Professionals by Vocational Training TEAM members in Oncology, Cardiology, Endocrinology and Psycho-Oncology.
Dr Adi Mehta, Cleveland Clinic, USA (Endocrinologist)
Dr Sethu Reddy, Cleveland Clinic, USA (Endocrinologist)
Dr Martin Wiseman, Hillcrest-Cleveland Clinic, USA (Cardiologist)
Dr Pushkar Kanade, St.Vincent Charity Hospital, USA (Resident)
Dr Mahesh Varia, University of N. Carolina, USA (Oncologist),
Dr Indu Varia,Duke University, USA (Psychiatrist).
Places where Training was arranged:
New Civil Hospital, Surat and Government Medical College, Surat- 32- teachers & staff members
G.M.E.R.S. Medical College, Valsad- 62 - 2nd year Medical students and Faculty members
Diabetes Awareness Seminar -275 residents of Gandevi and surrounding
Dr. Niranjana Shah-Chairperson, Indian Diabetes Association was the guest speaker and her staff conducted YOGA exercises.
"Train the Trainers"- 43 Local Medical Professionals
Mother and Child Care by Dr. Daxa Patel, President- Action Research in Community Health No. of participants: 650 Anganwadi and ASHA social workers.




650 Social workers trained in Maternal Health and child care
by A.R.C.H.- Dr. Daxa Patel




To increase the public awareness at grass root level amongst illiterate rural folks, "Lok Bhavai' street performances were arranged with VIDEO shows at 10 places with attendance of 100 ea.7
Rotarian Dave Diffendal- Cleveland Rotary conducted CPR -Cardio Pulmonary Resuscitation- training classes for paramedics, students, youth, pharmacy students, nurses and general public. Few minutes CPR can circulate the blood thru the victim's brain to keep him/her alive until further care is available. Often in the villages help is far away in distance and time.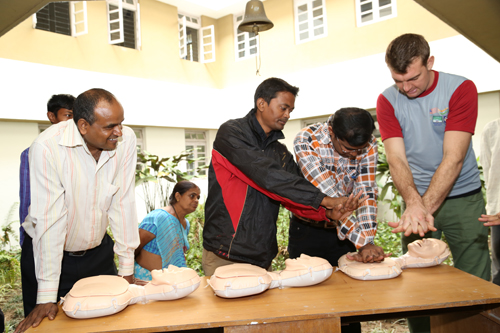 CPR Training



IMPORTANT to NOTE: Investigations activities started in early part of January and shall continue the follow up activities until June-July, 2014. Gandevi Rotarians and NGOs have been committed to give each and every patient utmost satisfaction.

Association of Indian Physicians of Northern Ohio (AIPNO)

Thru "Chiraag" annual fund raising, event, AIPNO have supported more than 30 local charities, one every year.

Thru Medical YATRA programs, AIPNO also provides service to aid to underserved areas and disaster affected sites in India and around the world. AIPNO physicians have traveled to Mexico, Haiti, Peru, Burundi, Ecuador, Uganda, Kenya, Honduras, Dominican Republic and India.

In India, YATRA Medical Mission program have been conducted in Tamilnadu, Rajasthan, Orissa, Gujarat, Kerala, Uttarkhand, Maharashtra and W. Bengal. AIPNO has served more than 150,000 patients and more than 50 physicians from USA, Canada, UK and India have participated.

Learn more about AIPNO and Medical Yatra

Visit our Blog: - http://joeyandmaren.wordpress.com/2014/03/06/the-yatra/

For more information on ROTARY GRANTS visit: www.rotary.org/myrotary/en/take-action/apply-grants

Two-2- General Primary Care Camps were also arranged to alleviate immediate health complaints with FREE medicines.
@ Dharampur, Guj- 1,800 patients Jan.18-22
@ Warora, Mah.- 6,000 patients Feb. 2-9
For more Information, please contact; Dr. Jaya Shah & Dr. Gita Gidwani-Chair Persons, AIPNO-Medical YATRA (jayashahmd@sbcglobal.net) (440-460-1037)
---
Back to Top
Back to Cleveland Asian Indians