phil·an·thro·pi·a is Executive Caterers' Annual Fundraising Luncheon at Landerhaven designed to benefit non-profits throughout Northeast Ohio. After the tragedy of 9/11, New York City absorbed such a large portion of all charitable donations that many local non-profits struggled to reach their own goals. In response, Executive Caterers rededicated their December Corporate Club luncheon to the support of local charities, especially smaller organizations without substantial resources of their own.
The Indian community has always been a strong supporter of this event and the support continued in 2013 as you can see from this sign.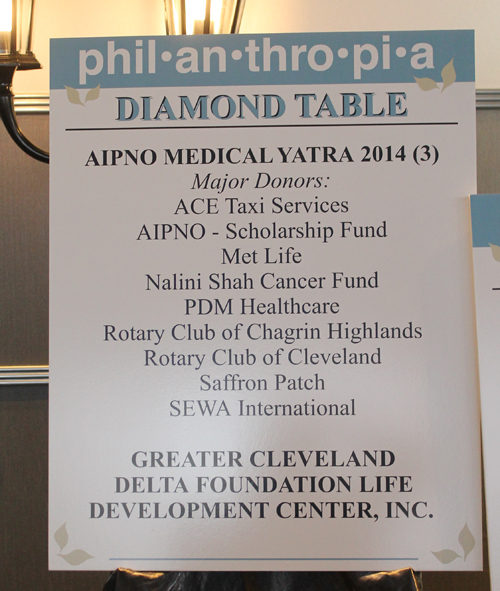 The Singing Angels performed as usual and got everyone in the holiday spirit. MC Leon Bibb and Landerhaven CEO Harlan Diamond showed the check for over $157,000 that local non-profits would be receiving from the 2013 event.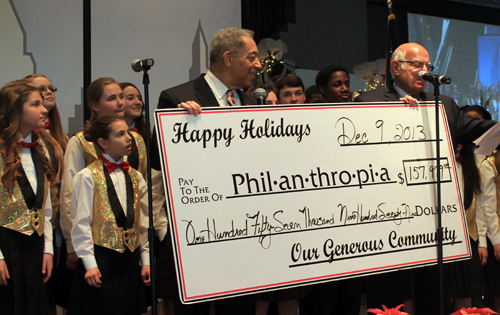 A very special part of the 2013 event was the participation of the Association of Indian Physicians of Northern Ohio (AIPNO). AIPNO was founded in 1983 as a non-profit organization of physicians of Indian origin in Northern Ohio. With a membership of over 300 physicians who meet regularly for educational, charitable and social events, the organization provides an opportunity to make meaningful contributions to the local community and to make friendships that last. AIPNO also provides service and aid to undeserved areas and disaster affected sites. See more from their latest medical yatra.
AIPNO leaders Ramesh and Jaya Shah were called to the stage by Leon Bibb and Harlan Diamond and explained Project Sewa, AIPNO, medical yatras and more.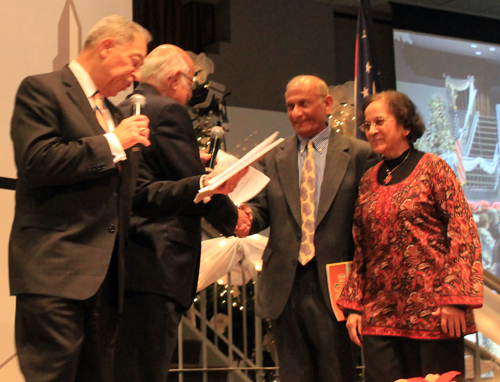 Leon Bibb, Harlan Diamond, Ramesh and Jaya Shah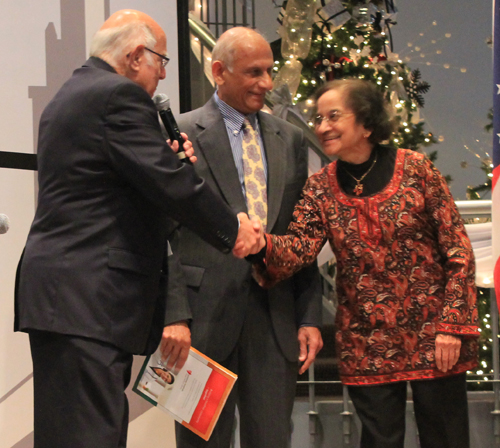 Harlan Diamond, Ramesh and Jaya Shah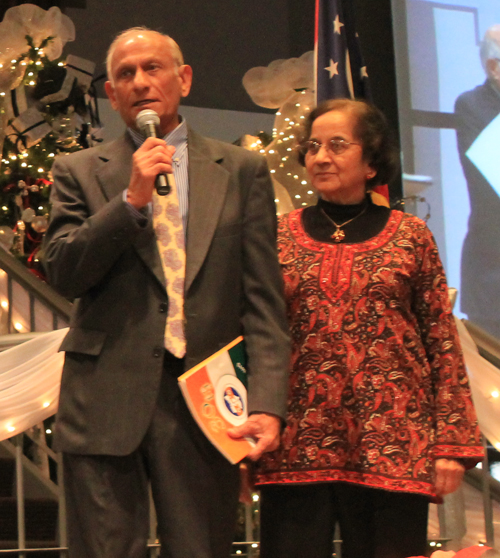 Ramesh and Jaya Shah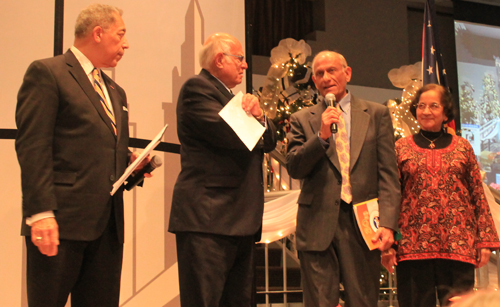 Leon Bibb, Harlan Diamond, Ramesh and Jaya Shah



Next, Devo Bavishi owner of Ace Taxi Service, joined them on stage and told of a generous offer where Ace would donate used, but well-maintained, taxis to deserving non-profits in Cleveland.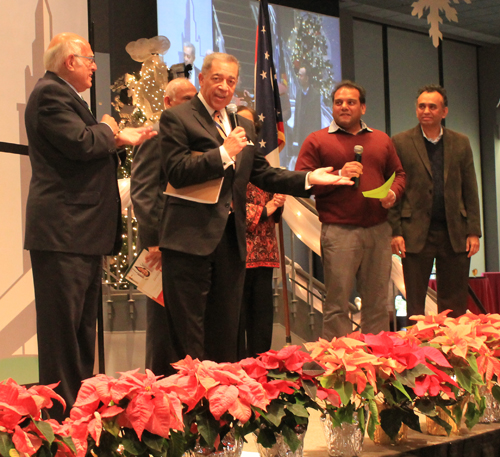 Leon Bibb introducing Devo Bavishi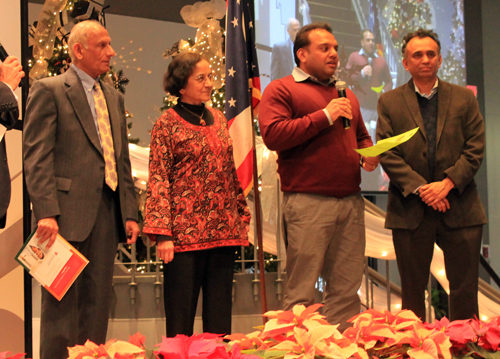 Ramesh Shah, Jaya Shah, Devo Bavishi and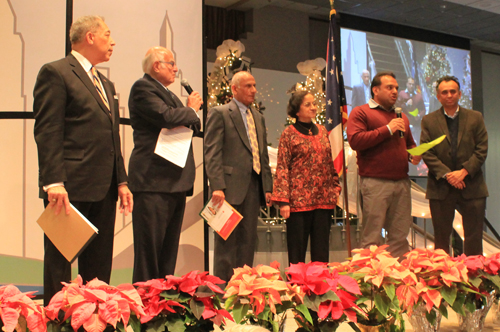 Leon Bibb, Harlan Diamond, Ramesh Shah, Jaya Shah, Devo Bavishi and



The non-profits in attendance were eager to apply for the vehicles. What a generous and much needed gesture!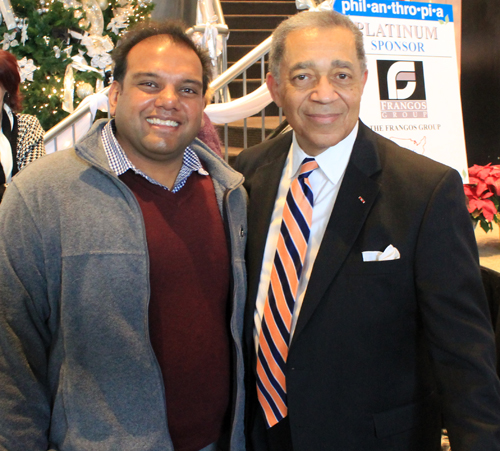 Devo Bavishi owner of Ace Taxi Service and MC Leon Bibb


---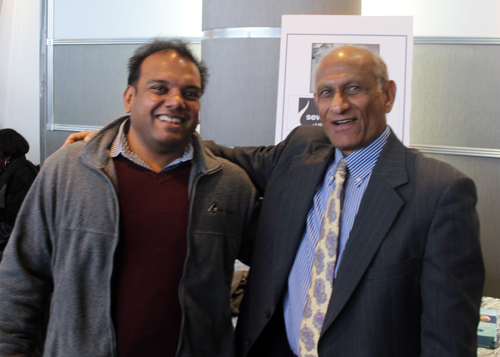 Devo Bavishi owner of Ace Taxi Service and AIPNO's Ramesh Shah


---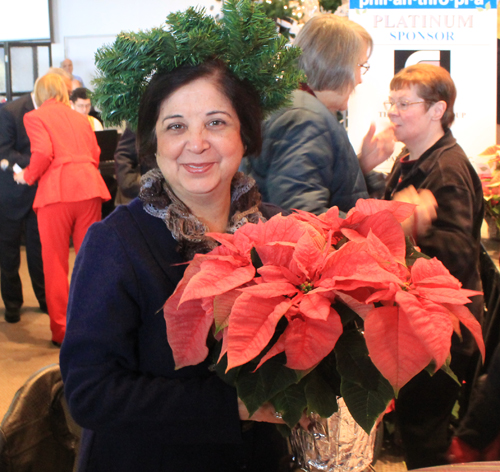 Mona Alag


---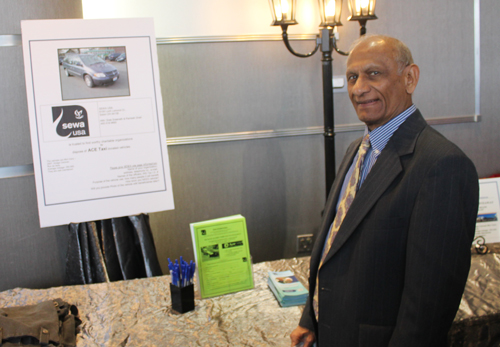 Ramesh Shah working the AIPNO table


---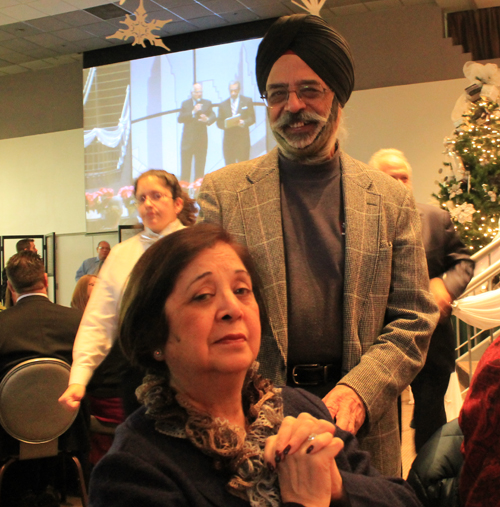 Mona Alag and Paramjit Singh


---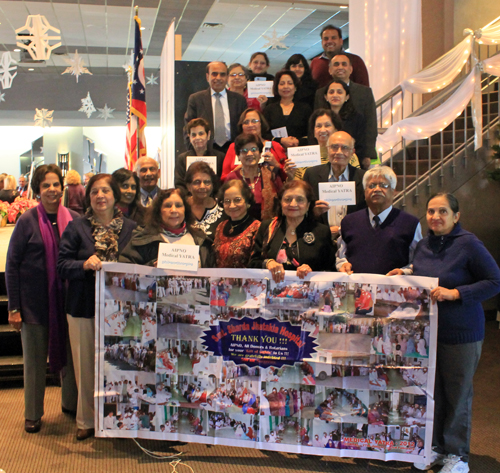 AIPNO Group
---
Back to Top
Back to Cleveland Asian Indians
Back to Cleveland International Events
---
For sponsorship opportunities, please contact us.
Your message could be HERE!

ClevelandPeople.com is sponsored in part by


FICA, Federation of India Community Associations