"NAR SEWA NARAYAN SEWA" - "Serving Humanity is Serving God".-Vivekananda
Association of Indian Physicians of Northern Ohio (AIPNO) was founded in 1983 as a non-profit organization of physicians of Indian origin in Northern Ohio. With a membership of over 300 physicians who meet regularly for educational, charitable and social events, the organization provides an opportunity to make meaningful contributions to the local community and to make friendships that last. AIPNO also provides service and aid to undeserved areas and disaster affected sites.

Elumalai Appachi, MD President of AIPNO told about their mission and some of the accomplishments of the group.



A 'Yatra' is a holy pilgrimage. For years, Dr Jaya Shah and Ramesh Shah have led an AIPNO Medical Yarta to tend to the needs of the poorest in different areas of India.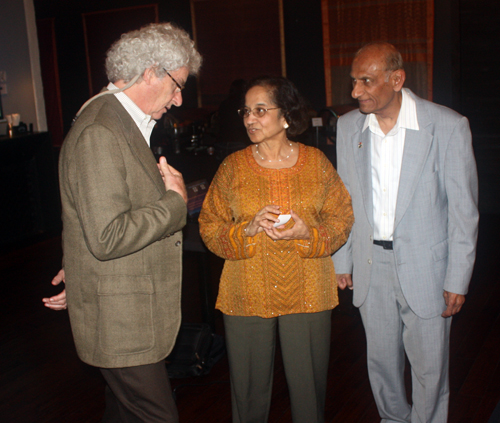 Dr Marvin Cohen DDS, Dr Jaya Shah and Ramesh Shah



Many of the people that the team of doctors see and treat have never had any contact with a medical professional.

The AIPNO Medical Yatras have ventured to and served all areas of India - North and South, East and West.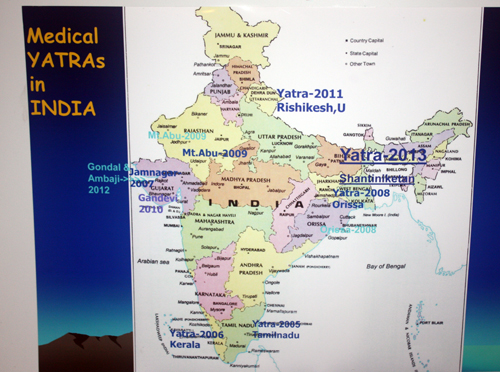 Here is an overview summary of the yatras.
AIPNO Medical Yatras

| | | | |
| --- | --- | --- | --- |
| Year | Location | Physicans + Vols | Patients |
| 2002-Guj Earthquake | Bidada, Kutch | 10 AIPNO | 25,000 |
| 2005-Tsunami | Chennai,Tamilnadu | 4+4 | 5,000 |
| 2006-Post Tsunami | Kochi, Kerala | 10+15 | 5,200 |
| 2007 | Jamnagar, Guj | 15+15 | 8,400 |
| 2008 | Balighat, Orissa | 15+15 | 12,800 |
| 2009 | Mt. Abu, Rajasthan | 22+15 | 16,750 |
| 2010 | Gandevi, Guj | 16+11 | 5,825 |
| 2011 | Rishikesh, Utt. | 18+13 | 7,800 |
| 2012 | Gondal, Ambaji, Guj | 13+5 | 13,040 |
Here is an example of the vital work being done. The 2011 report says "We treated more than 7,800 patients in 7 clinics encompassing more than 30 villages around Rishikesh. We saw many cases of Bronchitis, Pneumonia, Asthma, Diarrhea, Dysentery, and Skin Problems, Eye problems, High Blood Pressure, Diabetes, Anemia, Arthritis, Nutritional disorders, Gynec problems etc." This does not include the Primary Health Care and Dental and Eye Exams with an estimate of 10,000 treated and 300 Cataract Surgeries performed.
To date AIPNO has helped more than 100,000 people in India and around the world in their health needs and provided FREE medicines, some surgeries and free numbered eye glasses, and lot of Cataract surgeries.
They have also assisted in disaster relief outside of India such as the Haiti earthquake (2010) and Hurricanes Katrina(2005) & Isadora (Mexico - 2002)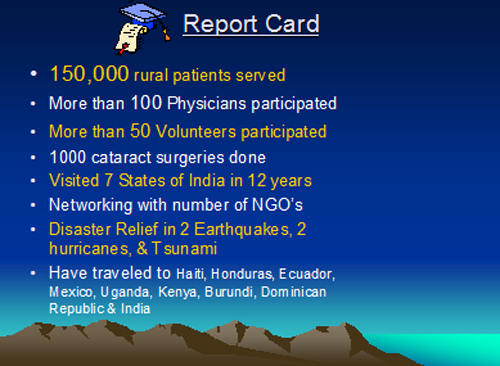 AIPNO held an event to drive interest and support for the upcoming 2013 Yatra and to recognize past supporters. Ramesh Shah served as MC and explained the mission and history of the AIPNO Medical Yatras.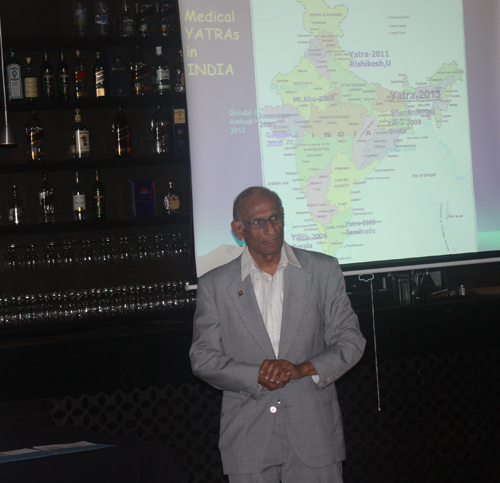 Ramesh Shah



Jaya Shah, MD, is chair of the Humanitarian Committee of AIPNO and with her husband Ramesh has volunteered on the Medical Yatras to India for many years.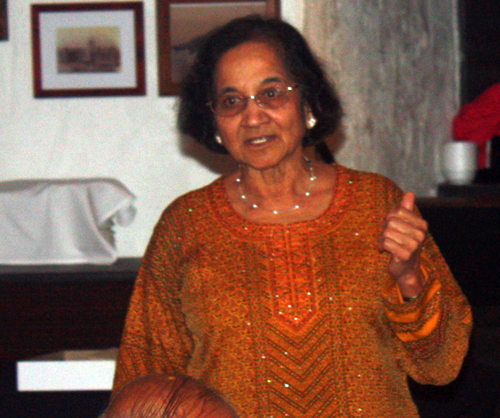 Jaya Shah, MD





The Rotary Clubs are one of the partners of the Medical Yatra and Dave Diffendal with the Rotary Club of (downtown) Cleveland told how he met Jaya and Ramesh Shah and went on a medical mission with them.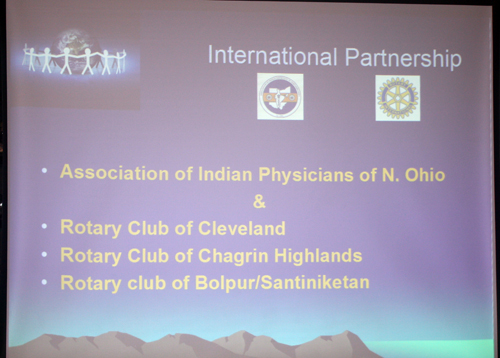 The work being done is so important and so relatively inexpensive.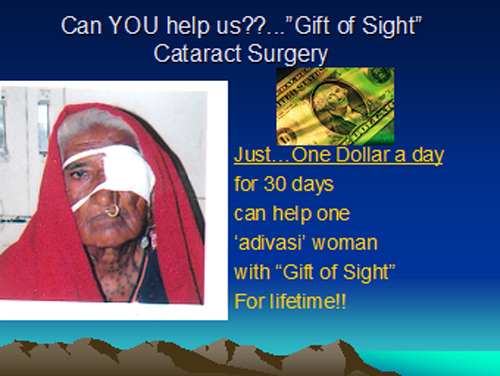 The group recognized Ash Chawla - President & CEO of PDM Health care for his support.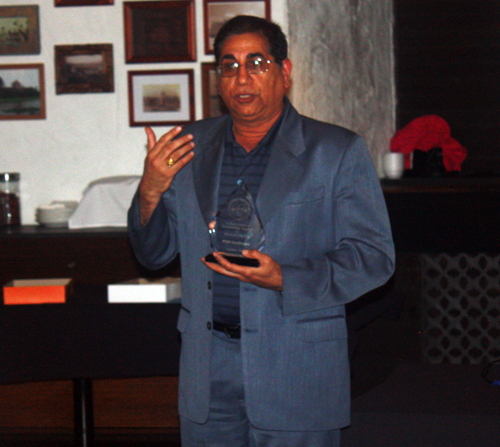 Ash Chawla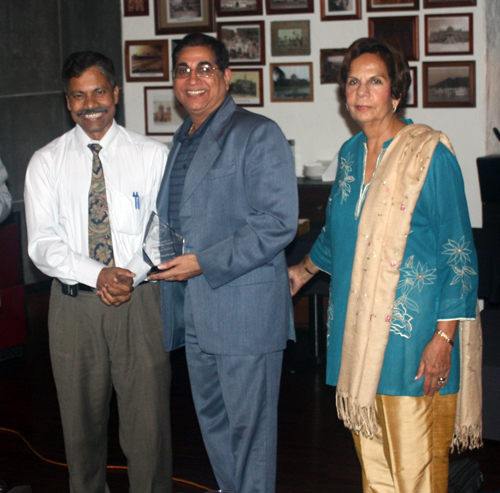 AIPNO President Elumalai Appachi, MD, Ash Chawla and Dr. Gita Gidwani



They also recognized Monte and Usha Ahuja for their support.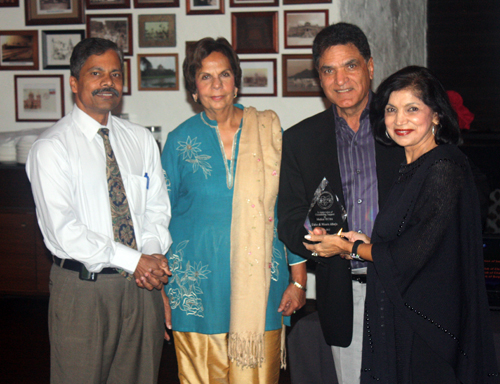 AIPNO President Elumalai Appachi, MD, Dr. Gita Gidwani
and Monte and Usha Ahuja
---
Please support this important cause if you are able. For more information, contact Ramesh Shah at rameshcleveland@gmail.com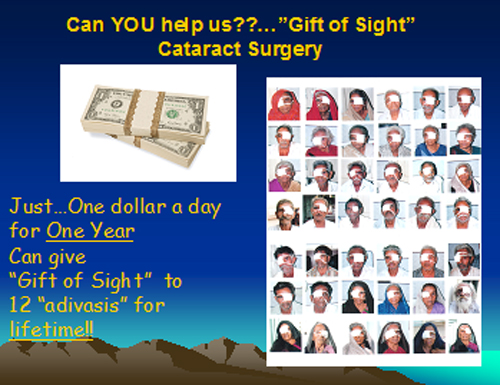 ---
Back to Top
Back to Cleveland Asian Indians
---
For sponsorship opportunities, please contact us.
Your message could be HERE!

ClevelandPeople.com is sponsored in part by


FICA, Federation of India Community Associations