The Federation of India Community Associations (FICA) hosted an event to celebrate the 64th Independence Day of India. Despite a severe rainstorm that forced the cancellation of the Cricket and tennis matches, a large crowd gathered at the Solon Community Center to enjoy entertainment, food, vendors and camaraderie.
Mrs. Subha Sen-Pakrashi gave an opening statement on behalf of the FICA Board of Trustees.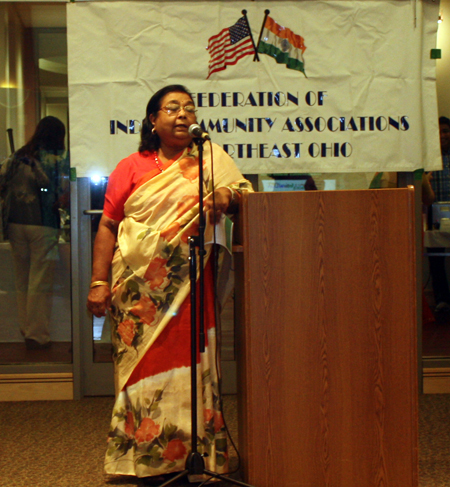 Mrs. Subha Sen-Pakrashi
---
Mr. Jaikumar Bhatia served as the Master of Ceremonies.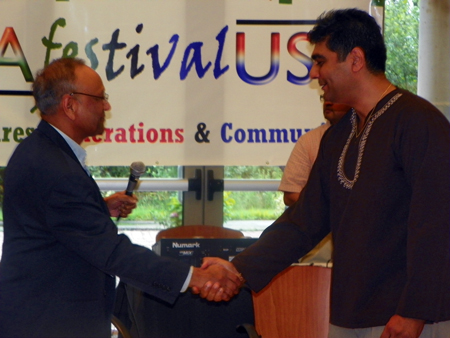 Dr. Chittaranjan Jain thanks Mr. Jaikumar Bhatia
---
The flag of the United States was unfurled and Miss Koel DasGupta sang the National Anthem.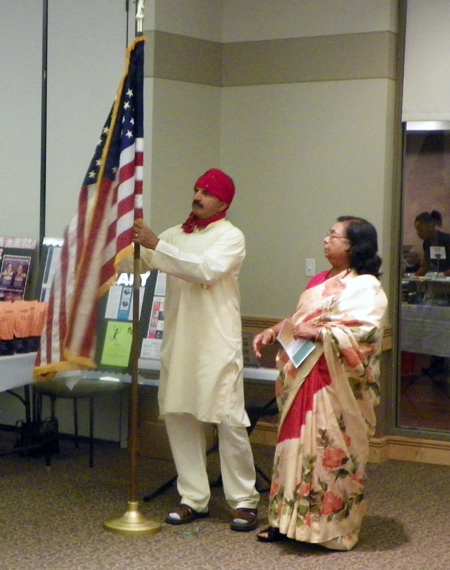 Michael Sreshta and Mrs. Subha Sen-Pakrashi unfurl the US Flag
---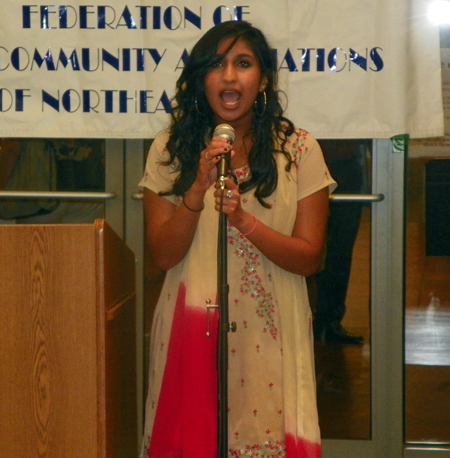 Miss Koel DasGupta
---
---
Miss Roshini Sharma performed the National Anthem of India.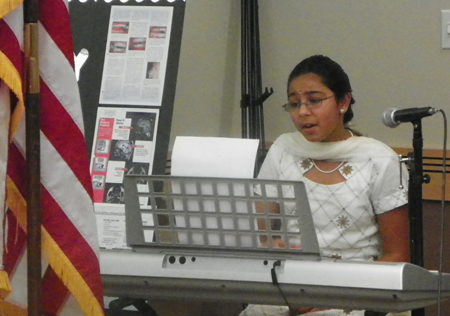 Miss Roshini Sharma
---
Sudarshan Sathe, Trustee of the Federation of Indian Community Associations (FICA) delivered the keynote address. He spoke of the progress made and the challenges still out there 64 years after August 15, 1947.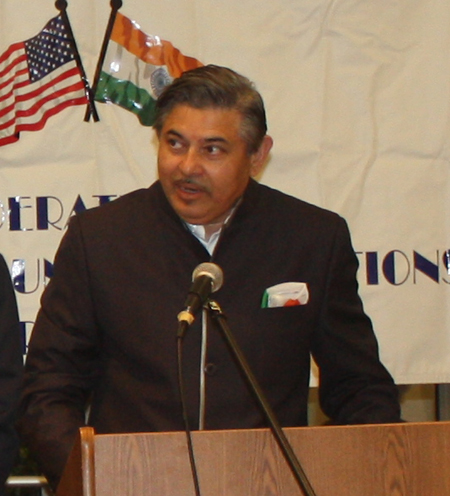 Sudarshan Sathe
---
5 young Indian-American men spoke about India - past and present - in a segment tiled Our Journey.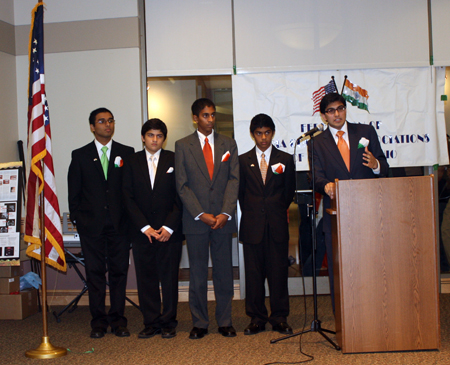 Ashwin Rane, Ojas Sathe, Nirmal Krishnan,
Achyut Nair and Tejas Sathe
---


Tejas Sathe spoke about the India he has witnessed vs the ideal India that is spoken about at events like Independence Day celebrations.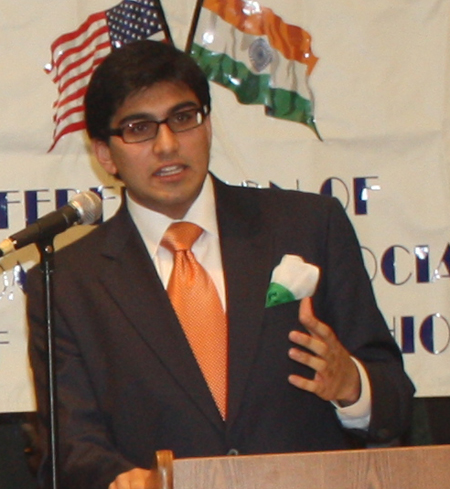 Tejas Sathe
---
Achyut Nair told how how India has been a beacon of hope for all faiths and how women were treated as equals for centuries - yet there are still challenges today.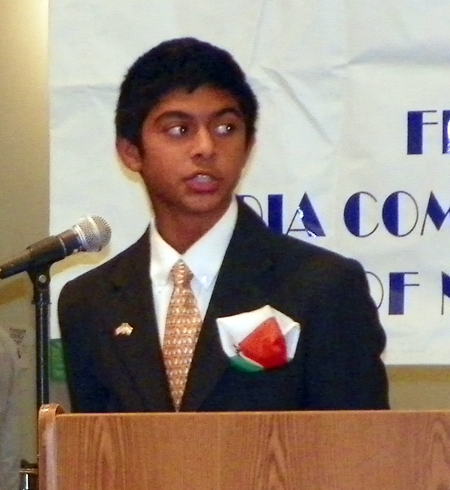 Achyut Nair
---
Nirmal Krishnan told of the many languages and dialects in India and how Bollywood and the film industry are bringing people together.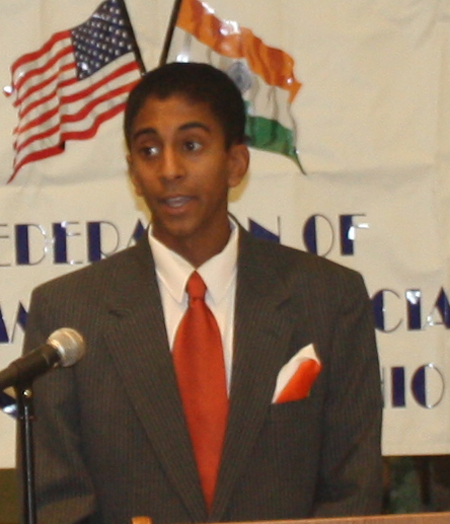 Nirmal Krishnan
---
Ojas Sathe spoke about the rich history of education in India and the challenges that exist today.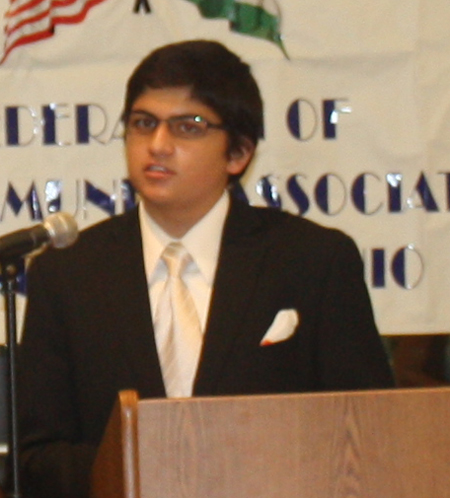 Ojas Sathe
---
Ashwin Rane spoke about the wealth and poverty of India and how modern companies like Tata show that the problems of poverty are transient.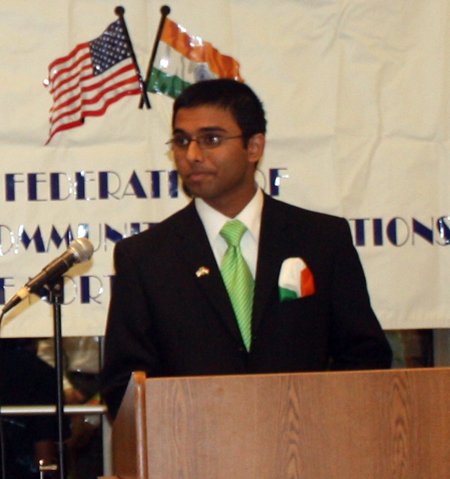 Ashwin Rane
---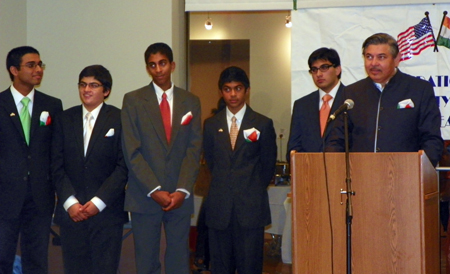 Ashwin Rane, Ojas Sathe, Nirmal Krishnan,
Achyut Nair, Tejas Sathe and Sudarshan Sathe
---
Independence Day Event - Page 2 - Entertainment
Independence Day Event - Page 3 - Faces in the Crowd
---
Back to Top
Back to Cleveland Asian Indians
---
For sponsorship opportunities, please contact us.
Your message could be HERE!

ClevelandPeople.com is sponsored in part by


FICA, Federation of India Community Associations