The Cleveland Armenian Community and friends gathered at the new Armenian Cultural Garden at 741 MLK Blvd. in Cleveland on Sunday September 19, 2010.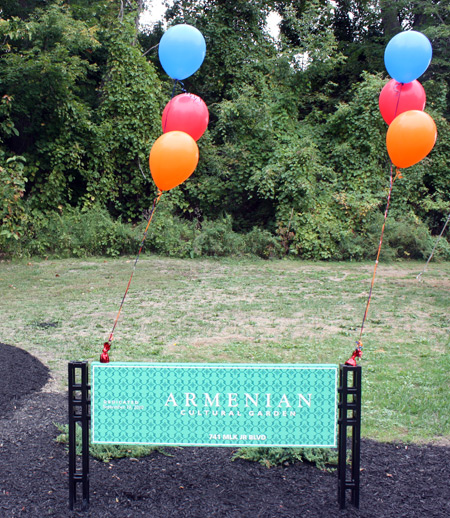 Designed by architect Berj A. Shakarian, the site plan is devised in the form of the "vesica piscis", a sacred geometric symbol representing Christ and by extension the conversion of Armenia as the first Christian nation in 301 CE.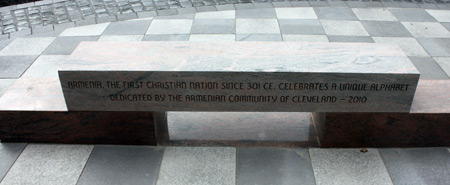 'Armenia, the first Christian nation since 301 CE, celebrates a unique alphabet dedicated by the Armenian community of Cleveland - 2010'

The "Alphabet" monument symbolizes the centrality of the Armenian language in creating the Armenian state. In order to make the Bible accessible to Armenians, St. Mesrop Mashtots invented the alphabet circa 404 CE.

According to the Armenian delegation, "The garden's divinely inspired script is the 'secret code' that defines the unique Armenian identity."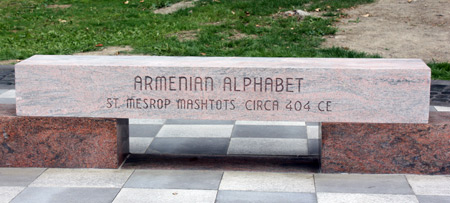 Armenian Alphabet. St. Mesrop Mashtots circa 404 CE



"Alphabet" is composed of staggered granite blocks, representing both the turbulent history of the Armenian people and the ruggedly beautiful landscape of Armenia and the Caucasus region.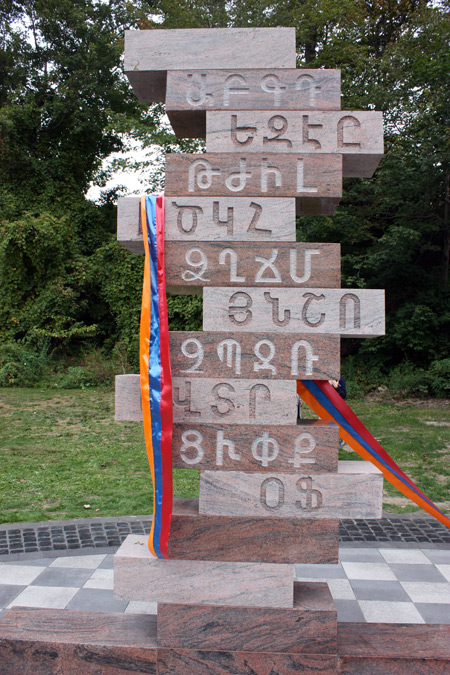 The reverse side of the monument is inscribed with "Pride of a Nation" listing the anglicized names of 33 men and women, noted for their historical and cultural contributions to the Armenian nation as briefly stated next to each name. These important Armenians' lives span history from antiquity to the 21st century, from the king Tigran the Great to the journalist Hrant Dink.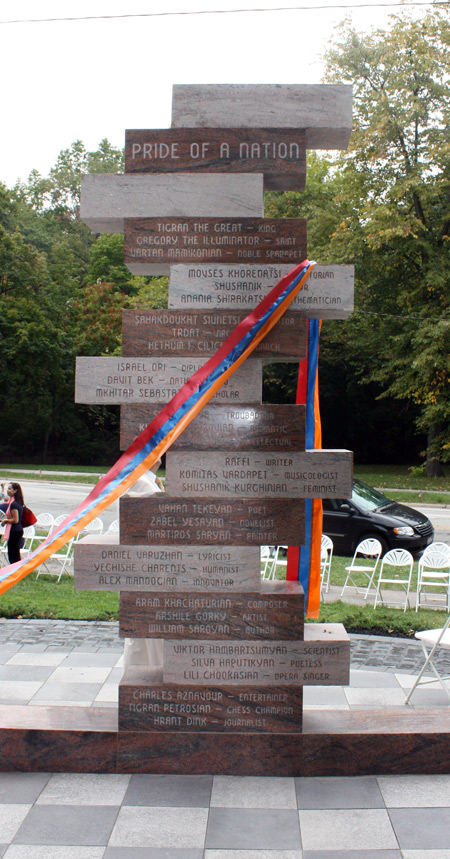 Several hundred people attended the dedication. This included the Armenian community but many others who were on hand to show support and attend One World day in the Cleveland Cultural Gardens later that day.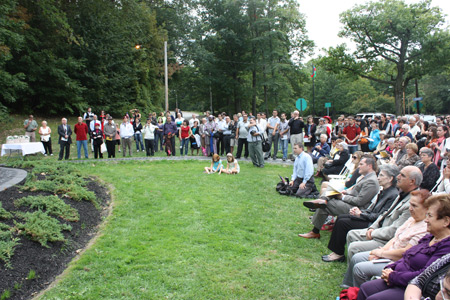 Master of Cermonies Kevan Asadorian welcomed the crowd and began the dedication ceremony.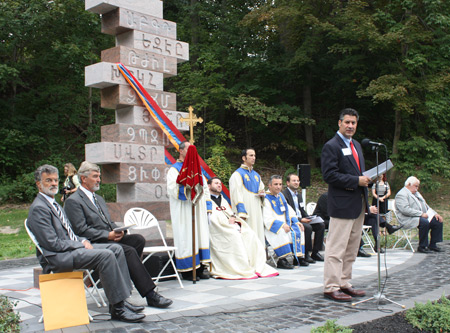 Kevan Asadorian was the Master of Ceremonies



Paul Burik, president of the Cleveland Cultural Garden Federation welcomed the Armenian Garden to the family of Cultural Gardens.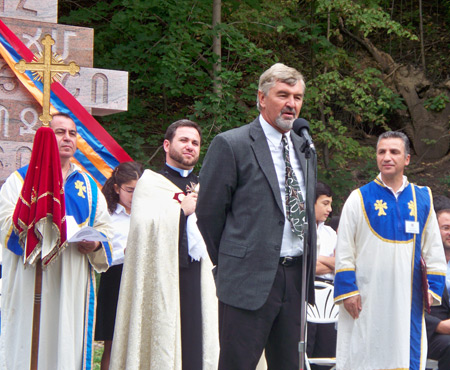 Paul Burik



Fr. Martiros Hakobyan, pastor of St. Gregory of Narek Armenian Apostolic Church in Richmond Heights, gave the opening prayer.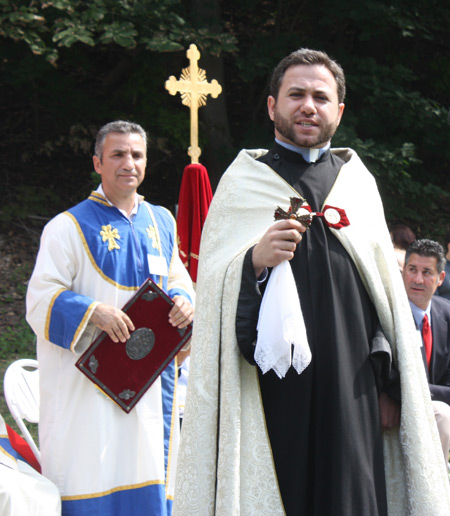 Fr. Martiros Hakobyan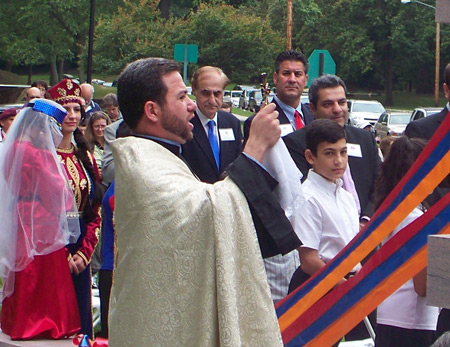 Fr. Martiros Hakobyan then blessed the Garden and monument





Armenian children, under the direction of Soma Baghdasaryan, performed next.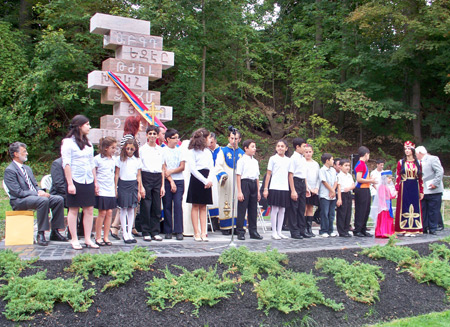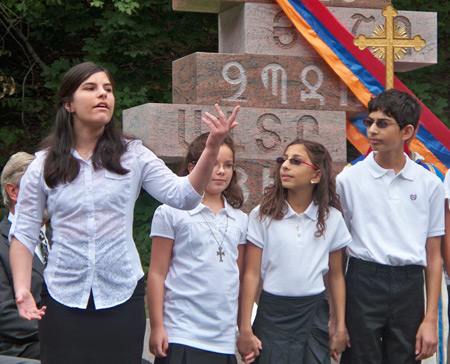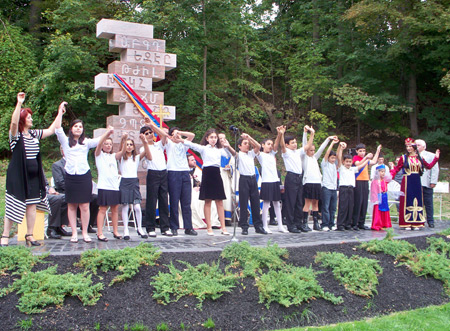 Dr. Asbed Kotchikian, Professor of Global Studies at Bentley University spoke about the Pride of Nation component of the monument.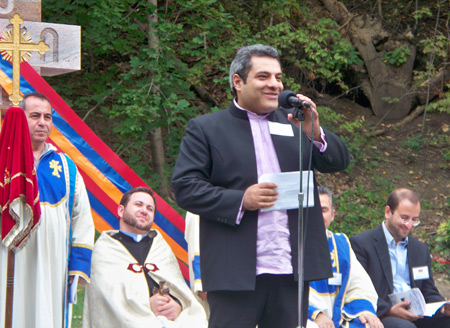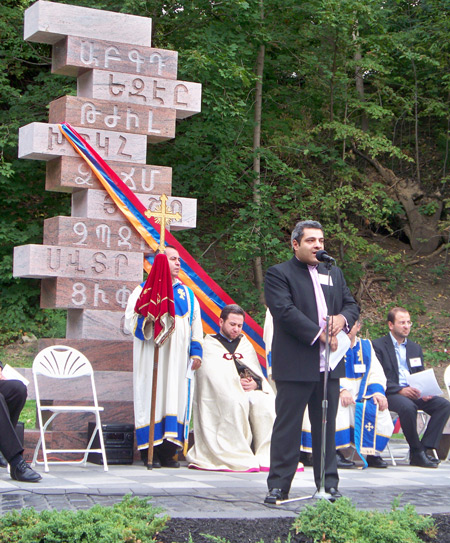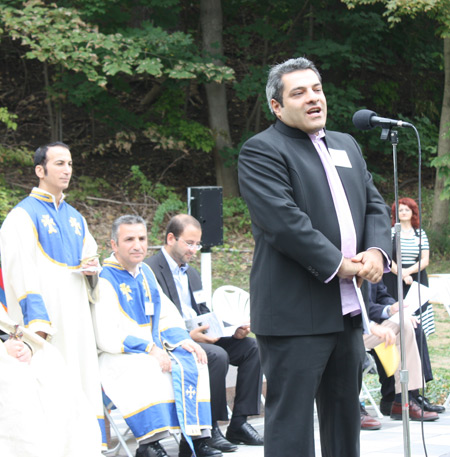 Next, Deacon Artak Khachikyan spoke about the Armenian Alphabet.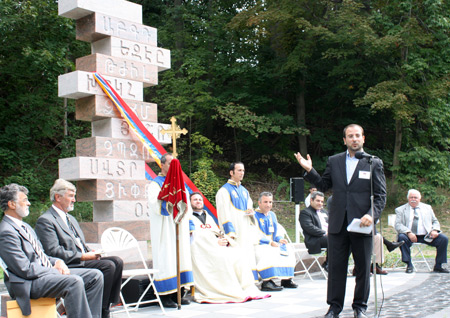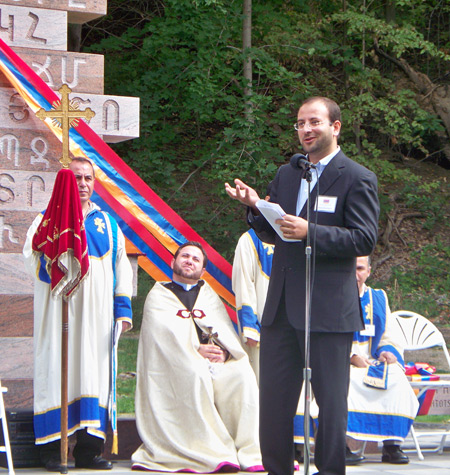 Cleveland Mayor Frank Jackson congratulated the Armenian Garden delegation and presented a proclamation to Armenian Garden architect Berj Shakarian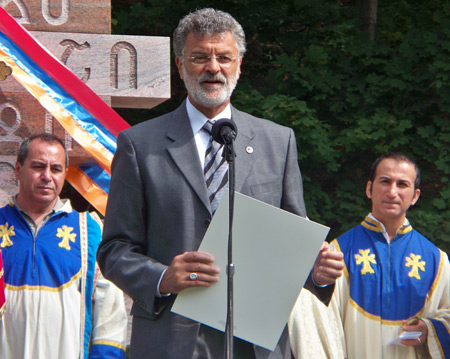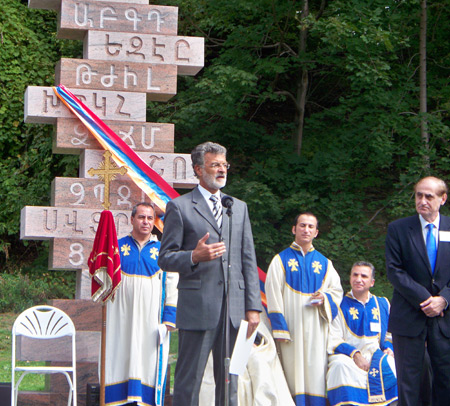 19 year old Ruzanna Tovmasyan sang the Armenian folk song 'Msho Dashter' or 'Valley of Msho'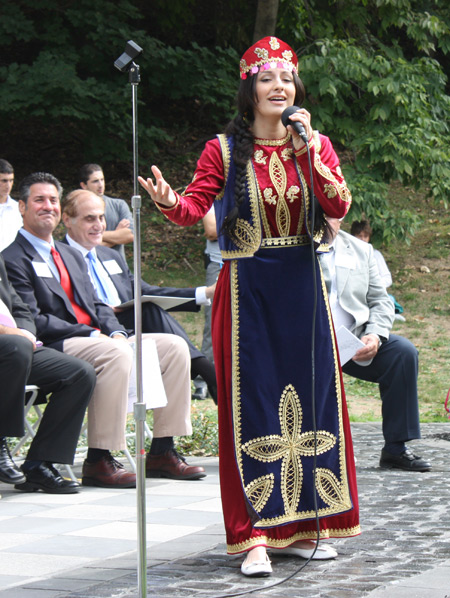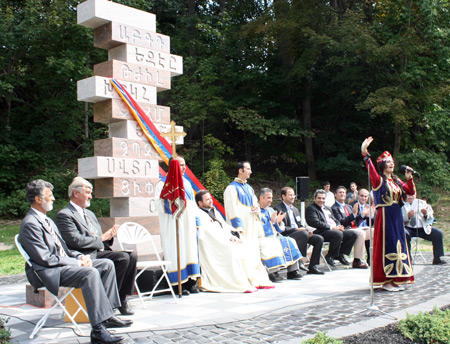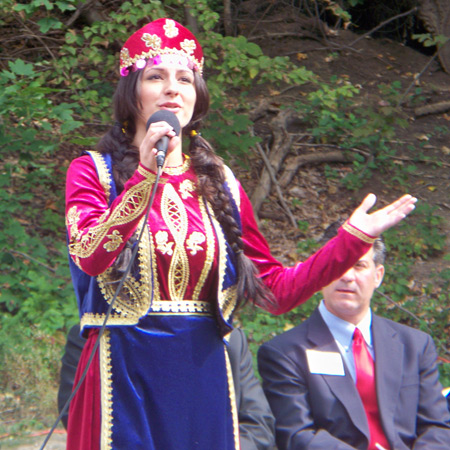 Father Martiros Hakobyan blessed the monument, the Garden and the committee members.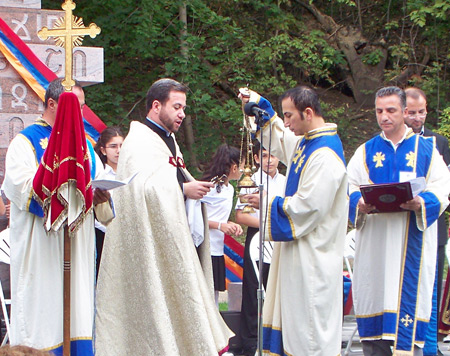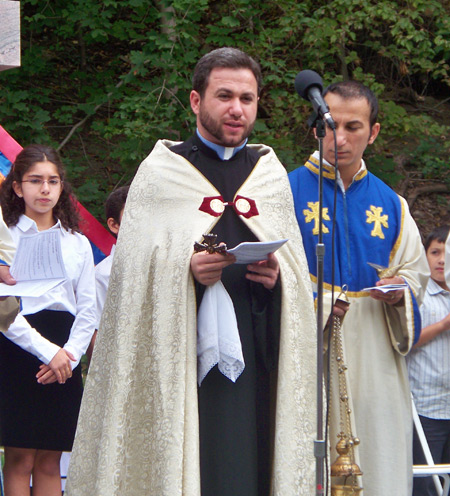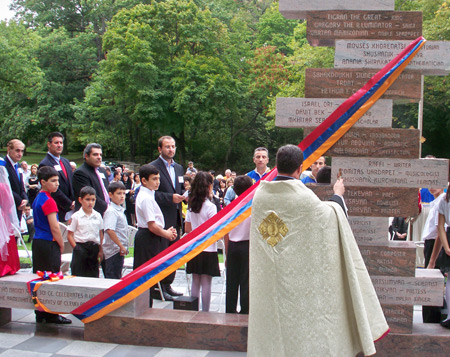 Then Fr. Martiros led the singing of the Armenian Lord's Prayer.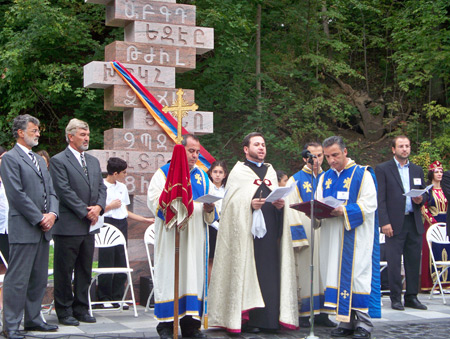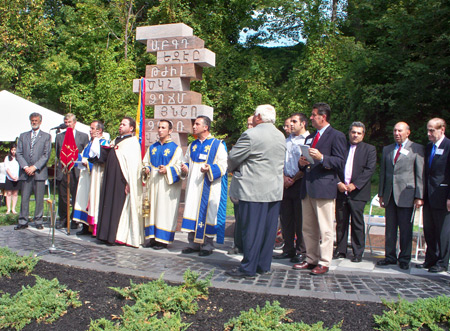 Sue Mirakian and Deacon Artak Khachikyan led the crowd in the singing of the Armenian National Anthem as doves were released and the ribbon cut at the Armenian Cultural Garden dedication.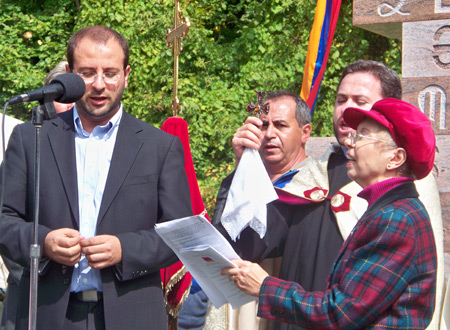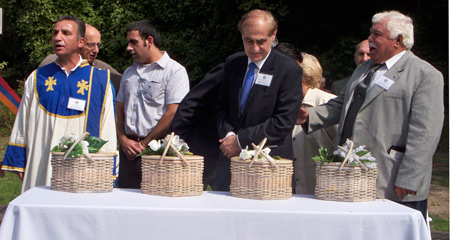 Doves about to be released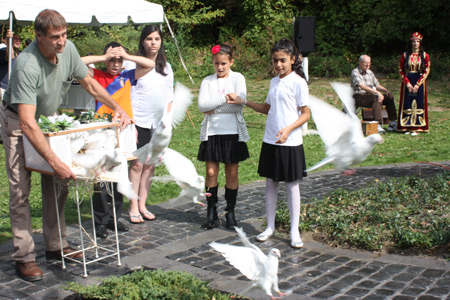 ---
See more from the Armenian Garden dedication
Including faces in the crowd