The Albanian Cultural Garden hosted a canonization ceremony for Blessed Mother Teresa on Sunday September 4, 2016. "Many people don't know Mother Teresa was Albanian," said Cleveland Councilwoman Dona Brady, one of the founders of the garden and leader of the ceremony. Albanian-American Councilwoman Brady also served as mistress of ceremonies for the event.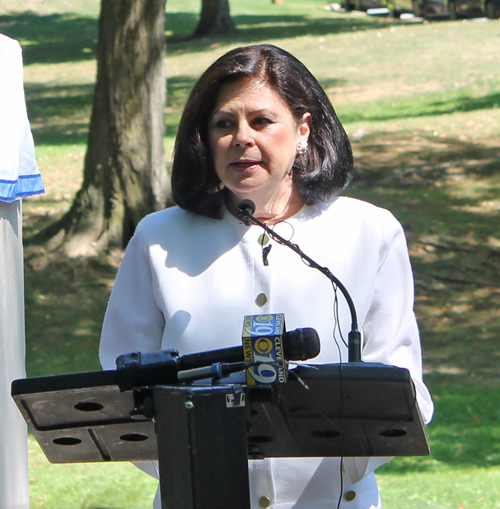 Dona Brady



The Albanian Garden was the 29th ethnic garden to be dedicated in the 100-year-old-Cleveland Cultural Gardens. The dedication of the garden in 2012 was attended by Albanian President Bujar Nishani, Albanian Ambassador Gilbert Galanxhi and Cleveland Mayor Frank Jackson. The ceremony included three musicians who were adopted as children from one of the orphanages of Mother Teresa. See photos and videos of the 2012 Albanian Garden dedication.

The Albanian Garden is centered around a 7-foot bronze statue of Mother Teresa.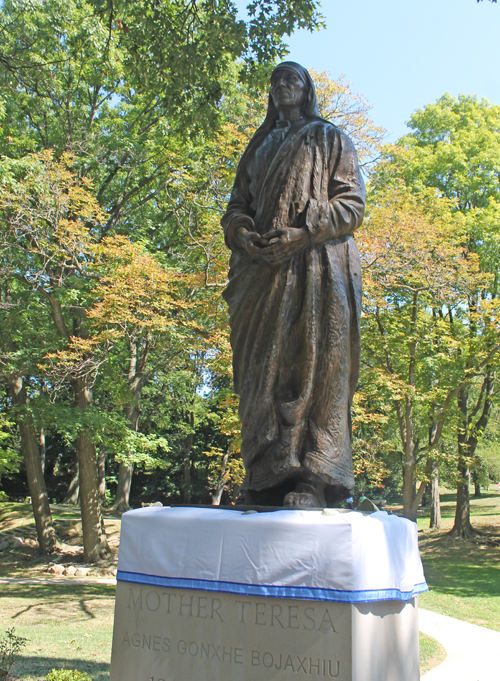 Mother Teresa of Calcutta, ethnic Albanian, Nobel Peace Prize winner and founder of the Missionaries of Charity who dedicated her life to helping India's poor, was canonized as Saint Mother Teresa by Pope Francis. "We ourselves feel that what we are doing is just a drop in the ocean, but the ocean would be less because of that missing drop" - Mother Teresa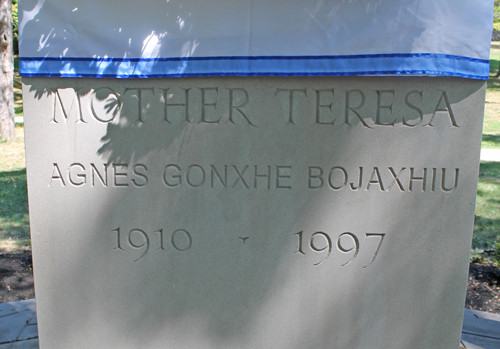 Blessed Mother Teresa (1910-1997) was not a physically imposing figure. Standing just over 5 feet, she was slight in stature, yet her arms seemed endless. And she put them to use: Often she was seen cradling sick newborns or embracing the poorest of the poor in Calcutta. To those who loved this holy woman of God, her road to sainthood was unsurprising. Her canonization has put the "Saint of the gutters"ť back into the international spotlight.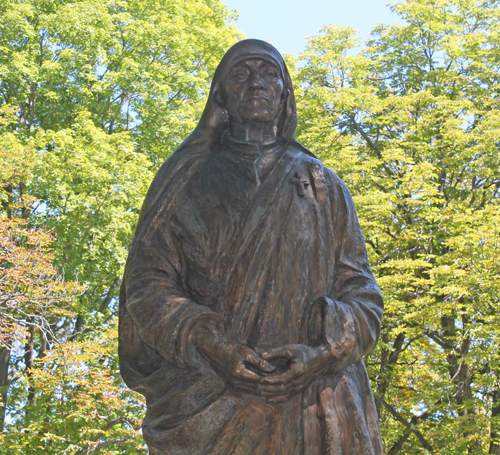 Her middle name, Gonxha, means "little flower" in Albanian. Even before blossoming into her life as a religious sister, young Agnes Bojaxhiu showed signs of passionate devotion to Christ. Early on, she began celebrating her birthday on the day of her baptism, August 27. Who could have predicted that this "little flower" would go on to serve the poorest of the poor thousands of miles away?

Captivated by stories of missionaries, Agnes left her family home in Skopje in 1928 at the age of 18 to join the Sisters of Loreto. "Be so kind to hear my sincere desire," she humbly wrote to the Loreto Mother Superior. "I want to join your Society, so that one day I may become a missionary sister, and work for Jesus who died for us all." Needing to learn English first, the young postulant spent six weeks in Loreto Abbey in Dublin, Ireland. She set sail for India on December 1, 1928, to give her life to service.

Mother Teresa opened wide the doors of mercy and charity for the poorest of the poor in Calcutta. It was her life's calling-what she considered to be an order from God. Mother Teresa directed her Missionaries of Charity to serve "the hungry, the naked, the homeless, the crippled, the blind, the lepers, all those people who feel unwanted, unloved, uncared for throughout society, people who have become a burden to the society and are shunned by everyone."

Learn more about Mother Teresa

Cleveland Councilwoman Dona Brady served as Mistress of Ceremonies and welcomed the large crowd to the Albanian Garden. She told how the new saint was of Albanian heritage and how the Albanian Cultural Garden features a large statue of Mother Teresa.

NOTE: All the images below with a white arrow in the middle are videos. (The other images are just photos) You can click on the white arrow to watch the video of whatever is descibed. Make sure your speakers are on and you can make the video full screen once it begins by clciking the icon in the lower right corner.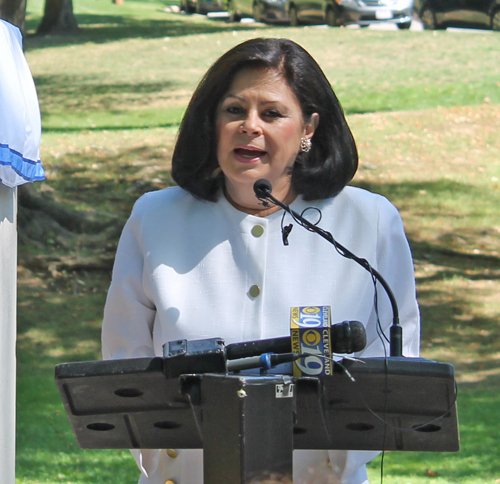 Dona Brady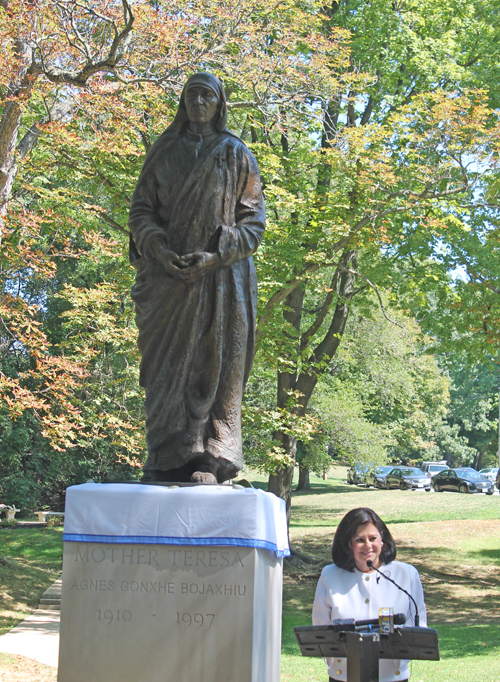 Adem Meta, Chairman of the Albanian American Association, translated the welcoming remarks by Cleveland Councilwoman Dona Brady into Albanian. He also thanked Dona for her help with the Albanian Cultural Garden.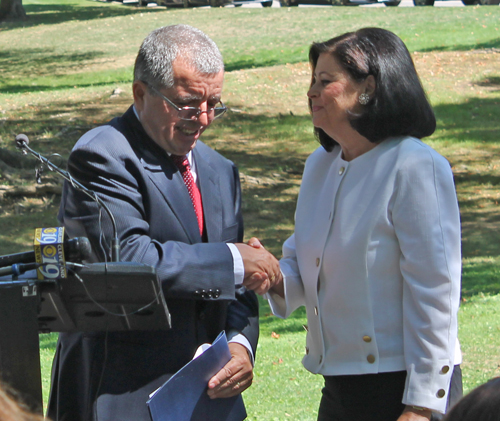 Adem Meta and Dona Brady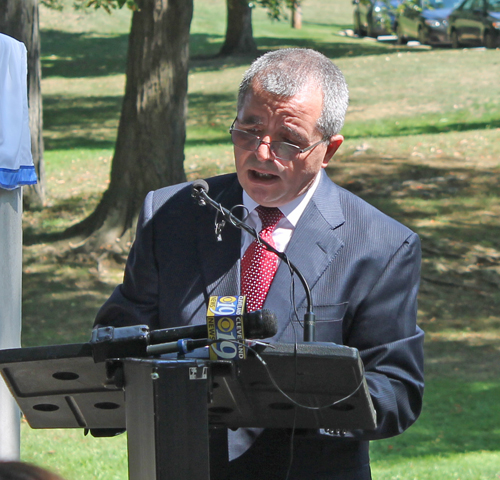 Adem Meta
Sheila Crawford, President of the Cleveland Cultural Gardens Federation, spoke about all the Cultural Gardens in particular the Albanian Garden.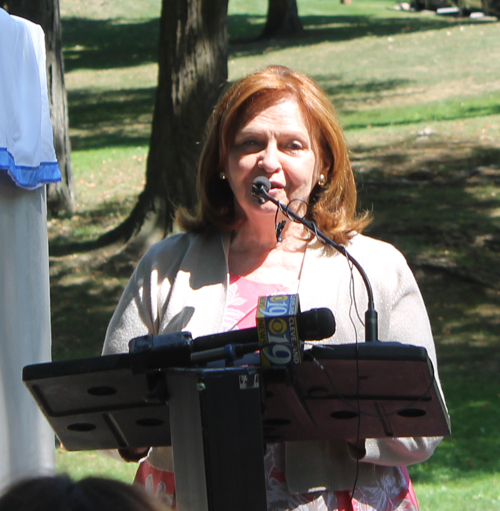 Sheila Murphy Crawford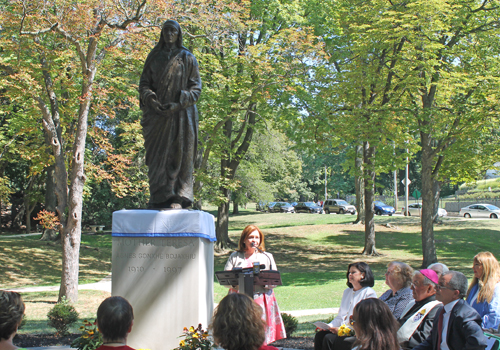 Asim Datta was born and raised in Calcutta (Kolkata) India. He spoke about Mother Teresa of Calcutta and sang a song that was sung at her canonization in Rome earlier in the day. The song was a favorite of Mother Teresa and was written and set to music by Rabindra Nath Tagore, 1913 recipient of Nobel Prize for Literature.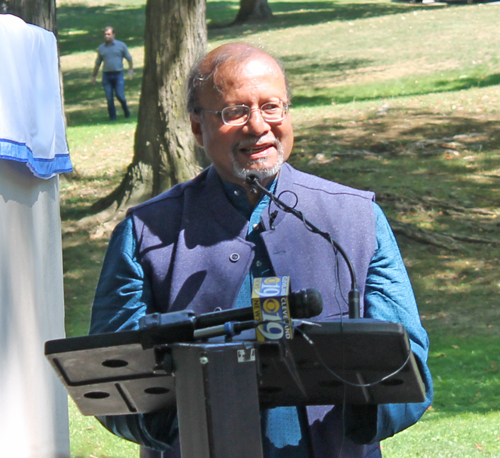 Asim Datta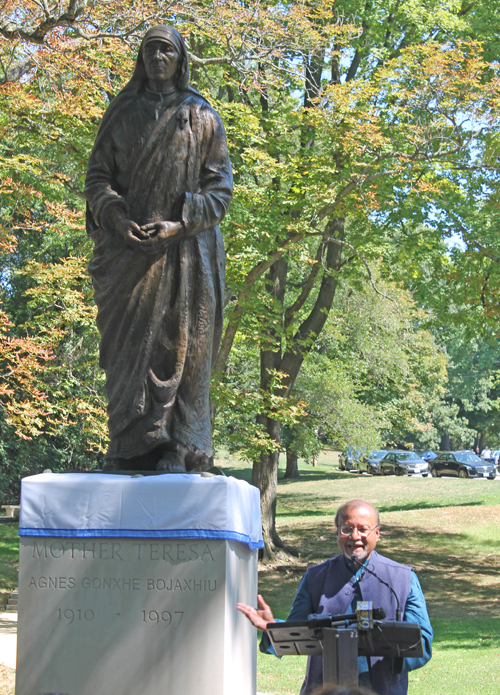 Sister Kathleen Ryan, administrator for the Cleveland Catholic Diocese, has helped many new arrivals from Albania get settled in Cleveland. She spoke about the influence of Mother Teresa.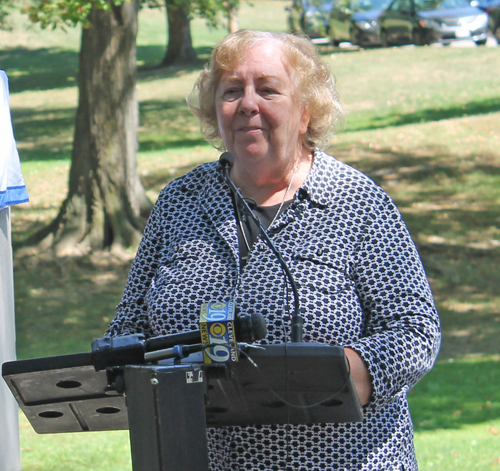 Sister Kathleen Ryan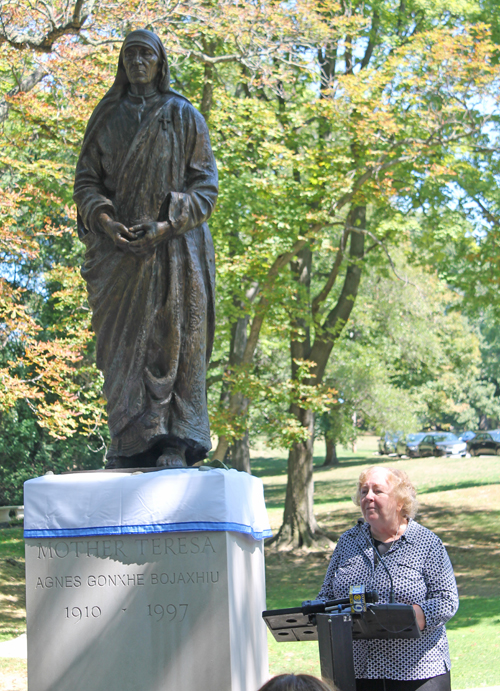 Sister Judith Ann Karam, CSA, FACHE Congregational Leader, Sisters of Charity of Saint Augustine, spoke about Mother Teresa of Calcutta and the Sisters of Charity.
Sister Judith Ann Karam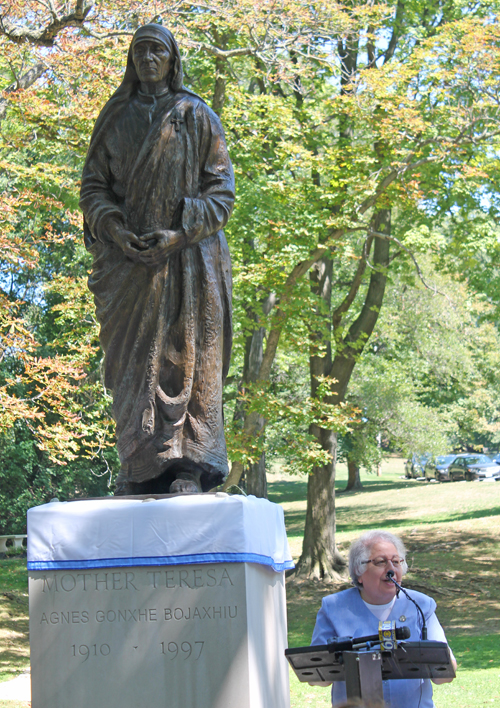 Bishop Roger Gries, O.S.B., Auxiliary Bishop Emeritus, gave some reflections of the Catholic Church's canonization of Saint Mother Teresa as declared by Pope Francis. He shared 5 rules to live by that we can learn from Mother Teresa. Bishop Gries also told a story of how when Mother Teresa visited New York she was taken to a large shopping mall. Her reaction? She exclaimed, "I never knew there were so many things out there that I do not need."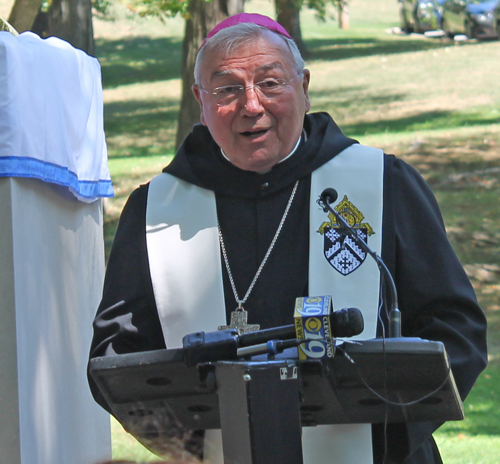 Bishop Roger Gries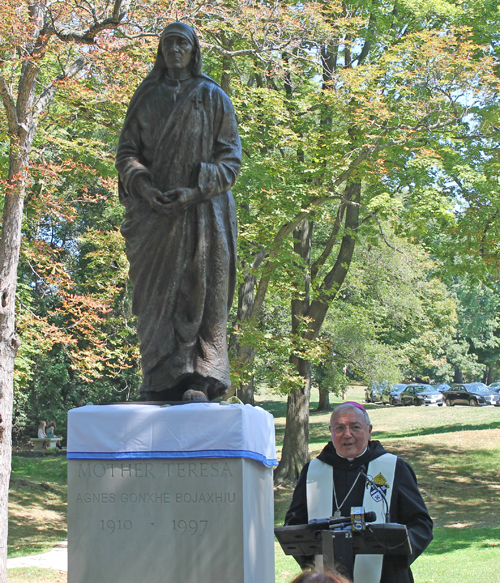 At the end of the ceremony a single white dove was released (and coincidentally planes from the Cleveland Air Show flew over). Dona Brady rang the bell as is now tradition.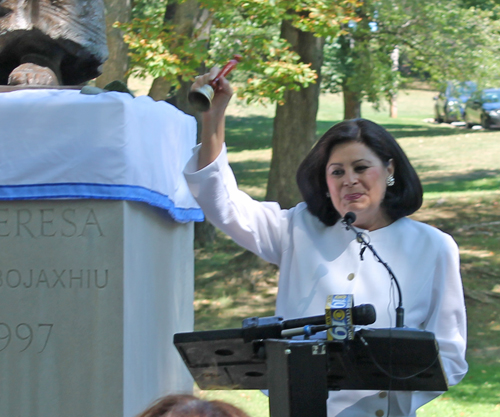 Dona Brady ringing the bell



People gathered to place flowers at the base of the statue and take photos.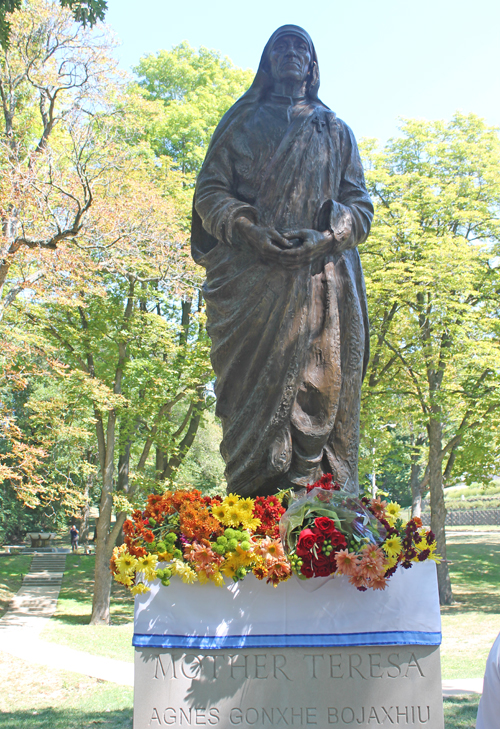 A reception at the Rockefeller Greenhouse followed the ceremony.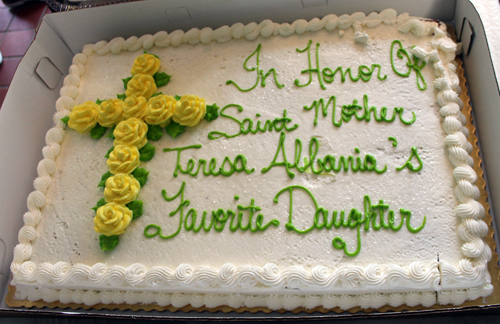 ***

Stay informed about the local Albanian (and/or Indian, Catholic, Irish...) community by signing up for the free Cleveland Albanian eNews mailings. You can select other groups as well. It's easy and free.

Fill out the form for the free Albanian eNews.

***

---


Enjoy these other photos from the Albanian Cultural Garden ceremony for the canonization of Mother Teresa.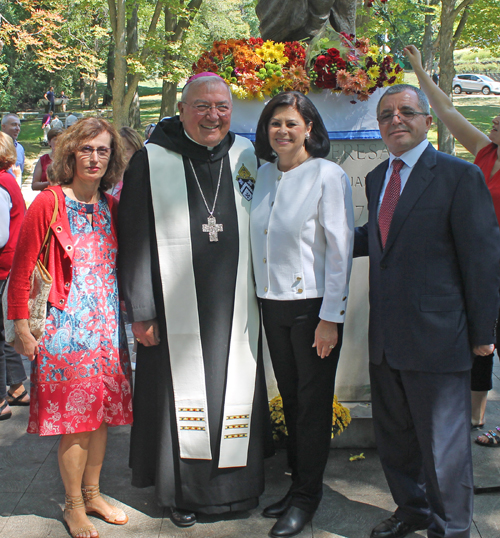 Mrs Meta, Bishop Gries, Dona Brady and Adem Meta
---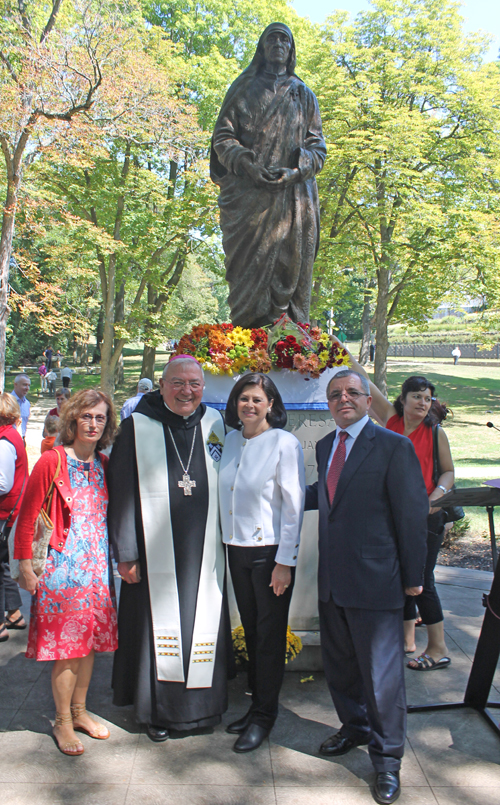 ---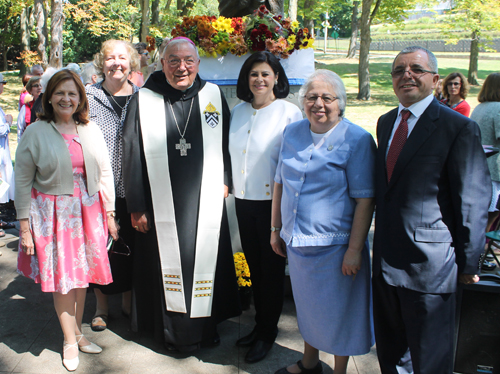 Sheila Crawford, Sister Ryan, Bishop Gries, Dona Brady,

Sister Karam and Adem Meta
---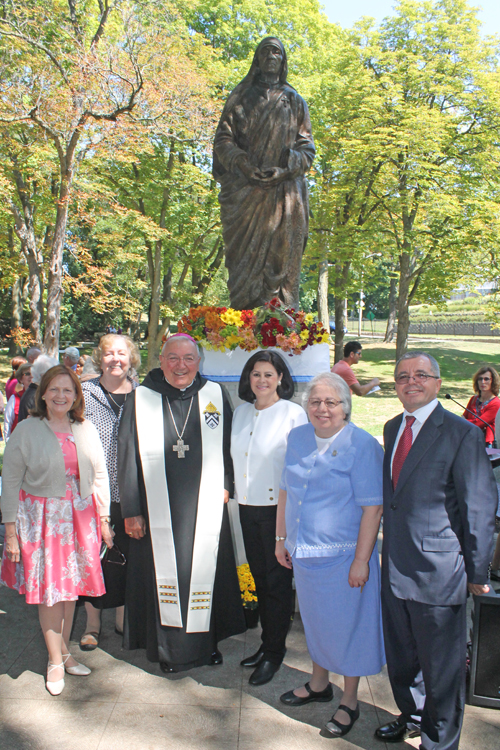 ---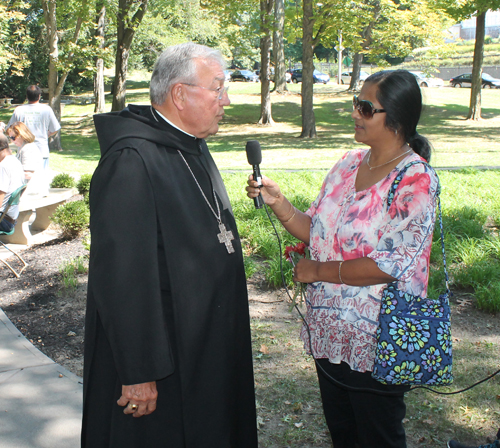 Bishop Roger Gries being interview for a Bengali station by Piya Roy
---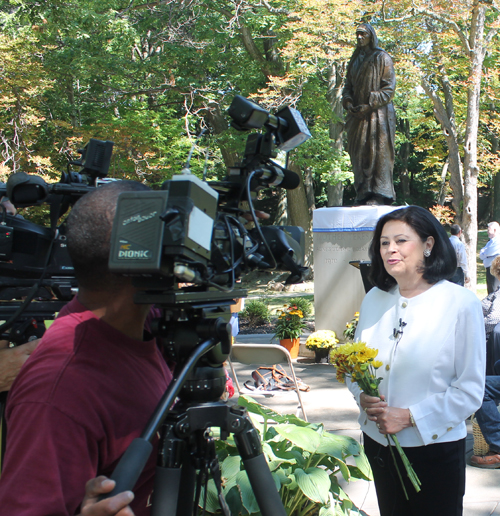 Dona Brady being interviewed
---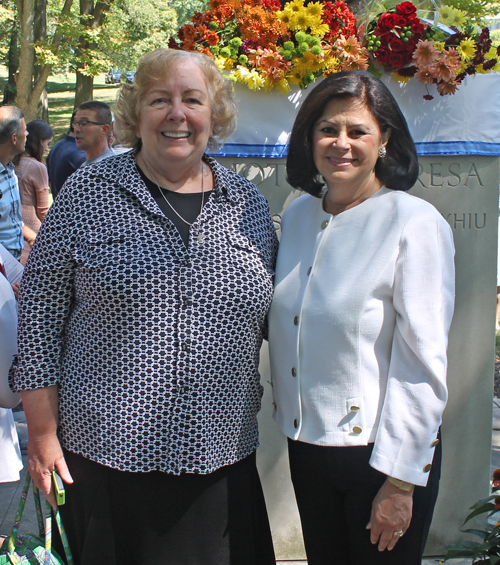 Sister Kathleen Ryan and Dona Brady
---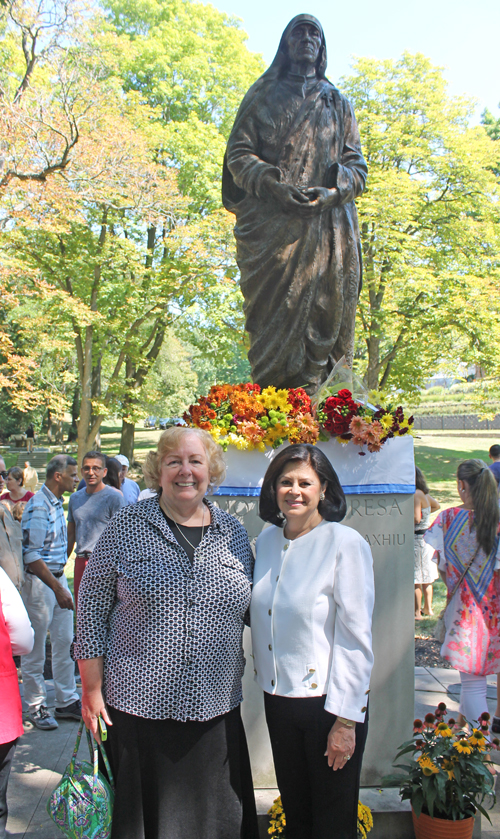 ---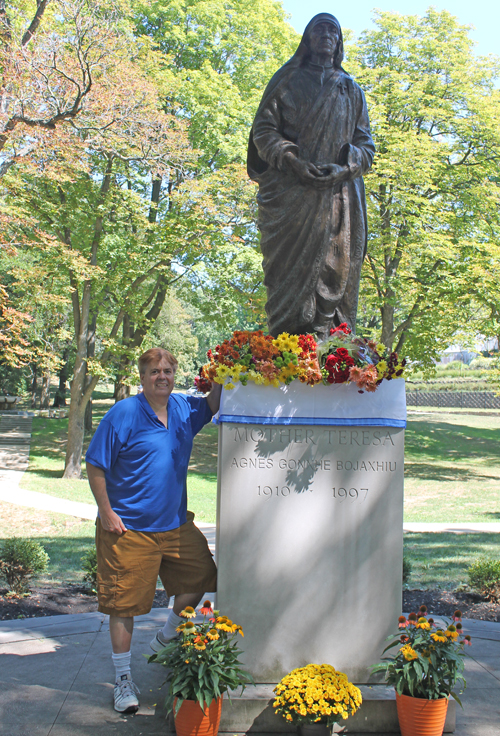 Dan Hanson
---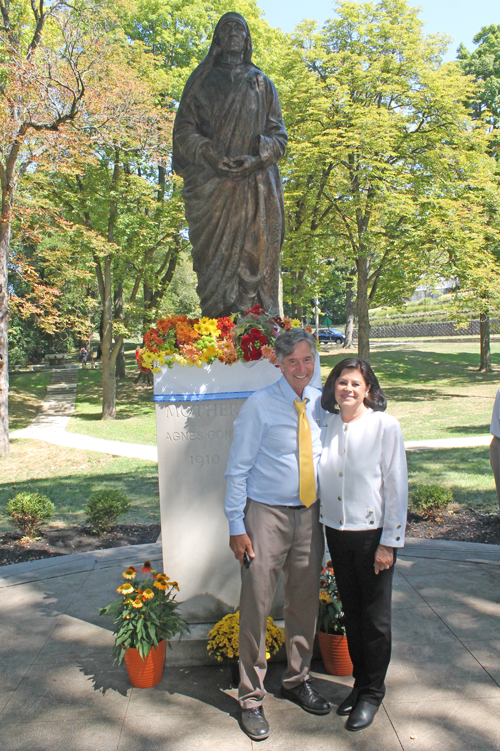 Jim Craciun and Dona Brady
---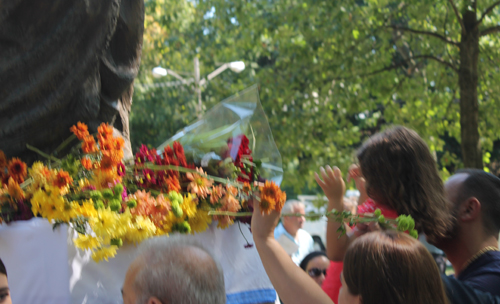 Placing flowers on the statue
---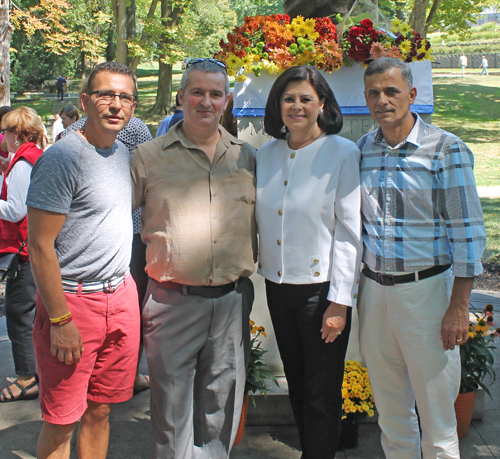 ---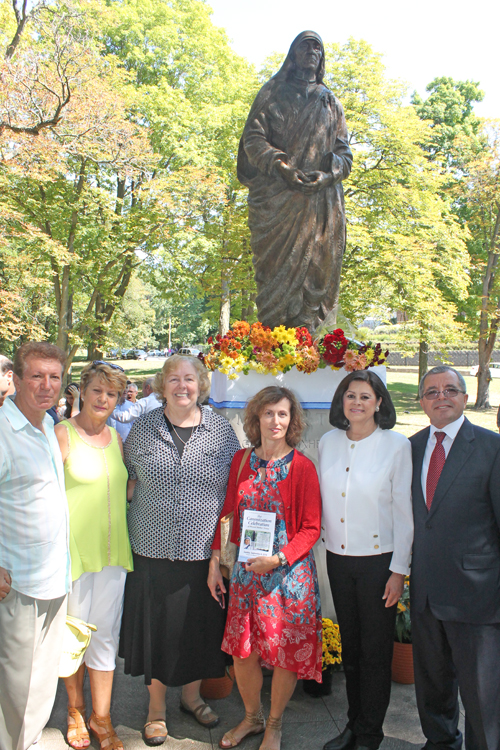 ---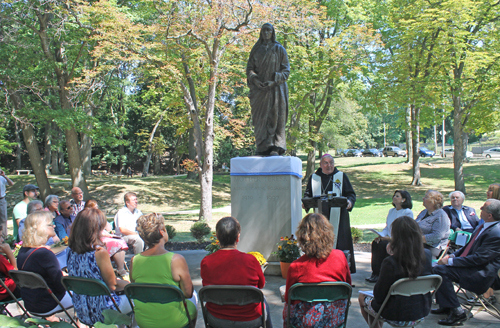 ---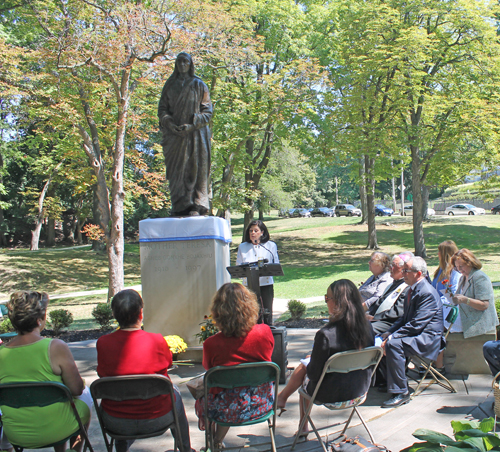 ---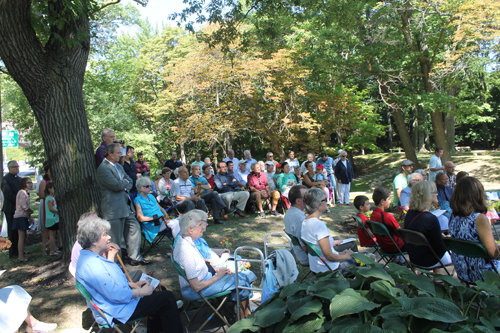 Part of the large crowd
---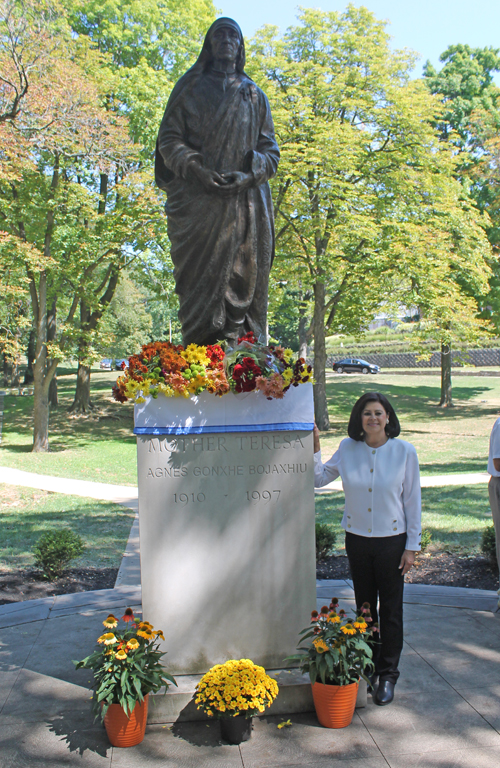 Dona Brady

Congratulations to Councilwoman Dona Brady and the Cleveland Albanian community as well as the Cleveland Indian, Irish and Catholic communities for this fitting tribute to 'Albania's Gift to the World' Saint Teresa of Kolkata.
Saint Teresa of Kolkata, Pray for Us.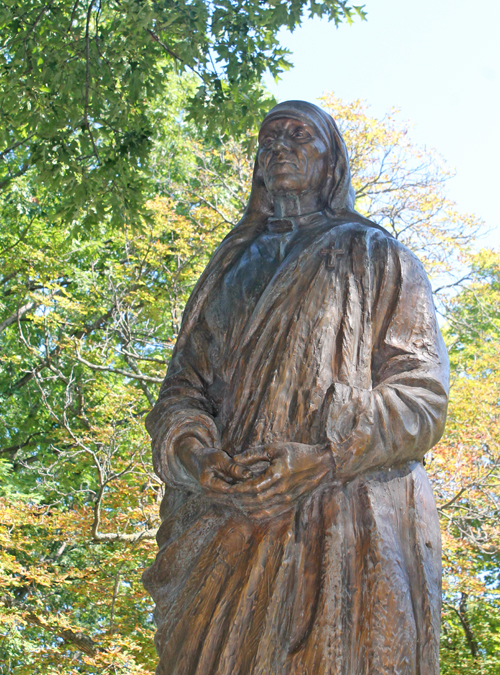 ***
Want to learn about ethnic and cultural events in Cleveland such as the Mother Teresa event? Sign up for the free eNews and every Wednesday morning you will receive a free e-mail listing the next week's events. It's easy and free.

Select 'WEEKLY' when you fill out the form for the free weekly eNews.
***
---
Back to Top
Back to Cleveland Albanians
Back to Cleveland Indians
Back to Cleveland Catholics