Some people have earned well-deserved recognition for their efforts to right injustices that they experience or see. Everyone knows of Jackie Robinson, for example, but fewer know of Larry Doby who endured much of the treatment that Jackie Robinson did and at a younger age.
Charlie Sifford was a pioneer like Robinson and Doby yet received scant recognition. Here is part of his story from Charlie's interviews with Debbie Hanson in 2005. Charlie Sifford passed away in 2015 but his story lives on to inspire others.
Charlie Sifford was born in Charlotte, North Carolina on June 2, 1922. He was one of six children and the only surviving child. As a very young boy of only about 13 he caddied to earn money and really came to love the game of golf.
There were no High School or College Golf teams at the time, but he couldn't have afforded them even if there were. He left High School for financial reasons in the 11th grade.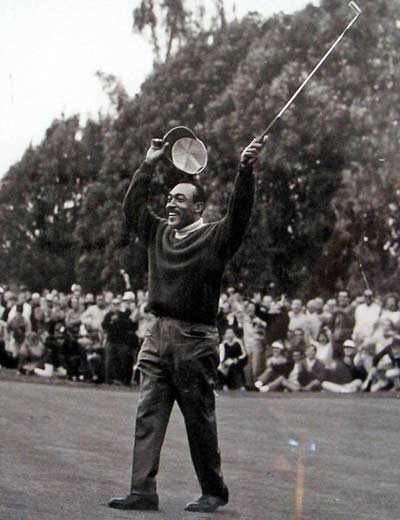 Charlie Sifford celebrates another great shot



By the time Charles was 15 or 16 he was playing golf, but of course not in Charlotte. It was the late 1930's and the idea of a black man playing golf at a country club in Charlotte, North Carolina was just unheard of. In 1940 he moved to Philadelphia were he was allowed to play. It was the Cross Creek Golf Course that he played most often.

He went into the Army in 1943 where he was in the 24th Infantry. He was there until he came out in 1946 and went to Pittsburgh. The USGA was hosting the National Negro Open. He saw Joe Lewis, Sugar Ray Robinson and others play in the tournament and he decided to play too.

Charlie was working for National Biscuit at the time, but Billy Eckstein, famed jazz musician gave him a job as his private golf instructor. Charlie traveled with him until about 1953.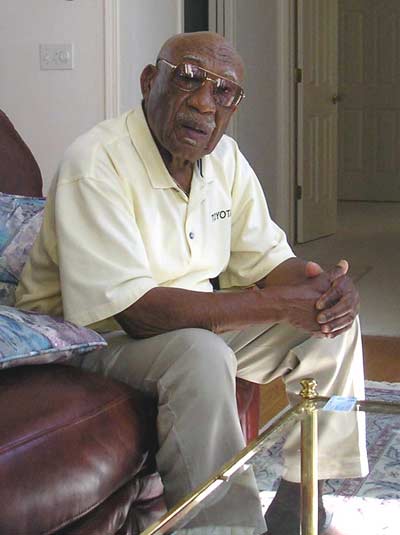 Charlie Sifford at home (Sept 2005)



It was then that he decided he really wanted to play golf professionally. He had run into Jackie Robinson in California in 1947 and told him what he wanted to do. He remembers the conversation almost verbatim.

Robinson asked if he was a quitter. Charlie responded "No, I'm not a quitter."

Robinson said, "If you're not a quitter, go ahead and take the challenge. If you're a quitter, there's going to be a lot of obstacles you're going to have to go through to be successful in what you're trying to do."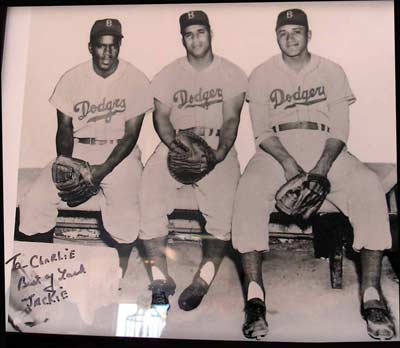 From Jackie Robinson to Charlie Sifford
To Charlie, Best of Luck, Jackie

"I made up my mind I was going to do it. I just did it. Everything worked out perfect, I think. "

His first official tournament was the Long Beach Open in 1957. "They used to have some really good tournaments in California."

In 1971 he got a call from Dr. George Simpkins, a civil rights leader from Greensboro. In 1955, Simpkins and a few other black men were arrested for trespassing on an all-white municipal Golf Course, Gillespie Park Golf Course.

Simpkins appealed his convictions to the U.S. Supreme Court, which ruled against them by a 5 to 4 vote. The Governor of North Carolina, Luther Hodges, commuted their sentences. The City opted to close the Golf Course rather than integrate.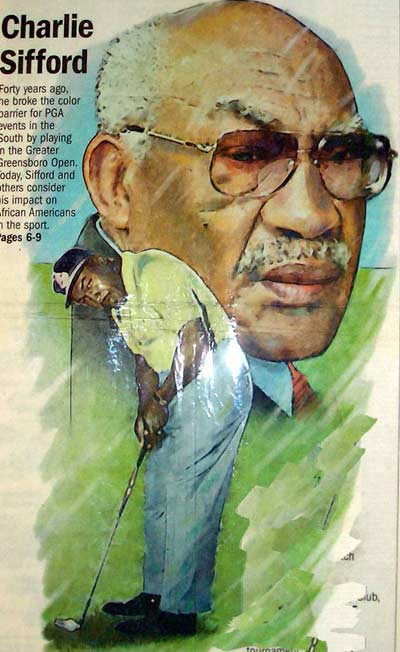 Newspaper article celebrating the Greensboro Open where Charlie Sifford broke the color barrier in pro golf



Simpkins wanted Charlie to play in the Greater Greensboro Open. He had to give it a lot of thought, and discussed it in depth with his wife, Rose. Rose assured him they couldn't hurt him physically and the words didn't mean anything. So he went.

"There was a lot of name calling and a lot of problems. But as long as there was no physical pain, and I had the Lord on my side, I played. I finished the tournament and tied for 4th...It was one of my proudest moments and one of my scariest moments all at the same time!"

He was issued an approved player card that should have given him access to any golf course in the United States. He went to Texas and the police in San Antonio made him leave the course. Same story in Houston.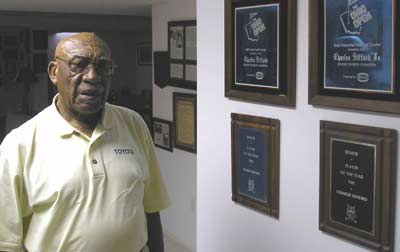 Charlie Sifford



"Keep in mind, the civil rights movement wasn't until 1964 - and it still isn't completely right today."

Charlie played on 12 national opens and 12 PGA opens. He plays all over Cleveland including Beechmont, Quail Hollow, Sleepy Hollow and Firestone. "I'm 83 years old with high blood pressure and Sugar. If a golf course don't want me today, I sure as hell don't need them."

He plays four outings a year for Toyota who is his only sponsor. He also plays in the PGA past champions tour with about "twenty of us old timers."

"I don't know if it was worth it or not." Charlie muses. "I don't feel I was given a fair shake financially. There was a time when I first started that the Bylaws and Constitution of the PGA came right out and said only Caucasians could play the game. I'm happy that that's changed anyway."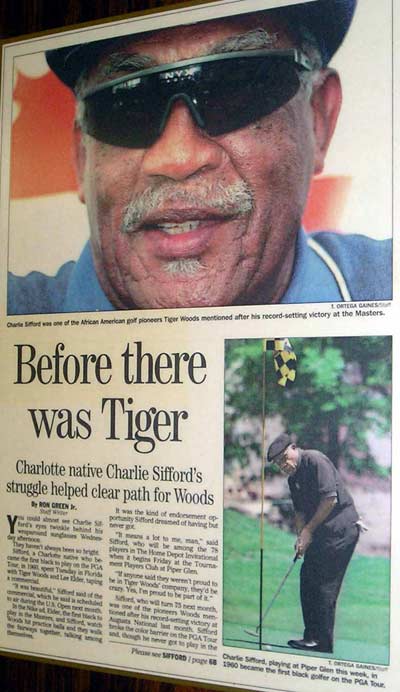 Before there was Tiger Woods
- there was Charlie Sifford



Charlie has a lot of respect for Tiger Woods. "He does a wonderful job getting kids - both white and black - to play the game. That's a beautiful thing."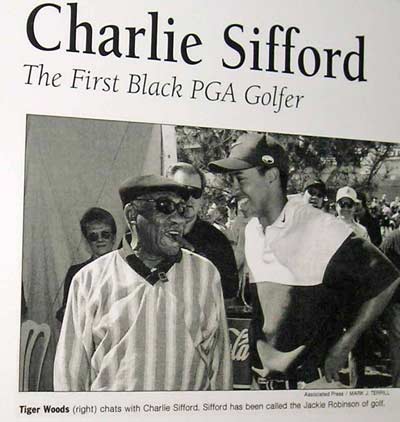 Charlie Sifford with Tiger Woods



As for Jackie Robinson, Charlie has a lot of respect for him too. "He did a beautiful job - but his job wasn't as tough as mine. He was in a ball park with other teams and other players. I was just out there alone."

Charlie was on tour from 1961 through 1975 then in 1980 joined the Senior Tour and stayed until about 1990.In 1973 he was offered the job at Sleepy Hollow in Brecksville and stayed there. He had no salary; he made his money on carts.

He had had a home in California which he sold to come here and really didn't know what he was getting himself into. "Cleveland is a tough town. Make no mistake about it."

In 1986 he moved to Houston. His wife died in 1998 and he moved back to Cleveland a year later to be closer to his children.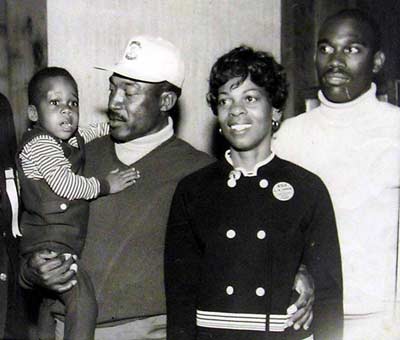 Charlie Sifford with family



Charlie and his beloved Rose had been married for 51 years. She is buried in Philadelphia and every year on the anniversary of her death he goes to her graveside and brings her flowers. They had two sons and three grandchildren. "My sons call me all the time. They're really good kids."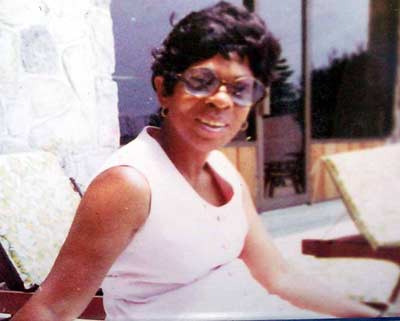 Charlie Sifford's wife Rose



In 2004 Sifford was inducted into the World Golf Hall of Fame along with Tom Kite, Marlene Streit and Isao Aoki. Gary Player made the induction speech.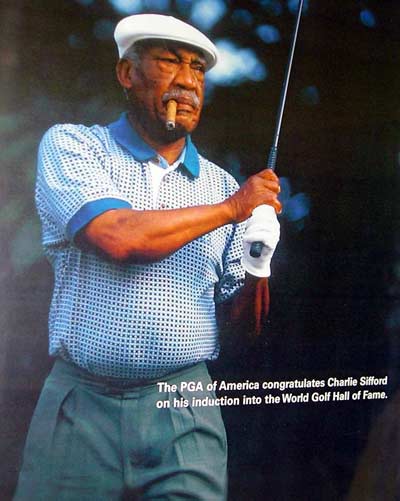 Charlie Sifford - that swing, that cigar!
World Golf Hall of Fame



He is also a member of the North Carolina Sportswriters Hall of Fame and the Northern Ohio Sports Hall of Fame.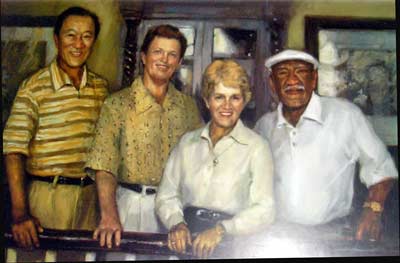 World Golf Hall of Fame - 2004
Isao Aoki, Tom Kite, Marlene Streit and Charlie



This year he was honored by the Golf Writers Association of America for becoming the first African American inducted into the World Golf Hall of Fame and for being the first African American to play the PGA tour as well as the first to be invited to play The Legends in 1980.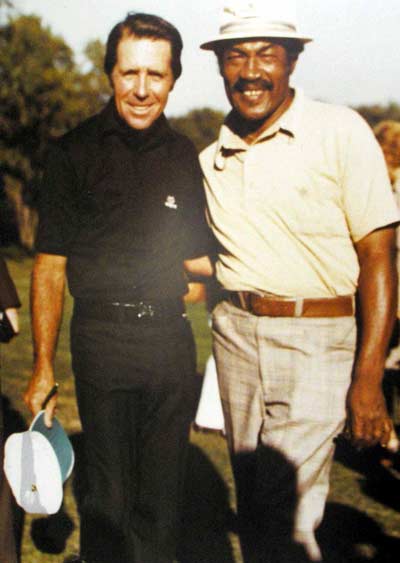 Charlie Sifford with Gary Player



Charlie played the Legends this year - and won! "It was the largest money pot I ever won!"

He was in Akron with Tiger Woods and will be at the President's Cup this month. He goes to a lot of tournaments and a lot of opens, because he still loves the game. This November a new group will be inducted into the Hall of Fame in St. Augustine Florida and he'll be there to see it.

"Don't get me wrong - I made it. It's a great game and I love playing it. It's a lot of work and requires a lot of determination."

Charlie also wrote a book which was published in 1992 called Just Let Me Play: The Story of Charlie Sifford, the First Black PGA Golfer
.
Asked if he would recommend the game to young black children, he doesn't hesitate for a second "I would tell young black children and any children at all, get your education first and then if you want to play the game - go for it."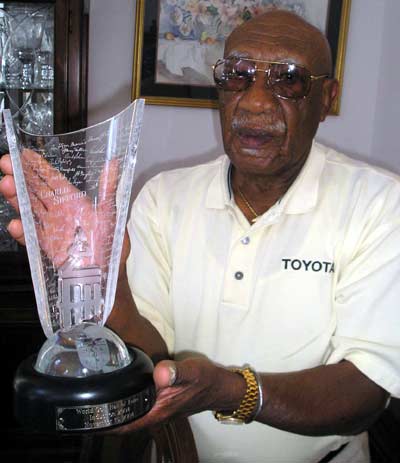 Charlie Sifford at home with one of his many awards



Charlie Sifford broke down barriers just because he wanted to play golf. And play he did.

Whether he is remembered for his golf or his impact on civil rights, Charles Sifford will definitely be remembered. As well he should.




Profiled by Debbie Hanson (September 2005)




See more photos of Charlie Sifford with Arnold Palmer, Dean Martin and others

---

Top of Page

***

Stay informed about the local African-American community by signing up for the free African-American eNews mailings. You can select other specific groups as well. It's easy and free.
Fill out the form for the free African-American eNews.


***



***
Want to learn about ethnic and cultural events in Cleveland such as this? Sign up for the free eNews and every Tuesday evening you will receive a free e-mail listing the next week's events. It's easy and free.

Select 'WEEKLY' when you fill out the form for the free weekly eNews.
***
---
Back to Top
Back to Cleveland African-Americans