Juneteenth was celebrated in the African American Cultural Garden in Cleveland on Sunday June 17, 2012.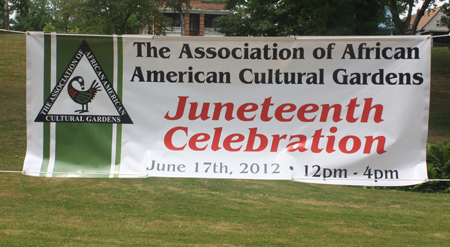 President Abraham Lincoln issued the Emancipation Proclamation on September 22, 1862, with an effective date of January 1, 1863 but in parts of the South, slavery continued. Juneteenth commemorates June 18 and 19, 1865. June 18 is the day Union General Gordon Granger and 2,000 federal troops arrived in Galveston, Texas, to take possession of the state and enforce the emancipation of its slaves.

On June 19, 1865, legend has it while standing on the balcony of Galveston's Ashton Villa, Granger read the contents of "General Order No. 3" part of which says:

"The people of Texas are informed that, in accordance with a proclamation from the Executive of the United States, all slaves are free. This involves an absolute equality of personal rights and rights of property between former masters and slaves, and the connection heretofore existing between them becomes that between employer and hired labor."

Carl S. Ewing is the current president of the African American Garden and he welcomed the group to the celebration.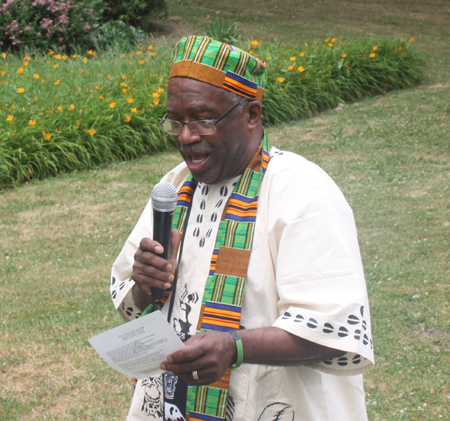 Carl S. Ewing
---
He then introduced Kwanza Brewer who explained and led the Libation ceremony to honor and remember ancestors.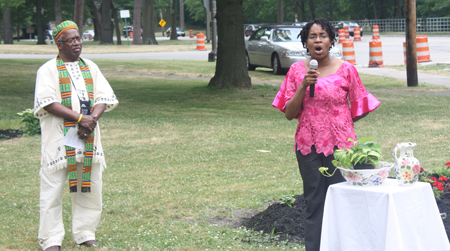 Kwanza Brewer led the Libations
---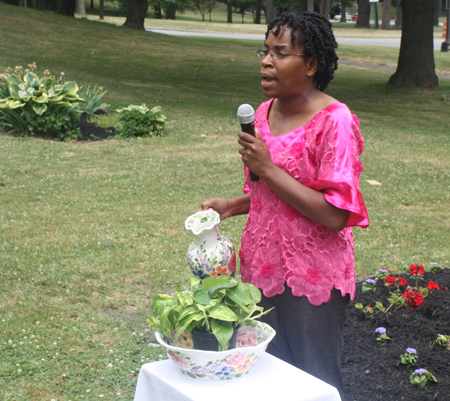 ---
---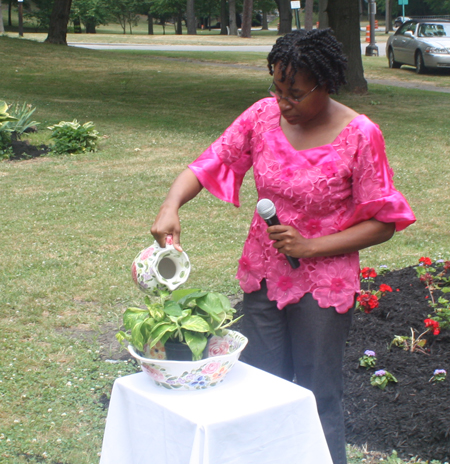 ---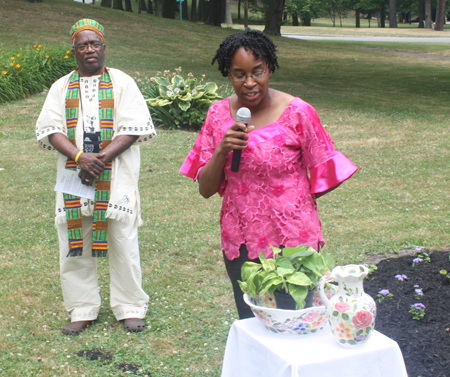 ---
Next, Raphael Ivy, Anthony Hubbard and Sean McKissick from the Golden Ciphers performed a drum call.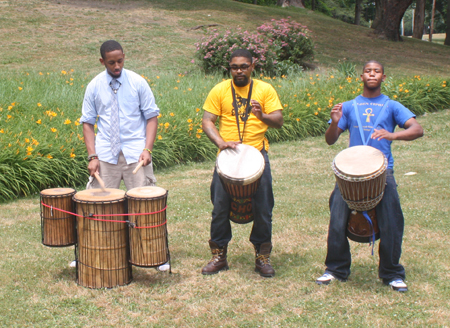 Raphael Ivy, Anthony Hubbard and Sean McKissick
from the Golden Ciphers
---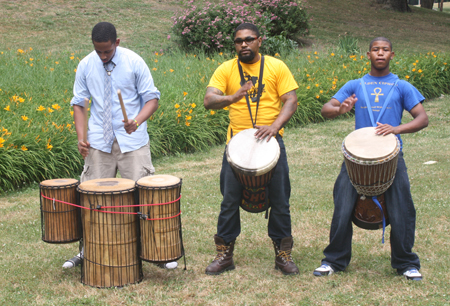 ---
---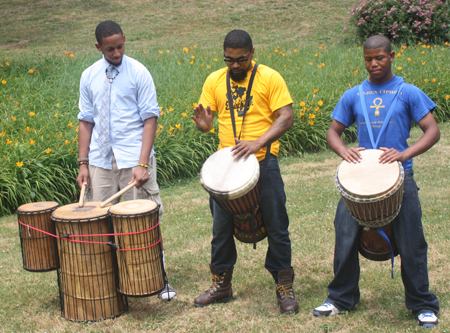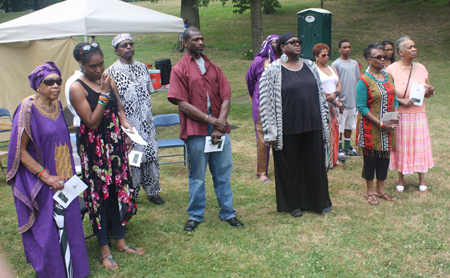 Phanawn Bailey told about the Middle Passage and Triangular Trade.
Phanawn Bailey
---


Kamryn Bailey then told about the meaning of Juneteenth.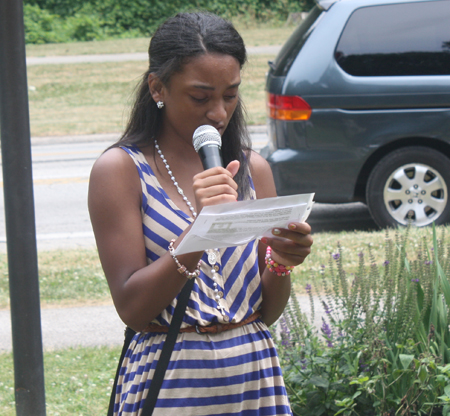 Kamryn Bailey
---


The gathering sang the Black National Anthem, Lift Every Voice and Sing.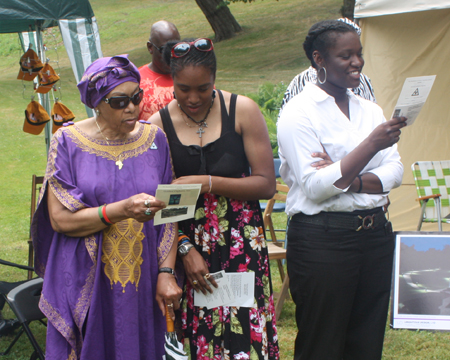 Mrs. Charlie Mae Guest, Zurimani & her little sister


---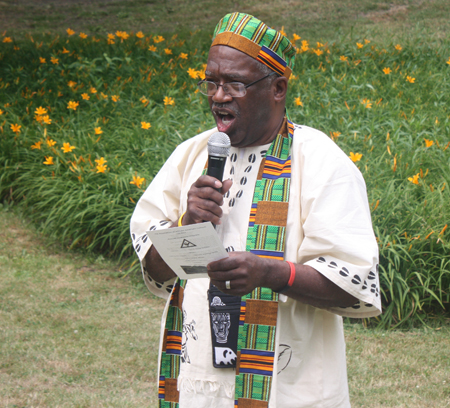 Carl S. Ewing


---
---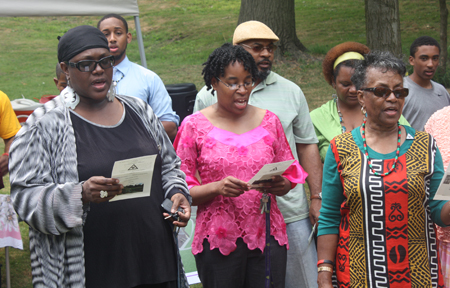 BeLynda Washington, Kwanza Brewer, Ernestine Williams and others



Carl Ewing and Ernestine Williams, Garden Fundraising Co-Chair, told of the plans for the African-American Garden and daytime and nighttime drawings were displayed.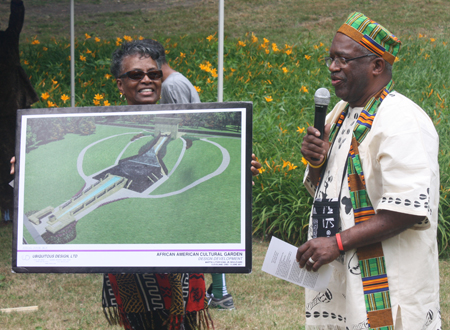 Ernestine Williams and Carl Ewing


---


Mrs. Jonnie Wallace with nighttime plans


---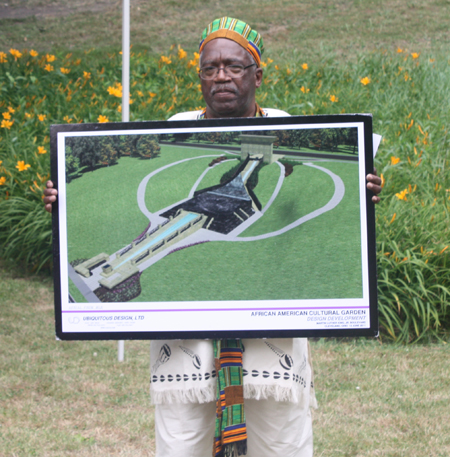 Carl Ewing with daytime plans


---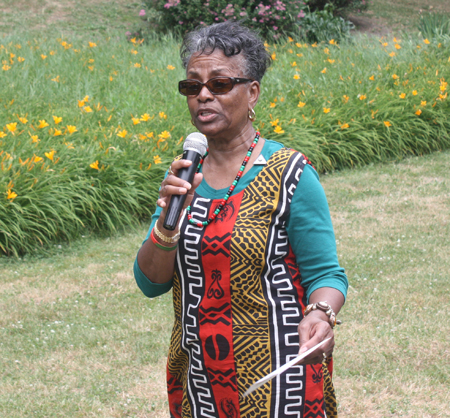 Ernestine Williams
---
The Garden looked terrific and there was great excitement for the future. Ashe!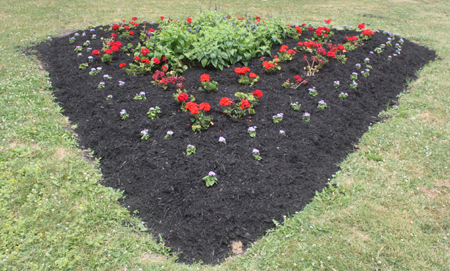 ---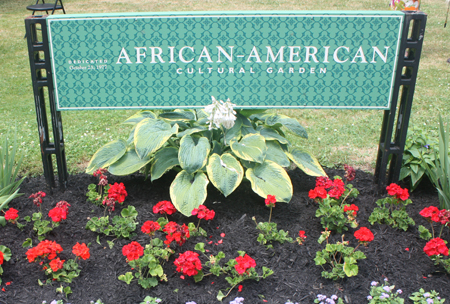 ---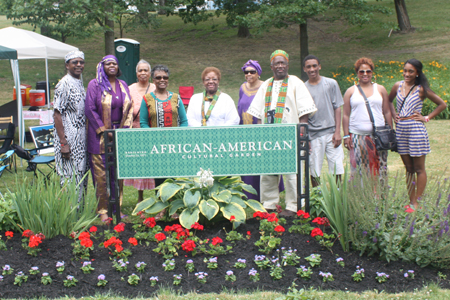 Mr Johnnie & Barbara Jackson, Mrs. Jonnie Wallace, Mrs.Ernestine Williams, Mrs. Erma Pride, Mrs.Charie Mae Guest, Carl S. Ewing, Phanawn Bailey, Angela Bailey and Kamryn Bailey
---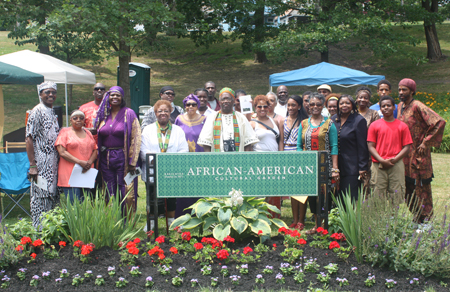 ---
Back to Top
Back to Cleveland African-Americans