Interfaith Fellowship Day 2013
Myths and Mysteries in our Religions
February 4, 2013
Church Women United in Greater Cleveland is a group of women who gather together to promote the positive similarities of our faiths and accentuate the underlying oneness of the various religious groups and affiliations.
The group has held a Interfaith Fellowship Day as far back as 1955 when Church Women United joined with the Women's Division of Jewish Community Federation. Since then they have met and discussed such topics as Celebrations of Life: Joyous Occasions, Respect for God's Creation, Faith and Family, and more. This year's theme was "The Myths And Mysteries In Our Religions."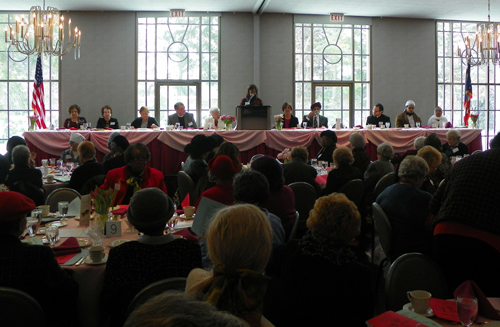 The group supports a special project every year as well. In the past the projects included Providence House, Gathering Place, Ronald McDonald House and more. This year's Project was the Cleveland Food Bank.

A distinguished panel of experts in their faith spoke to the crowd.

Christine Pappas introduced Fr. Damian Ference from Borromeo College Seminary who spoke about some Catholic mysteries.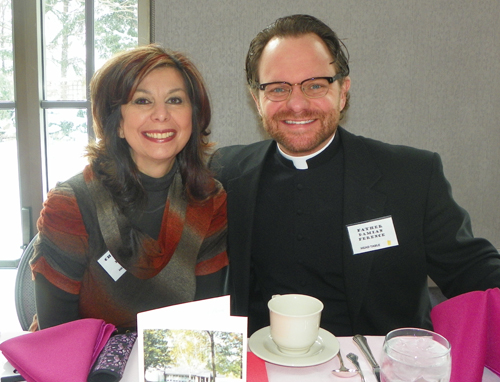 Christine Pappas and Fr. Damian Ference



In this short video clip, Father Ferrence explained that "stuff matters" in the Catholic faith because Jesus was incarnate not just spiritual. So the water, oil and other physical aspects of the sacraments are important.




---
Mina Saidel and Lee Apple are Mikvah Attendants of Park Synagogue in Cleveland Heights.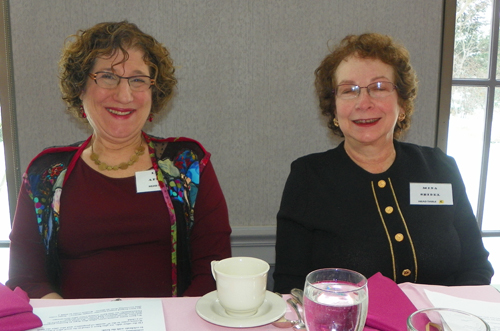 Lee Apple and Mina Saidel



In this video clip, Mina Saidel explained the Biblical origins of the Jewish water immersion ceremony called a mikvah.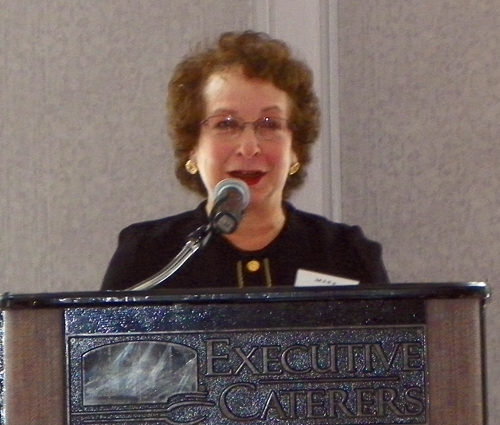 Mina Saidel
---


Lee Apple spoke about some of the modern challenges of the mikvah such as how to handle acrylic nails and piercings and a special bridal ceremony.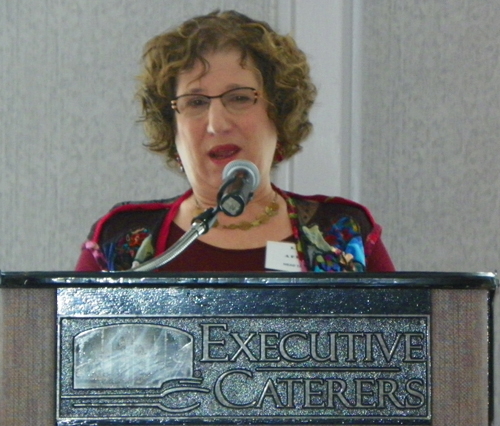 Lee Apple
---
Mona Alag introduced Ratanjit Sondhe of the Guru Nanak Foundation who spoke about the Sikh faith.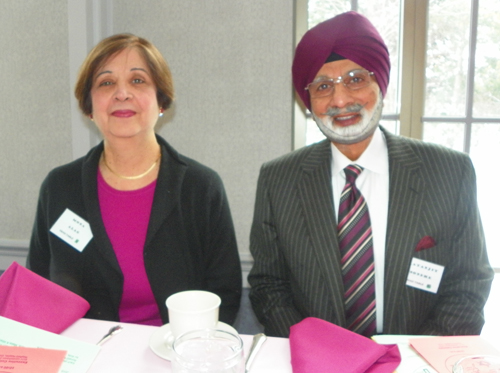 Mona Alag and Ratanjit Sondhe



In this video clip, Ratanjit Sondhe likens religions to schools of spirituality.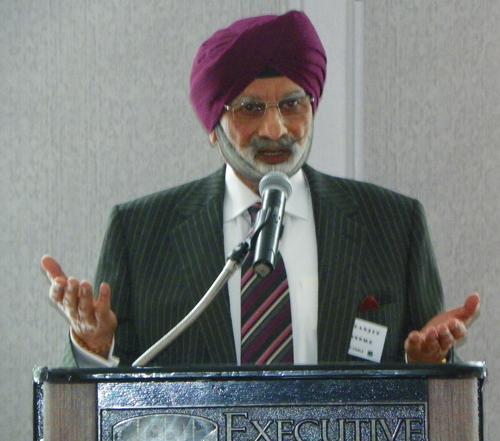 Ratanjit Sondhe
---
Surayya Ahmed introduced Imam Musa Sugapong, Teacher at Darul-qasim School & Islamic Center of Cleveland.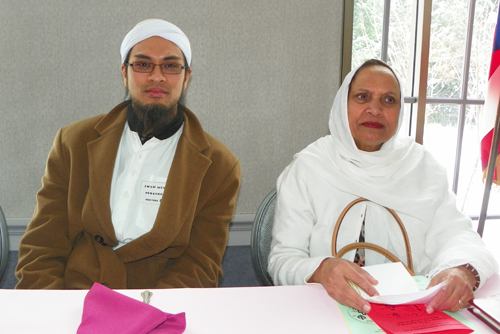 Imam Musa Sugapong and Surayya Ahmed



In this video clip, Imam Musa Sugapong, who is a convert to Islam, explained how the Koran was revealed and the importance of the opening chapter. He dispels the myth that Allah is a God of wrath, saying he is a God of mercy.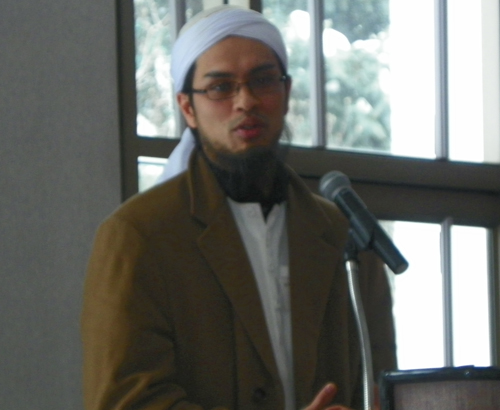 Imam Musa Sugapong
---
Shirley MacDonald introduced Rev. Mark Rollenhagen, Pastor of Faith Lutheran Church in Lakewood.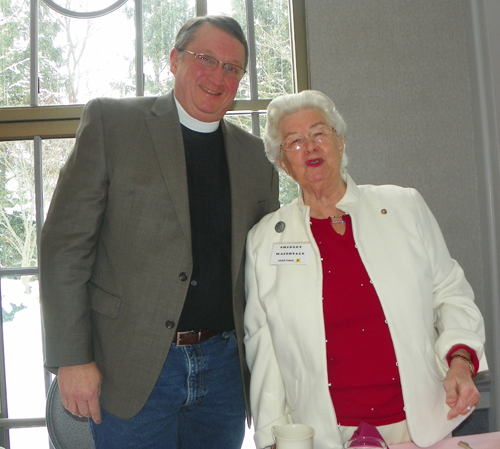 Rev. Mark Rollenhagen and Shirley MacDonald



In this video, Rev. Mark Rollenhagen tells how what we know about God is what God has revealed to us. We don't know the entirety of God. He also mentioned the Mysteries of Christ being present in Holy Communion, the Holy Spirit and the Holy Trinity.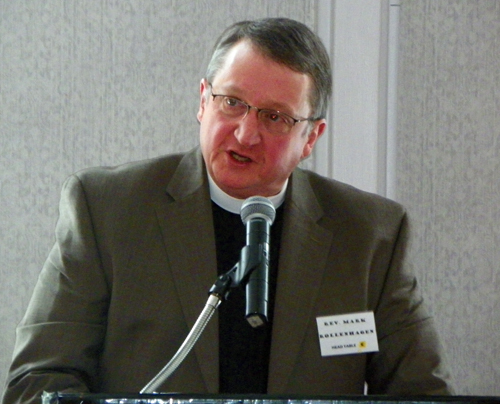 Rev. Mark Rollenhagen
---
Speaking for the Cleveland Food Bank was Anne Goodman, Executive Director.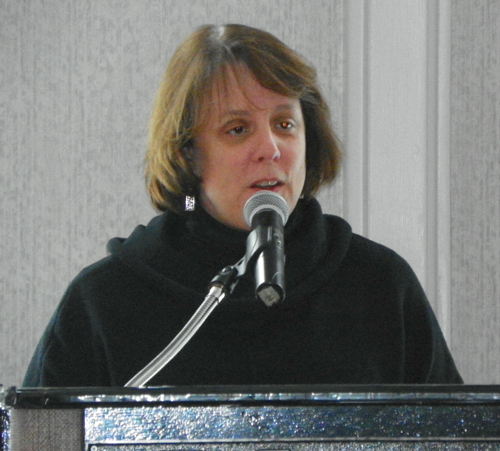 Anne Goodman, Executive Director, Cleveland Food Bank



The program's MC was Shirley MacDonald.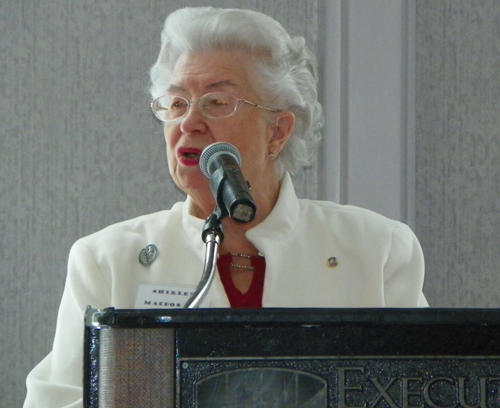 Shirley MacDonald



A common thread among the speakers was the existence and glory of one God. Fr. Ference pointed out that in surveys 30% of those asked declare themselves to be "Nones" with no faith or religion. Each speaker proceeded to point out the importance and value in faith and in knowing that the world is bigger and more important than just us. As Ratanjit Sondhe said, if we are not serving we are not living to our potential and our ultimate goal.

Imam Sugapong noted that the Koran includes chapters on Noah, Abraham., Mohamed, Jesus and the Virgin Mary. Certainly at least some of these names are present in Catholic, Lutheran and Jewish prayers, showing again the similarities instead of the differences.

"You say God. We say Allah. It is a different language, but the Being is the same."

Ratanjit Sondhe told us it would take 10,000 PhD's just to know how ignorant we are and how important it is to listen and learn from the wisdom of others.

This event was certainly an opportunity to do this. Congratulations to Shirley MacDonald, chairperson of this event and the entire Planning Committee on gathering such insightful and interesting people.

In the Q&A session, a question was asked about the role of Women in the various faiths and answers were provided for Catholic, Musilim and Sikh.

Enjoy these other images from the 2013 Interfaith Fellowship Day.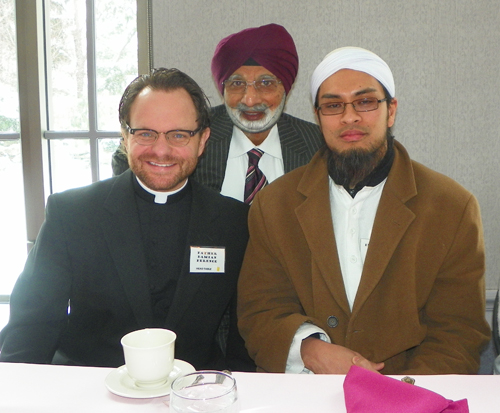 Father Damian Ference, Ratanjit Sondhe and Imam Musa Sugapong


---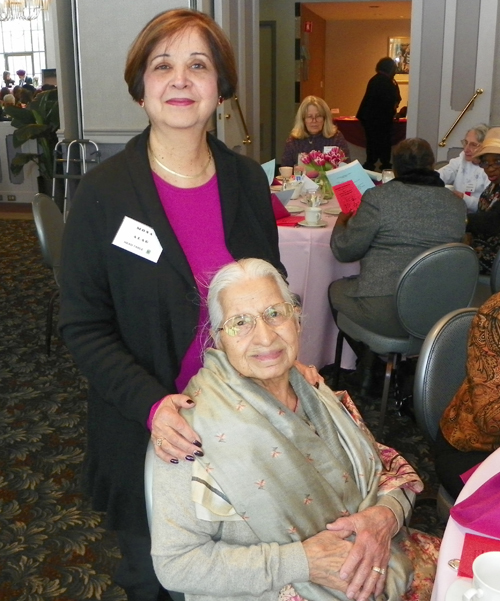 Mona Alag and Dr Mrs Balwant Sidhu


---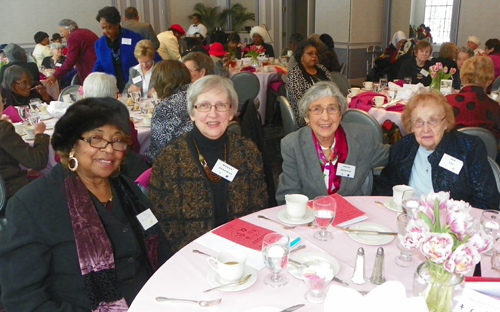 Bettie Hayward, Marty Bergman, Doris Belknap and Lee Boc


---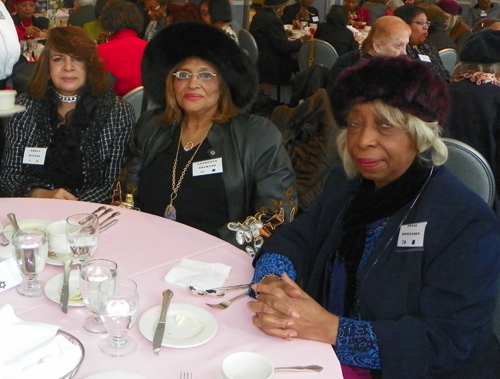 Rhoda Miller, Lucretia Beckles and Conni Morrison


---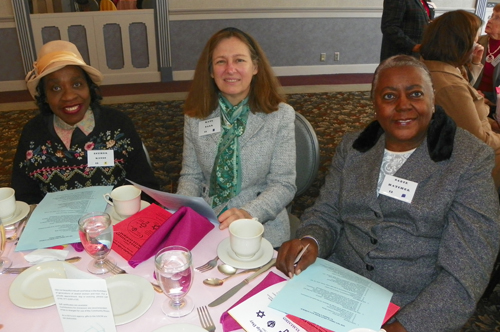 Esther Kinds, Kate Park and Sadie Hatcher


---
Role of Women in the various faiths
Top of Page

Back to Cleveland Religions

Back to ClevelandPeople.Com Community and Special Events

ClevelandPeople.Com is sponsored in part by