The 2018 Cleveland State University Chinese Bridge Summer Camp was an experience of a lifetime. I am so grateful to have experienced such a great opportunity. I had always wanted to visit China, especially after learning Chinese, and this accomplished my dream. It was an adventure full of experiences, learning, successes, and challenges that helped me grow. The social and cultural activities that this trip provided enriched my summer. I made new friends from the trip, American and Chinese. I am actually still talking to a Chinese friend named Summer, through WeChat.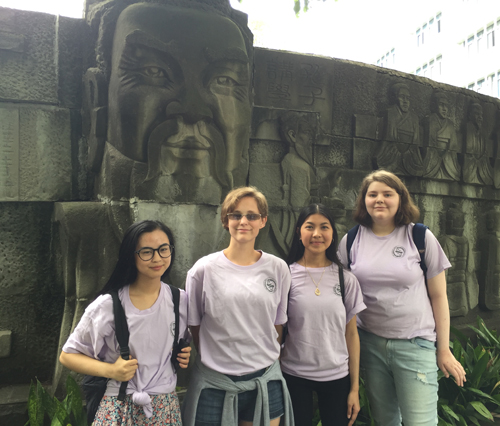 First day in Chengdu at Sichuan Normal University


This experience helped me to further my Chinese education. I learned a lot about the history, culture, people, society, food, etc. I communicated with other Chinese students and people which helped me to speak more in Chinese. It pushed me to learn more so that I could speak to them more fluently and so that they would understand what I was saying. The courses and events that the Confucius Institute have designed for this trip were all very interesting. It provided modern learning techniques with mind-stimulating Chinese-related subject matter.

I learned about many things through the activities in and outside of the classes such as through Chinese cultural lectures, calligraphy lessons, tea making class, bargaining lessons, Chinese language classes, Opera class, face mask, and visits in and around Beijing and Chengdu.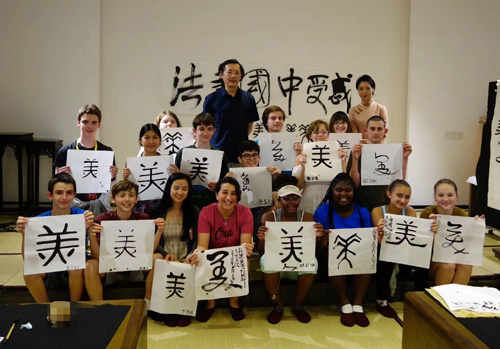 Learning Chinese calligraphy and writing



They were all very enriching and it was an enjoyable learning experience. I believe that I improved my Chinese, especially by listening to native speakers and talking to native speakers. I am so thankful to have learned Chinese before going on the trip because it made it easier for me to communicate with others and I was able to put forth what I had been learning throughout the school year.

I loved visiting the many attractions in China such as the Great Wall, the Forbidden City, Tiananmen Square, Chengdu Museum, Wide and Narrow Alley, Leshan Giant Buddha, Jinli, Sichuan Opera and the Chengdu Research Base of Giant Panda Breeding.

I liked many of the food in China. They all tasted really good. The hot pot in Chengdu was my favorite because it was spicy and there were a lot of different kinds of food to put into the hot pot.

The Great Wall was a very tiring and a fun experience because I have never climbed up so many flights of stairs. Going up to the wall with the cable car and going down the wall with the tobogan was a relaxing and fun way to start and end the visit to the Great Wall.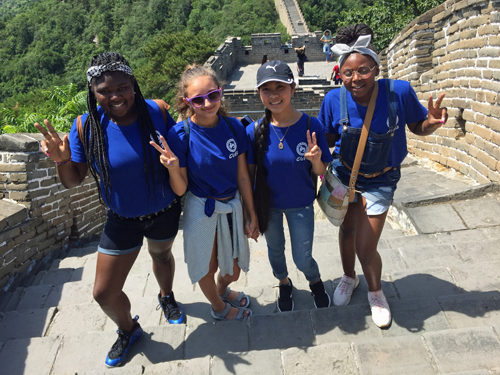 Having fun climbing the Great Wall of China in Beijing.



I liked going to the Chengdu Research Base of Giant Panda Breeding because the experience to actually see the pandas in front of my eyes felt very surreal to me. It was so amazing to see so many pandas in one place; they were all so cute.

The Sichuan Opera was very interesting because I have seen Chinese operas through movies but I've never been to one. The experience was very cool. The actors, actresses, dancers and musicians all did a wonderful job with the performance and I enjoyed every moment of it. It was amazing how the stage was set up, how the scenes changed and how visuals and animations were created. The clothing and masks were all very beautiful. It was incredible to see how fast the actors changed their faces during the show.

I also loved going to Jinli and the Wide and Narrow Alley. It was really cool to see all the ancient buildings, shops and attractions, especially because we went at night when all the lights and lanterns are on. These streets had many great open teahouses, theaters, wine shops, hand workshops, arts and crafts stalls and snack stands which allowed me to experience authentic Sichuan life.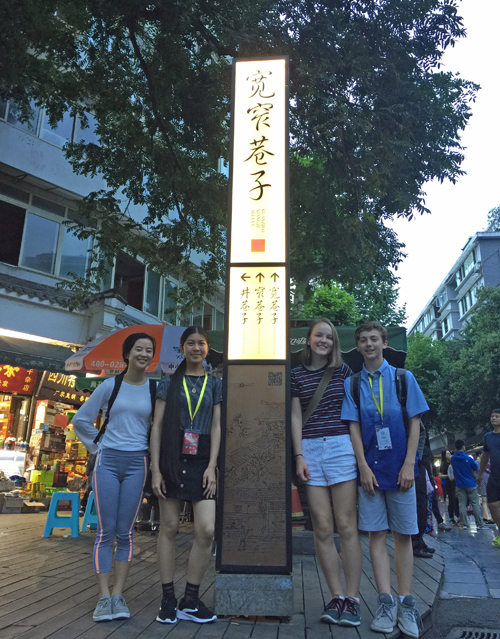 Visiting and exploring the Wide and Narrow Alley in Chengdu



There were many cool things that my group did at these two streets. We complimented Chinese people in the Chengdu dialect by telling them they were handsome and pretty, we bought many souvenirs, went inside a teahouse, listened to music played with a Chinese musical instrument, ate Chinese sugar painting candy and we also learned how to make one of the Chinese snack called "San Da Pao" that was being sold at the snack stand and eat our creation of the food.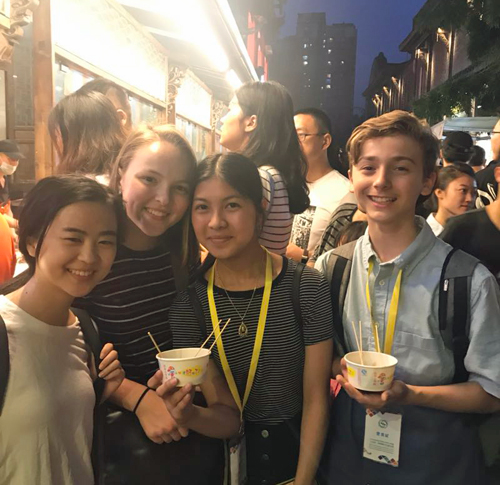 Eating our creation of the Chinese snack called "San Da Pao" from the snack stand at Kuanzhai Alley


There were many things in China that are different than the United States. One thing that is different are the food. Many meals in China consist of soup, fish, meat, vegetables and fruits as in America, not all may be at the table. China values unity and family. Most Chinese restaurants have the circular rotating tables where people at the table share their food. Chopsticks are used for each meal and people put a little bit of food at a time on their plates while Americans eat with fork, spoons and knives.

In America, school is from around 7:30 am to 3:30 pm but in China, school hours are from around 7:30 am to 5 or 6 pm. The streets and sidewalks in China are so much cleaner than America. Many people in China use the bus, cars, bicycles, motorcycles, train and walking as forms of transportations while America mostly uses cars. There is a law in China that on certain days, cars with a specific license number can not drive. America does not have this law. These differences amazed me and I learned so much from it.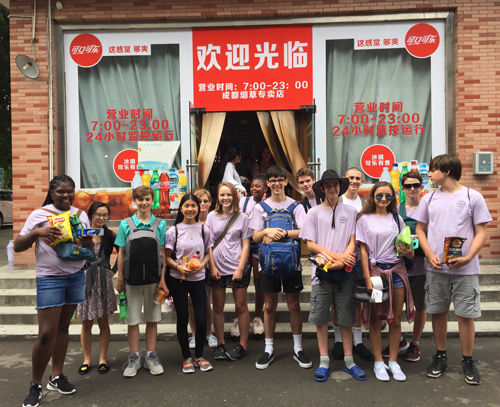 At the convenience store on campus buying Chinese snacks and beverages



In the future, when students are visiting the Chinese schools, they should have more time to interact with the students and go to more than one classroom. This will help both the Chinese and American students learn from each other and to teach each other through certain activities. The time for the ancient alleys were a little short so maybe in the future, the students are able to spend a little bit more time there because there is so much to see.

By participating in this summer camp, I was able to create memories and also have an experience that I will always treasure and look back on. This experience has put me at a higher advantage in learning compared to students who have not had this opportunity before. My experience with going to China has helped me learn more about the Chinese culture and language.
---
***
Stay informed about the local Chinese community by signing up for the free Chinese eNews mailings. You can select other specific groups as well. It's easy and free.
Fill out the form for the free Chinese eNews.
***
---
Back to Top
Back to Cleveland Chinese